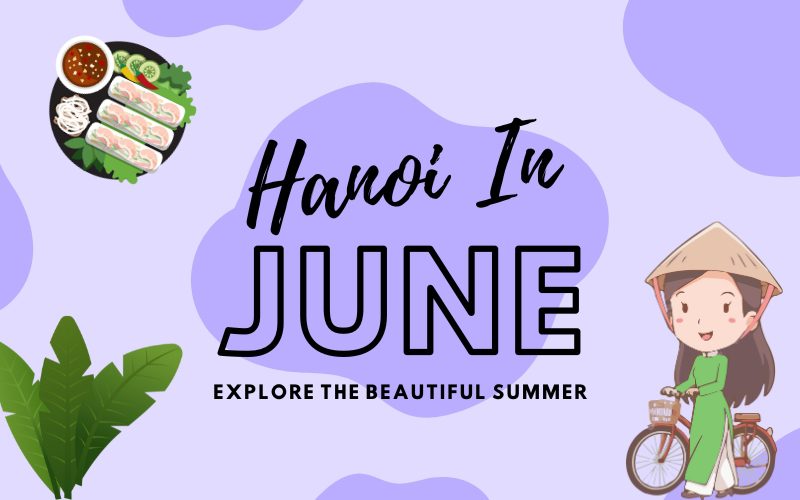 Hanoi's weather is divided into four separate seasons: Spring – Summer – Autumn – Winter. June is the time when the summer in Hanoi starts. During this time, the atmosphere surrounding the city begins to change. Students also start their summer vacation in June, so the pace of life in the city also becomes different. In this article, IDC Travel will show you the appeals of Hanoi in June and give you valuable tips if you are planning to visit this town in the summer.
Hanoi Weather in June
June is the peak month of summer in Hanoi. The long and hot sunny day creates a typical tropical atmosphere. The average temperature is around 28-32°C, which is quite hot for visitors from cold countries. Occasionally, downpours can also appear, softening a bit of the summer heat.
However, traveling to Hanoi in June is an ideal option when the weather is sunny, and the sky is clear. This is the best advantage for you to take photos. Although the weather can be hot and humid, Hanoi still offers visitors many interesting and unique experiences in this vibrant summer.
Best Places to Visit in June in Hanoi
Inside Hanoi
West Lake Waterpark
West Lake Water Park is located right on the banks of the romantic West Lake. Coming to this amusement park, you can experience many interesting and unique games.
Exciting underwater activities are designed to be suitable for all ages. You can enjoy gentle games such as swimming at the wave pool or floating on the Lazy River. There are also various thrilling games in the waterpark like high-speed water slides. The designed zigzag slides with different colors will surely leave an indelible impression on visitors after experiencing them. To ensure safety when experiencing this game, you should equip yourself with a life jacket and follow the rules and instructions of the game. You can get further information about the park at its official website here.
Vietnam National Village for Ethnic Culture and Tourism
Vietnam National Village for Ethnic Culture and Tourism is located about 40km from the center of Hanoi city, in the Dong Mo tourist area. It is divided into multiple areas, including the ethnic village, the world cultural heritage area, the cultural and entertainment center, etc. Each area will have its own appeal waiting for you to explore. In addition to discovering ethnic and regional cultures, you can experience Vietnamese culture by participating in several unique folk games, such as throwing bamboo, stall dancing, or swinging.
Although located quite far from the city center, it is not difficult to move here. You can use a lot of different vehicles, such as buses, motorbikes, and taxis. You can consider renting a car with a private driver so you will get picked up any time you wish.
Near Hanoi
Ninh Binh
Visitors to Hanoi in June can visit nearby places to enjoy Vietnam's tropical summer. You can try to experience traveling to Ninh Binh, the land filled with mountains and sky, to escape the harsh sun of Hanoi. After only more than an hour of moving by car, you will arrive at this place and immerse yourself in the fresh air.
Your itinerary from Hanoi to Ninh Binh in June will become more impressive and memorable than ever when you see with your own eyes the ripe golden rice fields and the rice flowers blooming beautifully. The sweet pink lotus flowers make Ninh Binh in June become unusually attractive. You can go to Mua Cave early in the morning to watch the sunrise, welcome a new day, and have interesting experiences at Ninh Binh lotus pond.
Ha Long Bay
Besides Ninh Binh, if you want to explore the coastal city, Ha Long Bay is definitely an ideal place for you.
Ha Long Bay is one of the world's natural heritages recognized by UNESCO. Covered with thousands of bizarre limestone islands, Ha Long Bay creates a beautifully natural landscape with mountain ranges emerging from the ocean. June is the ideal time for visitors to Ha Long Bay because the blue sea, golden sunshine, and fresh air altogether create a great space for you to relax and explore in the summertime.
Activities to Do in Hanoi in June
Join the Family Day
Activities with the theme of Family Day are organized at Vietnam National Village for Ethnic Culture and Tourism. These activities are associated with the Ethnic Family Culture Festival of the ethnic community at the "Common House" here. The organizers hold several games following traditional sports game style to enhance the meaning of health-exercising and the spirit of solidarity. The program is a playground where families meet and exchange to get closer to each other to create a united group.
Each ethnic community will introduce its cultural activities and the beauties of its family culture of resonating, working, and sticking together in a family.
Visit Tam Coc in Ninh Binh
Suppose your purpose when traveling to Ninh Binh is to admire the fascinating beauty of the ripe golden rice fields. In that case, you must go to Tam Coc – a famous tourist destination in the scenic Trang An tourist area. The golden rice fields are surrounded by winding rivers, limestone mountains, caves, and cool fresh air, making Tam Coc an extraordinarily poetic and romantic picture. Do not miss the experience of riding a boat down the Ngo Dong River with picturesque rice fields on both sides.
Kayaking in Ha Long Bay
The ocean of Ha Long Bay is incredibly calm, making it much easier for you to kayak. Even if you don't know how to swim, you can still participate in this activity without hesitation.
Through kayaking, visitors can understand more about the special topography of this place and why there are so many rocky islands and mountain ranges in the seas. You can also have a chance to learn about the cultural history of prehistoric people living in caves millions of years ago.
>>> Besides kayaking, visitors can spend the night on a cruise and enjoy seafood with a scenic view of the ocean.
Tips to Visit Hanoi in June
When traveling to Hanoi in June, there are some important notes that visitors should consider to have a safe and enjoyable trip.
Hanoi in June has a tropical summer with high temperatures and can be very hot. You should bring cool shirts, masks, and sunscreen to protect your skin from harsh sunlight. Also, always try to drink enough water to avoid dehydration and exhaustion.

Hanoi's weather in June can be pretty moist, and downpours occur frequently. Remember to prepare a raincoat or umbrella to avoid sudden rains.

If you tend to visit the monuments and scenic spots in Hanoi, you should arrange the schedule in the morning or afternoon to avoid the hottest sun in the middle of the day.

June is also the peak tourism season in Hanoi, so visitors should plan in advance to avoid running out of stays and increasing costs. You can customize your trip with IDC Travel to ensure that your accommodation and expenses are at their best.
With the above information, we hope it will help you have a safe and enjoyable trip to Hanoi in June. Don't miss out on the opportunity to experience the city and all nearby attractions in the summer. Feel free to contact us to have your best trip to Hanoi. It is our pleasure to serve you with our best service.
Read more: