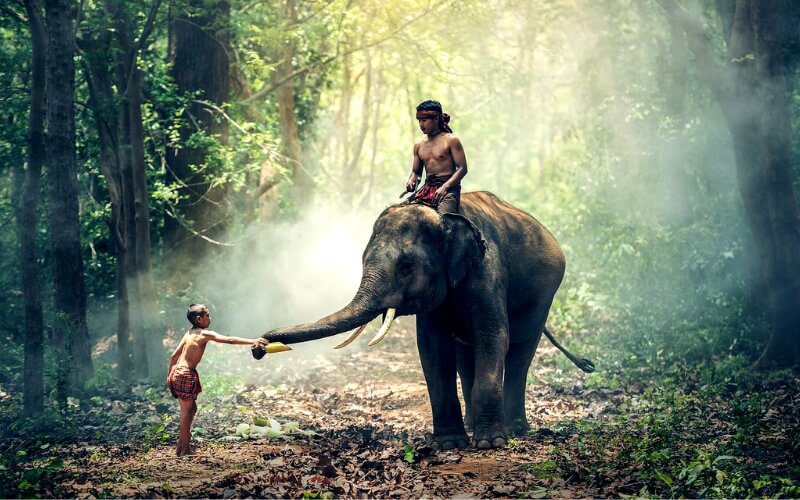 Laos offers tourists a unique experience throughout the year, with each season painting the country in its own distinct color. The country boasts a wide range of attractions that can be enjoyed year-round, making any time of the year a good time to visit. Nevertheless, Laos has two primary weather patterns: hot and wet from May to October, and cooler and dry from November to April. Therefore, the best time to visit Laos is generally between November and January, when the weather is at its best and the activities on offer can be fully enjoyed.
Weather in Laos
Laos experiences a tropical climate with two distinct seasons: hot and wet from May to October, characterized by high humidity, with August being the wettest month. From November to April, the climate is cooler and dry. Regional differences exist, with temperatures generally hotter the further south you go. For instance, in January, Pakse and areas in the south experience average maximum temperatures of 29°C, while Vientiane and Luang Prabang have temperatures of 27°C and 24°C, respectively. Some northeastern areas such as Phongsali and Hua Phan can experience unpredictable weather patterns, even during the hot season.
Laos' monsoon season occurs from May to October, with the northern region receiving more rainfall than the south. The rain typically comes in short downpours lasting no longer than a few hours. However, travel can become difficult in rural areas, and high humidity is common during the monsoon season. For those seeking to avoid daily rainfall, it is advisable to plan a visit during the dry season, from November to April.
Best Time to Visit Laos
For those planning a trip to Laos, December is often considered the ideal month due to the favorable weather conditions. The dry and pleasant climate during this month is perfect for sightseeing, as well as a range of outdoor activities such as hiking, cycling, exploring caves, and river travel.
Best Time to Visit Luang Prabang
The period from November to February is the most favorable time to visit Luang Prabang. The weather is pleasant during this time, making it perfect for exploring colorful temples, taking a stroll around the Old Town, or cycling through the countryside.
From March to May, temperatures reach their peak, making it the hottest time of the year. Additionally, some remote villages practice slash-and-burn agriculture during these months, which can result in significant air pollution. Though the weather is still suitable for travel, visitors should take precautions against heatstroke, sunburn, and respiratory problems.
Best Time to Visit Vientiane
The optimal time to visit Vientiane is between November and March. This time of year offers the most comfortable weather, with clear days and mild temperatures that are perfect for exploring the city. Visitors can take in the sights and sounds of the bustling capital of Laos, from the historic temples and monuments to the vibrant markets and street food scene.
The cooler temperatures during this season also make it an excellent time to engage in outdoor activities such as hiking, cycling, and exploring the countryside. Whether you're a history buff or an adventure seeker, a visit to Vientiane during this time of year is sure to be an unforgettable experience.
>>> Refer to: Vientiane Classic Tour 3 Days
Best Time to Visit Champasak
Champasak is a beautiful region in Laos that is well-known for its ancient temples, waterfalls, and breathtaking natural scenery. The best time to visit Laos' Champasak region is between October and February, as the weather during this period is neither too hot nor too humid, making it perfect for outdoor activities such as hiking and temple visits.
Moreover, the post-monsoon season is an ideal time to witness the waterfalls in the area, which are in full flow and offer a spectacular sight. However, from late February, the summer season sets in, and the region experiences a rise in temperatures, with March to May being the hottest months. During this period, visitors are advised to take precautions against heat-related illnesses.
Monsoon season begins in late July and lasts until September, bringing landslides and floods to the region. It is advisable to avoid visiting Champasak during this season and plan your trip accordingly.
Visit Laos in Different Seasons
From December to February
The months between November and January are considered the best time to visit Laos, with pleasant temperatures and lush, green landscapes after the rainy season. Although higher elevations can be chilly, lowland regions like Vientiane and Luang Prabang offer average temperatures of around 27°C and 22°C, respectively, in December. The Mekong River, a famous attraction in Laos, is at its peak during this time, providing ample opportunities for river travel, kayaking, and whitewater rafting on the Nam Ou and Nam Xuang rivers.
The dry conditions during these months also make it the perfect time for outdoor activities such as hiking, cycling, and rock climbing, as well as visiting elephant camps, coffee plantations, and indigenous markets. Excursions to hill tribes in the far north of Laos can also be booked from towns such as Luang Namtha, Muang Sing, Luang Prabang, and Vang Vieng.
For a more relaxing experience, visitors can island hop in the picturesque Si Phan Don archipelago, where islands like Don Daeng and Don Det offer a slower pace of life. Furthermore, cultural enthusiasts can attend the Luang Prabang Film Festival in December, which showcases films from Southeast Asia in outdoor locations around the city.
>>> Read more: Unforgettable Tour in Laos for 10 Days
From March to May
As spring progresses in Laos, the weather undergoes a significant change. Temperatures rise rapidly, reaching their peak in April, making the lowlands hot and humid, and the highlands hot but less muggy. While some places such as Paksong on the Bolaven Plateau have a temperate climate year-round, temperatures typically average around 36°C in Luang Prabang, 38°C in Vientiane, and even higher in Pakse. The dry season results in water levels in the rivers being at an all-year low by April, disrupting river travel. But by May, the rainy season begins, making Laos both hot and humid. Although trekking can be challenging as trails become slippery, cultural site excursions are still feasible if one can handle the heat.
However, spring in Laos isn't just about the weather. It is also an excellent time to visit for its festivals. The Laos New Year, celebrated in the middle of April, is a significant event on the calendar, during which locals wash Buddha statues, and water fights break out, with water considered auspicious, and cooling off the recipient in hot weather. In May, the Bun Bang Fai (Rocket Festival) takes place, where homemade rockets are launched into the sky, with the aim of persuading the spirits to bring the rains. But during spring, the north of Laos, including Luang Prabang, may be covered in smoke due to slash-and-burn agriculture.
From June to August
During the summer months, Laos experiences hot, wet, and humid weather that can dampen tourism. The rain can make unpaved roads impassable, which can hinder outdoor activities. However, the rain can raise water levels in rivers, making them navigable again. In addition, the landscape comes to life with rice fields turning a lush shade of green and waterfalls surrounded by vibrant foliage.
While most of Laos experiences rain in June, it usually doesn't last long and can bring relief from the heat. By July, the rains become steady, and temperatures hover around 32°C in the south. To escape the heat of the Mekong Valley, tourists can head to the cooler Bolaven Plateau, which is known for coffee bean production.
In August, the rainfall reaches its peak, and the humidity is high. Wet and muddy trails can make hiking difficult, and roads can be slippery and hazardous. Some remote areas and popular attractions, such as the Kouang Si waterfalls, may be inaccessible. It's recommended to pack an umbrella and moisture-wicking clothing to deal with the clammy weather.
From September to November
Laos experiences consistent rainfall throughout September, but by the end of the month, the weather brightens up, revealing stunning picturesque landscapes. In October, temperatures hover around 30°C, with only sporadic rainfall, making it an ideal time to indulge in outdoor activities and explore the country before the peak tourist season. Shoulder season deals are also available during this time.
Laos's river takes the center stage for October festivals. The end of Buddhist Lent, Boun Awk Phansa, marks the beginning of the Lai Heau Fai festival of lights. The town of Luang Prabang hosts lively celebrations with lanterns and enormous candlelit paper boats that float down the Mekong River. In addition, the country's biggest boat racing festival takes place during this time of year, with Vientiane being the prime spot for the races and accompanying celebrations.
November is an excellent time to explore Laos's waterways. Although the rainy season has ended, the rivers are still full, and comfortable temperatures make sightseeing, temple-hopping, trekking, tubing, and swimming highly enjoyable.
Now, you know when is the best time to visit Laos as well as places to go for the best experience in different seasons. Ready for a trip to this "Land of a Million Elephants," check out this list of Laos tours for a wonderful vacation of your preference. Don't forget to read our Laos travel guide before packaging your luggage.