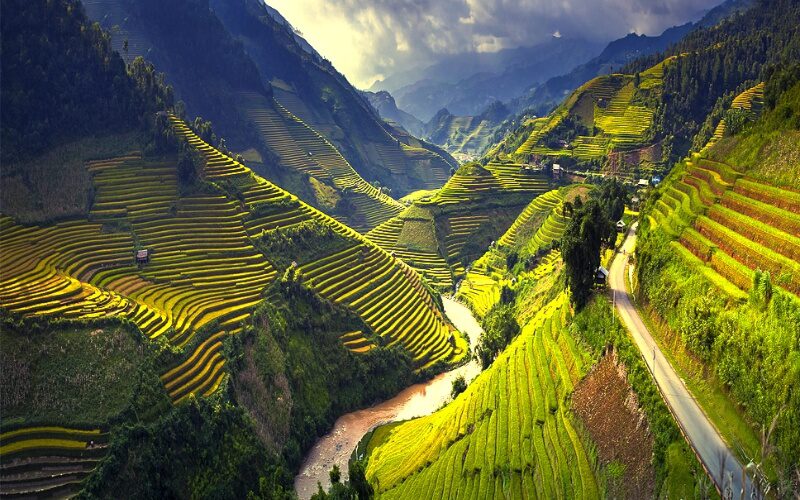 If you are a nature lover visiting Vietnam, then Ha Giang province is a must-visit destination. Spending 3 days in Ha Giang promises to offer you not just magnificent views of cliffs and landscapes but also an opportunity to immerse yourself in the local culture and savor unique local delicacies.
Best Time to Visit Ha Giang
Ha Giang is a beautiful destination to visit all year round, with four main seasons. Each season has its own unique attractions, so you should choose based on your personal preferences. Spring, especially March, is the best time to visit Ha Giang, as the province is covered with beautiful plum and peach blossom flowers. This is also dry season in Ha Giang, meaning less rain and pleasant temperatures around 15-20 degrees, making it perfect for trekking. Summer is hotter, with temperatures reaching over 30 degrees, but it is also the time rice terraces are turning golden. Autumn brings cooler temperatures and less rain, making it ideal for trekking and motorbike trips. November is the season of the famous buckwheat flower, while December can be cold with some areas experiencing snow and freezing temperatures.
So, when is the best time for a trip to Ha Giang is totally depend on your wishes. Whatever the time of the year you go, Ha Giang has unique things to guarantee unforgettable memories.
>>> Read more: Best Time to Visit Vietnam
What to Do in 3 Days in Ha Giang
1. Conquer Ma Pi Leng Pass
Ma Pi Leng Pass is undoubtedly one of the world's most breathtaking and spectacular mountain roads, offering visitors a truly unforgettable experience during 3 days in Ha Giang. Stretching for more than 20 kilometers of the 4C highway, this pass takes travelers on an incredible journey that offers stunning views of deep canyons, the winding Nho Que River, and towering grey mountains that seem to touch the sky.
As you drive through the Ma Pi Leng Pass, you will find yourself surrounded by plumes of mist that envelope the winding roads, providing a surreal and almost biblical experience. The awe-inspiring views of the rugged terrain are nothing short of spectacular, and they will leave you spellbound with their sheer beauty.
Situated at an altitude of 2,000 meters above sea level, the Ma Pi Leng Pass is also known for its chilly weather, especially during the winter months. With temperatures close to zero, it's essential to pack enough warm clothing to stay comfortable during your trip. From thermal jackets to hats, gloves, and scarves, it's best to be prepared and ready for the weather.
2. Witness Lung Cu Flag Tower
Located on the summit of Dragon Mountain, also known as Long Son, at an altitude of 1,400 meters, the Lung Cu flag tower is an impressive monument that marks the northernmost point of Vietnam. This grand structure is made out of stone and stands as a tribute to the 54 different ethnic groups that call Vietnam their home.
Standing on top of the Lung Cu flag tower, travelers can take in the stunning beauty of the rugged mountains, verdant valleys, and meandering rivers that stretch as far as the eye can see, an excellent opportunity to capture the picturesque landscape and take memorable photos. However, it requires tourists to challenge themselves with a 300-step climb to the top. But, the reward is well worth as the breathtaking vistas from the summit will leave an everlasting impression.
3. Visit H'Mong King Palace (Dinh Vua Meo)
H'mong King Palace, situated in the picturesque Sa Phin Valley of the mountainous Ha Giang province's Dong Van District, is a historical landmark that has gained considerable attention in recent times. This attraction was the residence of the H'mong kings who ruled over the region during the French colonial era, until Vietnam regained independence in 1945. After the death of the last H'mong King, Thanh, in 1962, the monarchy was abolished.
The entrance to the palace is flanked by majestic 100-year-old and cunninghamia trees, and the path leading to it is lined with large stone slabs. The grand entrance was used exclusively by the king in the past, and the Vuong royal family hired the best builders from China and among their people to construct the palace, which took eight years and cost 15,000 silver coins (equivalent to VND150 billion or $6.5 million at that time).
H'mong King Palace consists of six two-storied houses with a total of 64 rooms, all connected to each other. The architecture is in the Qing Dynasty style, with green pebbles, pine woods, and terra-cotta tiles being the primary building materials. Its main features include the stone walls, wooden pillars, and a variety of tiles on the roof decorated with Chinese writing. The palace was recognized as a national relic in 1993 and has since become a popular tourist attraction of a trip to Ha Giang.
4. Observe the Heaven Gate & Quan Ba twin mountains
Quan Ba Heaven Gate is a breathtaking pass that serves as the gateway to the stunning mountainous region of Ha Giang. It is located approximately 40 km from Ha Giang City. As you traverse through this pass, you'll witness a rapid change in the landscape from rolling hills to towering mountains adorned with small villages nestled in the valleys. This pass offers some of the most spectacular viewpoints of the top-tiered limestone mountains in the area.
The Twin Mountains, also known as the Fairy Breast Mountains, are two almost identical mountains located next to each other. According to local Hmong mythology, the mountains were formed after a fairy fell in love with a man from the Hmong tribe who could whistle beautifully. When the Jade Emperor discovered that the fairy had gone missing, he became angry and took her back to the heavens. However, because she had a child with the Hmong man that needed to be nursed, she left behind her pair of breasts to feed the child. These breasts turned into two mountains that grow round to provide nourishment to the child. Visitors to Ha Giang can also get a stunning view of these mountains from the viewpoint at the Quan Ba Heaven Gate.
5. Unwind in Ha Giang City
Ha Giang City is a bustling metropolis that serves as the gateway to an array of natural wonders and cultural experiences in Ha Giang. As the capital of the province, Ha Giang city provides the perfect starting point for a variety of activities such as motorbike tours, hiking adventures, and cultural tours.
Thanks to the steadily growing tourism, this city has become a hub for savvy travelers seeking authentic interactions with local communities and their traditions. Visitors can experience the rich culture of the region through local homestays, traditional festivals, and handicraft workshops. There is also an abundance of museums and historical sites that showcase the diverse history and heritage of the province. Don't miss any of them during your 3 days in Ha Giang.
6. Discover Ethnic Minoriy Markets
The markets in Ha Giang have long been an integral part of the cultural fabric of the upland communities. Beyond being a hub for trade and bartering, these markets also serve as a space for cultural exchanges between the different ethnic groups in the area.
Regardless of their size and activity, all mountain markets come alive early in the morning around 5 a.m. and continue until 3 or 4 p.m. in the afternoon. Whether traveling by motorbike, on foot, or on horseback carrying small items, people set off in anticipation for the market. Alone, with family, or with friends, everyone looks forward to this weekly gathering. Roosters, scarves, knives, bundles of vegetables, or even a sounder of pigs – people bring all sorts of things to exchange for poultry and small materials for family production.
Joining a traditional market during your 3 days in Ha Giang, you will see the women and girls of the Hmong, Dao, and Giay ethnicities standing out from afar with their shimmering traditional costumes. From time to time, you may encounter a man who is more or less drunk on his way back from the market.
7. Do a Food Tour around Ha Giang
Your 3 days in Ha Giang itinerary will not be completed if you miss these following must-try delicacies:
Steamed Rice Rolls with Egg (Banh Cuon Trung)
Steamed Rice Rolls with Egg is a mouth-watering delicacy that lures travelers to Ha Giang province. The aroma of the dish fills the air early in the morning as local vendors open their food booths to serve customers passing by. The tempting aroma comes from the savory broth made with scallions and steamed pork rolls that accompany the main course. When a customer arrives, the vendor prepares the rolled rice cakes and adds an egg, cooking them to perfection in just a few seconds. The dish is best enjoyed while still hot, making it an ideal choice for chilly mornings in Ha Giang.
Thang Co
If you're planning a trip to Ha Giang, don't miss out on the chance to try Thang Co, the local specialty that is said to have an unforgettable flavor. This dish has a fascinating history, as it is thought to have originated in China before being introduced to the mountainous regions of northern Vietnam. When you see the pot of Thang Co cooking, you might have a hard time identifying all the ingredients, but it typically includes pork (although beef or horsemeat can be used instead), various organs, herbs, and seeds.
Multi-colored Sticky Rice
The Tay ethnic minority has a traditional dish called "Five-coloured sticky rice," which is made by adding natural food colouring to rice. The red colour comes from sweet gourd, yellow from turmeric, and so on. Each colour symbolizes one of the five elements: Metal, Wood, Water, Fire, and Earth. This rice is delicious on its own, or can be paired with other dishes like pork, egg, tofu, and more. You can find it being sold by street vendors around Dong Van, or at the Sunday morning markets. Keep an eye out for vendors scooping it out from large banana leaves.
Buckwheat Cake
Talk about Ha Giang, the local people will remind of buckwheat flower and buckwheat cake. At the end of a buckwheat flower season, farmers will harvest small buckwheat seeds, dry, and grind them into flour. The flour will be worked into dough and make into round shapes for steaming or baked on charcoal stove. Buckwheat cake is of best taste while still hot. You can easily find it in every corner of Ha Giang Province.
Suggested Ha Giang 3 Days Itineraries
3 days in Ha Giang is ideal for you to discover all of its natural and cultural highlights. You will have a chance to traverse the breathtaking landscapes of this province and encounter the vibrant cultures of seven distinct ethnic minorities residing in mountain villages.
Option 1: Ha Giang Adventure Tour 3 Days 2 Nights
Day 1: Hanoi – Ha Giang
Day 2: Yen Minh – Dong Van – Meo Vac – Ha Giang
Day 3: Ha Giang – Hanoi
>>> See the detailed itinerary: Ha Giang Adventure Tour 3 Days 2 Nights
Option 2: Explore the Culture and Nature of Ha Giang in 3 Days
Day 1: Ha Giang – Yen Minh – Tham Ma pass – H'Mong King Palace – Dong Van
Day 2: Dong Van town – Ma Pi Leng pass – Meo Vac town – Du Gia village
Day 3: Du Gia – Duong Thuong village – Lung Khuy cave – Ha Giang city
>>> Check out the detailed itinerary here.
Ha Giang 3 days itinerary can be extended to 5, 6, or even 10 days with visit to other northern provinces of Vietnam such as Bac Ha, Bac Kan, and Lang Son. For example, you can spend 6 days discovering Northern Vietnam from Ha Giang to Lang Son or trekking Ha Giang – Bac Ha in 10 days. The itineraries allow you to get a deep insight into the rich culture and customs of ethnic minorities in the top North of Vietnam.
Hopefully, our article will help you plan a perfect trip to Ha Giang. Check out our list of Ha Giang tours for more options or contact us for a private consultation for a wonderful escape of your preference.