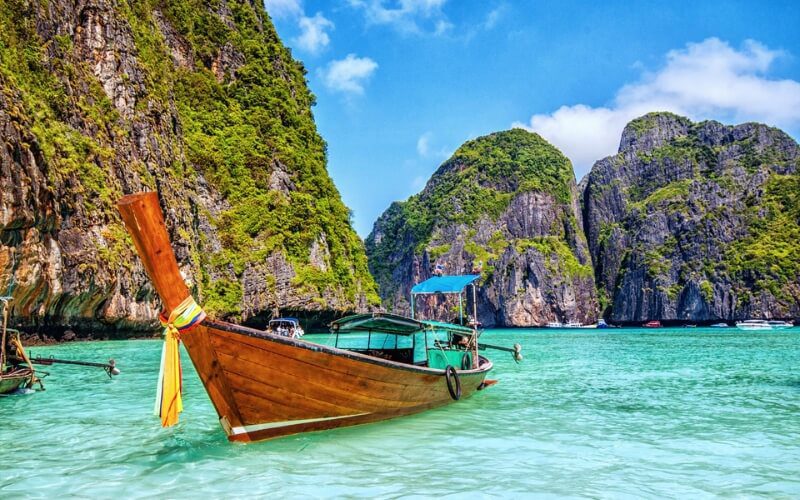 Located in the Andaman Sea, Phuket is a picturesque Thai island renowned for its stunning beaches, striking limestone cliffs, and vibrant nightlife. A visit to Thailand wouldn't be complete without spending 3 days in Phuket experiencing all these aspects. While many consider Phuket to be a party destination, it's much more than that. This breathtaking location offers a wealth of activities and attractions that visitors can enjoy throughout the year. Whether you're seeking a tranquil beach getaway or an exhilarating adventure, Phuket has something to suit all preferences. Rest assured, you won't be disappointed!
Best Time to Visit Phuket
Be sure to pack your sunglasses and a hat for your trip to Phuket, as the island boasts a hot climate all year round. However, there are two distinct seasons to consider:
November to April: This is the best time to visit Phuket as it offers ideal conditions for snorkeling and scuba diving, with calm and clear waters. However, it's also the busiest time of year for tourism, resulting in crowded beaches and higher hotel rates.
May to October: Phuket's monsoon season lasts from May to October. While heavy rainfall can occur during this time, it's also a great opportunity to take advantage of fewer tourists on the beaches and excellent deals on flights and hotels. However, it may not be the best season for water activities.
What to Do during 3 Days in Phuket?
1. Admire Phuket Big Buddha
Phuket Big Buddha statue is a revered landmark and popular tourist attraction on the island. The massive image sits atop Nakkerd Hills between Kata and Chalong, visible from Karon Beach and Phuket Town. It offers a 360-degree view of the island, including Phuket Town, Chalong Bay, Karon, and Kata.
Visitors can easily access the statue via a 6 km pavement from Phuket's main roads. The serene atmosphere is enhanced by the gentle ringing of small bells, fluttering yellow Buddhist flags, and soft dharma music playing all day. Alongside the Big Buddha is a smaller, 20-ton brass Buddha statue and other monuments to Buddhist monks.
2. Visit to Wat Chalong
Wat Chalong, a temple in Phuket, has been welcoming visitors for more than a hundred years. Upon arrival, tourists can explore various attractions, including the Poh Jao Wat which houses two statues of elderly men named Ta Khee-Lek and Nonsi. Ta Khee-Lek was a local who won the lottery after visiting the Poh Than Jao Wat statue.
The highlight of Wat Chalong is the Grand Pagoda, which houses a small splinter from the bone of Lord Buddha. The pagoda is adorned with Buddha images and paintings that depict his life story, making it a must-visit attraction for those who seek spiritual enlightenment during 3 days in Phuket.
3. Unwind at Phuket Beaches
Phuket is widely known for its picturesque beaches that attract millions of tourists every year. There are more than 30 beaches on this island, each one has its own unique charm and personality apart from the creamy-brown sands and crystal clear water.
Patong Beach is the most famous beach on the island and is popularly known as the party beach. It's an excellent place to experience the bustling nightlife of Phuket, with various bars and nightclubs lined up along the beach. The beach is also suitable for various water activities such as parasailing, jet-skiing, and banana boating.
Mai Khao Beach is a secluded and serene beach located on the northern side of Phuket island. It's the perfect place for nature lovers and those who enjoy a quieter beach experience. The beach is also popular among plane spotters who come to witness the airplanes landing at the nearby Phuket International Airport.
Paradise Beach, as its name suggests, is a slice of paradise and an ideal location to celebrate the full moon party. The beach is famous for its vibrant nightlife, with bars and nightclubs playing music until the early hours of the morning. The atmosphere on this beach is electrifying, and the vibe is contagious.
There are also many other famous beaches to discover, such as Freedom Beach, Kata Beach, and Nai Harn Beach. All the beaches on the island offer lifeguard services and access to various facilities like watersports, nearby restaurants, and sun loungers. Visitors can also find various local vendors selling food, drinks, and souvenirs along the beaches.
4. Discover Phang Nga Bay and Phi Phi Islands
Phang Nga Bay is an absolute gem for boating enthusiasts, offering stunning scenery and endless opportunities for exploration. The bay is renowned for its towering limestone cliffs that rise dramatically from the crystal-clear waters, creating a breathtakingly picturesque backdrop. With plenty of safe spots to anchor, boaters can take their time to soak in the stunning beauty of this unique natural wonder. Another great feature of Phang Nga Bay is that it's protected from both the northeast and southwest monsoon seasons, which means that its waters remain calm year-round.
Phi Phi Islands, also known as Koh Phi Phi, is a breathtakingly beautiful archipelago situated in the middle of the Andaman Sea. It is part of the Nopharat Thara Beach – Phi Phi Islands National Park. Aside from its stunning natural beauty, Koh Phi Phi is also known for its lively nightlife, numerous beach bars, restaurants, etc. For those seeking a more tranquil experience, there are smaller beaches around the island that cater to honeymooners, families, budget travelers, and luxury resort seekers.
5. Explore Phuket Elephant Sanctuary
Riding elephants is not recommended; why? You can visit the Phuket Elephant Sanctuary to get the answer yourself. By visiting the sanctuary, you will get the chance to meet the elephants, learn about their behaviors, and support ethical elephant tourism. The sanctuary promotes responsible tourism and encourages visitors to respect the elephants and their natural habitats. Through educational tours and interactive experiences, visitors can gain a deeper appreciation for these gentle giants and contribute to their conservation efforts. So, skip the elephant rides and opt for a visit to the Phuket Elephant Sanctuary to have an unforgettable and ethical experience with these magnificent animals.
6. Observe Monkeys at Monkey Hill
Monkey Hill, also known as Toh Sae Hill, is Phuket Town's highest peak, home to around 400 macaques. These monkeys live in small groups throughout the hill, and while they are not known to attack humans, visitors should keep an eye on their belongings. At the foot of the hill, visitors will find a shrine that is highly regarded by Thai people, who often come here to seek good luck and lottery numbers. The shrine is dedicated to three holy spirits: Toh Sae Dang, Toh Sae Dam, and Toh Sae Kaow.
7. Wander around Phuket Old Town
Phuket Old Town, the provincial capital of Phuket, boasts a rich historical heritage that features an abundance of Chinese and Buddhist temples, beautiful shophouses, small printing shops, and a disused red-light district. This part of town was developed during a boom period when metal was a valuable commodity. Despite its historical significance, the town is relatively small and can be easily explored on foot without requiring any means of transportation. Furthermore, the area is filled with an extensive range of restaurants and eateries where visitors can enjoy delicious meals and take a break from exploring the town.
Suggested Phuket 3 Days Itineraries
With so many things to do, many people have raised the question of whether 3 days in Phuket is enough to discover it all. The answer is yes if you know how to optimize your travel itinerary.
Option 1
Spend the whole first day of your trip to Phuket unwinding on Phi Phi island and discovering the magnificent limestone cliffs. On the second day, you will discover Phang Nga Bay's most beautiful attraction – James Bond Island, indulge in the mesmerizing beaches and pristine clear water, and observe the secluded caves and spectacular limestone karsts. After 2 days exploring outside of Phuket, spend the third day on its interiors. You can choose to unwind at Freedom Beach, Kata Beach, and Nai Harn Beach or visit the Phuket Big Buddha on Nakkerd Hills. Evenings of the Phuket tour should be spent at the Old Town, where you can find numerous temples, food stalls, cafes, bars, etc. If you are a philatelist, then Phuket Philatelic Museum is a must-visit destination on this day.
Option 2
With this Phuket itinerary, you will visit Phuket's Big Buddha and Wat Chalong on the first day's morning and spend the afternoon escaping at one of its beaches. The second day will be spent at Phang Nga Bay (morning) and Phi Phi Island (afternoon). On the last day's morning, you will go to Mai Khao Beach for plane landing selfies before returning to discover Phuket Old Town in the afternoon.
>>> See the detailed itinerary here.
Tourists often combine the Phuket itinerary with other destinations in the country for grand sightseeing tours in Thailand. For example, you can spend 4 days discovering Bangkok's highlights and then transfer to Phuket 3 days for beach unwinding. Or, experience the best of Thailand beaches with 3 days in Phuket and extend to Pattaya City.
What to Eat in Phuket, Thailand?
1. Tom Yum Goong
Tom yum goong is an iconic Thai dish that features a delectable combination of bold flavors. The soup is made using a generous amount of aromatic herbs such as lemongrass, lime leaves, galangal, and shallots, which create a memorable fragrance. To give the soup its spicy kick, chilies, and fish sauce are added to the mix. The soup also features jumbo shrimp (goong) and mushrooms, which contribute to its unique flavor profile that's both spicy hot, and sour. Tom yum goong is a great way to start a meal or can be enjoyed as a filling main course when served with rice.
2. Kuay Tiew (Noodle Soup)
Kuay Tiew, also known as noodle soup, is a classic dish in Thai cuisine and a must-try during your 3 days in Phuket. With various ingredients, there are countless ways to prepare a bowl of Kuay Tiew, making it a deserving contender for a top 10 list. Thin or broad noodles are combined with a savory broth and a variety of meats, such as pork, chicken, beef, duck, and seafood. Each vendor may have their own unique spin on the dish, resulting in diverse flavors and textures that can be enjoyed as a quick and easy meal.
3. Gai Pad Med Ma Muang (Stir-fried Chicken with Cashew Nuts)
Phuket is renowned for its production of high-quality cashew nuts, and one of the most popular dishes incorporating them is Gai Pad Med Ma Muang. This stir-fry dish features chicken and cashew nuts, making it a perfect option for those with a lower spice tolerance. It is seasoned with sweet soy sauce, honey, garlic, and a few dried chilis to add a subtle kick of flavor. Gai Pad Med Ma Muang is ideal for lunch or dinner and is often served with a side of steamed rice.
Phuket Travel Tips for First-time Travelers
Below are a few tips first-time travelers should remember when visiting Phuket:
When booking tours or transportation, it's important to choose a reputable company instead of relying on random individuals you meet on the street. If you need assistance, ask your hotel receptionist for recommendations.
If you plan to rent a car or scooter to explore the island, make sure you have a valid international driving license and follow all driving rules to avoid paying fines.
Shopping at night is ideal to avoid the hot and humid daytime weather and find reasonable prices at night markets.
Modest dress is required for visiting temples
It's not recommended to walk with the family on Bangla Road in the evenings or late at night.
When withdrawing money from an ATM, ensure there are no strangers nearby, and remember to take your card after the money comes out.
Solo women travelers should avoid walking alone at night and decline friendly offers from strangers, using public transportation instead.
Hope this article is helpful to you while planning your trip to Phuket, Thailand. Don't hesitate to contact us for a private consultation if you still need help for 3 days in Phuket itinerary.