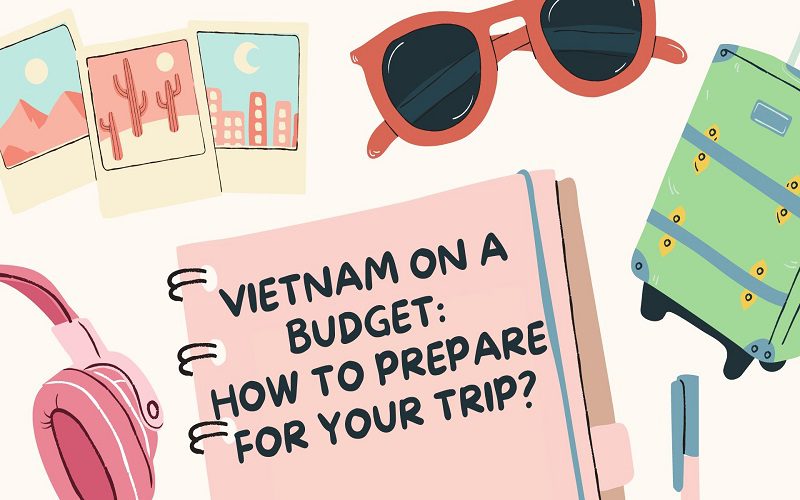 Vietnam is a magnificent country and traveling to this destination is a wonderful experience. The Vietnamese people are welcoming, and their cuisine is considered the best in the world. Moreover, a trip to Vietnam is not expensive at all. If you are curious about budget travel to this country, our article "Vietnam On A Budget" will provide you with a detailed breakdown of costs.
Vietnam on a Budget: Visa
There are three ways to get a Vietnam visa. Applying for an E-visa (electronic visa) is the most convenient way currently. From March 15th, 2022, tourists from these countries can apply for Vietnam Visas themselves through the website of the Immigration Department of Vietnam. Just fill in the online visa application form with enough information, and pay the $25 of applying fee. After three working days, you will receive an E-visa through your email. Show it when you arrive at Vietnam international airport and you are eligible to travel in the country.
If not entitled to E-visa, you can consider a Visa on Arrival (VOA). You also apply for an approval letter online and receive through email, print it out, and show it (together with your tour itinerary, hotel booking confirmation, Vietnam flights' e-tickets, and copy of your passport) to the immigration officers at the airport. Pay a $25 stamping fee and you will get a Visa on Arrival to visit Vietnam.
If the two above methods don't work, you can go straight ahead to the Embassy of Vietnam in the local country to apply for a Vietnam visa directly. You will receive your visa after several working days. Necessary information is name, date of birth, passport number, nationality, and date of arriving and leaving Vietnam.
>>> For more information, you can visit our Vietnam Visa or contact us for the best support.
Flights to Vietnam
Airplane prices constitute a significant part of the budget for traveling to Vietnam. Furthermore, it varies greatly depending on when you plan to visit this country (during high or low seasons). Additionally, the timing of your reservation (booking far in advance is usually recommended) plays a crucial role in determining the price. The cost of the ticket also depends on factors such as the airline and type of flight (direct or indirect), as well as the choice of departure and arrival airports.
To find the best flight deals to Vietnam, we recommend referring to the websites of airlines such as Vietnam Airlines and Alaska Airlines, Etihad Airways, Qatar Airways, and Emirates (for direct and indirect flights with layovers in neighboring countries such as Hong Kong, Bangkok, Singapore, etc.).
Travel in Vietnam on a Budget
Renting a motorbike or a bicycle is a popular and inexpensive option for travelers who want to explore Vietnam on a budget. However, please be aware that traffic in Vietnam can be chaotic, and it is essential to wear a helmet and drive carefully. For short trips like a visit around the Hanoi Old Quarter or Hoi An Ancient Town, you can choose a cyclo-pousse or a moto-taxi to fully enjoy local life. For long trips, prioritize air travel, bus, or train. The overnight train is ideal if you want to save on your Vietnam travel budget and time.
Bus, Limousine
The bus is the cheapest option. From Hanoi, you can take a sleeper bus to Sapa or a limousine to reach Halong Bay or Tam Coc, Ninh Binh.
Bus
Hanoi – Halong: $13.84/person

Hanoi – Ninh Binh: $9.58/person
Sleeper bus Hanoi – Sapa or Sapa – Hanoi (one-way): $21.43/person
Limousine:
Hanoi – Halong: $15.97/person

Hanoi – Ninh Binh: $10.65/person
Private Car
Private car service is the best option for those who want to fully enjoy their trip to Vietnam. It is possible to drive a car yourself in this country with your international driver's license, but with the "dense" traffic, we strongly recommend renting a car with a driver. IDC Travel also offers car rental services with experienced drivers so you can avoid all risks and fully enjoy your stay.
Train
The night train allows you to travel from one region of the country to another, for example from Hanoi to Sapa or from the North to the Central, with the best price. In recent years, the Vietnam railway system has been improved with air-conditioned soft sleeper night trains catering to tourism. The price varies depending on the route, for instance:
Hanoi – Lao Cai/Sapa: $26.62/person

Hanoi – Hue: $42.60/person
Domestic Flight
For budget travel to Vietnam, it's worth considering the cost of transportation. The airplane is undoubtedly the most convenient and fastest means of transport for long journeys. Most major tourist destinations in Vietnam have their own airports which simplify travel.
Hanoi – Hue: $95.84/person

Hanoi – Danang: $85.19/person

Hanoi – Ho Chi Minh City: $117.14/person

Danang – Ho Chi Minh City: $85.19/person
Please note that transport prices are for your reference. They may be higher during the country's holidays such as Reunification Day on April 30th, National Day on September 2nd, and Tet (which lasts about 10 days between late January and mid-February). On these occasions, the flight price can increase by 30% to 40%.
Accommodations
Accommodation is another significant expense when you visit Vietnam. Compared to Europe, it is easy to find comfortable lodging in this country at an affordable price. The prices of accommodation vary depending on the hotel category you choose. Below are the suggested prices for accommodations in Vietnam: 
2-star hotel: 26.62 – $31.95/night 

3-star hotel: 37.27 – $69.22/night

4-5 star hotel: 95.84 – $212.99/night 
These prices vary depending on the region where you stay: the more touristy the destination, the higher the costs. For example, the average price of one night in a 3-star hotel in Phu Quoc is $69.22, while a night in a similar hotel room in Hoi An or Hue costs only $42.60. If you wish to travel to Northern Vietnam, you can stay with locals, which is the best way to immerse yourself in Vietnamese culture while saving a lot of money. Usually, one night with a local family costs $6.39-$8.52 per person only.
Food Options for Budget Travel to Vietnam
Vietnamese cuisine is renowned for its diversity and refinement. You can satisfy your stomach at a very affordable cost. In fact, the price of food is not a big issue when planning to visit Vietnam on a budget. For example, with just $2.13, you can have a bowl of Pho, the national dish of Vietnam. A typical meal in a local restaurant costs only $6.39-$8.52 per person.
During your trip to Vietnam, don't forget to enjoy the best coffee in the world (egg coffee or milk coffee) and even some beer. A cup of beer is estimated at $1.61, while a cup of coffee is about $2.13.
>>> Learn more: Top 30 Popular Vietnamese Dishes: Must-Try Vietnam Foods
Visit Vietnam Tourist Attractions
Estimating your Vietnam budget per day can be challenging as it largely depends on your travel destination, and Vietnam has so much to offer. While some attractions may be free, most tourist sites usually require an entrance fee, which can vary but is generally not too expensive.
Entrance fees to major sites in Hanoi: $10.65/person

Entrance fees to tourist sites in Hue/Hoi An: $26.62/person

Vietnamese cooking class: $42.60/person

Cruise in Halong Bay: Starting from $106.49/person, but it depends on the type of junk you will take.

Private boat on the Mekong Delta: $26.62/person
Note that these prices may vary depending on the season.
Souvernirs
Certainly, you want to bring back souvenirs or gifts for your loved ones and friends. You can allocate a small budget for gifts to avoid exceeding your travel budget in Vietnam. Check out our following ideas:
Small souvenir on the pedestrian street: minimum of $2.66/item

Shopping in a quality store: minimum of $15.97/item
Tips
Tips are not mandatory but greatly appreciated as they serve as a significant source of income for workers in the tourism industry. Thus, it is up to you to decide on the amount of tips based on the quality of service you receive.
Hope this piece of information provides you with enough information to travel to Vietnam on a budget. Please note that these expenses can vary depending on the type of travel, time to visit, and several other factors. But don't worry about it. Feel free to contact us for more details or a private consultation.
Read more: