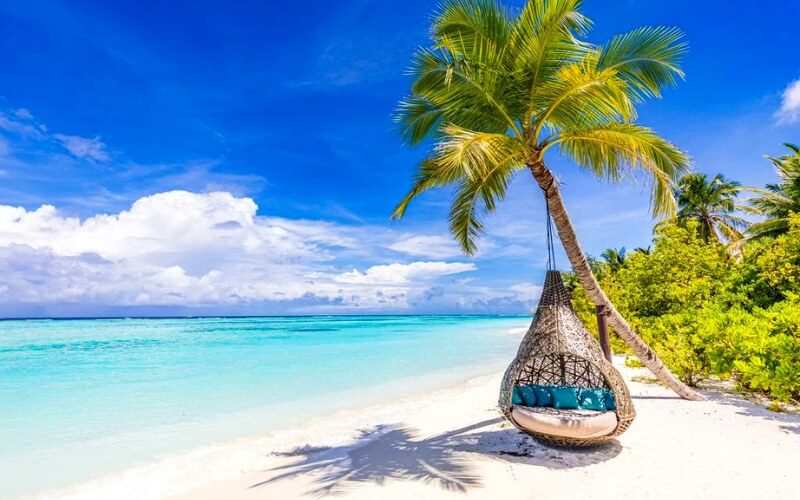 Welcome to Nha Trang, one of Vietnam's most renowned tourist spots. With its endless beaches, abundant snorkeling activities, and thriving collection of high-rises and resorts lining the beachfront, there's plenty to see and do here. Wondering how long to stay in Nha Trang? Three days is the ideal amount of time to cover the highlights. But, how to make use of your 3 days in Nha Trang so that you can visit all scenic spots, enjoy all mouth-watering local dishes, etc.? Let's check out our direction below for a perfect Nha Trang itinerary.
Best Time to Visit Nha Trang
The period between February and April is the ideal time to visit Nha Trang, with moderate temperatures hovering around 26-27 degrees Celsius and the lowest precipitation levels of the year. Spring months are also ideal for diving enthusiasts, with some coral-rich dive sites like Small Hill, South Reef, and Moray Beach all located around Mun Island.
If your travel plans are scheduled for July or August, consider adding "Hòn Bà" (located 30 km away from the city center and considered as the Da Lat of Nha Trang) to your itinerary. The mountain offers cool temperatures throughout the year, providing a perfect escape from the summer heat.
However, autumn travel to Nha Trang is generally not recommended. Although it's not cold during this time, heavy rain, tropical storms, and typhoons can disrupt most travel plans. Travelers planning to visit the area between September and December should keep a close eye on the local weather forecast.
>>> Read more: Best time to visit Vietnam
Where to Go in Nha Trang in 3 days
3 days in Nha Trang is enough for you to enjoy almost all of its highlights, including:
Long Son Pagoda
Long Son Pagoda, originally known as Dang Long Tu, was founded in 1886 by abbot Thich Ngo Chi at the top of Trai Thuy hill in Khanh Hoa province, where the Buddha statue now sits. After a devastating cyclone in 1900, the temple was moved downhill. In 1936, it became the headquarters of the Vietnam Buddhist Studies Association in Khanh Hoa, fulfilling the wish of the first abbot. The temple has been renovated and restored several times, particularly after the Vietnam War.
Tourists should start their discovery of the temple from the downhill, ascending 193 steps to reach the top of the hill where the largest Buddha statue in Vietnam is located. Long Son Pagoda has four main highlights: the Main Temple, Lying Buddha Statue, Bell Tower, and White Buddha Statue.
The Main Temple features a delicate mosaic dragon on a stone board at the entrance, images of mythical animals as symbols of Taoist gods on the roof, and a 700kg bronze Buddha statue sitting in the sanctum. The Lying Buddha Statue, located on the right side of the main temple, is surrounded by a background depicting the convergence of 49 disciples chanting when the Buddha passed away.
The Bell Tower, up about 10 steps from the Lying Buddha Statue, houses the 1900kg Dai Hong Chung bell, an offering from Hue Buddhists in 2002. The White Buddha Statue, located at the top of Trai Thuy hill, is reached by climbing about 140 more stone steps from the bell tower. The 24-meter tall Gautama Buddha sits on a lotus throne and is surrounded by seven arahants who set themselves on fire to protest mistreatment of Buddhists by the Ngo Dinh Diem regime in the 1960s.
Address: No. 22 on 23/10 Street, Phuong Son, Nha Trang, Khanh Hoa (at the foot of Trai Thuy Mountain)
Opening hours: Not limited
Ticket fee: Free
Po Nagar Cham Towers
Ponagar Cham Towers, situated on Cu Lao Hill near Cai River, 2 kilometers north of Nha Trang City, offers a mesmerizing natural landscape of mountains and rivers, providing tourists with unforgettable experiences during their 3 days in Nha Trang. Ponagar is a complex of Cham Pa relics that dates back to the 7th to the 13th centuries when Hinduism was widely practiced in the flourishing Champa Kingdom. In the Cham language, "Ponagar" means "the mother of the country."
Ponagar Tower is also known as Yang Po Inu Nagar Tower or Yang Po Ana Gar, as it was built to worship the Queen Po Ina Nagar, who was believed to be the goddess of creation. The temple complex has significant spiritual importance for the Cham people and represents the artistic essence of Cham culture. In 1979, Ponagar Tower was recognized as a national monument of Nha Trang.
Address: 61 Hai Thang Tu Street, Vinh Phuoc, Nha Trang, Khanh Hoa
Opening hours: 08:00 – 18:00
Ticket fee: 21,000 VND/person
Oceanographic Institute Nha Trang
The National Oceanographic Museum of Vietnam, also known as the Oceanographic Institute Nha Trang, is situated at 1 Cau Da Street next to Cau Da Wharf, approximately 6 kilometers from Nha Trang City Center. It is a premier marine research institute in Southeast Asia, and it currently holds and maintains thousands of specimens from various marine species.
Visitors can witness the vast collection of diverse marine life, including a survey ship utilized by the Institute's researchers on their voyages, and take advantage of the library, which contains over 7,000 books and 60,000 scientific journals from 140 international organizations across 30 countries. Moreover, the Institute has contributed to several research projects on exploring and safeguarding the East Sea, publishing more than 1,100 scientific publications on biological diversity.
By visiting the Oceanographic Institute, tourists not only witness unique marine life but also gain useful insights into Vietnamese oceanography's potential and conservation efforts.
Address: 01 Cau Da, Nha Trang, Khanh Hoa, Viet Nam
Opening hours: 06:00 – 18:00 daily
Ticket price: Adults: 40,000 VND/person, College students: 20,000 VND/person, High school students or younger: 10,000 VND/person
Tri Nguyen Aquarium
Tri Nguyen Aquarium, also referred to as Bong Nguyen Island, is a small island located in Nha Trang Bay, which belongs to Hon Mieu and is situated about 2 kilometers south of Cau Da. The island houses a large aquarium with a diverse collection of plants.
It is designed like an ancient pirate ship, with multiple floors that make up the ship's interior. The three major decks are home to various fish tanks that are open for visitors to see. The aquarium is located on the bottom floor, a gift shop on the second floor, and a 360-degree panoramic view can be enjoyed from the third floor.
Address: Tri Nguyen, Vinh Nguyen Ward, Nha Trang City, Khanh Hoa Province
Opening hour: 07.00 – 17.30 daily
Ticket price: Adults: 170,000 VND. Children: 90,000 VND
Nha Trang Beaches & Islands
Nha Trang is renowned for its stunning beaches that attract millions of visitors from all around the world every year. Whether you prefer tranquil and serene beaches or energetic and turbulent ones, Nha Trang has it all. Each of the beaches in Nha Trang boasts a unique charm that will leave you with unforgettable memories.
Nature has gifted Nha Trang with many attractions to lure in travelers, and the captivating beauty of its beaches is one of them. We have curated a list of the beautiful beaches that you must add to your 3 days in Nha Trang bucket list, including Ca Na Beach, Tranh Beach, Mot Island, Bai Dai Beach, Ninh Van Bay, Hon Chong Beach, etc. They all offers breathtaking views, crystal-clear waters, and white sand for a romantic getaway or a fun-filled family vacation.
Suggested 3 Days in Nha Trang Itineraries
Spending 3 days in Nha Trang, you are highly recommended to spend the morning watching sunrise and relax on the beach. In the afternoon, you can visit its tourist attractions such as recommended above. Here is a suggested Nha Trang Beach 3 Days 2 Nights Tour:
Day 1: Arrival in Nha Trang, stop at Ca Na Beach for a short break and then move to Long Son Pagoda before watching sunset at Tran Phu beach.
Day 2: Visit outlying island of Nha Trang, join water activities in the morning and come across Po Nagar Cham Towers in the afternoon.
Day 3: Enjoy a mineral mud bath at I-Resort before departuring.
If you're seeking more relaxation and exploration, you can extend your stay to four days in Nha Trang or more. However, we recommend exploring other Vietnamese beach cities such as Da Nang, Phu Quoc, or Con Dao Islands. Our Luxury Vietnam's Beach Vacation in 13 Days and Central and South Vietnam Beach Resorts in 10 Days are some of the best examples.
What to Eat in 3 Days in Nha Trang
Fresh seafood
The coastal town of Nha Trang is renowned for its delicious seafood. Its fishing villages are home to a wide variety of marine life, including king prawns, squid, sea urchins, crabs, jellyfish, and shellfish of all shapes and sizes. Visitors joining a trip to Nha Trang can indulge in these fresh and tasty seafood dishes at the numerous seafood restaurants scattered throughout the city. Seafood is typically charged by weight, and customers can choose from live or frozen sea creatures. For seafood lovers, Nha Trang is a paradise with an endless array of delectable options to choose from.
Grilled pork roll (Nem Nuong)
Nha Trang is known for its delectable cuisine, and the Grilled Pork Rolls (also known as Ninh Hoa Grilled Pork Rolls) are a must-try delicacy. These rolls come in two variations: freshly fermented pork rolls (or "nem chua") and grilled pork rolls (or "nem nuong"). While "nem chua" is typically bought as a gift, most visitors prefer to savor the "nem nuong" during their stay. These pork rolls are grilled to perfection over a hibachi fire, and are best enjoyed with fresh herbs and pickled green papaya sauce. The smoky flavor and tender texture of the pork combined with the zesty sauce and fragrant herbs create a taste sensation that you won't forget.
Rice cake with filling (Banh can)
"Banh can" is a well-liked delicacy in the central and southern provinces of Vietnam, produced using rice flour, lard, green onions, and eggs. The cakes are sold in twos and accompanied by a unique sweet and tangy dip composed of Nha Trang's renowned fish sauce and raw vegetables.
Observing the chef's deft pouring of flour into molds, while seated near a blazing charcoal stove, and subsequently relishing a hot "banh can" on a gusty day is a remarkable encounter for anyone visiting Nha Trang.
Tips to Plan Your Trip to Nha Trang
There are many things to do while planning 3 days in Nha Trang itinerary. Start by deciding on the best time to visit based on your preferences and budget. The high season is from May to August when the weather is hot and dry, while the low season is from September to December when there may be occasional rain. Next, research and book accommodation in advance to secure your preferred option. Consider visiting Nha Trang's top attractions, such as the beaches, islands, and historical landmarks, and plan your itinerary accordingly. Don't forget to sample the local cuisine and participate in cultural experiences, such as a visit to a fishing village or a traditional festival. Finally, pack appropriately for the weather and bring sunscreen, insect repellent, and any necessary medication.
You can refer to our Nha Trang travel guide for a detailed guideline or contact us directly for private consultation. Our travel experts at IDC Travel are always ready to help you with a perfect trip to Nha Trang, Vietnam.