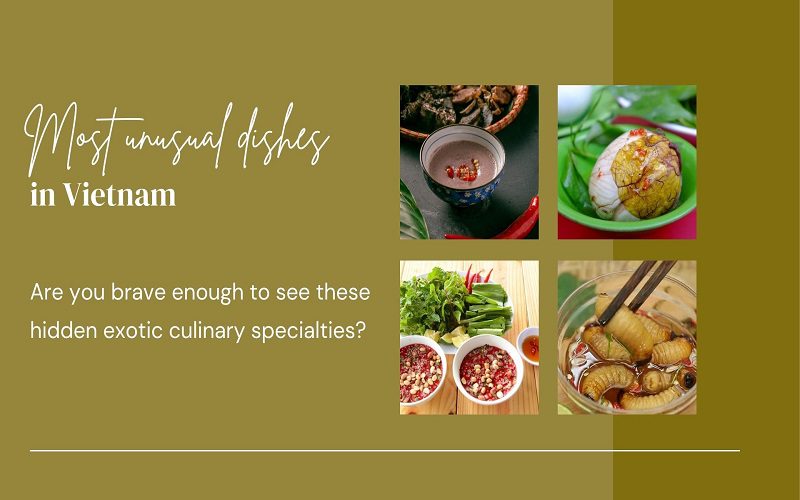 Vietnamese cuisine offers delicious street food, but for people visiting the country for the first time, some unusual Vietnamese foods seem like too much of a challenge for their palate. Some traditional Vietnamese dishes will likely excite the more adventurous. For example, dishes such as raw blood pudding, organ soup, or the famous hatched eggs are all common in Vietnamese eating habits and are regularly found in street markets. So, are you brave enough to devour these hidden exotic culinary specialties? Let's go!
Balut or hatched egg – Trứng vịt lộn
Balut is a popular and beloved food among the Vietnamese. It is a kind of egg that encloses a small, partially formed duck fetus, after being incubated for 9-11 days. They can be eaten with basil leaves (rau ram in Vietnamese) and a sauce sometimes mixed with chilies, lemon juice, and sea salt. Vietnamese people enjoy it as a rich source of protein. This dish can be prepared at home or by street vendors as a famous street food.
Children under 5 years old and people with hypertension, diabetes, or gout should not eat this dish. Similarly, balut should be eaten with breakfast or lunch rather than dinner to avoid indigestion. Tourists who have never tasted balut or may feel uncomfortable with this dish should try a similar one – quail egg. The small size of quail eggs, along with tamarind and sweet lemongrass, will make them easier to eat.
Shrimp paste – Mam Tom
Fermented shrimp paste is made from shrimp and salt. The fermentation process uses a special enzyme in the shrimp to create a special flavor. It is an essential sauce in many Vietnamese dishes such as Bun dau mam tom (fermented shrimp paste with fried tofu and rice vermicelli) and Bun thang (chicken broth vermicelli). Foreigners usually find this dish quite strong and some can't stand its smell.
Raw blood pudding – Tiết canh
The weird food of raw blood pudding was very popular 15 to 20 years ago. Today, Vietnamese people still enjoy it but with a higher level of cautions. This dish is often made from blood extracted from fresh pig, duck, or goose; then, topped with ingredients such as monosodium glutamate, and fish sauce and let it coagulate. Raw blood pudding is not very aesthetic and requires extreme sanitary conditions if you still want to taste it.
Animal Organs
Consuming animal organs is a common practice, making it one of the most unusual Vietnamese foods for many foreigners. All parts of an animal such as the intestines, heart, stomach, brain, tail, head, and neck can become a dish. The nutritional ingredients of the internal organs are very abundant. They are particularly rich in vitamins B (especially B12), A, D, E, and K, folic acid, and minerals including iron, magnesium, selenium, and zinc. They are also an excellent source of protein.
Durian – Exotic but Delicious
Durian is a fruit native to Southeast Asia, called "the king of fruits" thanks to its rich and sweet aroma. At first glance, this fruit resembles jackfruit. Nevertheless, it gives off a powerful smell that some compare to overcooked cheese or downright onion cream – rotten shallot. It is therefore prohibited in hotels, tourist buses, and planes. In taste, it is slightly sweet and fibrous, but at the same time rich and fatty, melting in the mouth. You will have the impression of eating a rich cream with a pronounced almond taste. So? Are you tempted to try it out?
Silkworms, Coconut Worms – Weird from the First Sight
Silkworms are not only used for their luxurious silk but also for their culinary value in many parts of the world. In some countries, silkworms are served grilled or fried, while in others they are boiled and served with vegetables or rice. In Vietnam, silkworms are often fried in oil and served with a fish-based sauce. Although it looks like an uncommon food to Western palates, silkworms are considered a sustainable and affordable source of protein and are prized for their texture and delicate taste.
In the Mekong Delta, Duong Dua (coconut worms) is a famous dish. The coconut worm is a kind of snout beetle in the larval stage. It is considered a harmful pest because it burrows into the trunk of coconuts and lays eggs there, which then develop into larvae and feed on the tree's nutrients. Unlike silkworms and river worms, southerners often eat live coconut worms with fish sauce.
Grilled or Fried Insects
Worms, locusts, crickets, bee larvae, and scorpions are insects that can be transformed into food with high nutritional value. In Vietnam, insects are a "dish of the poor", eaten in the countryside or mountainous regions. But they start to make their debut on the tables of the elite of the capital Hanoi, including the cricket and fried grasshoppers, fried scorpions or geckos, etc.
Vietnam Snake Dish – Weird Vietnamese Food
Snake dish is one of the most unusual Vietnamese foods. It is rather reserved for a small part of the wealthy population in search of new sensations. According to enthusiasts, the snake tastes just like chicken, as long as you don't overcook it; otherwise, it will get rubbery. In Vietnamese medicine, this meat protects against certain cardiovascular diseases, diabetes, or kidney infections. Snake bile is said to be excellent for the immune system.
The village of Le Mat, in the suburbs of Hanoi, is famous for its many restaurants specializing in snake meat. The snake is chosen from a vivarium, it is then cooked in many different ways. You can also drink a small glass of the snake's blood.
Dog meat
For foreign travelers, dog meat is certainly the dish that arouses the most aversion. Roasted, boiled, or steamed dog meat is sold in markets and grocery stores. Many Vietnamese people eat dog meat based on popular beliefs that enjoying this dish at the end of the lunar month makes you stronger and more virile, cures certain diseases, and reverses bad luck.
This consumption is part of the Vietnamese culinary tradition but is considered taboo by the younger generations and is becoming less and less popular, especially since the authorities ask the inhabitants of Hanoi and Hoi An to stop consuming dog meat, pointing out that this popular dish tarnished the country's image among foreigners.
Beef, Horse, or Goat Offal Soup – Thắng cố
Thắng Cố or horse offal soup is the traditional dish of the Hmong minority who live mainly in the highlands of northwestern Vietnam, such as Ha Giang and Sapa. This exotic dish was once prepared with horse flesh or organs. Over time, locals have "improved" Thắng cố by adding beef, buffalo meat, and many other ways to cook it.
In short, people in Bac Ha, Muong Khuong, and Sapa districts in Lao Cai province have their most popular horse offal soup. This strange Vietnamese dish is suitable for cold climates. Gout sufferers should not eat Thắng cố because of the huge amount of protein it contains.
>>> Taste this unusual dish with a visit to North Vietnam.
Quirky, intriguing, thrilling, and dangerous, that's what can be found in all the bizarre Vietnam delights above. For most travelers to Vietnam who are already familiar with the stars of Vietnamese cuisine such as spring rolls, pho, or bun bo, these typical and lesser-known dishes, sometimes unsavory at first glance, will enhance the experience of Vietnamese cuisine. So take your courage in both hands and let yourself be seduced by these unusual Vietnamese foods.
>>> Find out more: Top 30 popular Vietnamese Dishes: Must-try Vietnam foods.