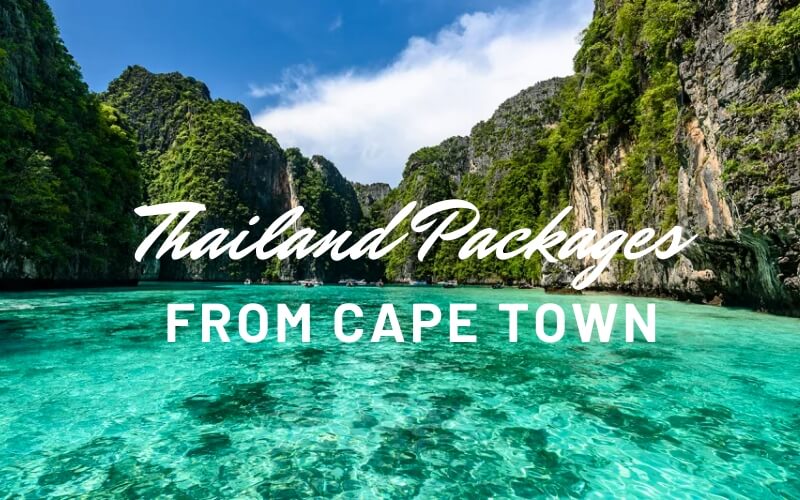 Thailand is a popular destination for tourists from all over the world, not only because of its hospitable culture but also thanks of its stunning natural scenery. The country boasts picturesque landscapes, magnificent temples, vibrant entertainment districts, unique traditional festivals, and a plethora of shopping options, making it an ideal destination in Southeast Asia. If you are seeking Thailand packages from Cape Town for your couple or family, then this article is for you. Read it through and get the important information needed for a perfect vacation in Thailand from South Africa.
How to Travel From Cape Town to Thailand
Thailand is 19,647 kilometers from Cape Town, according to the road distance. Up to now, the fastest and cheapest way to travel from Cape Town to Thailand is to book a flight, which will take you about 20 – 24 hours, and USD 400 – 1,100 per passenger. There are many airlines providing flights between these countries, including Scoot Tigerair, Thai VietAir, Ethiopian Airlines, etc. However, there is no direct flight. Visitors getting on Thailand packages from South Africa must experience one or two stopovers on the way.
Best Time to Travel From Cape Town to Thailand
For a cool and dry climate, the best time to visit Thailand is from November to March. This period is also the prime tourist season, resulting in a surge in hotel and flight prices.
Thailand has extremely hot weather from April to June, with the rainy season typically occurring between June and October. However, the east coast of the south, including Koh Samui, experiences heavy rainfall from October to December. While it is still possible to travel to Thailand during these months, visitors should expect high temperatures and varying levels of monsoon season, ranging from afternoon showers to severe flooding. On the positive side, lower prices and fewer crowds can be expected.
However, your choice of the best time to visit Thailand will depend on your holiday purposes, budget, and weather preferences:
Thailand Visa for Visitors from Cape Town, South Africa
If you hold a South African Passport, you do not need a visa to travel to Thailand. However, before making your travel arrangements, ensure that your passport remains valid for at least six months from the arrival date. Additionally, it is important to have sufficient blank pages for visas, as having less than two blank pages could result in denied entry into Thailand. It is also advisable to carry additional copies of your passport and passport photo with you when traveling overseas on vacation.
Thailand Packages from Cape Town
Thailand has a global reputation as the land of smiles and golden temple spires. The country boasts brilliantly white beaches that require sunglasses and scorchingly hot curries that can make your toes tremble. All of these are true and more, which presents a challenging question for travelers from Cape Town to Thailand: where should one begin with so many amazing things to see and do?
To help you answer this question, our travel experts at IDC Travel have crafted several completed itineraries for Thailand packages of all lengths and purposes.
Itinerary 1: Thailand Highlights Tour 12 Days
Day 1: Arrive in Bangkok, and visit the Chakri Dynasty.
Day 2: Visit the Grand Palace and Wat Phra Kaew.
Day 3: Leave Bangkok to visit a local market in Samut Songkhram, Damnoen Saduak floating market, and Kanchanaburi Town.
Day 4: Visit Ayutthaya – Thailand's former capital.
Day 5: Transfer to Phitsanulok, visit Wat Mahathat, Phra Buddha Chinnarat, and Sergeant-Major Dr. Thawee BuranaKhet Folklore Museum.
Day 6: Visit Srisatchanalai, including Sri Satchanalai Historical Park and Wat Phra Sri Rattana Maha Dhat.
Day 7: Move to the oldest temple at Wat Phrathat Lampang Luang, admiring old Lanna or Burmese architecture.
Day 8: Drive to Wat Phrathat Temple in Chiang Mai.
Day 9: Visiting the stunning mountain of Mae Hong Son.
Day 10: Visit Fish Cave, and Pooklon Country Club, enjoying the mud spa and mineral bathing.
Day 11: Discover the Karen hill tribe village of Ban Nai Soi and the Pai River.
Day 12: Departure.
>>> Check the detailed itinerary here.
Itinerary 2: Thailand Honeymoon Package 8 Days
Day 1: Fly from Cape Town to Bangkok, check-in at the hotel, and relax after a long flight.
Day 2: Visit the Royal Grand Palace and watch Calypso Carabet Show.
Day 3: Discover Damnoen Saduak floating market in Ratchaburi and the River Kwai in Kanchanaburi.
Day 4: Fly to Phuket
Day 5: Freely relax in Phuket and Phang Nga Bay
Day 6: Visit Phuket Old Town and have free time to relax on the stunning beach in the afternoon.
Day 7: Free day in Phuket
Day 8: Departure.
>>> Read our article on Romantic Thailand Honeymoon Package 8 days for the comprehensive program, or check our list of best Thailand honeymoon packages here if you are still not satisfied with this tour.
Itinerary 3: Thailand Beach Holidays
Your Thailand packages from Cape Town will not be completed without visiting one or more of its popular and idyllic beaches. The country boasts some of the world's most stunning beaches, with over 2,000 miles of coastline, sparkling turquoise waters, and endless tropical islands. At IDC Travel, we have an incredible selection of Thailand beach holidays for you to choose from. Each offers something unique despite your tour length and preferences.
Itinerary 4: Thailand, Laos & Vietnam Grand Tour 15 Days
It is an interesting idea to combine Laos and Vietnam with your Thailand packages from South Africa. This will help you to save a lot of time flying between Cape Town and Southeast Asia while discovering the region's nature and culture in depth. Here is the suggested itinerary:
Day 1: Arrive in Bangkok and have free time to relax or explore the city in your own way.
Day 2: Bangkok city tour, visiting the Grand Palace, Wat Pho, and the Temple of the Emerald Buddha.
Day 3: Explore the ancient ruins of Ayutthaya.
Day 4: Fly to Chiang Mai, and visit Doi Suthep.
Day 5: Discover hill tribes in the north of Chiang Mai and meet with ethnic people.
Day 6: Leave Chiang Mai for Luang Prabang, Laos.
Day 7: Witness the spiritual temples in Luang Prabang, coming across Wat Xieng Thong, Wat Visoun, Wat Aham, and the National Museum of Laos. Finally, stop at the Ock Pop Tock.
Day 8: Full-day discovering the Kuang Si Waterfall and Barci Ceremony.
Day 9: Leave Luang Prabang for Hanoi, Vietnam.
Day 10: Visit Hanoi's highlights, including Ho Chi Minh Mausoleum, Presidential Palace, One Pillar Pagoda, etc.
Day 11: Transfer to Ha Long Bay and embark on a 2-day 1-night cruise. Overnight on board.
Day 12: Return to Hanoi and fly to Da Nang.
Day 13. Visit Ba Na Hills in the morning and afternoon moving to Hoi An Ancient Town.
Day 14: Full-day discovering Hoi An Ancient Town's tourist attractions, including Tan Ky House, Chua Ong Pagoda, Japanese Covered Bridge, etc.
Day 15: Da Nang departure.
>>> The full itinerary is presented here. Also, go over our list of Indochina tours for more interesting options.
Budget for Thailand Packages from Cape Town
Firstly, it is important to emphasize that Thailand is an affordable country. Although it is not as cheap as its neighbors Vietnam, Laos, or Cambodia, almost South Africans can afford Thailand packages. If you choose to travel like a backpacker, USD 40 per day is enough. A bit higher can pay USD 100 per day and the most luxurious service accounts for USD 400 per day as a maximum.
Below are the major expenses you have to pay for Thailand vacations from Cape Town:
Tips for First-time Travelers from Cape Town to Thailand
Thailand is a remarkably diverse and culturally immersive travel destination in Southeast Asia. With soaring mountains, vibrant cities, stunning beaches, rugged cliffs, lush jungles, and much more, this small country has everything that a visitor needs.
The locals are welcoming, the cuisine is delectable, and the activities are endless. You can spend your days trekking, snorkeling, diving, fishing, kayaking, practicing yoga, or exploring islands. At night, you can enjoy street food, watch a ladyboy cabaret, or attend a Muay Thai boxing match. Discover Bangkok's iconic Grand Palace or Wat Pho, or venture to Chiang Mai to explore the temples. Take a cooking class, learn to scuba dive in Koh Tao, or party at the Full Moon Party on Koh Pha Ngan.
With so much to see and do in Thailand, it's important to arrive prepared for anything. Before your trip, it's recommended to review some general travel tips for Thailand to help you feel knowledgeable about the country and its customs.
Above is all the necessary information for Thailand packages from Cape Town, South Africa. Choose a suitable time and itinerary and enjoy your holiday in one of the most beautiful countries in Southeast Asia. Still need more information or a private consultation, don't hesitate to inquire us.
Read more: