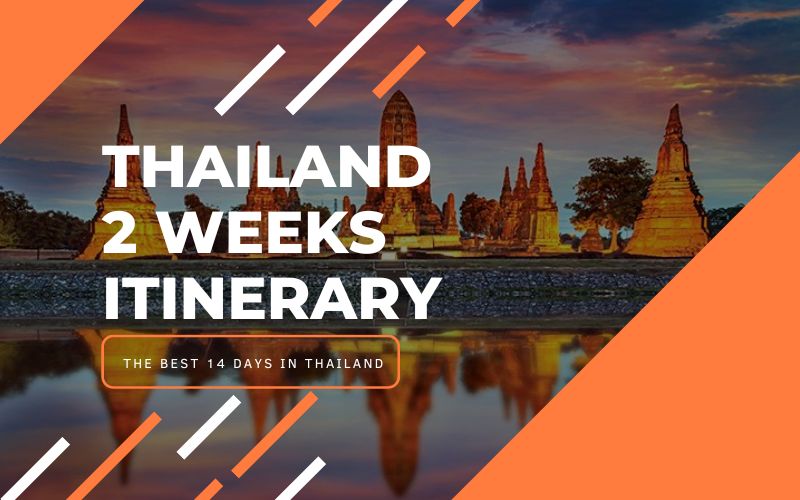 Thailand is a country that attracts tourists around the world not only because of its hospitality but also because of its beautiful, unspoiled, natural scenery. Thailand possesses beautiful landscapes, a system of magnificent temples, bustling entertainment areas, unique traditional festivals and especially countless shopping areas in 2 weeks itinerary in Thailand. 
When is the best time to visit
The best time to visit Thailand is from November to February. During these months, there is almost no rain and the weather is not too hot.
With 2 weeks in Thailand, tourists should consider carefully before traveling, as Bangkok has peak seasons from the end of December to the end of February the following year. In addition, on festival days and weekends, airfares to Bangkok, hotel room rates also increase significantly.
Country highlights in Thailand itinerary 2 weeks
Wai greeting – one of the prominent features in the greeting culture of Thai people. Wai greeting is quite simple, just the act of folding hands in front of the chest as if praying and bending slightly, along with a warm smile. More than just a greeting, Wai also has its own rules to remember such as people of lower status will have to greet people of higher status first.
Thailand has many rich festivals bearing the characteristics of the Thai people, like SongKran Water Festival takes place from April 13 to 15, the Loy Krathong Festival, Khao Phansa festival takes place in July.
Tuktuk cars are considered as a unique means of transportation in Thailand. It is also the main means for tourists to choose to travel when traveling to Thailand because it is cheap and extremely cool.
The cuisine of this region can be considered as a paradise for tourists. When visiting Thailand,  visitors will have the opportunity to enjoy traditional Thai dishes. The special feature of the dishes here is that most of the dishes are very spicy and have an attractive yellow color.
Transportations for Thailand Itinerary 2 weeks
Sky train (BTS):
The sky train is quite popular public transport in Thailand. Especially in Bangkok with wide coverage, it is very convenient and extremely suitable for people who have road blindness. Visitors need to prepare coins to buy train tickets at the vending machine. Fees range from 15-40 baht (about 10,000-30,000 VND) depending on where you go. If you don't have coins, you can exchange them for paper money at the currency exchange counters. A small note for this vehicle, you should have a guide on how to take the train to ensure the trip is complete!
There are two BTS lines, Silom and Sukhumvit. The Silom Line runs across the central area (Siam) and the southwestern part of the city (Chong Nonsi). The Sukhumvit Line runs across the northern area (Chatuchak – Mochit), the center (Siam) and the southeast part of the city (Sukhumvit – On Nut). Retail fares range from 10 baht to 52 baht (about 10,000 VND to 26,000 VND), depending on your destination. BTS also sells a one-day pass for 130 baht, which can be used several times daily.
Tuk-Tuk – The most popular public transport in Thailand:
Thailand 14-day itinerary you should try  Tuk-Tuk. Tuk-Tuk, also known as "Xam Lo" car, is the most popular means of transportation in Thailand. Travelers widely use it. The streets in Thailand are quite wide, so cars often move quickly, giving people an interesting feeling. However, there is a small note that this vehicle is only suitable for traveling within 10km of the number, because sitting for a long time will be tiring and quite bumpy.
Songthaew – The most special public transport when traveling to Thailand:
Songthaews are pickup trucks with 2 rows of seats along the body and a space between the legs, quite similar to the tuk tuk. Many people confuse this type of vehicle with Tuk-Tuk. But tuk-tuk has front-facing seats and can only carry a few people. Songthaew, on the other hand, can transport more people and follow the same route as a bus. This is a great means of transport because it costs a little less, only 10 Baht to get from one side of town to the other side of town. Songthaew drivers often drive slowly, so this car is quite safe.
Bus:
A great contribution to Thailand's colorful streets is the bus. The "big" buses are decorated in many colors with many eye-catching motifs. There are not only inner-city bus routes, but also buses carrying tourist groups with long routes from one city to another. Among them are the extremely interesting double-decker buses. Regarding the cost, there is not much debate about its cheapness. It only costs from 7-22 baht depending on the distance and type of vehicle for the inner city route. Extremely reasonable!
Ship, boat, ferry:
Traveling to the Chao Phraya River, you can choose from 3 types of vehicles: ferry, river taxi or cruise ship. If you just want to go to the other side, choose a ferry; the price per river is 2.5 baht. River taxis go along the river, the price is about 6 baht or more, depending on the distance. If you want a more organized journey, travel by boat operated by The Chao Phraya Express Boat Company. Buy a 75 baht day pass to board a guided train and drink water. This boat travels along the river and stops at 10 outstanding attractions.
Tips for first time visitors during Thailand itinerary 2 weeks
Most Thailand travel guides recommend knowing the rules here. There are at least 5 seemingly trivial things that can actually get tourists incarcerated in Thailand:
Insult the Thai Royal Family. Even disrespecting the royal family is against the law.
No passport when requested.
Gather in groups of more than 5 people, except for tour groups.
Expressing political views, and criticizing the military.
Don't put yourself in trouble, but actively read the review to Thailand in this article, know what to prepare to travel to Thailand to have a more complete trip.
Thailand Itinerary 2 weeks
Day 1-2: Bangkok – the capital of Thailand
You can start your Thailand itinerary 2 weeks in the capital city- Bangkok. It is famous for skyscrapers, spacious markets selling all kinds of goods, and ancient temples and pagodas with impressive architecture. The most prominent places to visit in Bangkok are the Grand Palace and Wat Pho temple. Additionally, you can take advantage of this contemporary city's benefits by going on a golf tour. .
Royal Palace of Thailand:
If this is the first time you set foot in Bangkok, this will surely be a place that you cannot ignore. At the Royal Palace of Thailand you will be overwhelmed by its grandeur and flashy appearance. Although it was built long ago, this place retains its inherent beauty. This is considered a complex architectural complex, including many different works. These unique architectural works combine many styles from China, France, Italy, and the architecture of the ancient Thai people.
Damnoen Saduak Floating Market:
Damnoen Saduak Floating Market is one of Thailand's first places to buy and sell goods on the river. This floating market has a fairly large area, which can be considered the largest market in Bangkok up to this point. When visiting this place, you will experience the feeling of sitting on boats buying and selling all kinds of goods. All kinds of items are loaded on the boats. This is probably one of the most interesting experiences traveling to Bangkok, Thailand.
Day 3: Historical ancient capital Ayutthaya
Not far from Bangkok is the historic ancient capital of Ayutthaya, which was once the largest city in the world since the 1700s. Although much of this city has been destroyed, it still holds many amazing vestiges of Autthaya's glorious past.
Day 4: Kanchanaburi, the peaceful countryside of Thailand
Located on the banks of the Kwai Noi and Kwai Yai rivers, this city is known for its bridge over the River Kwai and the death railway that transported so many dead during World War II. Exploring Kanchanaburi, visitors can visit the temples dotted around this area, visit the surviving war museums, immerse themself in the Erawan waterfall and most of all, a peaceful natural setting. Peaceful, beautiful, which is rarely found anywhere else.
Day 5: Pattaya, the most vibrant city in Thailand
Pattaya is one of the most famous tourist cities in Thailand after Bangkok. This is a beach resort, extremely lively with bars, clubs.
Arriving in Pattaya, you will be comfortable playing at the beautiful beaches with countless exciting sea games. Also, don't miss the opportunity to watch some very attractive transgender shows here.
>>> Click Thailand highlights tour in 12 days to enjoying your Thailand itinerary 2 weeks.
Day 6-7: Surat Thani (Koh Samui, Koh Phangan and Koh Tao)
Located on the coast facing the Gulf of Thailand, the tourist city in Thailand may sound strange to many people, but this is the place for you to go.  There are beautiful and famous islands located next to it, including Koh Samui, Koh Phangan, Koh Tao, Ang Thong National Marine Park. Visitors can immerse themselves in enjoying the wonderful blue water at Koh Samui, participate in the famous Full Moon Festival at Koh Phangan or snorkeling at Koh Tao island, and rent a boat to travel around the island.
Day 8: Chanthaburi countryside
If you are a nature lover, do not miss the tourist city of Thailand – Chanthaburi. Departing from here, you can go on trips to explore the nearby waterfalls, forests and especially Namtokphlio National Park – famous for its lush flora and fauna and mountainous terrain, majestic mountains.
In addition, this is also a gateway for you to go to the beautiful island of Koh Chang – one of the most beautiful places in all of Thailand.
Day 9: Nakhon Ratchasima
Nakhon Ratchasima, commonly known as Korat, is a tourist city in Thailand that is quite large and vibrant because there are many markets and crowded stalls on the street for visitors to wander around.
In fact, what makes Nakhon Ratchasima the most popular is the nearby Khao Yai National Park. This is the home of Asian elephants, lizards, gibbons and more, all make it a must-visit destination when traveling to Thailand.
Day 10: Khao Yai
Khao Yai tourist attraction in Thailand is recognized by UNESCO as a World Natural Heritage. This is Thailand's third largest heritage site and one of the most visited national parks. The park stretches across 4 provinces. Namely Saraburi, Nakhon Nayok, Nakhon Ratchasima and Prachinburi.
Just a three-hour drive from Bangkok, Khao Yai is a year-round getaway destination. The west side has a host of wildlife theme parks and vineyards by award-winning Thai brands, such as Pirom Khao Yai Reserve and Sawasdee Chenin Blanc. Natural wonders abound in the south and east, from the ozone-rich Wang Nam Kheo valley to the Prachinburi jungle waterfalls.
Day 11: Phanom Rung
Located on a dead volcano in Northern Thailand, Phanom Rung is a complex of Hindu tombs. The Khmer culture constructed this holy temple close to the village of Nang Rong between the 10th and the 13th centuries as a reminder of the Hindu worship of Shiva. The sandstone and laterite architecture of Phanom Rung was designed to resemble the peak of Kailash, Lord Shiva's cherished residence.
Day 12: Railay
Railay (also known as Rai Leh) is a small peninsula that can only be accessed by boat because limestone cliffs block all land access. These limestone cliffs annually attract many climbers. However, this area is still one of the places that attracts many tourists because of its beautiful beaches, quiet and relaxing space. To the east and west of the peninsula, nearly every buildable land has the silhouette of bungalows. But at least there are no high-rise buildings here, all the architecture is hidden among the trees or blends into gardens.
Day 13: Chiang Mai, the city of temples and pagodas
The second most famous tourist city in Thailand is "the land of temples" or Chiang Mai. There are more than 300 temples all over Chiang Mai. In addition to exploring the temples, the scenery here is also extremely poetic and romantic. The restaurant food is plentiful and the cuisine is also very good, and the atmosphere is extremely peaceful to set up all day. The most famous temple is probably Wat Phrathat Doi Suthep just outside the city, located on a hill and this is the place that you visit in 2 weeks in Thailand journey.
Day 14: Chiang Rai
Chiang Rai is located in the north of Thailand and is famous for its extremely beautiful and brilliant White Temple. This is also one of Thailand's most popular tourist cities, where visitors can see firsthand the beautiful architecture, brilliant landscapes and access to the Golden Triangle area, intersection between Laos, Thailand and Myanmar.
Trekking through the forest will help you have more authentic encounters with indigenous ethnic groups and tribes. Do not forget to experience visiting waterfalls and hot springs, Mae Fah Luang Garden, Wat Rong Khun,…
 Cuisine: Top dishes you must try during Thailand itinerary 2 weeks
Thailand's diverse and distinctive cuisine undoubtedly draws a lot of tourists. You will have the opportunity to enjoy Thai dishes that are famous all over the world because of their distinctive flavors. Thai cuisine is a fusion of eastern and western influences that have crystallized over the centuries and created a distinct character. It is a combination of sour, sweet, especially spicy but still retains the typical aroma of the dish and creates unique dishes.
Moreover, the use of herbs that are extremely beneficial to health is another way that Thai cuisine stands out.. Thai dishes often contain low fat content and fresh ingredients, so they always bring a delicious feeling. Don't forget to enjoy street food to  make your trip to Thailand more special.
According to many people's self-sufficient travel experience in Thailand, here is a list you must memorize by heart:
Hopefully the above article will help you get more useful information to prepare for your trip to the land of the Golden Temple to the fullest. If this is your first time to Thailand and you have no experience in booking flights, hotels and finding a way to have fun and visit, please contact us immediately.