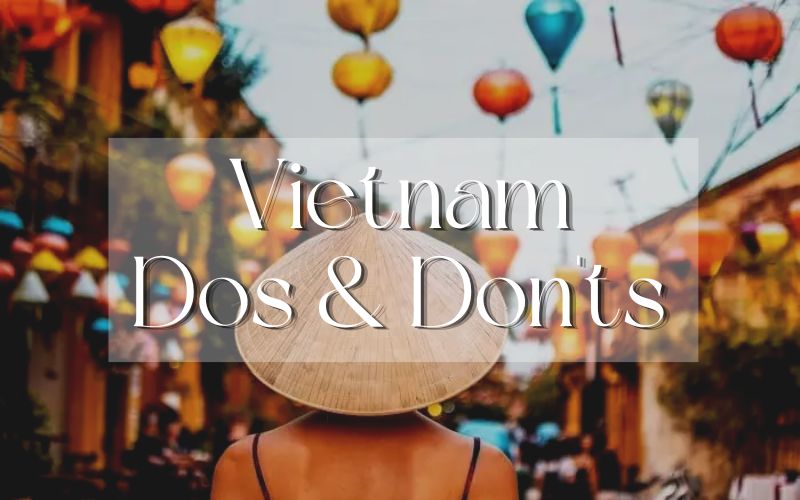 Before visiting a new country, familiarize yourself with the local etiquette and customs so you can enjoy the local culture and attractions without offending anyone. Vietnamese locals are very grateful to tourists who try to respect their customs and are very tolerant if you make a mistake. Here's a list of Vietnam dos and don'ts to help you deal with culture shock and discover Vietnam in the happiest way.
Things you should do when travelling in Vietnam
1. Dress Appropriately at Pagodas and Temples
The first rule to follow when travelling in Vietnam is the dress code. Vietnamese people tend to dress modestly, especially in sacred places. Therefore, it is considered immodest to wear clothes that are too revealing when visiting temples and pagodas. In hotels and other tourist attractions, you can dress casually, but in places of worship, you must cover your shoulders and cleavage and wear clothes below the knees. In some places, tourists are required to leave their shoes at the front door when entering local stupas, temples and even local residents' homes.
2. Keep your valuables out of sight
When travelling to Vietnam, it is recommended to keep cash, passports, devices and other valuables in a safe place. Most 5-star hotels have safes in their rooms, which makes them more secure, but at other hotels, ask the receptionist to put your items in a safe or storage room for extra security. Before travelling to Vietnam, think about your clothing to reduce the risk of being attacked by pickpockets. Never leave your belongings unattended.
3. Ask before filming and taking photos
Before taking photographs or filming, obtain permission. Tourists visiting Vietnam are advised not to take photos without permission, particularly of religious or ancestral shrines, as this may be interpreted as a bad omen. Similarly, when photographing people in local markets, obtain their permission first. Some salespeople are afraid of having their pictures taken, especially if they haven't sold anything that day. If you take video cameras into the villages of ethnic minorities, ask their permission first because some will see it as intrusive. In some attractions, you may be charged when taking photos.
4. Learn to negotiate
Except for supermarkets and shopping malls, you can bargain for a lower price anywhere in Vietnam, including traditional markets and street vendors. Negotiation is very popular here; you can save between 5% and 20% off the original price. When shopping early in the morning, however, you should avoid negotiating because it is a bad omen for the sellers.
5. Learn some Vietnamese phrases
While English is widely spoken in several tourist attractions and you're unlikely to encounter language barriers in a big city, it's always good to know the basics. In the article "Vietnam dos and don'ts", we introduce some key phrases that can make your trip more enjoyable and maybe even surprise some of the locals:
Hello – Xin chào
Goodbye – Tạm biệt
Thank you – Cám ơn
Sorry – Xin lỗi
Please – Làm ơn
Yes – Dạ/ Vâng/ Có/ Đúng ạ
No – Không
How much is it ? – Cái này giá bao nhiêu?
Help me please – Xin lỗi tôi cần bạn giúp
Where is the bathroom ? – Nhà vệ sinh ở đâu?
You can also use Google Translate to communicate with locals. Although many people make mistakes when it comes to how to address people, Vietnamese people always politely ignore and love it when you use Vietnamese!
6. Bring enough cash with you
In general, Vietnamese prefer Vietnam dong so make sure you have enough cash, especially if you're visiting an uncrowded market. However, most restaurants, hotels, tour operators and gourmet restaurants accept debit or credit cards but be aware that a service charge may apply. You can also transfer money using mobile banking apps. Also, remember that it is best to withdraw and exchange money at the airport, where the rates are the lowest. If you must use a local ATM, try to withdraw large amounts at once to avoid high bank charges.
Things you should avoid when travelling in Vietnam
1. Express affection
Vietnamese couples rarely express their affection for each other in public. Holding hands is fine, but hugging and kissing seem quite intimate for Vietnamese society. It's not forbidden, but you will undoubtedly be watched. However, many couples choose Vietnam as the place to take their sweetest wedding photos. People won't judge you, so don't be afraid.
2. Filming/Taking photos of Vietnam's military installations and equipment
Do not take photos of military installations and equipment, as this is considered a threat to national security.
3. Point at the altars
In the list of Vietnam dos and don'ts, it is strongly advised to respect others' religions. When in a temple or someone else's house, do not turn your back to the altar, otherwise pointing fingers at the revered gods will anger them. If necessary, use your whole palm and hold it firmly in place. Vietnamese people are very spiritual.
4. Skip the Vietnamese street food
Vietnamese people are passionate about their food. At any time of the day, the streets and markets are filled with people eating. One of the best things you shouldn't miss while travelling in Vietnam is street food. One of the most popular dishes is Pho, a hearty noodle soup cooked in bone broth. Phở bò (Vietnamese beef noodle soup) was recently named one of the best broth dishes in the world by CNN.
Other street foods you must try include:
Bánh  Mì  – Baguette sandwich with cold cuts.
Bún Chả – Vermicelli noodles with bbq pork patties.
Bánh Xèo – Folded crepe with prawns, pork and bean sprouts.
Bánh Cuốn – Steamed rice rolls filled with minced pork and mushrooms.
Bún Riêu – Tomato vermicelli soup served with chopped freshwater crab.
Bú n Bò Huế  – Richly flavoured noodle soup served with vermicelli, beef, foot, frozen blood and ground pork.
Vietnam is a developing and progressive country undergoing rapid changes. This is a wonderful country that has made significant progress since opening its doors to foreign investment, allowing travellers and tourists to visit this great country. The article "Vietnam dos and don'ts" ensures that tourists and travellers understand and respect the local culture as well as helps you plan your trip to Vietnam.