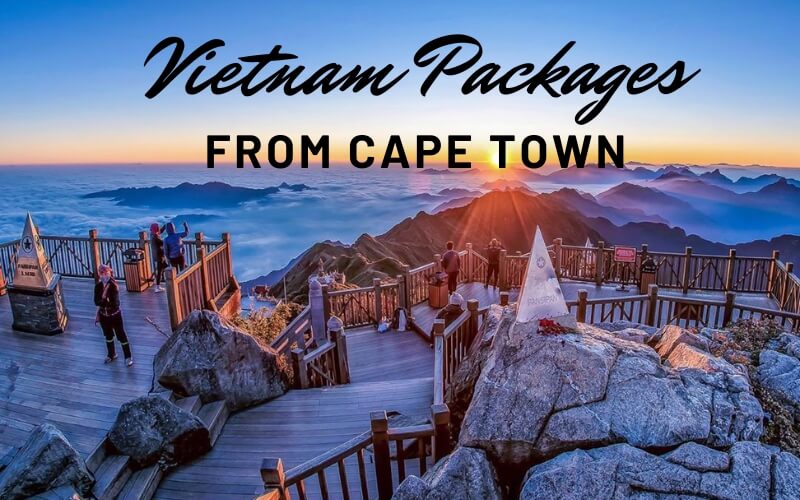 Getting on Vietnam packages from Cape Town is now easier than ever before thanks to the easy-reach information on the Internet, convenient transportation, and an abundance of tailor-made Vietnam tours designed to meet the preference of South African.
The following is all the necessary information to travel from Cape Town to Vietnam.
How to Travel From Cape Town to Vietnam
Visitors from Cape Town, Johannesburg, or Pretoria can book flights with Qatar Airways and Emirates to arrive in Vietnam. These airways will take you to Hanoi or Ho Chi Minh City at a price of approximately $1,000 per passenger (ZAR 12,000 – ZAR 14,500). Flights from Cape Town to Vietnam often include a layover in Dubai, Doha, or Singapore with a total flying time of about 20 – 24 hours.
For those who want to make the most of their time and budget, it is highly recommended to book flights with an arrival in Hanoi and a departure from Ho Chi Minh City, or vice versa. This option saves travelers the hassle and cost of booking domestic flights within Vietnam. Moreover, visitors can explore Vietnam from north to south and enjoy the unique charm and beauty of each region.
Best Time to Travel From Cape Town to Vietnam
Vietnam is characterized by three distinct climate zones, the North, the Central, and the South. The North has a temperate climate with four seasons, the Central has a tropical monsoon climate, and the South has a tropical climate. Northern cities such as Hanoi and Sapa experience cold winters and hot summers, while central cities like Hue and Da Nang have rainy and dry seasons. Southern cities such as Ho Chi Minh City have high temperatures and humidity throughout the year.
Choosing the best time to visit Vietnam from Cape Town depends on various factors such as travelers' preferences and the specific destinations they plan to visit. The dry season, which lasts from November to April, is generally sunny and dry, making it an ideal time to visit popular tourist attractions like Ha Long Bay and Hoi An. However, it is also peak tourist season, and this means that prices for accommodation and transportation may be higher. The rainy season, which lasts from May to October, is characterized by lush greenery, making it an ideal time for adventure activities such as trekking and kayaking. However, heavy rainfall may disrupt certain activities and cause flooding in some areas.
The peak tourist seasons in Vietnam usually fall between December and February and June and August, when the weather is considered at its best and most popular tourist destinations are at their busiest. December to February is the best time to visit northern regions like Hanoi, while June to August is the best time to visit southern regions like Ho Chi Minh City.
>>> Read more: Best Time to Visit Vietnam
Vietnam Visa for Visitors from Cape Town (South Africa)
Whether you arrive in Vietnam for tourism or business, you need a valid visa to enter the country. To apply for a tourist visa for Vietnam, South Africans need a passport that is valid for at least 6 months from the arrival date and has at least 2 blank pages.
Unfortunately, South African citizens are not eligible for the Vietnam E-visa system. So, the most convenient way is to apply for a Visa on Arrival (VOA). This way, you need to apply for an approval letter online, which takes you several minutes to complete and 3 – 5 working days to receive through email. Show the approval letter, together with your passport, Vietnam tour itinerary, hotel booking confirmation letter, e-tickets of from/to Vietnam flights, and cash for stamping fee (USD 25) at the Vietnam airport. If everything is fine, you will be allowed to enter Vietnam.
Or, if you live near the Embassy of Vietnam in South Africa at No. 87 Brooks Street, Brooklyn, Pretoria, you can come here to apply for a visa directly.
>>> For more information on a Vietnam visa, please check our article here.
Vietnam Packages from Cape Town
Visitors getting on Vietnam packages from South Africa have an abundance of wonderful things to enjoy. Depending on your time, budget, and even travel purposes, you can choose a Vietnam tour that meets your preference. The following are some suggested itineraries for Vietnam packages from Cape Town that you should not miss.
Itinerary 1: 8-Day Cultural Exploration (from Ho Chi Minh City)
Day 1: Arrive in Ho Chi Minh City, and experience nightlife activities at Bui Vien Walking Street.
Day 2: Ho Chi Minh City tour, visit Notre Dame Cathedral, Xa Loi Pagoda, and the Municipal Theater.
Day 3: Fly to Da Nang and onward travel to Hoi An ancient town, stopping at Cham Museum and Marble Mountain.
Day 4: Drive to Hue, unwind at Lang Co Beach, and admire the magnificent Hai Van Pass.
Day 5: Hue City tour, see the Royal Citadel, Imperial Museum, Khai Dinh's Mausoleum, Thien Mu Pagoda, etc.
Day 6: Fly to Hanoi, take a cyclo tour at Hanoi Old Quarter, stop at Dong Xuan Market for shopping, and then watch a water puppetry show.
Day 7: Visit Ha Long Bay – a UNESCO World Heritage Site of Vietnam
Day 8: Departure.
>>> Please check our Vietnam's World Heritage Sites Tour From Ho Chi Minh City to Hanoi 8 Days for the detailed itinerary.
Itinerary 2: Legends of Vietnam 10-Day Tour (From Hanoi)
Day 1: Arrive in Hanoi, and enjoy a cyclo tour around Hanoi Old Quarter.
Day 2: Transfer to Ha Long Bay, embark on a boat, and enjoy a night in the ocean.
Day 3: End of Ha Long Bay cruise itinerary at noon and transfer to Ninh Binh
Day 4: Visit Trang An Ecotourism Complex or Tam Coc. Return to Hanoi in the afternoon.
Day 5: Half-day Hanoi City Tour, visiting the Temple of Literature, Ho Chi Minh Mausoleum, One Pillar Pagoda, etc. before flying to Da Nang.
Day 6: Explore Hoi An Ancient Town
Day 7: Visit a farm in Tra Que Village, and try preparing soil and fertilizing vegetables. Fly to Ho Chi Minh City.
Day 8: Visit the Mekong Delta from Ho Chi Minh City, coming across Cai Be floating market and a tropical fruit hub.
Day 9: Ho Chi Minh City tour, including Cu Chi Tunnels
Day 10: Departure
>>> Please check the detailed itinerary here or find more country discovery tours at this link.
Itinerary 3: Vietnam Beach Holidays 14 Days (From Hanoi)
Day 1: Fly from Cape Town to Hanoi, and have free time to relax after a long flight.
Day 2: Hanoi City tour, visit One Pillar Pagoda, Ho Chi Minh Mausoleum, the Temple of Literature, etc.
Day 3: Leave Hanoi for Ha Long Bay, embark on a cruise boat, and start its 2-day itinerary.
Day 4: End of cruise itinerary, return to Hanoi, and fly to Ho Chi Minh City.
Day 5: Visit the Reunification Palace, War Remnants Museum, Notre Dame Cathedral, Old Post Office, and Ben Thanh Market.
Day 6: Leave Ho Chi Minh City for Mui Ne.
Day 7 – 9: Relax on Mui Ne Beach.
Day 10: Return to Saigon for a short flight to Phu Quoc Island.
Day 11 – 12: Relax on Phu Quoc Beach.
Day 13: Return to Ho Chi Minh City, relaxing and shopping.
Day 14. Departure.
>>> See the program at Vietnam Best Beaches Tour in 14 Days. Still not satisfied with it, you find more suitable tours in this list of the best Vietnam beach holidays.
Itinerary 4: Vietnam Wellness Tour 6 Days (From Hanoi)
Vietnam is also a wonderful destination for wellness trips thanks to the tranquil natural sceneries, traditional healing methods, and an abundance of wellness resorts.
Below is an outstanding wellness tour in Vietnam:
Day 1: Fly from Cape Town to Hanoi, free to relax at the hotel or explore Hanoi's Old Quarter.
Day 2: Transfer to Mai Chau by private car, go cycling through beautiful villages, rice paddy fields, etc. Enjoy a traditional wellness treatment (foot massage or body massage) at a local spa.
Day 3: Return to Hanoi, and stop at the remote village of Na Meo and Na Mo to learn more about traditional culture and customs.
Day 4: Fly to Da Nang, and onwards travel to Hoi An Ancient Town. Check in at the hotel and relax at the on-site spa.
Day 5: Hoi An wellness retreat, experience body massage, sauna and hammam, yoga, and tai-chi.
Day 6: Leave Hoi An for Da Nang and departure.
If this 6-day tour cannot satisfy you and your beloved ones, you can refer to our longer health & retreat tours here. Our Vietnam Eco tours are also good options for Vietnam vacation packages from South Africa.
Itinerary 5: Vietnam Honeymoon Vacation Packages (From Hanoi or Ho Chi Minh City)
Make your special moment truly unforgettable by celebrating your honeymoon in Vietnam with our personalized offers which are all tailored to meet the unique expectations and desires of your couple. You can discover the authentic beauty of Vietnam, or choose a more classic stay filled with relaxation, beach time, and exploration, depending on the length of your stay.
>>> Refer to our Romantic Honeymoon Package in Vietnam 12 Days or Romantic Vacation for Couples in Vietnam 14 days, you will find everything you need for your trip.
Budget for Vietnam Packages from Cape Town
Your budget for Vietnam travel may be more or less depending on your tour length, objectives, holiday types, etc. However, there are certain things that you will have to pay for, including:
Visa application: USD 25 – 50.
Flights from Cape Town to Vietnam and vice versa: $1,000 (ZAR 12,000 – ZAR 14,500) per passenger for a one-way ticket.
Transportation in Vietnam: To move between region and region in Vietnam, the fastest way is to book a domestic flight (about USD 60 – 100 for a one-way ticket). Within a city, you can use public transportation, taxis, motorbike taxis, Grab, or hire a private car for the whole itinerary.
Accommodation: Vietnam has a variety of accommodations for you to choose from, including homestays (about USD 10 per night), 2-3 star hotels (about USD 20 per night), or luxury resorts (USD 80 – 600 per night).
Foods: Vietnamese food is expensive or cheap totally depending on your preference. This country offers cheap but delicious street food as well as world-class standard cuisine at 5-star restaurants.
Apart from the above major spending, you will also pay for entrance fees to scenic spots, tips, laundry, etc. Refer to our article on Vietnam Travel on a Budget to have an overview of what you need to pay for a travel budget in Vietnam from Cape Town, South Africa.
Tips for First-time Travelers from Cape Town to Vietnam
Vietnam, though small and relatively unexplored, is a country that has something for everyone. Traveling to Vietnam is an experience to cherish, with its diverse range of attractions that cater to every taste. From the soaring mountains and intriguing ethnic communities in the north to the pristine white sandy beaches and historic towns with UNESCO recognition in the central region, to the lively waterways of the Mekong delta and the never-ending emerald green rice paddies in the south, Vietnam has it all. The country's coastline spans over 3,000 km, and in recent years, it has gained recognition for its stunning beaches, towering limestone karsts, and bustling cities.
There is so much to explore and enjoy in Vietnam, from the tranquil rural landscapes to the fast-paced urban metropolises, making it a destination that will leave you with cherished memories for a lifetime. And, there are some important things to remember while visiting this country so that you can enjoy your vacation to the fullest:
Check the regulations for a Vietnam visa and prepare for it as early as possible.
Weather in Vietnam varies significantly between region and region and from time to time, so check the weather forecast carefully and always choose the best time to visit.
Local people are friendly, so be open-minded and connect with them.
Vietnam is one of the cheapest countries in Asia and almost travelers can afford to visit it.
In this conservative country, try to dress appropriately.
Traditional food is the heart of Vietnamese culture and each region has its own delights. So, try local delicacies wherever you go.
Finally, be aware of the safety on road, especially in bustling cities like Hanoi or Ho Chi Minh City.
Above is all the necessary information for Vietnam packages from Cape Town. Ready to immerse yourself in these unique Vietnam tours? Contact us right now for reservations or any other support.
Read more: