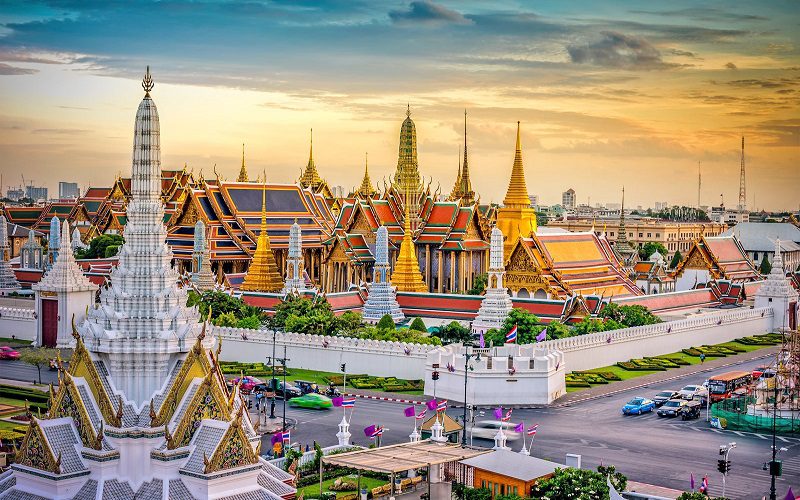 For those who are traveling to Thailand for the first time, at least one day should be planned in Bangkok, the eclectic capital of the country. 24 hours in Bangkok can overwhelm even the most experienced traveler. As soon as you step out of the airport, you'll be bombarded with bustling sights and sounds. A perfect Bangkok itinerary should allow you to discover this city of contrasts thoroughly where modern mega shopping centers stand just a few steps away from century-old village houses, where Buddhist monks with smartphones stroll the streets alongside tourists and locals, and where tuk-tuks ply the streets instead of the modern MRT railway system.
Visiting Bangkok in just one day won't allow you to discover everything. In fact, you could spend weeks exploring the narrow alleys and floating markets of Bangkok and still come back for more.
Don't know where to start? Plan your trip before you go by following our Bangkok travel guide in the following.
Best Time for 1 Day in Bangkok
Visiting Bangkok in 1 day can be planned at any time of the year, as in most Indochinese countries where the climate is generally hot and humid. However, there are differences between seasons:
From December to February, it's the cool season with temperatures that can drop below 20°C. This is the ideal time to explore the city, as the heat is not oppressive.

The months of March to May are the hottest of the year. It's recommended to bring sunglasses and a hat. Thunderstorms can also occur during this season.

The period from May to October is called the low season in Bangkok. Prices are more affordable, but there can be heavy rains as it's the wettest season of the year.
In short, Bangkok is a dynamic city that offers many indoor and outdoor activities. Thus, this city can be visited at any time of the year. You simply need to adapt to the weather conditions to make the most of it.
Suggested Itineraries for 1 Day in Bangkok
Option 1:

For historical lovers
Here are the must-see destinations on a classic Bangkok tour that will allow travelers to experience the rich Thai culture and history of this fascinating city.
Royal Palace and Wat Phra Kaew
If you visit Bangkok, you cannot miss its main attraction! The vast complex of Wat Phra Kaew houses the Royal Palace and the residence of the Thai sovereign, as well as a temple famous for housing a jadeite statue of the Emerald Buddha revered by all Buddhists throughout the country. Here, you can also listen to the monks for a lot of historical, cultural, and Buddhism lessons. 
Wat Pho, Temple of the Reclining Buddha
The temple of Wat Pho is a must in 1 day in Bangkok, which is famous for its majestic 46-meter-long reclining Buddha statue, entirely covered in gold leaf. But that's not all! The temple is also home to many other wonders to discover, such as its peaceful gardens, its buildings adorned with colorful mosaics, and its impressive Buddha statues.
So take the time to stroll through the serene alleys of Wat Pho to discover all the riches of this emblematic place in Bangkok. A day in Bangkok would not be complete without a visit to this historic and culturally significant temple.
Wat Arun, Temple of Dawn
Just across from Wat Pho stands another iconic temple in Bangkok, the temple of Wat Arun. Considered one of the most beautiful in all of Thailand, it impresses visitors with its unique architecture and the skilled craftsmanship of the artisans who built it.
Nicknamed the Temple of Dawn, Wat Arun shines particularly under the rays of the rising sun, offering a magical spectacle to visitors. Don't hesitate to climb the steep stairs to admire the panoramic view of the city and the Chao Phraya River.
Wat Saket, Golden Mount Temple
The Wat Saket temple, also known as the Golden Mount, lives up to its name as it is topped by a 58-meter-tall golden chedi. To reach the top, you will have to climb about 320 steps, but the panoramic view of the city of Bangkok is well worth the effort.
The climb to the top of Wat Saket is a unique and memorable experience, with incredible views of the city and its surroundings. The temple itself is also of great beauty, with its traditional Thai architecture and peaceful atmosphere.
The National Museum of Bangkok
The National Museum of Bangkok is a cultural gem of Southeast Asia. Founded in 1874 by King Chulalongkorn (Rama V), it houses one of the largest and richest collections of art in the region. Rooms 1 to 22 present the private royal collections of Rama V's father, as well as bronze age artifacts, and Sukhothai and Ayutthaya era pieces, such as the famous walking Buddha statue. The site also includes an ancient palace that visitors can explore.
Museum of Siam
The Museum of Siam, which opened in 2007, is an interactive museum offering modern and lively exhibitions centered on the identity of the Thai people, their culture, and the history of Thailand, from prehistoric times to the present day. Each room of the museum deals with a different theme, offering visitors a playful and progressive immersion into the fascinating history of the country. The Museum of Siam allows you to discover the rich history of Siam while highlighting the close links between Thai culture and the contemporary world.
Option 2: For a family vacation
Traveling with children can be tiring. However, Bangkok is full of activities that will delight both children and adults. For a day in Bangkok, we present below some of the activities that may interest you as a family.
Safari World
Safari World is a popular zoo located in the suburbs of Bangkok, Thailand. The zoo is divided into two main zones, the safari park and the marine park. In the safari park, visitors can drive through the park in their vehicles or as part of guided tours to see a variety of animals, including lions, tigers, zebras, and giraffes roaming freely in natural habitats. The marine park features animal shows, including a dolphin show, a sea lion show, and a bird show, as well as exhibits on marine life such as sharks, rays, and colorful fish. Safari World is an ideal destination for families and animal lovers, offering an unforgettable wildlife experience in the heart of the capital.
Sea Life Bangkok Ocean World
Sea Life Bangkok Ocean World will immerse you in a world of underwater wonders. As big as three Olympic swimming pools, you will then dive between sea creatures from 7 different regions of the world. In the first 4D cinema in Thailand, or aboard a glass bottom boat, let your children marvel while learning, a pleasure to share with the family!
Bangkok Floating Markets
Enjoy a unique experience for the whole family while visiting a local market on a small boat! It may sound crazy, but it is one of the must-see attractions even if you spend only 1 day in Bangkok. You can not only experience the beauty of these floating markets but also taste the delicious traditional Thai cuisine. Here are some of the famous markets that you should not miss!
Note: If you want to take in the full beauty of the floating markets without risking hitting your neighbors' boat during your walk, we advise you to get up early! These markets are open from 5 a.m. and become a veritable anthill in the afternoon.
Artisanal products, seafood, and exotic fruits are all in small wooden houses along the river. This market, unlike the others, is open until 8 pm. Do not miss the temples along the river, which your boatmen can show you around.
Taling Chan Floating Market
Very close to Bangkok, this small floating market will seduce you with its authenticity. A journey that will also allow you to listen to traditional Thai music and taste delicious pad thai.
Damnoen Saduak Floating Market
Damnoen Saduak Floating Market is the largest floating market in Bangkok. However, since it is quite far from the center, it will take you a little longer to get there (about 1 hour by car). It is of impressive beauty and an explosion of colors that surrounds you!
Option 3: Off the beaten path for 1 day in Bangkok
For those who want to get off the beaten path and discover a different side of Bangkok, add to your list the following suggestions for an unforgettable day.
Ratchadapisek Night Market
Open from 5 pm, you can easily spend the evening strolling through the aisles, and for the bravest among you, tasting fried insects or 100-year-old eggs! Still little frequented by tourists, Ratchadapisek Night Market is a different way to see the city and appreciate the friendliness of the inhabitants.
The Shrine of Goddess Tubtim
Located in the heart of the city, this temple is however very little known to tourists. It is a small construction dedicated to the goddess Chao Mae Tuptim. Although the origin of the cult is little known, many offerings can be discovered in the gardens surrounding the temple. No flowers or jewelry, but phalluses of all sorts and types (wood, stone, etc.)! The mystery remains, were these offerings placed before or after the birth of a child? Visiting the Shrine of Goddess Tubtim is an offbeat way to get to know one of Bangkok's mysteries.
Chatuchak Weekend Market
More than 8,000 vendor stands to welcome you every weekend to this gigantic market! To find your way around more easily, the place is divided into several sections (crafts, ceramics, books, food, etc.). Do not hesitate to bring a map that will serve as a guide, otherwise, there will always be someone to inform you at the end of an alley.
Khao San Road
Khao San Road, also known as "backpacker street", is a must-visit destination for travelers looking to eat, shop, or enjoy the vibrant nightlife. Stretching for a kilometer, this popular street is imbued with an infectious atmosphere that attracts tourists and locals alike.
Bangkok is a sprawling metropolis with a rich history, culture, and cuisine. From its stunning temples, bustling street markets, and world-class shopping malls, to its lively nightlife and delicious street food, 1 day in Bangkok may not be enough to fully explore everything this vibrant city has to offer. For a better experience, you can extend your tour length to 2, 3, or even 4 days in Bangkok. Another great idea is to combine Bangkok with other tourist attractions of the country, such as Pattaya, Phuket, Chiang Mai, etc for a perfect Thailand tour.
What to Eat during 1 Day in Bangkok?
Thai cuisine is famous around the world and Bangkok is a foodie's paradise. If you are planning a trip to Bangkok, here are some dishes that you must not miss:
Tom Yum Goong
Tom Yum Goong is a staple of Thai cuisine. This spicy shrimp soup is an explosion of flavors in the mouth, with its aromatic herbs and fresh lime juice. If you are a fan of spicy dishes, do not miss the opportunity to taste this Thai specialty. But if you prefer milder dishes, do not hesitate to ask the restaurant to reduce the level of spices so that the soup is more suited to your tastes. In any case, Tom Yum Goong is a delicious dish that should not be missed during your trip to Thailand.
Tom Kha Kai
Tom Kha Kai is a Thai soup that offers a unique taste experience. The coconut milk gives the soup a creamy texture, while the tender chicken pieces add flavor and protein. Herbs and spices, which are known only to Thais, offer a perfect combination of sweet, spicy, and sour flavors. If you are looking for a Thai soup rich in flavor and texture, try Tom Kha Kai. This traditional recipe is a real treat on the palate and an unforgettable culinary experience.
Pad Thai
Pad Thai is one of the most popular Thai dishes around the world. This dish consists of rice noodles mixed with ingredients such as beef, chicken, shrimp, or vegetables for a vegetarian version. The noodles are tossed with eggs, roasted peanuts, bean sprouts, cilantro, and a sweet-salty sauce made with tamarind, fish sauce, and palm sugar. Each bite offers an explosion of flavors and textures, from the crunch of roasted peanuts to the sweetness of rice noodles.
In short, Bangkok is a fascinating city with a multitude of things to see and do. We hope these tips will help you make the most of 1 day in Bangkok and experience all that this amazing city has to offer. Contact us for more information or to organize a tailor-made trip to Bangkok, Thailand.