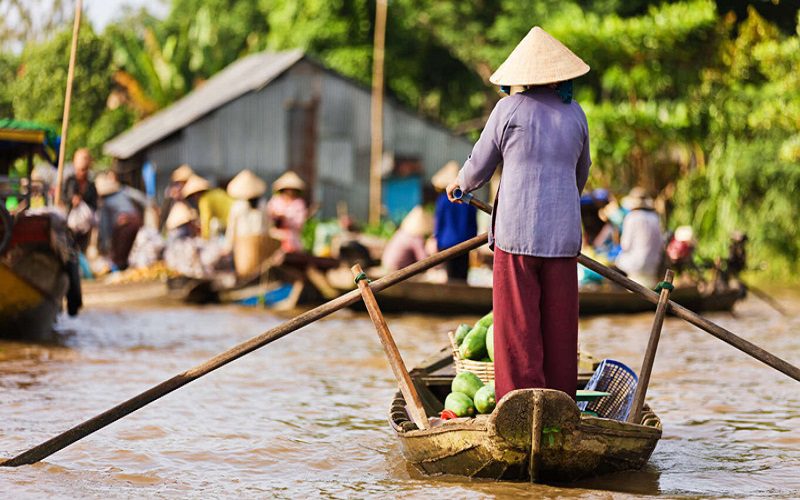 The Mekong Delta region is an administrative region of southern Vietnam covering a significant part of the Mekong River. 2 days in Mekong Delta is generally best to discover not only the culture, the custom but also the life of local people.
Best Time to Visit Mekong Delta
The Mekong Delta is a year-round destination, with each season offering different pleasures and satisfactions. However, the best time to travel to this region is the floating season which runs from September to December.
Floating season (September – December): The Mekong Delta has a pleasant climate with little to no rainfall. You can go fishing by traditional wooden boats, discover the pristine nature, and spend time in the orchards.
Rainy Season (May – October): This is not a bad choice if you are traveling to Cai Be during the rainy seasons, as the rains are short and do not affect your trip.
Dry season (January – April): It is hot and dry during this period; however, it is the harvesting season so you can join agricultural activities with the locals.
Our advice is to get on Mekong Delta tours in the floating or dry season to fully admire its beauty.
What to Do in 2 Days in Mekong Delta?
Discover a floating market
The rushing waters, the plentiful bargains to be had, the incessant haggling, the flourishing stalls of fruit and flowers, and the scents of freshly cooked food that intertwine enticingly, this could be the scene of an ordinary market, but in the Mekong Delta, everything takes place on boats and sampans. Long before becoming a top tourist attraction, floating markets have been a key part of local life and culture for decades.
Floating markets are still central to the economy and livelihoods of many locals, some living in floating houses along the Mekong River. The region currently has five floating markets, including Cai Rang, Cai Be, Phong Dien, Nga Nam, and Long Xuyen. The first two are the most popular, Cai Rang is the largest and busiest, while Cai Be is the only floating market accessible by day trip from Ho Chi Minh City.
Taste tropical fruits in the orchards
Taste the fresh tropical fruits picked directly from the lush orchards of the Mekong Delta. Immerse yourself in a tropical paradise where the trees are laden with ripe fruit, the birds chirp in the background, and the fresh air makes you feel alive. Plan your visit during the summer to taste exotic fruits such as mango, pineapple, papaya, guava, and many more. You will also be able to learn about traditional methods of growing fruits and the local farmers' passion for their work. Treat yourself to a once-in-a-lifetime experience of tasting freshly picked fruits and savoring the delicious taste of the tropics on a Mekong Delta tour.
Visit Vinh Trang Pagoda, My Tho
Vinh Trang Pagoda, built-in 1849 amidst a lush garden, is the largest pagoda in Tien Giang province. It features a successful fusion of Asian and European architectural styles, giving it a unique beauty. The pagoda houses many precious wooden statues, especially those of 18 Arhats made in 1907 which represent the pinnacle of sculpture in the Mekong Delta. If you are interested in art and history, visiting this pagoda will provide you with an enriching cultural experience and give you an insight into Vietnamese Buddhism.
Birdwatch at Tra Su Sanctuary, Chau Doc
This bird sanctuary is a true heaven for nature lovers, accessible via a pleasant boat ride that takes you through captivating rivers of lush emerald green, with duckweed, moss, water hyacinths, water lilies, and more. The water channels are lined with melaleuca trees, adding a romantic and dreamlike atmosphere to the experience. More than 70 species of birds inhabit this place, including egrets and herons that you can quietly observe during your walk. Plus, an observation tower offers sweeping views of the vast maze of verdant wetlands.
Explore Tan Lap Floating Village
The mystical floating forest that rises from swampy rivers in Tan Lap is a highly prized ecological gem across Vietnam. A visit to Tan Lap floating village includes a boat cruise through fascinating wetlands. Water lilies float on the surface of the lakes and if you are lucky, the magnificent lilies can perfume the air. But the highlight of the visit is the walk on the raised walkways between the floating mangrove forest and the imposing cajeput. The intricate network of trees forms a unique microclimate in the Mekong Delta region, and as you walk in the village, you might spot various beautiful animals and birds.
Admire Huynh Thuy Le Ancient House
Visiting the charming town of Sa Dec is a must for lovers of literature and cultural discovery during 2 days in Mekong Delta. This small river town is the birthplace of famous writer Marguerite Duras and the inspiration for her "L'amant" novel. Here, you will have a chance to visit the house of her lover, called Huynh Thuy Le Ancient House – a structure with a good combination of Vietnam and Chinese architecture. Don't miss out on the opportunity to discover the charming streets with magnificent colonial buildings in the surroundings.
Discover the Khmer Empire in Tra Vinh
During your 2 days in Mekong Delta, you should also pay a visit to Tra Vinh province, a fascinating region with a unique cultural identity. Once part of the Khmer Empire, Tra Vinh is famous for being home to more than 300,000 Khmers, constituting about 30% of the region's population, the highest rate in the Mekong Delta. You will be amazed by the 140 Khmer temples spread across the landscape, whose magnificent golden structures give a unique flavor to the region.
Hang Pagoda in Tra Vinh is also a must-see destination during Mekong Delta tours, known for its 10-hectare grounds filled with trees and birds, as well as its main gate facing the river and its arch-shaped secondary gate. The pagoda is guarded by two statues of Yak, who play an important role in the village by educating virtue and preserving the cultural and artistic tradition. The pagoda also houses a large school for children and small houses on stilts where men offer prayers. Tourists who visit the pagoda at the end of the day can see thousands of storks perched on the tree branches.
Contact with the local people
Coming into contact with the local people of the Mekong Delta is an unforgettable experience. Whether you are looking to experience the local culture or simply hang out with the locals, you will always be warmly welcomed with lots of affection. You can join the local fishermen for a day of fishing, explore the bustling floating markets, or just sit with the locals and listen to their stories. Whichever experience you choose, you'll be sure to meet welcoming, friendly people who will leave you with long-lasting memories.
Cycle in the countryside
The Mekong Delta, a flat region crossed by many small paths, is ideal for cycling enthusiasts. As you stroll through the paddy fields, tropical orchards, hamlets, and coconut plantations, you can experience rural life in all its simplicity, come into contact with friendly locals, and admire the shades of green in southern Vietnam. By pedaling a little, you can also relieve yourself of guilt before tasting the many culinary specialties of the region. Explore the Mekong Delta by bike for a unique and enriching experience.
>>> Experience more interesting activities in the region with our Mekong Delta Travel Guide.
Suggested Itineraries for 2 Days in Mekong Delta
Itinerary 1: Mekong Delta 2 Days Eco Tour
Day 1: Ho Chi Minh City – My Tho – Ben Tre
You will be picked up at the hotel in Ho Chi Minh City and transferred to My Tho, where you visit a bee farm and coconut candy-making villages and experience a lot of interesting activities such as fishing, canoeing, wooden boat rowing, etc.
Day 2: Ben Tre – Ho Chi Minh City
Continue your Mekong Delta tour with a bike ride through the countryside, visiting orchards that cultivate tropical fruits like dragon fruit, grapefruit, oranges, guava, etc., and enjoying the scenic views of rice fields. Then, participate in a cooking class featuring local cuisine.
>>> For the detailed itinerary, please check The Peaceful Mekong Delta 2 Days Tour
Itinerary 2: Mekong Delta Cultural Adventure
Day 1: Ho Chi Minh City – My Tho – Ben Tre – Can Tho
Depart from Ho Chi Minh City to My Tho, visit Vinh Trang Pagoda, then take a boat trip to see stilt dwellings and fruit gardens. Proceed to Tortoise Island for lunch. Enjoy rural life, traditional music, and seasonal fruits on a visit to a local family before moving to Can Tho.
Day 2: Cai Rang Floating Market
Embark on a boat trip to the Cai Rang Floating Market, the bustling wholesale market for fruits and vegetables. Explore the town famous for its rice noodle-making by cruising along the canal system.
>>> Consult our detailed itinerary at Tour My Tho – Ben Tre – Can Tho 2 Days
If you feel like 2 days in Mekong Delta is not enough or you want to relax in peace for a longer duration, you can extend your trip to 3 days or 5 days in Mekong Delta. It doesn't matter how long you stay here, the region has special things to offer. You can also spend nights on Mekong Delta cruises if your budget allows. Check our list of tours to Mekong Delta or contact us if you need a tailor-made trip.
Unique Local Foods to Try in 2 Days in Mekong Delta
Hu Tieu
Hu Tieu is ubiquitous in My Tho city of Tien Giang province and many other regions in Southern Vietnam. The noodles made from local rice set this Hu Tieu apart from its counterparts – glassy and tenacious. Typical dressings are pure fish sauce, pork, liver, ground pork, green onions, and chives. A bowl of hot Hu Tieu is perfect for filling the stomach after a long travel day.
Lau Mam
The most popular culinary specialty in the Mekong Delta is Lau mam, which features macerated Siamese mud carp or basa fish. This dish is served as a fondue, accompanied by exotic vegetables such as water lilies, common sesban flower, and Sesbania grandiflora flower. These rare vegetables are delicious when dunked in a hot pot with finely cut fish, pork, beef, chicken, shrimp, and squid. A must-do dining experience for anyone visiting the Mekong Delta.
Tropical fruits
As already mentioned, when visiting the Mekong Delta, be sure to visit at least one orchard where there is a variety of fresh tropical fruits. This region is renowned for being a real fruit paradise, offering a multitude of sweet and juicy fruits, such as dragon fruit (thanh long), longan (nhan), rambutan (chom chom), mangosteen (mang cut), and star apple (vu sua). These delicious fruits can be hard to find elsewhere, even in the world's top foodie destinations. Fresh and ripe fruits await everywhere in the Mekong Delta, providing an unforgettable dining experience for fruit lovers.
Souvenirs to Take Home
The Mekong Delta is rich in local products and souvenirs to take home. The Ba Ba T-shirt is a classic of the region, simple but typical. For coconut lovers, there are many by-products, including soaps, candies, coconut milk rice paper, and even coconut jewelry. Dried fruits are also a popular choice, especially dragon fruit and rambutans, as well as products from sticky rice. You can also find handicrafts, such as wicker baskets and conical hats made by local artisans. Also consider Non La – a typical Vietnamese conical hat, made from palm leaves. Souvenirs from the Mekong Delta allow you to bring home some of the rich and colorful cultures of the region.
With its verdant rice paddies, floating villages, and colorful markets, the Mekong Delta offers a unique and memorable experience. 2 days in Mekong Delta is the perfect time to get a glimpse of the culture and life of local people. If you need help organizing your trip to the Mekong Delta, do not hesitate to contact us. We're here to help you make the most of your Mekong Delta tours.