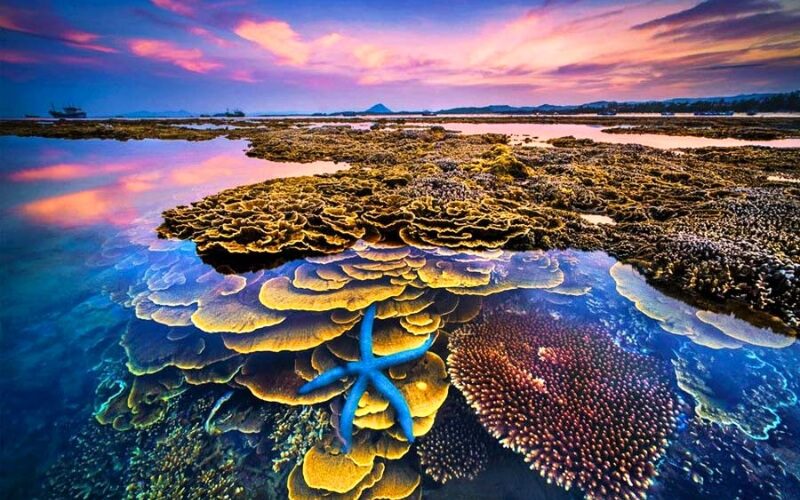 Central Vietnam boasts well-preserved historical sites, friendly locals, and stunning natural beauty. It is known as a sea and island paradise, featuring diverse landscapes, ethnic cultures, and culinary arts. Discover the most alluring destinations to gain insight into the region's tourism potential before planning a comprehensive Central Vietnam tour.
Best Time to Visit Central Vietnam
The central coast of Vietnam is frequently hit by typhoons during its wet season, which generally runs from August to November. It's challenging to forecast when these severe rains and hurricane-like winds will occur during these months. The rainy season typically ends in February, when visitors can expect higher temperatures and more sunlight. While travelers can enjoy pleasant weather in Central Vietnam between February and August, the usual temperature during July and August is around 30°C (86°F) with plenty of sunshine, making it the best time for Central Vietnam tours.
Best Places to Visit in Central Vietnam
1. Da Nang – One of the Most Bustling Cities in Central Vietnam
Da Nang is an excellent destination for beach lovers, offering a selection of exceptional beach resorts perfect for honeymooners, families, and anyone looking to relax. The long white-sand beaches and crystal-clear turquoise water make for a spectacular natural setting that will leave you feeling refreshed and invigorated.
Besides the beautiful beaches, Danang boasts several must-see attractions, including Ba Na Hills with its famous Golden Bridge, Marble Mountains, Son Tra Peninsula, Linh Ung Pagoda, Non Nuoc Beach, and My Khe Beach. These sites offer unique experiences and showcase the region's rich culture and history.
Authentic local cuisine is also a highlight of Da Nang tourism. The city is famous for the best flavor of Vietnamese pancakes, fresh spring rolls with grilled pork, Cau Mong barbequed veal, rice vermicelli with grilled pork, Quang noodles, and an array of seafood specialties. These dishes are prepared using fresh, local ingredients and offer a unique culinary experience that should not be missed.
>>> Visit Da Nang's famous tourist attractions with our 3-day tour.
2. Hoi An – A Charming Ancient Town
Located just a short distance of fewer than 30 kilometers to the southeast of Da Nang City lies the picturesque ancient town of Hoi An, nestled alongside the Thu Bon River. Renowned for its diverse landscape and distinctive culture, the city is a popular destination for both domestic and international visitors alike.
Hoi An boasts numerous stunning beaches, including An Bang Beach and Cua Dai Beach, while the Cham Islands, a cluster of one main island and eight smaller surrounding ones, is a designated biosphere reserve and offers an unparalleled opportunity to experience nature at its finest. They are all perfect tourist spots for 1-day tour discoveries.
The Hoi An Night Market is a must-visit destination for tourists in Quang Nam Province, where visitors can indulge in a range of local delicacies, such as Cao Lau, Quang noodles, banh mi, wonton, water fern cake, and Hoi An chicken rice at affordable prices.
While exploring Hoi An, be sure to take a photo at the iconic Japanese Bridge, also known as Pagoda Bridge (Chua Cau), which was built in the 17th century to commemorate the arrival of Japanese merchants in the port town. The bridge is steeped in legend, associated with the mythological monster Namazu, which was believed to have caused earthquakes and floods. According to legend, the bridge was constructed as a magical sword that pinned down Namazu's back to prevent natural disasters from occurring in Vietnam, Japan, and India.
3. Hue – The Ancient Feudal Capital of Vietnam
Hue, the former capital city of the Nguyen Dynasty, has a rich history that spans 140 years from 1805 to 1945. This charming city offers a unique and fascinating glimpse into Vietnam's feudal past. A visit to Hue is a must for anyone interested in history, architecture, and culture. The city's peaceful atmosphere and relaxed way of life make it the perfect place to spend a few days exploring.
Some of the top attractions in Hue include the Imperial Citadel, Tombs of the Emperors, and Thien Mu Pagoda. A dragon boat trip along the Perfume River is a great way to experience the local culture and traditional folk music. It provides a glimpse into the royal, folk, and religious aspects of Vietnam's last ruling family.
In addition to its rich history, Hue is also famous for its hospitable and friendly locals and its luxurious and incredible cuisine. Don't miss the opportunity to experience the warmth of its people and sample some of the city's famous dishes, such as Hue beef noodles (Bun bo Hue), clam rice (Com Hen), Hue skewers (Nem lui), vegetarian food, etc.
4. Nha Trang – Enchanting Coastline
Nestled in Khanh Hoa Province, Nha Trang is a popular tourist destination with an extensive and enchanting coastline. The tropical weather of the region remains warm and sunny all year round, with an average temperature of 26 degrees Celsius. The city is blessed with various stunning beaches with powdery white sand, including Nha Trang Beach, Doc Let Beach, Bai Dai Beach, Hon Chong Beach, and Hon Tam Beach.
A must-see attraction in Nha Trang is the National Oceanographic Museum, where visitors can explore Vietnamese history related to marine life. If you are seeking a perfect spot for swimming, Hon Tre Island is the place to visit. Only five kilometers east of Nha Trang city center, this island boasts invitingly tranquil turquoise waters, pristine white sand, and lush forests. Visitors can bask in the serene environment and rejuvenate their minds and soul. Your trip to this city will not be completed if you miss the mineral mud bathing – a famous traditional wellness treatment of Nha Trang. I-Resort, Thap Ba Mud Bath, or 100 Egg Mud Bath will give you the best experience.
>>> Read our Nha Trang Travel Guide to well-prepare for your trip to the most beautiful beach city in Central Vietnam. Interested in mineral mud bathing and other traditional wellness treatment in Vietnam, please check our health, spa & wellness tours here.
5. Da Lat – One of the Most Romantic Cities in Central Vietnam
Nestled in the midst of verdant pine-covered hills, Dalat boasts a serene small lake at its heart, along with beautiful flower gardens and charming French-style architecture. With its cool climate all year round and breathtaking scenery, this is an ideal destination for a romantic honeymoon.
There are several spectacular attractions that should not be missed when visiting Dalat, including the Da Lat Railway Station, Bao Dai Palace, Thien Vien Truc Lam (the largest Zen monastery in Vietnam), Tuyen Lam Lake, and Lat Village – home to a variety of ethnic minority groups with their unique traditions and beliefs. A visit to the bustling Dalat Central Market is a great way to experience the local daily life, purchase some local specialties, and sample some of the famous street foods such as "banh trang nuong" and "banh can".
6. Quy Nhon – A Highlight of Central Vietnam Beaches
If you're looking for the best beaches in central Vietnam, Quy Nhon City in Binh Dinh Province is the place to go. The city boasts a long coastline with clear turquoise water and smooth sand beaches, all surrounded by high mountains.
Ky Co Beach has been dubbed the "Maldives of Vietnam" for its smooth, clear water, beautiful coral reefs, and various water sports. The beach is surrounded by mountains and hills on three sides, creating calm waters. Nearby, Eo Gio offers a magnificent view of the sea.
Ghenh Rang Tien Sa is another popular tourist destination, featuring the rocky Ghenh Rang site, Tien Sa Beach, Queen Beach, the tomb of the famous poet Han Mac Tu, and Ghenh Rang Church. From the peak of Ghenh Rang, visitors can enjoy a bird's-eye view of Quy Nhon city and Crescent Beach, which is located in the heart of the city and boasts a 5-kilometer-long crescent-shaped yellow sand beach.
Quy Nhon is also famous for its seafood dishes, including tuna fish-eye stew, steamed Huynh De crab, grilled fish paste, squid cooked with tamarind sauce, and a sauce made from fermented sea urchin.
7. Quang Binh – Highly Recommended for Nature Lovers
Nature enthusiasts, particularly those fond of extreme sports, would find Quang Binh Province an ideal destination.
Located on the northern central coast of Vietnam, Quang Binh Province borders Quang Tri to the south, Ha Tinh to the north, and the East Sea to the east. The province is dubbed the "kingdom of caves" for having over 400 caves and magnificent beaches.
Phong Nha Cave, a UNESCO World Heritage Site, Son Doong Cave – the largest cave in the world, and Paradise Cave – the world's longest dry cave, are among the most famous attractions in Phong Nha-Ke Bang National Park. In addition, Quang Binh is home to many breathtaking beaches such as Nhat Le and Da Nhay, and renowned religious sites.
Visitors to Quang Binh can savor fresh and delicious seafood, including clams, fish, shrimp, oysters, and snails. The squid here is thick and sweet, and a must-try for seafood lovers.
8. Phu Yen – A Perfect Getaway From Busy Life
For a peaceful getaway, Phu Yen is a must-visit destination! Located in central Vietnam, this province shares borders with Khanh Hoa Province to the south, Binh Dinh Province to the north, the East Sea to the east, and Gia Lai and Dak Lak Provinces to the west.
With a 190-kilometer-long coastline, Phu Yen boasts many stunning beaches such as Mon Beach, Vung Ro Bay, and Xep Beach. Swallow Islet is another picturesque spot with beautiful coral reefs. Additionally, Mang Lang Church in Tuy An district, which dates back to the 19th century, holds an important place in Vietnam's early Christian history. The church is also home to the first book ever printed in Vietnamese, a religious text translated by the Avignonese Jesuit missionary Alexandre de Rhodes (1593-1660).
Seafood is the highlight of the local cuisine in Phu Yen, together with other local delicacies, such as boiled rice with chicken, fried fermented pork roll, rice cake with shredded pork, crispy fried bread, etc.
So now, ready to explore these gorgeous destinations, check out our list of well-planned Central Vietnam tours or contact us for a tailor-made holiday in Vietnam.