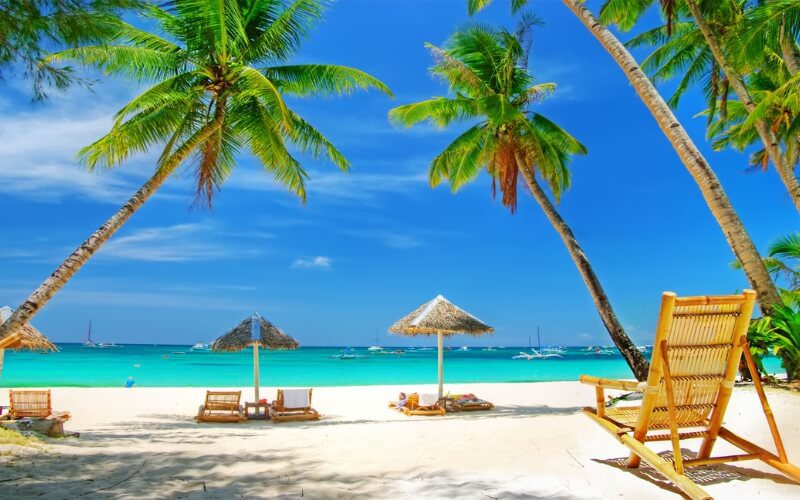 The central region of Vietnam which encompasses Da Nang and Hoi An is regarded as a significant hub for tourism. This area boasts a variety of attractions, including a UNESCO World Heritage town, archeological sites, and Vietnam's former imperial capital. Furthermore, nature enthusiasts can also indulge in the region's outdoor offerings, such as beaches, which are abundant, and numerous award-winning luxury resorts are also available for those seeking lavish accommodations. 2 or 3 days in Da Nang and Hoi An is enough for you to explore all of its highlights if you know how to plan your trip carefully. Below are some suggested Da Nang itineraries for the best experience.
Best Time to Visit Da Nang and Hoi An
Da Nang benefits from a tropical monsoon climate, providing mild temperatures all year round. It has two distinct seasons each year, with the wet period lasting from September to March, and the dry period running from April to August. Due to its proximity to the East Sea, the average temperature in Da Nang ranges between 18°C and 34°C. The monsoon season, which falls between September and March, can bring short bursts of rainfall, so carrying an umbrella is advisable during your trip to Da Nang.
Da Nang's dry season begins in April, with scorching tropical heat and high humidity levels typically peaking in August. During the months of May to September, temperatures can reach an average of 35°C, making it a popular retreat among locals, resulting in busy crowds and traffic.
For comfortable exploration, the best time to visit Da Nang is from February to May, when the city enjoys sunny skies and low humidity levels. The average water temperature of 25°C makes it ideal for beach games and sunbathing.
What to Do in Da Nang and Hoi An?
Unwind on beautiful Da Nang beaches
If you are looking for things to do in Da Nang, visiting the local beaches along the city's 60-kilometer-long coastline should be at the top of your bucket list. You can relax in the quiet turquoise water, sunbathe on the smooth white sand, and enjoy fun water activities.
One of the most popular beaches in Da Nang is My Khe Beach, located just three kilometers to the east of the city center. Xuan Thieu Beach, also known as Red Beach, is a peaceful beach in Da Nang Bay that boasts smooth white sand and stunning sunrise and sunset views. Non Nuoc Beach, located at the foot of Marble Mountains, is another must-visit beach in Da Nang. In 2005, Forbes magazine named it one of the six most beautiful beaches on the planet. Despite its popularity among tourists, the beach still maintains its pristine beauty. If you're near Tien Sa Port, check out Tien Sa Beach, which is ideal for individual relaxation and team building.
Admire Da Nang's sacred monuments
If you're interested in exploring holy sites, there are several places you should visit during your Da Nang itinerary. The city has three Linh Ung Pagodas, including Linh Ung Pagoda Marble Mountains and Linh Ung Pagoda Son Tra Peninsula. The Da Nang Cathedral, also known as Con Ga Church (Rooster Church), was built by the French in 1923 and now has a Catholic community of over 4,000. Quan Am Pagoda is located at the foot of Kim Son Mountain and boasts spectacular architecture blended with a unique cave system. It is also the first Buddhism Museum in the country, with valuable antiques. Linh Chua Linh Tu Temple is located on the peak of Chua Mountain and is dedicated to the Forest Goddess. Finally is the Chinh Toa Cathedral, which was built by the French in a Gothic style and now serves as a religious hub and tourist destination.
Climb the Marble Mountains
The breathtaking Marble Mountains in Da Nang comprise six majestic karst mountains with distinct names representing the five elements of eastern philosophy: Kim Son, Moc Son, Thuy Son, Tho Son, Hoa Son (Duong Hoa Son, and Am Hoa Son). These mountains run alongside the coastline and are considered a top tourist destination in the area. They have been designated as a national cultural and historical relic site due to their significance in Vietnamese culture and history. Visitors can explore the caves, pagodas, and temples carved into the mountains, providing an immersive experience combining natural beauty with cultural and spiritual significance.
Visit the Golden Bridge on Ba Na Hills
The recently opened Golden Bridge on Ba Na Hills has caught the attention of international media and is a must-see destination whether you spend how many days in Da Nang. The bridge's design is awe-inspiring with a pair of colossal hands reaching out from the mountain to hold the golden silk that is suspended in the sky. Since its opening in June 2018, the Golden Bridge has become a social media phenomenon and a popular attraction for visitors. The pedestrian walkway is 150 meters long and located at an altitude of 1414 meters, offering breathtaking views of Da Nang city and the surrounding pristine forests.
Enjoy the ancient beauty of My Son Sanctuary
My Son Sanctuary, located in Duy Phu village, Duy Xuyen district, Quang Nam province, is a complex of temples built by the Cham people between the 4th and 13th centuries AD. It is situated 69 kilometers from Da Nang and 45 kilometers from Hoi An Ancient Town.
The Cham people, who lived on the central coast of present-day Vietnam, shared a spiritual culture that can be traced back to Indian Hinduism. The temples feature unique structural styles that reflect the historical stages of the Champa kingdoms. Although only around 20 temple towers remain due to natural disasters and wars, the site was recognized as a UNESCO World Heritage Site in 1999.
Indulge in the peaceful atmosphere of Hoi An Ancient Town
Hoi An ancient town, situated approximately 30 kilometers south of Da Nang city, is not only a popular tourist attraction but also an important architectural relic and heritage site. One of the must-do activities in the area is taking a slow boat trip on the Hoai River, especially during the full moon when the town and river sparkle with lights from the houses and floating candles.
Visitors to the town should not miss the opportunity to explore popular landmarks such as the Japanese Covered Bridge, Tan Ky Old House, Quang Thang House, Tran Family Worship House, Quan Cong Temple, and Minh Huong Pagoda. For those who want to understand the local lifestyle and tradition, Hoi An Central Market and Hoi An Museum of Culture are highly recommended.
The Cham Islands (Cu Lao Cham), located approximately 20 kilometers from Hoi An Ancient Town, is a cluster of 1 main island and 8 smaller surrounding ones that boast a diverse flora and fauna. In 2009, UNESCO designated the area as one of the world's biosphere reserves. While visiting Cu Lao Cham, tourists can enjoy swimming at the beautiful beaches, exploring the windy strait, and visiting attractions such as the ancient well of the Cham people, Hai Tang Temple, and Tan Hiep Market.
Suggested Da Nang 2 or 3 Days Itineraries
Da Nang Itinerary 2 Days
Only have 2 days in Da Nang, you can spend the first day discovering the city with major tourist attractions such as Son Tra Mountain, Linh Ung Pagoda, My Khe Beach, and stop at the Sun Wheel. On the second day, you have a motorbike tour to the Hai Van Pass and Lang Co Beach and enjoy the most beautiful and secluded spot of Da Nang. With this itinerary, you will also visit the Bach Ma National Park, and Elephant Springs, and have a hot spring bathing at Thanh Tan Hot Springs.
>>> See the detailed itinerary here.
If you are more culturally and architecturally enthusiastic, you can discover Ba Na Hills and the Golden Bridge on the first day and spend the whole second in Hoi An Ancient Town. Visit the prehistoric houses and enjoy delicious foods along the way.
>>> See more: Discover the Highlights of Da Nang and Hoi An 2 Days Itinerary
Da Nang Itinerary 3 Days
If you have more time and are affordable, then 3 days in Da Nang itinerary is much a better choice. With this program, you will visit Linh Ung Pagoda, Marble Mountain, and Hoi An Ancient Town on the first day. Spend the whole next day on Ba Na Hills, exploring its major tourist spots and most importantly the Golden Bridge. On the final day, you pay a visit to My Son Sanctuary, My Khe beach, and top at the Dragon Bridge to observe the colorful LED lights at night.
>>> Learn more: Da Nang 3 Days Tour through Major Tourist Attractions
Hoi An is even a perfect stopover for a day tour. With this limited time, visitors can visit Cham islands, cycle in Hoi An Ancient Town, admire the beauty of My Son Sanctuary and Tra Que Herbal Village, or join a cooking class in Hoi An.
Food Guide to Da Nang and Hoi An
Quang Noodle
This central Vietnamese dish can ignite a passionate love affair. Layers of velvety rice noodles sit atop fresh lettuce and sprouts, topped with crispy rice crackers, sliced banana blossom, and quail eggs. The dish is brought together with a ladle of rich, peanut-flavored broth with your choice of chicken, pork, or shrimp. It's a satisfying and refreshing option for lunch on a hot day in Da Nang.
Fresh seafood
No visit to a coastal city is complete without indulging in a seafood feast, and Da Nang is no exception. Take the time to enjoy a meal at one of the beachside restaurants, where fresh seafood is hand-picked from live tanks, weighed, and cooked to perfection in simple yet delicious recipes. A few of the must-try dishes include clams in lemongrass broth, tamarind crab, and grilled oysters with spring onions.
Avocado ice cream (Kem bo)
During hot days in Da Nang, the locals enjoy a refreshing snack called "kem bo" or avocado ice cream. This creamy dessert consists of a thick layer of blended avocado topped with coconut ice cream and sprinkled with toasted coconut or jackfruit flakes. It is a popular treat for those looking to cool down after a long day of working or studying.
Vietnamese pancake (Banh xeo)
Banh xeo, the golden Vietnamese savory crepes, are cooked to perfection in a sizzling pan, resulting in crispy edges that create a satisfying crunch when wrapped in rice paper. Packed with pork, shrimp, onions, bean sprouts, and mushrooms, each crepe is folded into a taco shape. To savor the flavors, tear off a piece, add some lettuce and herbs, and dip it in peanut sauce. It promises to be a mouthwatering delight that'll leave you craving for more.
Where to Stay in Da Nang and Hoi An?
Trying to pick the best place to stay during 3 days in Da Nang can be daunting, given the wide range of fantastic hotels and resorts available. If you prefer to be in the heart of the city, Da Nang downtown is the way to go. You'll have access to local markets, shopping malls, restaurants, bars, and vibrant nightlife. We recommend staying as close as possible to the river between the Han River Bridge and the Dragon Bridge.
If you want to relax by the beach but still be near the city center, stay at My Khe Beach. It is Da Nang's most popular beach and is always packed with locals and tourists. You'll find a white sandy beach with many shops, beach massage parlors, and restaurants nearby. Further south is Bac My An Beach, another destination to soak up the sun. It's a little less busy and provides a more laid-back vacation atmosphere. It's ideal for couples or solo travelers looking to recharge.
However, if you're looking for a luxurious getaway, stay at Non Nuoc Beach. The beach is more peaceful and quiet, even in the evenings and afternoons. It's not the best area to shop or party in; instead, it's a place to unwind and bask in the fresh air and sunshine. Additionally, most of the resorts have private beaches, making them ideal for families with children and couples on their honeymoon holidays.