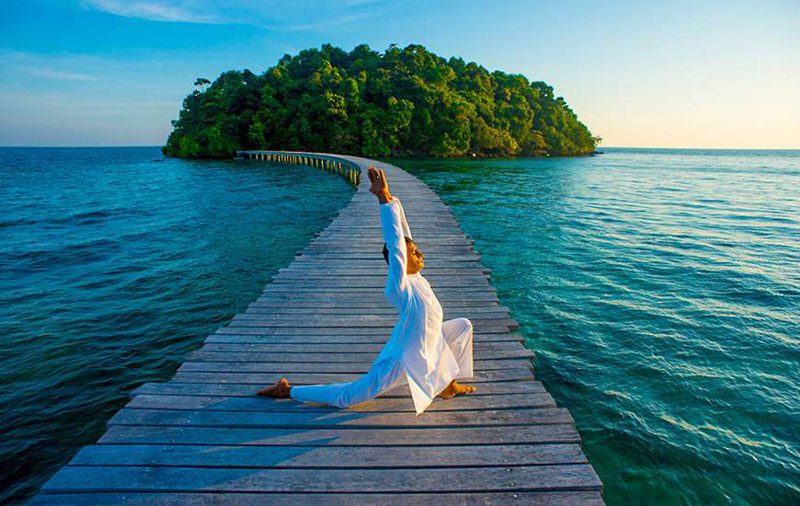 Vietnam has long been famous for its food, culture, historic cities and beautiful beaches. So, it's no wonder that so many people consider this country as an ideal place for a Health, Spa & Wellness Tour aimed at harmonizing their body and mind and restoring their life rhythms. Tourists can regain energy for a new work season, improve their relationships and experience different pleasures. Discover below top 5 best spa and wellness resorts in Vietnam for wellness lovers.
Address: Phong Son Commune, Phong Dien District, Thua Thien Hue Province, Vietnam.
A member of the Openasia fusion group, Alba Wellness Valley is a wellness resort located 30 km northwest of Hue City. This resort has exceptional features including a hot spring, natural mineral drinking water and a unique experience. Professional services and luxury products also contribute to the reputation of this place.
This wellness resort in Vietnam offers a variety of experiences during your relaxation stay, especially an onsen, yoga studio, meditation, hot spring and reflexology. The hot spring at Alba Wellness Retreat comes from deep in the Truong Son Mountains. Thus, its thermal baths offer therapeutic experiences both indoors and outdoors. Alba Wellness Resort is one of the wellness resorts in Vietnam, popular for its creative approach, for example forest meditation, water meditation, walking meditation, breathing classes and Tai Chi.
Address: Vo Nguyen Giap Street, Khue My Ward, Ngu Hanh Son District, Danang, Vietnam.
Located on a beautiful beachfront and featuring beautiful villas with private pools, the TIA Wellness Resort is the ideal blend of authentic wellness and discreet luxury. With 2 treatments a day offered, beautiful services in harmony with natural life and daily activities such as yoga class, creative workshop and mindfulness practice, you will find tranquillity.
Fusion Maia offers guided retreat programs such as RE-VIVE, RE-BOOST and RE-THINK. These three to seven day programs offer clients the great opportunity to focus on specific areas of wellness. For example, cleansing, plant-based living or increasing their energy levels. The food plans are a little more systematic, so they are perfect if you like to be a little more disciplined about your healthy holiday.
Address : 326 Ly Thuong Kiet, Tan An, Hoi An, Quang Nam, Vietnam.
A Vietnamese wellness retreat, Almanity Hoi An Wellness Resort offers a holistic approach to wellness. From EQ intelligence workshops to interactive trainings, your mind improves sustainably. This is a holistic retreat in Vietnam that uses both ancient and innovative elements: yoga, tai chi, massage, sauna and steam rooms.
You will regain the balance of your body, mind and soul through revitalizing experiences with qualified therapists and daily spa treatments. With 36 saunas, this place is currently the largest wellness center in Vietnam. The sauna uses Himalayan salt rock, a 250 million-year-old salt crystal. Inside each crystal are natural minerals that help destroy harmful toxins in your body.
Address: Hoa Thanh hamlet, Xuan Canh commune, Song Cau district, Phu Yen province, Vietnam
After the success of Zannier Hotels Le Chalet (France), Phum Baitang in Siem Reap (Cambodia), The Post (Belgium), Omaanda and Sonop (Namibia), Zannier Hotels Group opens Zannier Hotels Bai San Ho, a new member of the Group on December 1, 2020 in Vietnam.
Located in the middle of Tuy Hoa and Quy Nhon, far from the tourist routes like conventional resorts, Zannier Hotels Bai San Ho offers a unique opportunity to visitors to discover and experience the unspoiled things of the island. It is a luxury resort hidden in a secluded nature reserve of up to 98 hectares in Phu Yen province, along a pristine white sandy beach extending up to 1 km. Meaning "Coral Bay" in Vietnamese, Bai San Ho takes its name from the coral reefs accessible from the private beach that stretches for one kilometer. It is a paradise for beautiful coral reefs, surrounded by hills, green rice fields and a long coastline.
The Hoa Sen Spa offers complete relaxation with treatments and rituals designed around the five spiritual elements: Air, Fire, Water, Earth and Spirit. Family sports activities include a gym, yoga studio, two tennis courts, badminton and beach volleyball; as well as water sports from surfing to wakeboarding and kayaking.
Address: Ninh Vân Bay, Ninh Hoa commune, Khanh Hoa province, Vietnam.
Located 60 km from Nha Trang city, Ninh Van Bay is a hidden paradise for travellers who wish to leave the bustling city behind and find peace of mind.
You can immerse yourself in nature, enjoy the calm atmosphere and take care of your well-being at this resort. Many types of treatments await you, such as sauna, steam room, yoga pavilion, outdoor gym circuit and meditation room. Your sleep will also be taken great care of through analysis, consultations, yoga Nidra and meditation.
Address: Vinh Hy village, Vinh Hai commune, Ninh Hai, Ninh Thuan, Vietnam.
Amanoi has quickly made a name as one of the leading spa and wellness resorts in Vietnam. The center offers highly personalized programs that cater to the needs of clients during their wellness journey. Highly trained therapists give the utmost attention to clients on taking care of their every wish.
The 3 to 21 day tours allow you to encourage physical and mental well-being while promoting positive lifestyle changes. The program is similarly diverse, from bodywork, yoga practice, personal training, tai chi, watsu, reiki, massage, facials, scrubs and bathing treatments.
Never be disappointed in Vietnam. The country offers many things to see and do for all types of visitors. Whether you are travelling with family, as a couple or alone, this country will surprise you. What are you waiting for? Pack your bags and book a stay at one of the best wellness resorts in Vietnam today.