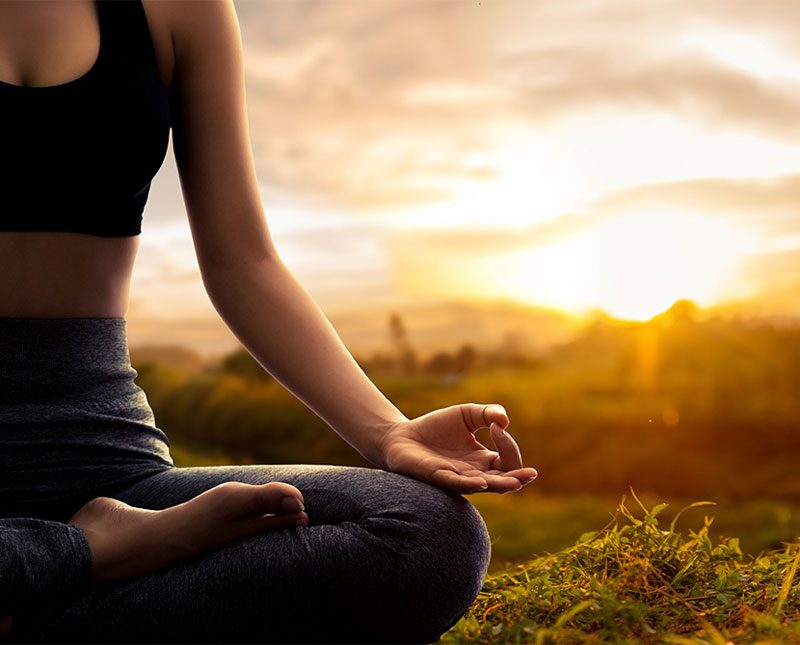 In recent years, the tourism combining meditation and yoga has become popular. But in late 2020 – early 2021, faced with the "urgent" needs to relieve the stress and balance the body-mind, many people are turning to meditation. Vietnam is not outside this trend. More and more meditation centers in Vietnam are developing, and the quality is improving.
What is meditation? What is the difference between meditation and yoga?
The term meditation refers to a mental or spiritual practice. It often consists of focusing on a certain object of thought (meditating on a philosophical principle, for example, in order to deepen its meaning) or on oneself. Meditation is a part or section of yoga and known primarily as mental training. While yoga is a mental and physical training. Both have their benefits and provide ways to train the mind and/or body.
Are you looking for a less crowded destination for a Health, Spa & Wellness Tour in Vietnam, where you can practice meditation and relax completely? Are you wondering where to go to recharge your energy among the various meditation centers in Vietnam? This list of good quality meditation retreats in Vietnam will help you find the best options.
Address : House 9 Alley 51 Sub 2 (right sub-alley) Hoang Hoa Tham street, Ba Dinh, Hanoi
FLOAT HANOI is one of the few centers that apply sensory deprivation in Vietnam. At Float Hanoi, you can experience a unique method of de-stressing. Here, sensory deprivation is used as a form of therapy to achieve a relaxed and calm state of mind. According to scientific studies, sensory deprivation creates a totally distraction-free environment that encourages the body and mind to relax completely. This state of deep relaxation enhances the body's healing abilities and also eliminates stress and anxiety.
The centre offers tanks and floatation chambers where you can spend 60 or 90 minutes depending on the formula chosen. Its relaxation area is designed to welcome you before and after your session. Whether you want to read a book, enjoy a cup of tea, chat or simply not think about anything, this place is like your home!
2. Truc Lam Zen Monastery
Address : Nguyen Dinh Chieu, Ward 3, Da Lat, Lam Dong
As a meditation centre, the main objective of Truc Lam Zen Monastery is to help people live in "mindfulness" and bring their souls to peace. Truc Lam Zen Monastery focuses on the inner self of each person, whether religious or not. This inner spiritual training leads to personal purification, a relaxed mind and helps one's good nature to manifest; this is the true peace of people, not in some distant worldly paradise. Immerse yourself in nature, and you will feel a cool and fresh atmosphere invading your soul and body.
During a Buddhist retreat at Truc Lam Monastery, you will practice living with mindfulness while bringing your mind into a peaceful state. The introspective training process of inner concentration leads to personal purification and helps one's good nature to surface. By practising meditation here, you can both look at the beautiful landscape and feel at peace in your soul.
Address : 215/12 Nguyen Xi Street, Binh Thanh District, Ho Chi Minh City
Consistently named in the list of the best meditation centers in Vietnam as well as one of the most trusted Vietnamese meditation centers in Ho Chi Minh, The Art of Living has skilled teachers to help you find inner peace and happiness. The centre offers counselling and workshops in yoga, meditation, breathing exercises, wellness, health, stress management for individuals, inspirational leadership in the workplace.
The Art of Living offers the Sahaj Samadhi meditation course. It trains your conscious mind to experience the silent depths of your own nature. The practice of Sahaj Samadhi Meditation brings you increased energy, insight, joy and deep inner peace through daily experience. Sahaj Samadhi Meditation is easy to learn. Because it is natural and effortless. The mind and body are in a state of deep relaxation, in which deep-seated tensions are broken and the experience of one's own infinite potential for harmony, happiness and imagination unfolds. Anyone can learn and become fully proficient in a few hours of practice.
Address: 238/10 Nguyen Thi Minh Khai, District 3, Ho Chi Minh City
Omandala Vietnam is an organization specialized in Retreat programs, application of Tibetan bowl therapy methods combined with Cognitive Behavioral Therapy (CBT), nutritional counselling, training, cooperative coaching for healers.
This centre offers private healing sessions or long deep treatments anywhere in Vietnam. Therefore, you can absolutely stay longer in hotels in Sapa, Hue, Dalat, Nha Trang, Phu Quoc. Its therapeutic packages, including Tibetan singing bowls sound healing work on your muscular, mental health. Under the guidance of a therapist, each chime, when combined, creates a relaxing music. Then the person being treated will feel the sounds with vibrating frequencies on the 7 rings away from the main one. In this way, the brain and body rest and recover. In addition, it provides you with a combination of convenient schedules with a balanced diet at the same time.
Address: Cua Lap Hamlet – Duong To Commune, Duong Dong, Phu Quoc
Located on Phu Quoc Island, An Nhien Retreat offers programs of healing and relaxation. Various forms of therapy are used, especially yoga, meditation, singing bowl, mindfulness, etc. It also offers wellness programs such as juice cleanse and other detoxification options.
One thing that make this centre attractive is the using of meditation with singing bowls and bells. The singing bowl provoke a deep relaxation in favour of naturally entering into meditation whose ultimate goal is enlightenment. While the bell trigger a "frequency tracking response" that creates a balanced synchronization between the left and right brain. This method of meditation allows one to tune into the universal sound in and out.
A trip to the inner self is always a great idea when you want to escape the hustle and bustle of the city. IDC Travel is delighted to provide you with the list of the best meditation centers in Vietnam!