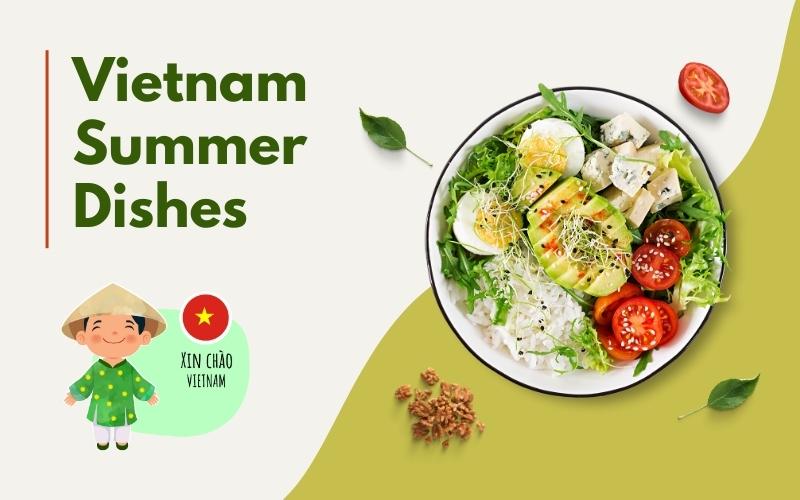 Summer in Vietnam coincides with the break for students, allowing them to step away from their studies. It is also a season marked by farewells to graduating students. In the realm of agriculture, summer signifies the harvest of the spring crop. For travel enthusiasts, this is the ideal time to seek solace in beachside destinations or mountain resorts, seeking respite from the scorching weather. Furthermore, summer presents an amazing opportunity to enjoy many delectable Vietnamese summer side dishes and specialties. Here are some of the best summer dishes in Vietnam to savor on your future trip!
When is Summer in Vietnam?
In Vietnam, the summer season typically falls between May and August. During this time, the weather is generally hot and humid throughout the country. However, it's important to note that Vietnam's climate can vary from region to region, so weather conditions might differ slightly depending on the specific location within the country.
Vietnam is a long and narrow country, stretching from north to south, there can be some variations in climate across different regions. Northern Vietnam, including Hanoi and Ha Long Bay, can experience higher temperatures and occasional rainfall during the summer. Central Vietnam, including Hue and Hoi An, can also be hot and humid, with the added possibility of typhoons or heavy rainfall due to the monsoon season. In the southern part of the country, including Ho Chi Minh City and the Mekong Delta, summer temperatures are generally high, with frequent rainfall and occasional thunderstorms.
Where to Go in Summer in Vietnam?
Vietnam, a sprawling country that stretches over 3,000 miles (4,500 kilometers), encompasses a wide range of weather conditions across its diverse regions throughout the year. Summer in Vietnam can be a great time to visit certain regions of this beautiful country.
Northern Vietnam (Hanoi, Halong Bay, Sapa): The summer in northern Vietnam is generally hot and humid, with temperatures ranging from 25°C to 35°C (77°F to 95°F). It's a great time to explore Hanoi's cultural sites and take a cruise in Halong Bay. Sapa's highland region provides a cooler escape from the heat.
Central Vietnam (Hue, Hoi An, Da Nang): Central Vietnam experiences hot and dry weather during the summer, with temperatures ranging from 28°C to 38°C (82°F to 100°F). It's an excellent time to visit Hue's historical attractions, explore Hoi An's ancient town, and enjoy the beaches of Da Nang.
Southern Vietnam (Ho Chi Minh City, Mekong Delta, Phu Quoc): The southern region experiences a tropical climate with high temperatures and occasional rainfall throughout the year. In the summer, temperatures range from 27°C to 35°C (81°F to 95°F). You can explore Ho Chi Minh City's bustling streets, take a boat tour in the Mekong Delta, or relax on the beautiful beaches of Phu Quoc Island.
>>> For more information on the weather and where to go in Vietnam in summer, please refer to our article here.
Summer Dishes to Savor in Vietnam
Fresh Spring Rolls – Must-try Summer Dish in Vietnam
When hot bowls of Pho are familiar to everyone, the light and airy rolls with all kinds of fresh green vegetables such as fresh spring rolls ("Pho Cuon" in Vietnamese) are the best choices for summer dishes. Making this dish is very simple. Pieces of noodle paper, instead of being sliced as usual, are cut into neat squares, sometimes rectangles, then carefully arranged from lettuce leaves to herbs, and pineapple, then add a little shredded egg and 1 thin slice of meat. The inside can also be created with many flavors such as mushroom chicken, sweet and sour beef, sweet and sour pork ears, smoked chicken, and fried fish. If Pho is important in the broth, the dipping sauce is the "soul" of Pho Cuon. The bowl of dipping sauce must be a perfect blend of saltiness from fish sauce, sweetness from sugar, and a little sourness of vinegar, add a little minced garlic for aroma.
>>> If you have the opportunity to stop in Hanoi, don't hesitate to join a cooking class tour to discover the unique recipes of this wonderful Vietnamese dish.
Banh Mi
Banh mi, the delicious Vietnamese sandwich, is a popular and versatile dish that can be enjoyed during the summer months in Vietnam. During the summer, banh mi vendors and shops continue to serve this delightful treat throughout the country. Whether you're exploring the bustling streets of Hanoi, strolling along the riverside in Ho Chi Minh City, or relaxing on the beautiful beaches of Da Nang or Nha Trang, you can easily find banh mi stalls or eateries to satisfy your cravings.
Banh Mi typically consists of a crispy French baguette, generously filled with a variety of ingredients such as grilled or roasted meats with fresh herbs, pâté or mayonnaise, and sometimes chili sauce for an extra kick. In the summer, many people choose Banh Mi as their favorite Vietnamese breakfast. The combination of crunchy baguette, tangy pickled vegetables, and fragrant herbs provides a satisfying contrast to the heat of the season. You can pair your banh mi with a refreshing drink like iced Vietnamese coffee or a local fruit smoothie for a perfect summer meal.
Bun Cha
A popular Vietnamese dish consisting of grilled pork served with rice noodles, herbs, and dipping sauce, Bun Cha, is also a delightful option for summer dishes in Vietnam. You can find bun cha being served in local eateries, street food stalls, and restaurants throughout the country.
Bun cha typically features tender and flavorful grilled pork, either in minced or sliced form, served alongside a plate of rice noodles, fresh herbs like mint and cilantro, bean sprouts, and pickled vegetables. The dish is accompanied by a savory dipping sauce, often a combination of fish sauce, lime juice, garlic, chili, and sugar. The dipping sauce adds a tangy and slightly sweet element that complements the smoky flavors of the grilled pork. The combination of cool rice noodles, refreshing herbs, and grilled pork provides a balanced and satisfying meal that doesn't weigh you down in the heat.
Seafood
Beach holidays are the choice of many people every summer. Summer in Vietnam is an excellent time to indulge in the abundance of fresh and flavorful seafood that the country has to offer. With its extensive coastline and thriving fishing industry, Vietnam is known for its delectable seafood dishes. Whether you're exploring coastal cities like Da Nang, Nha Trang, or Phu Quoc, or even venturing inland to major cities, you'll find a wide variety of seafood options to satisfy your cravings. Many people like to enjoy seafood dishes because seafood provides essential nutrients for the human body: vitamin B, and vitamin D, etc. Not only that, some types of seafood also help promote health. Besides grilled and fried dishes, you can enjoy fresher prepared seafood dishes such as seafood salad, seafood soup, sashimi, etc.
>>> Visit Da Nang, Nha Trang, and other provinces in Central Vietnam while sampling delicous seafood with our Central Vietnam Excursion 8 Days.
Salad
Salads enjoy immense popularity, particularly for summer dishes in Vietnam. Vietnamese cuisine is highly regarded for its vibrant and refreshing flavors, and salads hold a significant place within this culinary heritage. Vietnamese salads are distinguished by their assortment of fresh vegetables, aromatic herbs, and proteins, which come together to create a delightful and rejuvenating culinary experience. The combination of crisp vegetables, fragrant herbs, and protein elements results in a harmonious and revitalizing meal that is favored by many. Some popular Vietnamese salads you might come across, such as tomato salad, lotus root salad, green papaya salad, beef salad with lime, etc. On the other hand, salad is also one of the delicious vegan dishes that is very suitable for vegetarians when traveling to Vietnam.
>>> If you want to reference some vegetarian restaurants in Vietnam, check out our Top 10 Best Vegetarian Restaurants in Vietnam.
Desserts
Sweet Soup – Culinary Characteristics From Northern to Southern Vietnam
Sweet soup, known as "Che" in Vietnamese, is a beloved snack in Vietnam that comes in various forms. It can be enjoyed as a luscious pudding or a refreshing drink made by combining fruits, vegetables, beans, seeds, glutinous rice, and tapioca, often topped with a generous drizzle of coconut milk. Traditionally, Che was prepared in a simple manner, focusing on the sweetness of the soup. Nowadays, there is a wide array of sweet soup varieties available, such as taro sweet soup, green rice sweet soup, corn sweet soup, grapefruit sweet soup, and many more!
These diverse types of sweet soups have gained immense popularity in the market, each with its own unique twists and flavors, captivating the hearts of visitors when traveling to Vietnam in summer.
Tropical Fruits
In the hot summer, there is nothing better than enjoying fresh and sweet fruits in the garden in the western part of the river. West Vietnam is famous for its mild, pleasant climate all year round. Summer is also the time when the orchards start to be full of fruit, from rambutan, mangosteen, durian, mango, jackfruit, etc. This is a better opportunity when you can choose your own fruits and enjoy them in a cool space.
Smoothies
Vietnam is the heaven of fruits, especially tropical ones like bananas, lychee, rambutan, etc. For this reason, there are several ways that you can enjoy fruits in summer. Besides the traditional smoothies, there is another dish that can be served as dessert, called "hoa qua dam" or "sinh to dam" (smashing fruits dessert or smashing fruits smoothie). It is simple to make this summer dish in Vietnam: add condensed milk, milk, yogurt, or even sugar depending on each one's taste in a mixture of different kinds of fruits. Then, the mixture will be smashed well manually.
Coconut Ice-cream
Coconut ice cream is one of the most mouth-water summer dishes in Vietnam. Presented in a rather large coconut shell, this ice cream is attractive by the perfect combination of fresh ingredients such as copra, freshly grated coconut, and a little dried fruit garnish on the surface. With an attractive aroma and coolness, this ice cream brings a new experience and is full of life. Besides the traditional coconut, this dish will become even more delicious if people eat it with some other toppings such as peanuts, baby corn, jellies, and jaggery. This delicious ice cream is not very cheap. However, you can make this at home due to its simple receipt.
Some Notes for Enjoying Summer Dishes in Vietnam
Vietnamese cuisine places a strong emphasis on fresh ingredients. Many dishes incorporate herbs, vegetables, and other components that are meant to be enjoyed at their peak freshness. Look for restaurants or markets that prioritize using high-quality, fresh ingredients to fully experience the flavors.
Vietnamese cuisine varies across different regions of the country. The north, central, and southern regions each have their unique specialties and flavors. Be open to trying dishes from different regions to explore the diverse culinary traditions within Vietnamese cuisine.
Fish sauce is a common ingredient in Vietnamese cuisine and is used as a flavor enhancer. It has a strong aroma but imparts a distinct umami taste to dishes. Don't be put off by the smell, as it adds depth and complexity to many Vietnamese dishes.
Vietnamese dishes often come with a variety of fresh herbs, such as Thai basil, mint, cilantro, and lettuce. These herbs are meant to be added to the dish to enhance the flavors and provide a refreshing element. Additionally, condiments like chili sauce, soy sauce, and lime juice are commonly available on the table for you to customize your meal according to your taste preferences.
Vietnamese cuisine aims for a balance of flavors, incorporating elements of sweetness, sourness, saltiness, and spiciness. It's a harmonious blend that creates a unique taste profile. Be prepared to encounter a range of flavors in a single dish.
Vietnamese street food is vibrant and full of delicious surprises. Exploring street food stalls and markets can be a delightful way to sample local favorites like banh mi (Vietnamese sandwich), spring rolls, and bun cha (grilled pork with rice noodles). However, it's important to prioritize cleanliness and hygiene when choosing street food vendors.
We hope that this article will help you get more choices about summer dishes in Vietnam. Don't hesitate to contact us for a tailor-made trip to this amazing S-shaped country.
Read more: