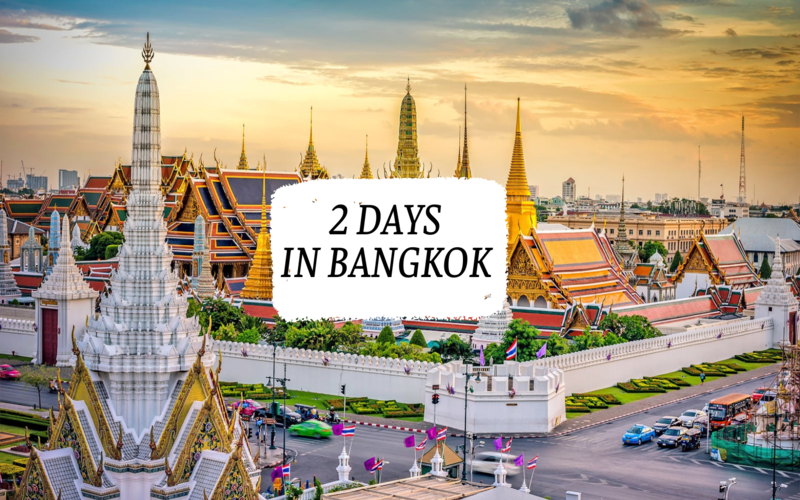 Most tourists who have not discovered Bangkok often mistakenly come here just to worship Buddha in the temples and pagodas gilded with sacred gold. However, do not know that this place is also known as an Asian tourist paradise with unique features and cultural specificity. Furthermore, Bangkok is not only captivated by the beautiful natural landscape but also has the vibrant and bustling atmosphere of a cheap shopping paradise. This is one of the most worthwhile cities to visit and experience in Southeast Asia, so you should spend your 2 days in Bangkok.
The best time to visit Bangkok
Influenced by the tropical monsoon climate, Thailand has two distinct seasons: the rainy season (from May to October) and the dry season (from November to April).
In addition, you can consider choosing an itinerary with 2 days in Bangkok when the Loy Krathong Light Festival takes place in the 12th lunar month every year. Or when the weather is mild and cool, you can choose a Bangkok 2-day itinerary during the SongKran traditional festival in April.
What's more, IDC Travel recommends that the most pleasant time in Bangkok Thailand is from November to February next year. However, this is also the peak tourist season in Thailand, so prices will also increase and the number of tourists to Thailand will also be more crowded. Therefore, if you want to have a great experience for 2 days in Bangkok, follow our recommendations below.
Day 1 in Bangkok
Must-visit places in Bangkok 2-day itinerary
Visit the Grand Palace of Thailand
The Grand  Palace of Thailand is one of the most outstanding places in Bangkok that you must definitely visit. It is a large-scale ancient architectural complex right in the heart of Bangkok. Thanks to its unique architecture that combines Western European styles of the Renaissance, ancient Chinese and Thai cultures, this place still retains its traditional features and inherent sacredness.
If you want to visit this place, the time from November to February is the best time. You can fully experience the new and exciting moments when the Royal ceremonies are held.
Visit the Temple of the Emerald Buddha
If you come to Thailand for the first time, never miss the temples imbued with Thai history and architecture. And the Temple of the Emerald Buddha is a national treasure, a very sacred symbol of Thai Buddhism.
Thai people believe that those who visit and admire this temple will receive a lot of luck and peace. So, if you have time to visit the Temple of the Emerald Buddha, let's pray for your family's peace!
China Town
Chinatown is always a favorite destination of all tourists around the world because of the unique features it brings. You will not only enjoy the unique cuisine of China but also discover the culture of the Chinese people in Bangkok.
This place will be extremely sparkling and fun during the holidays or mid-autumn festival. Therefore, you should visit and enjoy it.
Famous Thailand Cuisines:
Pad Thai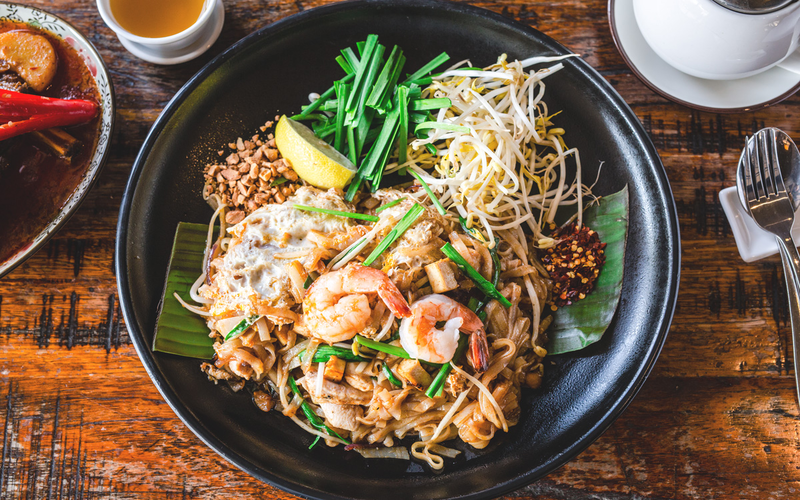 This dish is considered one of the national dishes of Thailand. This is a dish that can pique the palate with the combination of chili powder, fish sauce, sugar and peanuts.
You can easily find this kind of food in most markets or restaurants in Bangkok.
Thai hot pot
In this Bangkok 2-day itinerary, you should enjoy a Thai hot pot combined with fresh meats and seafood.
Mango sticky rice
This food will be an extremely attractive dessert for you to enjoy. The taste of coconut milk combined with succulent pieces of mango will stimulate your taste completely.
Must-do activities:
Cruise on the Chao Phraya River
It would be a pity if you travel to Bangkok in 2 days without sailing on the river of kings. When you take a cruise on the Chao Phraya River, you can observe four attractions: Wat Pho (Temple of the Reclining Buddha), Royal Palace, Wat Phra Kaew (Temple of the Emerald Buddha) and Wat Arun.
Moreover, the poetic scenery on both sides of the river at nightfall will bring you moments of peace and relaxation.
In addition, when sailing on the river, visitors can also feed catfish.
Day 2 in Bangkok
Must-visit places 
Safari World
The next day of your journey, you can explore Safari World. You will feel lost in a world of wild animals when you come here.
You can gain knowledge of the animals through the introduction of the tour guide. In addition, there are also some unique and interesting circus acts that you should enjoy.
Historic City of Ayutthaya
If you have a passion for Thai history, you can not miss this place. With 1h30 traveling by bus from the city center, you can go sightseeing in the Historic City of Ayutthaya.
Although there are only ruins left here, you will feel like you have returned to the past and admire the magnificent capital of Thailand.
Must-do activities for Bangkok 2 day itinerary
Spend at Siam Paragon
Known as one of the largest shopping malls in Thailand, Siam Paragon caters to all your shopping needs.
Here, you can explore a variety of shopping centers from high-end to budget. Here are some areas that you might consider:
CentralWorld

Siam Paragon

MBK Center

Siam Center

Platinum Fashion Mall

EmQuartier

Icon Siam
Damnoen Saduak Floating Market
Bangkok 2-day itinerary Bangkok cannot be completed without experiencing the feeling of sitting on a boat to buy all kinds of goods at the Damnoen Saduak floating market.
All kinds of items are loaded on the boats, the conspicuous things are the boats full of fruit with eye-catching colors. Enjoy the variety of cuisine here and buy attractive specialties.
Tips for 2 days in Bangkok
Should do:
You should have a friendly and respectful attitude towards the Thai royal family. Please keep a serious attitude if you are present when the Thai people recite the sutras.

You need to dress politely and neatly when visiting sacred places such as pagodas and Buddha statues.

Due to the change of living environment, you should bring digestive medicine, flu, fever reducer, sunscreen, insect repellent … in case you need to use it.

Hotels in Bangkok often do not provide cream, toothbrushes, and slippers. Therefore, you must prepare these items yourself before your trip to Bangkok.
Should not do:
You should not behave less politely in public places such as spitting gum, or smoking.

If you are female, you should not touch the monk.

The head is the most precious part of the human body, so you should not touch it without Thai permission.

Avoid putting your feet on the table or touching other people because Thai people consider the feet to be the dirtiest part.
The recommendations that we make about 2 days in Bangkok just point to one of the highlights of this place. In addition, you can refer to the article Thailand highlights tour in 12 Days.
Moreover, Golflux will also always update the latest information about Thailand so that you can make the right choices before you pack your bags and go.
If you have more questions, please contact us to receive the earliest response!