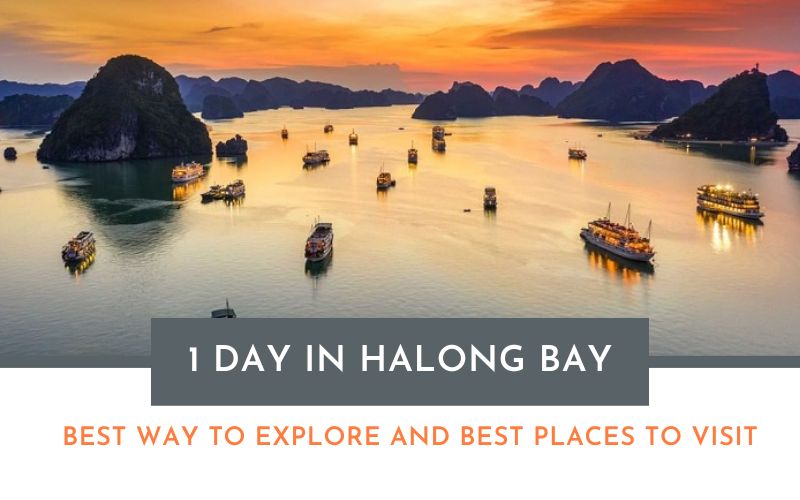 Located about 165km from Hanoi, Ha Long Bay is located off the northeastern coast of Vietnam. It, with many beautiful landscapes, has been recognized by UNESCO as a world natural heritage. Let's make your holiday a memorable one with  Halong Bay 1 day itinerary from IDC Travel.
The best time to visit Ha Long
In general, Ha Long is a place with a mild climate, not too harsh, so this place is always chosen by tourists all year round.
If the weather is your main concern, the months of September through November and March through May are ideal for a journey to Halong Bay.
Limit travel to Ha Long in July and August because this is the time when there are frequent storms.
The best way to explore Ha Long
The best way to experience Halong Bay is on a cruise ship. You travel to water locations with islands that are off-limits to land travel. Numerous unknown limestone islands with tunnels and rain forests on top are available. Compared to the busy Asian cities, it's a radically different experience. You'll honestly believe that you are somewhere else. Here are a few of Ha Long's most well-liked attractions.
Detailed Halong Bay 1 day itinerary
With a voyage lasting roughly 7 hours, a one-day cruise in Halong Bay is a practical and reasonably priced alternative. It will take you longer to go about than because the bulk of Halong day trips leave Hanoi at 8 am, depart at 1 pm, and return around 6 pm.
Must-see destinations when go visit Halong Bay in 1 day
1. Thien Cung Cave
One of Ha Long's most stunning and well-known caverns is "Thien Cung Cave." Dau Go Island is where the cave is situated (southwest of Ha Long Bay). The cave's intricate structure, which includes multiple levels and compartments with high and wide ceilings and walls, is almost 10,000 m2 wide. Dragons, eagles, pythons, and other strangely shaped stalactites and stalagmites can be seen on the four surfaces around it.
Four enormous pillars form the movement's center of support. The hands of nature are imprinted with a variety of shapes, including images of human activity, fish, and birds, from the base of the column to its summit. Natural light streams through the ceiling of the final cave, illuminating a wonderful scene. There is a brook nearby as well. Additionally, a small door in the corner of the cave provides access to the outside, providing views of the rugged mountains and the turquoise Ha Long Bay.
2. Dau Go Cave
The second place you can come travel in 1 day in Halong Bay in Dau Go Cave. Located on Dau Go island, the cave is close to Thien Cung cave. From a distance, the entrance to the cave appears to be blue and shaped like a jellyfish. We can access the cave entrance by ascending 90 stone stairs. The cave's arch is roughly 25 meters high, and hundreds of enormous stalactites hang down from the ceiling like an odd waterfall. There are three primary sections of the cave.
The ceiling of the cave is a massive "oil painting," which features an unaltered natural environment, while the outer compartment has an arched shape filled with natural light.
A faint light shines into the second chamber of the cave, and mysteriously, new paintings appear here. The stone flower clusters come and disappear, the images are both familiar and strange, and they arouse both fear and curiosity in people.
A fairy well with four seasons of fresh water is located at the end of the cave.
3. Titop Island
The sandy beach on Ti Top Island is fashioned like a crescent. In all four seasons, the water washes the beach here clean. The water is pure and clean throughout the year, despite the fact that the sandy beach is somewhat modest, airy, and peaceful.
Today, Titop Island is a popular stopping point for travelers who want to swim or climb Titop Peak to get a bird's-eye view of Halong Bay. This is one of the most attractive actitivies when we go visit Halong Bay in 1 day.  There are more than 400 steps to climb in order to get to the gazebo at the summit. If you ask the locals, they will be happy to show you the correct path to the summit. You should have a good camera because the trek is high, so you can capture everything from the turquoise water below to the birds flying high in the immersive sky.
Fun activities to do in 24 hours in Halong Bay
1. Kayaking and snorkeling
Titop Island has a clean sandy beach called Cat Nang which is an ideal spot for these activities. The area is home to an abundance of marine life, so snorkeling on the island is a top choice for water lovers and marine enthusiasts, while kayaking is a great way to Start exploring the surrounding areas at your own pace, reaching some hard-to-reach areas to parts of the coastline that you can't reach with a tour boat.
2. Visit the pearl village
Pearl Village, a floating fishing community on the sea where visitors adore to shop for jewelry or discover the wonders of nature is a destinations that everyone talks about. Learn how the local create pearl by visiting the pearl village, where you can also tour farms and museums and purchase pearl jewelry to wear at home.
3. Sightseeing by seaplane
A seaplane is your best option if you wish to see Ha Long from above in its entirety. The 25-minute flight will surprise you because it was scheduled at the ideal and most convenient moment. The seaplane will create an experience unlike any other when the panoramic view of Ha Long from above is combined with the sight of white water foam streaming through the window. This is surely one of the funniest activities of your day in Halong Bay.
Besides, IDC can make your itinerary an unforgettable with Ha Noi – Ha Long golf package. This will be an experience not to be missed for those who crave the luxury.
Food to try when you visit Halong Bay in 1 day
1. Grilled squid
Grilled squid is a famous dish in the list of specialties in Ha Long, made from pure fresh squid. The special thing about Ha Long squid cake is that it is pounded by hand and seasoned with special spices and eye-catching yellow color.
2. Grilled oysters
Grilled oysters is a favorite dish of men who often drink with beer.
3. Elephant trunk snail
As a famous specialty of Van Don island district, Tu comedy can be steamed, made salad, cooked porridge, grilled, and cooked very well.
If you have more time to relax, why not try another tour from Hanoi in 2 or 3 days that is logically designed by IDC Travel. This is one of the highly rated itineraries from many tourists. Do not hesitate to contact us immediately.