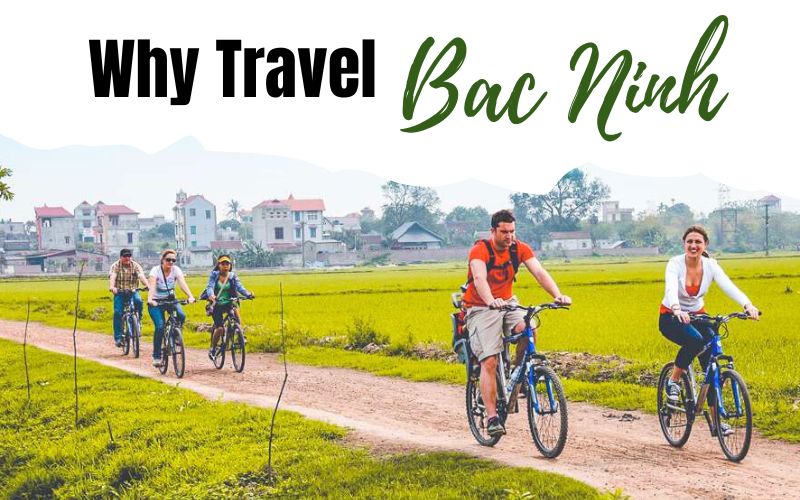 If you're considering a trip to Northern Vietnam and asking yourself, is Bac Ninh province worth visiting? Bac Ninh boasts a significant and enduring history, having been one of Vietnam's earliest urban areas and serving as the country's capital during the Dinh and early Le dynasties. The province's historical importance and contributions to Vietnamese culture make it a worthwhile addition to your travel itinerary.
Not only does Bac Ninh offer a glimpse into Vietnam's past, but it also provides opportunities to capture stunning Instagram-worthy moments. From discovering the most photogenic locations to immersing yourself in the province's remarkable temples, Bac Ninh offers a wealth of unique experiences. Moreover, the region is known for its budget-friendly local specialties, making it an excellent base for exploring some of Vietnam's finest tourist destinations. In the following article, we'll present you with 8 compelling reasons to answer the question why visit Bac Ninh.
Why Visit Bac Ninh
Convenient Location
Bac Ninh is a province in northern Vietnam, located approximately 40 kilometers away from Hanoi. It is known for its rich cultural heritage and is a popular destination for tourists seeking cultural tourism experiences. The journey to this destination takes approximately an hour, making it a convenient choice for you if you are looking for a day tour around Hanoi. Travelers have various transportation options to travel to Bac Ninh from Hanoi. Hiring a private car is the safest and most convenient way while traveling by bus or motorbike is more economical.
The Weather is All-Year-Round Pleasant
Bac Ninh is a destination that can be enjoyed throughout the year, making it a great place to visit anytime. The region experiences a typical northern Vietnam climate with four distinct seasons.
Spring (February to April)
Summer (May to August)
Autumn (September to November)
Winter (December to January)
Spring is a beautiful time to visit Bac Ninh, as the weather is mild and pleasant. The landscapes come alive with blooming flowers and vibrant greenery. It is also when many traditional festivals take place, offering a unique cultural experience. Summer can be hot and humid, but it presents an opportunity to explore outdoor attractions and enjoy the natural beauty of the region. It's an excellent time to visit local parks, lakes, and gardens. Autumn is considered one of the best times to visit Bac Ninh. The weather is cooler and more comfortable, making it ideal for exploring cultural sites and participating in traditional activities. And the winter in Bac Ninh can be cold, but they offer a unique charm. The cooler temperatures create a cozy atmosphere, and it's a great time to explore indoor attractions such as museums, temples, and historical sites.
In Bac Ninh, several notable festivals occur during the cooler months from January to March, including the Lim Festival, Dau Pagoda Festival, and Do Temple Festival. However, the prime time to explore Bac Ninh's natural wonders and craft villages is during the summer and autumn seasons. These months offer favorable weather conditions for outdoor activities and provide an excellent opportunity to witness the region's scenic beauty and traditional craftsmanship. Additionally, in December, the fields of canola flowers along the Duong River burst into vibrant blooms, making it a favorite destination for photographers seeking captivating landscapes.
Bac Ninh is a Budget-Friendly Destination
Is Bac Ninh a worthwhile destination for budget-conscious travelers? Those extra Vietnamese Dong in your pocket agree! Bac Ninh is known for being a budget-friendly destination, making it appealing to visitors seeking affordable experiences. Whether you are on a tight budget or simply prefer to maximize your travel savings, the province offers various options that won't break the bank.
Transportation: Getting around Bac Ninh is generally inexpensive. Public transportation options like buses are affordable and convenient for traveling to Bac Ninh. The cost of a bus ticket from Hanoi can range from 30,000 to 50,000 VND per person. You can also rent a private car or motorbike at affordable rates of around 100,000 to 200,000 VND for a motorbike and from 300,000 to 500,000 VND for a private vehicle.
Attractions: Many attractions, such as temples, pagodas, and cultural sites, have affordable or even free admission. This means you can explore and appreciate the cultural heritage of the region without spending a significant amount of money.
Meals: Bac Ninh is renowned for its delicious local cuisine, which is often reasonably priced. You can indulge in traditional dishes such as "Bun Dau Mam Tom" (vermicelli with tofu and shrimp paste) or "Cha Ca" (grilled fish). In addition, street food stalls and local markets offer affordable dining choices, allowing you to savor the local flavors without straining your budget. With about 500,000 VND in us, you can completely immerse yourself in countless delicious dishes in Bac Ninh from Street Food stalls to Upscale Restaurants.
>>> Asking yourself what is the most saving way to explore Bac Ninh, then it may be by bicycle. Check out our Bac Ninh Cycling Tour 1 Day for more information.
Home to Numerous Sacred Temples
Bac Ninh showcases its rich history and cultural values through its impressive collection of historical and cultural relics. With a staggering 1,558 relics, including nearly 200 national sites, the province is committed to developing spiritual tourism. It is a treasure trove of cultural and religious heritage, prominently featuring numerous temples of great significance.
Among the notable attractions in Bac Ninh is the Tomb of Kinh Duong Vuong, the very first king of ancient Viet ethnic, whose legacy is honored here. The Do Temple pays homage to the eight kings of the Ly Dynasty, underscoring their historical importance. Dau Pagoda, the earliest pagoda in Vietnamese history, stands as a testament to the country's religious heritage. But Thap Pagoda and Phat Tich Pagoda showcase remarkable architectural features and artistic expressions, captivating visitors with their beauty. Additionally, the local Literature Temple provides insights into the region's literary traditions.
These sacred temples in Bac Ninh are not only religious centers but also serve as cultural landmarks, embodying the spiritual traditions and historical legacy of the province. Exploring these sites allows visitors to admire the intricate craftsmanship, immerse themselves in the local culture, and witness the devotion of worshipers. They are all a short distance from each other and ideal for a Bac Ninh Day Trip from Hanoi.
The Province Has a Unique Handicraft Cultural
If you're seeking an authentic cultural experience, Bac Ninh is the ideal destination. This province is home to a plethora of traditional villages where you can immerse yourself in the exquisite craftsmanship that has been passed down through generations. Prepare your camera to capture countless memorable moments and indulge in a shopping spree for extraordinary souvenirs.
Bac Ninh takes great pride in its traditional handicrafts villages, which serve as living testimonies to the province's rich cultural heritage. Among the must-visit villages are Dong Ho, renowned for its intricate folk paintings; Phu Lang, where skilled artisans create beautiful pottery; Dai Bai, known for its exceptional bronze casting; and Xuan Lai, celebrated for its bamboo craftsmanship.
By exploring these traditional handicrafts villages, you will witness the dedication and skill of local artisans firsthand. Feel free to capture the artistry with your camera, creating lasting memories of these authentic cultural experiences. Additionally, you'll have the opportunity to support these artisans by purchasing unique handmade products, ensuring a meaningful and sustainable souvenir collection.
Bac Ninh is Rich in Vietnam Traditional Art
Bac Ninh is famous for its rich heritage of traditional Vietnamese art forms. The province is a center of traditional arts, encompassing many different fields that have been passed down through generations. Here are some traditional art forms that Bac Ninh is famous for. Prominent among them is the Quan Ho folk song. It is recognized as an intangible cultural heritage by UNESCO since 2009. Quan Ho is a unique form of singing that involves alternating verses between male and female singers in a dialogic manner. Its songs often revolve around themes of love, friendship, and daily life in the rural countryside. The singers perform in pairs or groups, with each singer taking turns singing their respective verses, creating a beautiful and captivating musical conversation. Quan Ho is not just a musical performance; it is deeply rooted in the cultural and social traditions of the region. It is often performed during festive occasions, weddings, and cultural festivals, where the singers dress in traditional costumes and engage in lively performances.
In addition, Bac Ninh is famous for water puppetry. While water puppetry enjoys popularity across Vietnam, the region holds a unique position in its historical origins. The province is widely recognized as one of the birthplaces of this captivating traditional art form. Water puppet shows in Bac Ninh feature intricately crafted wooden puppets that gracefully perform on water stages. Accompanied by enchanting music and engaging storytelling, these performances create a truly mesmerizing and magical experience for spectators. The combination of skillful puppet manipulation, vibrant music, and compelling narratives makes water puppetry a cherished cultural treasure of the Kinh Bac region.
Perfect for Festival Lovers
Bac Ninh is indeed famous for its vibrant and diverse array of traditional festivals, which provide a unique window into the province's rich cultural heritage. These festive occasions are celebrated throughout the year and showcase the deep-rooted traditions, customs, and religious beliefs of the region. The festivals highlight various aspects of the local culture, including music, dance, folklore, and religious practices. They often involve elaborate processions, colorful costumes, traditional music performances, martial arts demonstrations, and other forms of cultural entertainment. Visitors have the opportunity to witness captivating performances, participate in age-old rituals, and immerse themselves in the lively atmosphere of these cultural celebrations.
Some of the well-known traditional festivals in Bac Ninh that you should not miss when traveling to Northern Vietnam, include the Lim Festival, Do Temple Festival, Dau Pagoda Festival, Ba Chua Kho Temple Festival, and Kinh Duong Vuong Temple Festival. Each festival has its own unique significance and showcases different aspects of the province's cultural heritage. Attending these traditional festivals offers an unforgettable experience that allows visitors to appreciate the beauty, diversity, and vitality of the local traditions. It is a chance to witness living history, interact with the local community, and gain a deeper understanding of the cultural values and practices that have been cherished for generations in the province.
Bac Ninh Offers a Peak into Irresistible Specialty
Discover the delights of Bac Ninh, a place renowned for its captivating quan ho singing and distinctive culinary traditions. Immerse yourself in the rich heritage as we delve into some of the province's exquisite delicacies. Prepare yourself for an enchanting culinary adventure in Bac Ninh, where the captivating melodies of Quan ho singing intertwine with the tantalizing flavors of its exceptional cuisine.
Visiting Bac Ninh, you cannot overlook the delectable Phu The cakes, affectionately known as "Husband and Wife" cakes. These charming treats consist of two gleaming yellow cakes wrapped in dzong leaves. Crafted from sticky rice flour and delicately colored with ground cape jasmine seeds, these cakes hold a filling of split mung beans and shredded green papaya. Among the rustic gastronomic treasures highly recommended by locals is a unique variation of Banh Khuc, the sticky rice balls infused with cudweed, hailing from Diem Village – the birthplace of melodious quan ho songs. Banh Khuc comes in two delectable options: either stuffed with beans or meat. The bean filling boasts a delightful combination of steamed split mung beans, bacon, fried shallots, and cooked peppercorns. The meat filling, on the other hand, comprises diced bacon mixed with wood ear mushrooms, seasoned with pepper, fried shallots, and fish sauce.
We trust that this blog will inspire you why visit Bac Ninh on your next trip to Vietnam. Don't forget to read our Bac Ninh travel guide here for more ideas on what to see and things to do in this province. Feel free to contact us and plan your customized vacation in the finest Northern regions of Vietnam today!