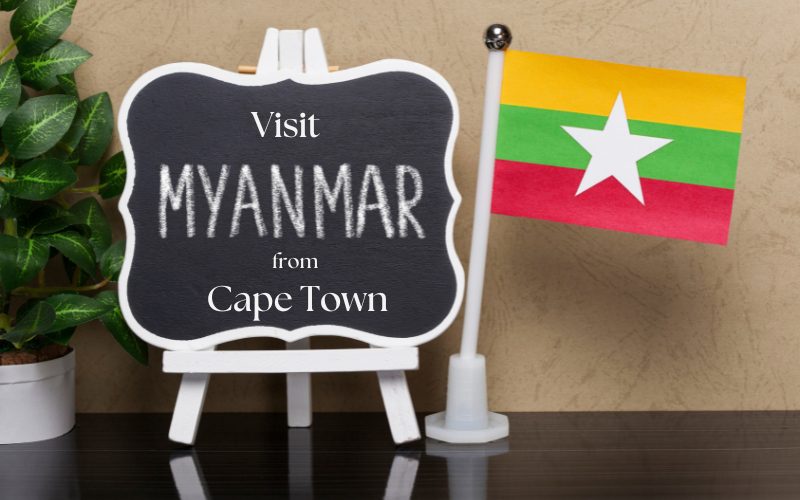 Myanmar, a country that has recently embraced the international community, has emerged as an irresistible destination for those seeking to witness a society untouched by modernization. With its enigmatic allure and spiritual ambiance, this predominantly Buddhist nation captivates visitors with its awe-inspiring ancient ruins of Bagan, shimmering temple spires and pagodas, ancient teak forests, and secluded ethnic minority communities. If you're wondering whether a journey to Myanmar is worth trying for visitors from such a far country as South Africa, explore our compelling reasons below. Also, check out the essential information for Myanmar packages from Cape Town.
Why Visit Myanmar from Cape Town?
Vibrant Culture
With its recent opening to Western cultures, Myanmar stands firmly rooted in its cultural traditions, evident even in the simplest aspects of daily life, such as skincare and fashion. In the bustling streets, both men and women gracefully don longyis, a traditional wraparound sarong, as they navigate their daily routines.
One can observe women adorning their faces with thanaka, a traditional skincare product crafted from the barks of various trees, exuding a soothing scent reminiscent of sandalwood. Locals employ thanaka not only for its cosmetic allure but also for its sunburn protection and acne-fighting properties. In certain regions, it is still possible to encounter Chin Women, who, in ancient times, adorned their faces with intricate tattoos, etched with sharp thorns and botanical tools, to ward off potential kidnapping by Burmese princes.
Picturesque Untouched Landscapes
Myanmar is an abundant land blessed with breathtaking pristine nature and picturesque landscapes. The Shan State, which encompasses the largest ethnic minority groups in the country and boasts the exquisite Inle Lake, showcases a tapestry of rolling plateaus, majestic mountains, cascading waterfalls, lush rice fields, and flourishing vineyards.
Heading south, we find the Mergui Archipelago, an idyllic haven nestled in the Andaman Sea. Comprising over 800 islands, this remote paradise remains largely untouched by external visitors, teeming with unspoiled coral reefs, serene beaches, captivating coastlines, and secluded communities.
Stunning Long History
Witnessing the ethereal spectacle of fog vanishing over the ancient ruins of Bagan, accompanied by the ascent of colorful hot air balloons against the rising sun, is an unparalleled experience. This mystical ambiance envelops the surroundings, evoking a sense of awe and marvel. Amidst the foliage and wilderness, more than 2,200 temples, stupas, and pagodas, remnants of the estimated 10,000 that once thrived here, emerge from the mist in all directions. The ideal moments to explore Bagan are during the serene hours of sunrise or the enchanting transition to dusk at sunset. Discover your own secluded temple, granting you a solitary vantage point to behold the magnificent landscape.
Moving northward, along the enchanting Irrawaddy River, lies the immortalized city of Mandalay, adorned with gleaming golden domes atop Mandalay Hill. Venturing further, you'll encounter three additional ancient royal capitals: Sagaing, Ava, and Amarapura. These historic cities boast time-worn monasteries that remain active centers for monks' studies, as well as the renowned teak bridge, hailed as the longest of its kind in the world.
Best Time to Travel from Cape Town to Myanmar
The optimal period to go on Myanmar packages from Cape Town is during the dry season, which spans from October to May. During this time, the entire country becomes easily accessible, temples gleam with splendor, and the beaches invite exploration, creating a diverse and gratifying travel experience.
From June to September, the beaches in Ngapali temporarily close, and the much-needed rains nourish the plains stretching between Mandalay and Bagan. However, barring the month of September, there is no reason to be discouraged from visiting during this period.
Actually, Myanmar offers abundant attractions throughout the year. The wet season, in particular, enhances the allure of river travel along the Chindwin, opening up access to some of the nation's most magnificent and remote regions. Vibrant hill tribes and breathtaking landscapes paint a captivating portrait of Myanmar that remains unseen by many visitors.
Myanmar Visa for Visitors from Cape Town
To go on Myanmar packages from Cape Town, you need to apply for a Myanmar visa. The fastest and simplest way is to apply for a Myanmar Tourist eVisa online. If not, you can apply directly at the Embassy of Myanmar in South Africa.
Prepare the following documents:
Passport: For the Myanmar visa application process, it is essential that the biographical page of the passport contains complete and accurate information without any missing data or lines. The passport must remain valid for a minimum of 6 months beyond the planned date of arrival in Myanmar. Additionally, it should have at least two blank pages available for visa stampings.
Photo: A high-quality color photograph of the South African applicant is required, ensuring that the photo is clear, well-defined, and focused primarily on the applicant's face.
Myanmar travel insurance: To comply with the Government's regulations, all travelers, including South African citizens, must obtain Myanma Travel Insurance to support their Myanmar visa application.
Travel documents: Hotel booking confirmation and the ticket for the return flight.
It will take you only 10 – 15 minutes to complete the online visa application process:
Step 1: Declare information: name, date of birth, gender, passport number, nationality, traveling date, accommodation, etc.
Step 2: Make payment for the service
Step 3: Receive a notification through email when your eVisa application is approved.
Best Things to Do in Myanmar
Ride a Hot Air Balloon over Bagan's Temples
Enjoy an unforgettable day in Bagan by embarking on a hot air balloon journey. As the sun begins to rise, casting its gentle rays upon the plains, witness the temples and pagodas below as they twinkle in the early morning mist. A hot air balloon ride over Bagan epitomizes the mystical and enchanting experience one would imagine. Upon descending, make it a point to explore a handful of prominent temples, such as Bupaya, Ananda Paya, and Thatbyinnyu. However, the true joy lies in serendipitously discovering the lesser-known, almost hidden pagodas that dot the landscape.
>>> Read our article on How to Spend 3 Days in Bagan for more interesting activities in this city rather than a hot air balloon ride.
Watch Sunset at Shwedagon Pagoda
A must-visit attraction in Myanmar is the magnificent Shwedagon Pagoda, renowned for its resplendent display of 27 metric tons of gold leaf, adorned with precious diamonds and gems. Taking in the sunset from the Shwedagon Pagoda offers the perfect opportunity to immerse oneself in the enchanting allure of this sacred site, basking in its natural beauty and imbued with a sense of divine blessings.
Climb Mandalay Hill
Ascending the 760-foot-tall hill to reach the summit of the famous Mandalay Hill will require nearly thirty minutes of your time. Along the way, you will encounter various sacred temples and pagodas, some of which may necessitate removing your footwear as a sign of respect. While taking intermittent breaks may extend your overall journey, the reward awaits at the peak – a truly awe-inspiring 360º panoramic view that will leave you breathless and make every step worthwhile.
Explore Inle Lake
Inle Lake presents an ideal combination of tranquility and picturesque vistas, providing the perfect backdrop for capturing unforgettable memories of your stay in this enchanting region. As the nation's second-largest freshwater lake, it offers a plethora of enjoyable activities to partake in during your visit to Myanmar. Engage in fishing, witness the intricate art of lotus-weaving firsthand, acquire a vibrant Shan paper umbrella, and embark on a captivating tour of the floating gardens. These experiences at Inle Lake promise not only a rejuvenating retreat but also an opportunity to immerse yourself in the vibrant tapestry of this scenic land.
Island Hoping in Mergui Archipelago
Are you seeking exciting activities to engage in during your time in Myanmar? Look no further, as we have just the recommendations for you! Journey to the captivating Mergui Archipelago, where you can marvel at the vibrant array of unique fish species and delve into the mesmerizing marine life beneath the crystal-clear waters. This destination is an ideal setting for snorkeling, diving, and unwinding on picturesque shores. However, it is advisable to book your packages in advance, as navigating between different locations can be slightly challenging without prior arrangements.
>>> Explore the best of this destination with our 4 Days Mergui Archipelago Beach Relaxation.
Suggested Myanmar Packages from Cape Town
Below are some highly-recommended tour itineraries for your Myanmar packages from Cape Town. Choose the one that is most suitable to your preference or contact us for a tailor-made trip to this country.
Myanmar Packages from Cape Town for Beach Lovers
Day 1: Arrive at Yangon International Airport and transfer to the hotel.
Day 2: Yangon city tour, visit Chaukhtatgyi Buddha Temple, Bogyoke Market, China Town, Yangon Jetty, and Shwedagon Pagoda.
Day 3: Transfer to Ngapali.
Day 4: Full-day explore Ngapali Beach, a 7-kilometer-long beach with white sand and turquoise water.
Day 5: Enjoy another day on the beach. You can also opt for a boat trip to visit the offshore island to meet with local people and join fishing activities.
Day 6: Transfer back to Yangon and depart.
>>> You can check the detailed program at our Myanmar Adventure and Beach Vacation 6 Days. For a more interesting experience, you can refer to our list of Myanmar Beach Holidays.
Myanmar Packages from Cape Town for Families
Day 1: Arrive in Yangon, half-day explore the city.
Day 2: Flight to Heho Airport and embark on a journey to Inle Lake, take a small boat to visit the floating gardens with an abundance of plants and vegetables.
Day 3: Enjoy a morning cruise to Indien Village to discover the rich culture of the local community. Watch them make Burmese cigars by hand.
Day 4: Fly to Kentung and visit Nyaung Tong Lake.
Day 5: Visit hill tribe villages in Kentung, including Anh Tribal village and Akha village.
Day 6: Transfer to Mandalay and climb Mandalay Hill.
Day 7: Drive to Amarapura, try crossing U Bein Bridge, and visit Kuthodaw Pagoda.
Day 8: Visit the famous town of Monywa, which is home to the impressive Thanboddhay Pagoda before heading to Nodditatuang.
Day 9: Visit the temple of Pow Win Taung on the Chindwin River. Then, cruise along the Irrawaddy River to reach Bagan.
Day 10: Full-day explore Bagan's temples and religious monuments. Try a hot air balloon ride in Bagan.
Day 11: Climb Mount Popa (777 steps), take in the picturesque surrounding, and enjoy the tranquility of the temple atop this mountain.
Day 12: Depart Yangon.
>>> The detailed tour itinerary of this Myanmar package this presented here. Seeking more interesting ideas for your family vacations in Myanmar, please check our Myanmar Family Packages.
Myanmar and Thailand Tour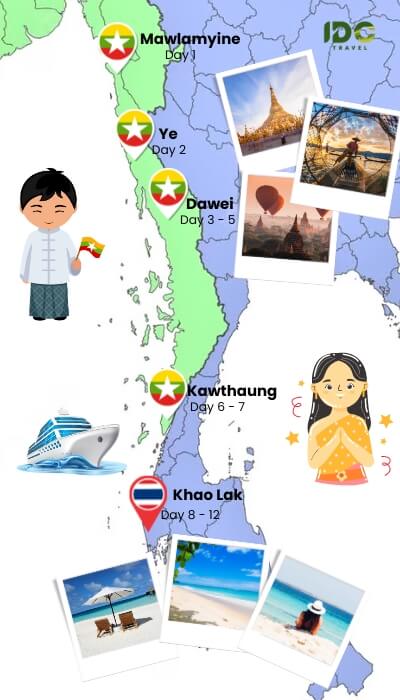 Day 1: Arrive in Yangon, Myanmar. Visit the Queen Sein Don Monastery if time permits.
Day 2: Head to Thanbyuzayat to explore the Death Railway – a must-see historical site in Myanmar before reaching Ye.
Day 3: Transfer to Dawei, and visit the Tanintharyi Museum and a local night market.
Day 4: Full-day explore the most beautiful beach in Dawei – the San Maria Beach and its nearby Myawyik Pagoda.
Day 5: Explore Dawei Peninsular or hike to visit the Shin Maw Pagoda.
Day 6: Move to Kawthaung.
Day 7: A day to discover the beautiful Mergui Archipelago in Kawthaung. Visit the Cocks Comb Island, Paradise Beach, Dunkin Island, and Tafook Island.
Day 8: Cruise to Ranong, Thailand, and onward travel to Khao Lak.
Day 9: Enjoy a trip to the Seaside Retreat Elephant Camp to meet with these giant animals, feed them, and learn their habits.
Day 10: Full day discover Similan Islands: swimming, snorkeling, or just relaxing on the stunning beach.
Day 11: Free day in Khao Lak.
Day 12: Transfer to Phuket and depart Thailand.
>>> Please check here for the detailed tour program. For more multi-country travel experiences in Southeast Asia countries, you can check out our well-planned Indochina tours at this link.
Budget for Traveling from Cape Town to Myanmar
Firstly, it is essential to note that Myanmar is an affordable country and it is not so difficult to travel to this country on a budget. Maybe the most significant spend is for the international from Cape Town to Myanmar and vice versa, which may cost more than $1,300 for a round trip. Myanmar tourist visa application fee is about $50. Other expenses for a trip to Myanmar, such as transportation, accommodation, food, etc. are presented in the following table:
Hope this piece of information has provided you with essential information for your Myanmar packages from Cape Town, South Africa. Inquire with us now if you are ready to explore this untouched country.
Read more: