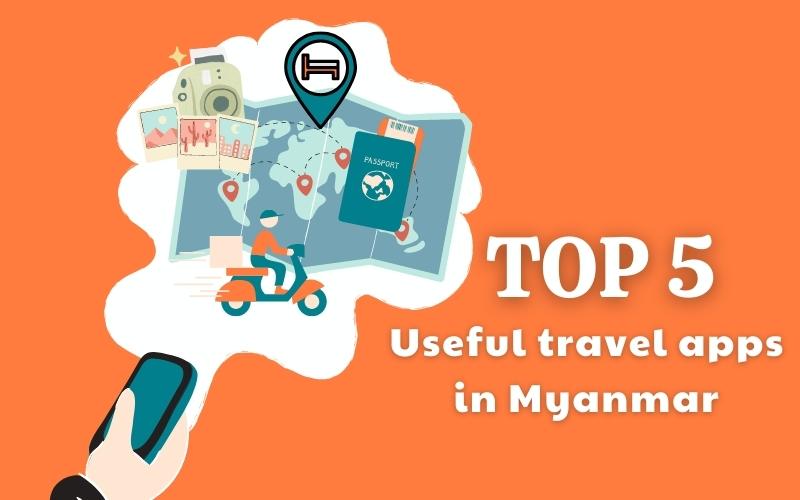 Myanmar is a popular tourist destination in Southeast Asia, but many are still wary of visiting the country. There has never been a perfect time to travel in Myanmar. Take advantage of land border crossings from Thailand and less stringent visa requirements. But don't worry too much, five travel apps in Myanmar will help you get an overview of the country while visiting Myanmar.
1. Myanmar travel apps: Grab
Grab is a no-brainer if you plan to spend a few days in Yangon.
Locals have quickly embraced the app because it is simple to use, there is always a promotion available, and the wait is minimal, except during peak times when it may take a few minutes to lock a ride. So far, the service is only available to licensed taxi drivers.
Tourists and foreigners living in Yangon will find Grab extremely useful. The most important reason is communication. You'll understand the first time you hail a cab in Yangon's congested streets. It takes time for a foreigner to learn how to pronounce places in Myanmar correctly. And don't bother with the writing; some taxi drivers will simply not read an English address.
The western equivalent of Uber is Grab – 1 of the great apps for traveling in Myanmar; the ride-hailing app entered the country in 2017, revolutionizing the way Yangonites commute.
Grab simplifies things by translating the address you type in and displaying it on a map to the taxi driver, keeping the overall conversation to a bare minimum. That is the hypothesis. Recognize that technology is still relatively new in Myanmar, and you may occasionally encounter a driver who needs to learn how to use a GPS. 
However, this is becoming less common. In general, if you believe that something is wrong with the ride, keep in mind that it is most likely a communication problem. Taxi drivers in Myanmar are trustworthy and helpful; they are not out to defraud you. So keep your cool and try to communicate as best you can.
Another advantage of using Grab is the fixed fare
Keep in mind that Myanmar taxis do not have meters. If you don't want to negotiate in sign language, Grab is the best option for you because it uses a fixed fare that is displayed on your phone before you book.
In our experience, Grab is less expensive and one of the best apps for traveling in Myanmar than negotiating a ride yourself. Locals, on the other hand, will undoubtedly disagree.
Mandalay, the religious heart of Myanmar
Mandalay, Myanmar's former capital, is the religious epicenter of the country, with over 600 pagodas. The most famous pagodas are Mahamuni Pagoda, which has a four-meter bronze Buddha statue, Kuthodaw Pagoda, which is known as the world's largest book, and Sandamuni Pagoda, which was built in the 19th century as a memorial for Crown Prince Kanaung.
Grab Thonebane (three-wheel taxis) is a new and popular way to explore Mandalay. Taxis are scarce and expensive in the old Burmese capital, so this service is extremely convenient. 
Using the Grab App will make your entire Mandalay travel experience more convenient. One of the best apps for traveling in Myanmar is Grab.
2. Myanmar travel apps: Oway 
According to CB Insights, Oway is one of the most well-funded startups in ASEAN.
The local company provides a variety of services, such as online travel agencies, ride-hailing services, and corporate fleet services – one of the great apps for traveling in Myanmar.
Oway Travel can assist you in making all of your reservations for your next trip to Myanmar. You can use their platform to book hotels, plane tickets, bus tickets, and even get a tourist visa.
In addition, Oway is Myanmar's largest ride-hailing service. Oway ride offers 4-wheel car taxis, bike taxis, and Mini Oway (3-wheeler) services throughout Mandalay, Yangon, Bagan, Pwin O Lwin, and Mawlamyine. The Oway Ride app is available for both Android and iOS devices.
Tourists can also book a car with insurance from ten major cities in Myanmar, including Yangon, Mandalay, Bagan, and Heho, through Oway.
Myanmar self-driving
Self-driving in Myanmar is not for the faint of heart, but it can be a rewarding experience. To drive in Myanmar, you must have an international driver's license. 
When renting a car in Myanmar, make sure it includes insurance. But Myanmar travel apps have so many for you to take a trip, why do you want to do a lot of things during a trip?
Do you intend to visit South Shan State, one of Myanmar's most popular tourist destinations? If this is the case, a good plan would be to book a flight or bus ticket from Yangon to Heho and then rent a car at the airport.
The roads in South Shan State are in good condition, and the scenery is breathtaking. It will take you one hour to drive from Heho to Nyaungshwe and the world-renowned Inle Lake, where you can base yourself.
Take advantage of a ride uphill to the old-British town of Kalaw, where you can enjoy the cool and relaxing atmosphere while visiting beautiful colonial-era houses.
3. Myanmar travel apps: Viber 
Viber, like WhatsApp, Line, or WeChat, is a messaging and Voice Over IP platform that is owned by the Japanese company Rakuten, and is without a doubt the most popular messaging app in Myanmar. As of 2015, the platform had over 1 billion users worldwide, with 18 million in Myanmar.
One of the main reasons Viber is so popular in Myanmar is the company's emphasis on localization, or "glocalization," in the words of Anubhav Nayyar, Viber's head of business development for the region. Viber is also one of the Myanmar travel apps.
No matter if you are a free spirit who enjoys exploring the unknown or someone who prefers to plan or reserve everything in advance, downloading Viber before your trip will be useful. The communication app will be a valuable tool for staying in touch with the people you meet. Get a local SIM card, activate your data plan, and you're good to go!
4. Myanmar travel apps: Myanmore
Are you tired of looking for your next lunch or dinner option? And the end result could be deceptive; it's difficult to navigate this avalanche of reviews, which, let's face it, are mostly biased or fake. Google Maps will not treat you any better. You'll be left with your gut or a quick tip from a taxi driver, which isn't the worst option.
When it comes to authentic sources of information on the internet, Myanmar is nowhere near Thailand. Those who live in Yangon understand how difficult it can be to find food-related information other than by word of mouth. Myanmar is one of the great travel apps in Myanmar.
Myanmore is an exception to the rule, serving as a good source of inspiration for both locals and visitors. The dining category is regularly updated with restaurant reviews and news. This is unquestionably a website you should visit while in Myanmar.
5. Myanmar travel apps: iDiscover 
iDiscover provides a novel approach to exploring Asia's historic cities. The Android app is available in Hong Kong, Colombo, Bali, Bangkok, and, fortunately for us, Yangon! The digital guide provides a series of 2-hour neighborhood walks or rides to help you get to know the city.
Sanchaung, Downtown, Chinatown, the Secretariat, and the Yangon Circular Train are currently available. iDiscover tours are designed and developed by locals and will be a faithful companion to explore local places, traditional food spots, and unexpected sightseeing.
Do you want to plan Myanmar tours without traveling apps in Myanmar? Our team gives you the best trip you've ever had. Don't hesitate to contact us for planning an amazing trip.