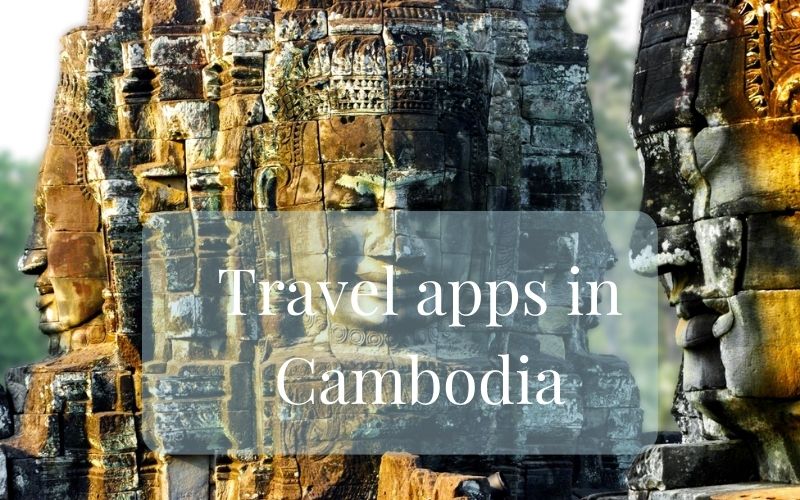 Travel apps in Cambodia listed below help you find the best hotels nearby, offer discounts, show you where the best restaurants are, and give directions on public transportation. 
If you want to explore Cambodia without taking any risks, like where you're going to bed, what you're going to eat, or how you'll get around, this article is for you. Let start!
Travel Apps in Cambodia for Accommodations
When traveling in a new country, it's difficult to tell where you will stay. The best thing to do is rely on the travel apps in Cambodia below:
1. Agoda – Travel Apps in Cambodia
First, Agoda is one of the best hotel apps for traveling in Cambodia. It has more than 70,000 hotels worldwide, including 12,000 in Cambodia. It also has a user-friendly interface and offers discounts when you book a room through the app.
This app is free on iPhone, Android  ( Google Play ), and Windows  ( Windows Store ).
2. TripAdvisor – Travel Apps in Cambodia
Besides, one of the most popular travel apps in Cambodia for travelers is TripAdvisor, which has reviewed over 190,000 accommodations in various cities. 
You can find hotels within your budget, photos, and reviews of hotel rooms and facilities. It is especially useful if you are booking your travel accommodations over the internet, as it requires no login or password to use.
3. Airbnb – Travel Apps in Cambodia 
Airbnb is another app that allows you to book the best room on a budget. It also allows users to send and receive messages and make reservations directly via email. 
The apps for traveling in Cambodia are available for free on iPhone, Android, and Windows. If you are traveling to Cambodia, download these apps on your smartphone before you head there. They will be handy for airfare deals, hotel accommodations, and even restaurants.
4. Ibis Styles – Travel Apps in Cambodia 
To begin with, Ibis Styles is your best choice if you're looking for a good hotel with friendly staff and free Wi-Fi. In addition, it's recommended for those who want to stay in a hotel that costs less than $50 per night.
5. Hostelworld – Travel Apps in Cambodia
 Another great app for traveling in Cambodia is where you can search not only for the best hotel deals but also for the best hotels in your chosen country. 
This app offers more than 1,400 hostels worldwide, including 90 in Cambodia. This is the best app for you if you're looking for a budget hostel with a good atmosphere and nice staff!
Travel Apps in Cambodia

for Transportations
Cambodia is quite small and easy to navigate, but some areas are far from the beach. Here are a few travel apps in Cambodia that help you get around in Cambodia with public transportation:
1. PassApp – Travel Apps in Cambodia
PassApp is one of the travel apps in Cambodia where you buy one pass and get it to all the buses with a certain frequency. You can use the pass on all routes, and when you don't have money on your card, show them your pass.
This app is very useful because it saves you from paying for each journey and is cheaper (500.000), especially if you purchase multiple passes. Moreover, you can buy the pass from anywhere, even from the bus driver or sales agents at a company office.
2. Grab Taxi – Travel Apps in Cambodia
Grab is the Uber of Cambodia; you can use it to order a taxi, get a private car service, or even get a bus. Cambodia travel apps mobile allow you to pay for your fare and tip through PayPal or your credit card. You can also share your trip with friends and family.
Grab Cambodia also has a "Share Trip" feature, which allows you to share your trip with friends in real-time. 
They give you an estimated fare and a 4-digit code, which you can tell your friends to follow you. You can also see the other person's name, vehicle type, and icon on the map, so you know where they are.
3.OkToGo – Travel Apps in Cambodia
OkToGo is one of the great travel apps in Cambodia to book a car or minibus in advance for your trip around Cambodia; it usually costs about $7 every 2 hours. When you book with OkToGo, the driver knows exactly where to pick you up.
OkToGo app works very well and is a great way for tourists to travel around Cambodia in a minibus.
4. GrabCycle – Travel Apps in Cambodia
Another great transportation app in Cambodia is GrabCycle. To begin with, GrabCycle allows you to rent a bike for $2 for the first half hour and then 50 cents for every extra 15 minutes, so it is a cheap way to get around besides walking. 
The rates can also vary depending on what bike you choose; for instance, you could pay $2 per half hour to ride a Honda Wave scooter but only $1 per half hour to ride a Hero Retro bike.
Travel Apps in Cambodia

for Foods
Cambodia has hundreds of restaurants and bars, but only a few stand out. These are our suggestions for travel apps in Cambodia that allow you to find good food and drink around you:
1. foodpanda – Food Delivery Foodpanda 
With these travel apps in Cambodia for food, you can find the best places nearby and order delivery on the go. It's integrated with the FoodPanda API, and data comes from Google Maps. 
You can browse around on the map, view menus, and see photos of dishes. You can select a menu and instantly get an option for delivery and food on the go in Cambodia! There are over 1000 restaurants & stores in Cambodia that are available on the app at all times.
2. Hungry House: Delivery & Takeaway Hungry House
Hungry House is an application developed by Hungry. Eat for food delivery and takeaway services in Cambodia. It's available on the iPhone and Android platforms.
Hungry House shows you where you can find food delivery and takeaway in Bangkok, Phnom Penh, Siem Reap, and other cities in Cambodia. In addition, you can use travel apps in Cambodia to order a meal online while saving money!
This app lets you find restaurants and order food delivery in Cambodia with just eight clicks. Hungry House is a simple way to find food delivery and takeout places near you
3. Uber Eats: Food Delivery Uber Eats
If you love to shop online and you're looking for something to buy, we have the perfect Cambodia travel app for you! Uber Eats is the best food delivery app in Cambodia. You can use it to order on the go, or you can choose to get food delivered in Cambodia.
Besides, you can order food online while saving money than typing the same meal in a restaurant or cafe. In addition, you've got special deals, discounts, and promotions in Uber Eats.
Travel Apps in Cambodia

for Friends
Gogaffl App
Listing all of your travel plans can be too much for one person. With the Gogaffl app, you can let those interested see your plans; therefore, it will be easier to let strangers get to know you.
With these travel apps in Cambodia, you can find somebody to travel with within Cambodia to split the costs and have a great time!
In addition, this app helps you find a friend traveling to the same place as you, and you can plan your trip accordingly. The app also works with texting, so it's easy to communicate with your buddy and find out what they are doing at any given time.
Other helpful apps
If you want to spice up your travels, remember to download these apps that are perfect for travelers. In this blog post, I have compiled a list of the best travel apps in Cambodia for travelers looking to explore the city in greater depth than just food, coffee shops, and hotels.
1. Simply Learn Khmer
If you're planning to stay in Cambodia for a long time and want to learn the Khmer language, these travel apps in Cambodia are perfect for you!
Learn Khmer includes all the essentials, such as how to say numbers, greet someone, introduce yourself, and much more. The simple design makes it easy to use! This is a great app if you want to learn a bit about Khmer.
Besides, this app is recommended for people looking to learn or familiarize themselves with the Khmer language.
2.Angkor Wat SmartGuide
Angkor Wat SmartGuide app has the best-in-class guidebook! This should be your go-to app if you plan to visit Angkor Wat. With a variety of awesome photos and useful information, it's a great guide to visiting the world-renowned site.
Besides, it does not stop there; it also has a built-in translator for directions and transportation that you can use anywhere in Cambodia. With the best in travel, these travel apps in Cambodia should be in your glove compartment.
In addition, Cambodia tours and travel services can be found through this app. You can also find out which stores are under a 30% discount and even who is offering delicious shawarma in Phnom Penh!
Conclusions
Overall, many travel-related travel apps in Cambodia can make your experience much easier and more efficient. In addition, whether you're looking for restaurants, transportation, or attractions in the area, a package tour from IDC Travel will help you explore the country and its major sites at a good price.