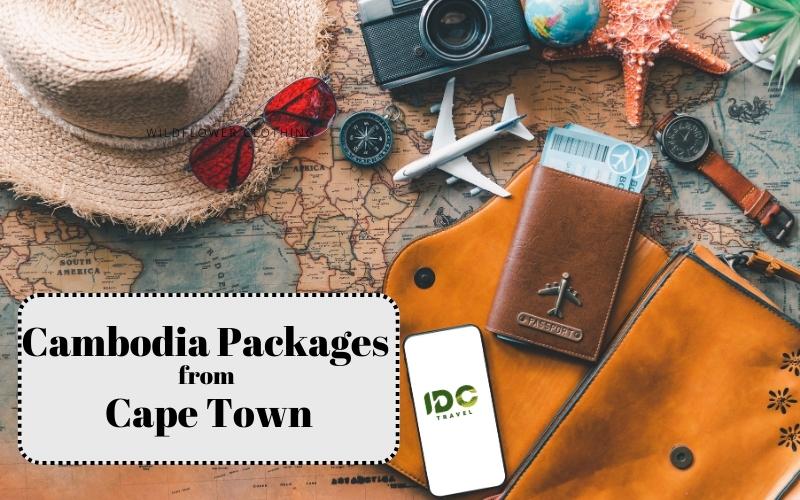 Thanks to convenient transportation, traveling from Cape Town to Cambodia is becoming easier than ever before. South African visitors can also combine Cambodia with other Southeast Asian countries such as Vietnam, Thailand, and Laos for an ultimate experience. In the following article, we will guide you on how to plan perfect Cambodia packages from Cape Town, South Africa with detailed information on visa application, best time to visit, things to do, best itineraries, and so on.
Why Visit Cambodia from Cape Town?
Despite its small size, Cambodia is a country that truly has it all. There are two compelling reasons why a visit to Cambodia should be on your travel itinerary. Firstly, the nation boasts an abundance of captivating history and rich culture. From the awe-inspiring temples of Angkor Wat to the ancient ruins of Ta Prohm, Cambodia's historical sites offer a remarkable glimpse into the past. Additionally, the country's vibrant traditions and warm hospitality make for an unforgettable cultural experience.
Secondly, Cambodia's natural beauty is simply breathtaking. The country is home to an array of stunning national parks, where lush rainforests and exotic wildlife flourish. Explore the dense jungles of the Cardamom Mountains or marvel at the cascading waterfalls in Kirirom National Park. For those seeking relaxation, Cambodia's picturesque islands offer tranquil beaches, crystal-clear waters, and vibrant coral reefs.
Best Time to Go on Cambodia Packages from Cape Town
In general, Cambodia offers favorable travel conditions year-round, each season presenting its own advantages. The country experiences a prevalent hot and humid climate, with temperatures typically hovering in the low to mid-30s Celsius, slightly cooler during nighttime. Cambodia officially has two seasons: wet and dry. The dry season prevails from November to May, ensuring relatively rain-free conditions. Conversely, the wet season dominates from June to October, bringing increased rainfall.
The best time to go on Cambodia packages from Cape Town falls between November and May, characterized by reduced rainfall and pleasant temperatures. Nevertheless, Cambodia maintains a consistently hot and humid climate throughout the year.
Cambodia Visa for South Africans
According to Cambodia's visa policy, South African citizens are eligible for an electronic visa when traveling to Cambodia. However, it is important to note that the eVisa is only accepted at specific entry points, namely: Phnom Penh International Airport, Siem Reap International Airport, Poi Pet (Banteay Meanchey Province), Bavet (Svay Rieng Province), Cham Yeam (Koh Kong Province), Tropaeng Kreal (Stung Treng Province), and Sihanoukville International Airport.
For South African nationals, the eVisa allows a single entry and a maximum stay of 30 days in Cambodia. This means that you can enter the country once during your visit. It is crucial to be aware that the visa is valid for 90 days from the date of issuance, and you must enter Cambodia within this timeframe. Once the 90-day period has elapsed, entry into the country will not be possible.
To apply for Cambodia eVisa, you need to:
A passport that is valid for at least 6 months from the date of arrival
A passport photo with a white background, no glasses, no headwear (unless you have a religious reason), and looking straight at the camera
A valid email address as the eVisa will be sent to your email
A means of online payment
Just fill in the application form at the website of the Ministry of Foreign Affairs and International Cooperation of the Kingdom of Cambodia, pay the eVisa fee, and download the eVisa certification for the final step.
Best Things to Do in Cambodia
Watch Sunrise over the Angkor Complex
When a visitor first lays eyes on Angkor Wat, the epitome of Khmer brilliance, it becomes an unparalleled experience that few other places on Earth can rival. This makes it the ultimate destination for witnessing a breathtaking sunrise amidst the numerous contenders within Angkor.
Angkor Wat is simply incomparable, boasting a mesmerizing fusion of spirituality and symmetry that stands as a timeless testament to humanity's unwavering devotion to its deities. To fully appreciate its magnificence, it is advisable to arrive early, securing a more serene spot and considering entry through the lesser-crowded eastern entrance, often referred to as the "back door."
Island Hoping in Koh Rong
Koh Rong, one of Cambodia's largest islands, is surrounded by a collection of the nation's most exquisite beaches. Along the western coastline of Koh Rong lies Long Beach, an uninterrupted stretch of tropical paradise spanning 7 kilometers (4.3 miles). Surprisingly, this area remains largely undeveloped for several kilometers, serving as a significant filming location for the renowned US television series Survivor.
For those seeking a shorter beachfront experience, the captivating Long Set Beach, also known as the creatively named 4km Beach, awaits on Koh Rong's southern coast. While a handful of hostels and boutique resorts dot the area, it retains its peaceful ambiance. Conveniently connected by short pathways, it also provides easy access to nearby Nature Beach and Koh Tuch Beach.
Join a Cambodian Cooking Class
While Cambodia may not enjoy the same culinary fame as its neighboring countries Thailand and Vietnam, its cuisine holds its own unique charm. Khmer cuisine offers a delightful array of national dishes, each infused with a distinct Cambodian twist.
To unravel the secrets of this gastronomic tradition, consider enrolling in a cooking course. It's an excellent opportunity to gain firsthand knowledge of Cambodian cooking techniques and flavors, allowing you to impress your friends back home with your understanding of teuk trey (fish sauce) and prahok (fish paste). Cooking courses are popular in various Cambodian cities, including Phnom Penh, Siem Reap, Battambang, and Kampot.
Meet with Elephants
For travelers seeking an ethical and sustainable approach to experiencing the majestic pachyderms, a visit to the groundbreaking "walking with the herd" project is highly recommended. This initiative collaborates closely with local mahouts to provide a new home for overworked or injured elephants. Serving as a retirement sanctuary spanning an expansive 1,500 hectares (3,706 acres) in the scenic mountain valley of Mondulkiri, it represents a remarkable endeavor to support sustainable conservation in the remote northeastern region of Cambodia.
Within this sanctuary, a strict prohibition on elephant riding is enforced. Instead, visitors have the opportunity to stroll alongside these magnificent creatures, observing them in their natural environment. This immersive experience offers insights into elephant behavior, as well as the chance to learn about the indigenous Bunong culture and forest ecology.
Watch Irrawaddy Dolphins at Kratie
The Irrawaddy dolphin, known as "trey pisaut" in Khmer, is an endangered species found in various parts of Asia, including the Mekong River in Cambodia and Laos, as well as isolated regions in Bangladesh, Myanmar, and Indonesian Borneo. Unfortunately, their population numbers are dwindling.
For those eager to catch a glimpse of these graceful cetaceans, one of the most remarkable locations in the world is the Kampi dolphin pool situated in the Mekong River, approximately 15 kilometers (9 miles) north of Kratie. Accessing this spot is best done by boat, and embarking on a kayaking expedition allows you to glide through secluded sandbars and captivating flooded forests. Ultimately, your journey leads you to the dolphin pool, where you can observe these extraordinary but endangered mammals up close, without any engine noise that may disturb them.
Suggested Cambodia Packages from Cape Town, South Africa
Traveling from Cape Town to Cambodia, visitors have an abundance of things to do, based on their personal preferences, time limitations, and budget. Not just discovering Cambodia singularly, you can also travel to nearby countries such as Vietnam and Thailand. Below are some well-planned Cambodia packages from Cape Town.
Itinerary 1: Cambodia's Shrines and Shores in 10 Days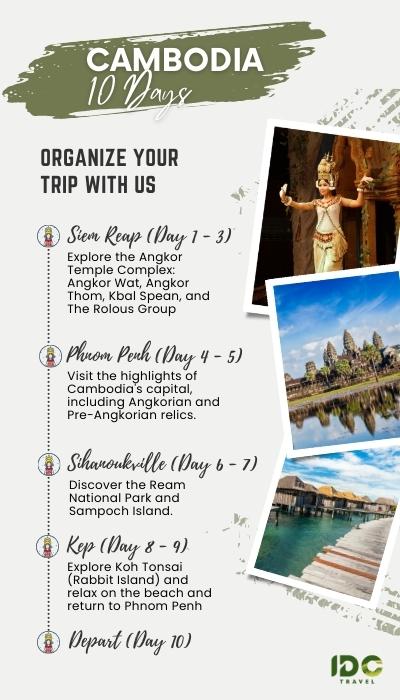 Cambodia's sacred temples are must-visit destinations for any visitors to this country. Follow this itinerary to discover the most beautiful shrines in Cambodia, and also spend some days on the country's picturesque beaches.
Day 1: Arrival in Siem Reap. Check-in at the hotel and relax. Optionally stroll around the city if time permits.
Day 2: Siem Reap full-day tour to visit Angkor Wat and Angkor Thom – two of the major tourist destinations in Cambodia.
Day 3: Visit Kbal Spean (an old Angkor ruin) and the Rolous Group (a cluster of temples depicting the ruins of Hariharalaya).
Day 4: Transfer to Phnom Penh – the capital of Cambodia.
Day 5: Phnom Penh city tour through Angkorian and Pre-Angkorian relics. Starting in the morning, you will visit the National Museum, continue to the Royal Palace, Wat Phnom, and finally the Toul Sleng Museum.
Day 6: Transfer to Sihanoukville by private vehicle.
Day 7: Discover Ream National Park and Sampoch Island. Enjoy a picnic lunch at the park.
Day 8: Transfer to Kep in the morning, and spend the afternoon exploring Koh Tonsai (also known as Rabbit Island).
Day 9: Morning free to enjoy the beach and transfer back to Phnom Penh in the afternoon.
Day 10: Depart Phnom Penh.
>>> Please check the detailed itinerary here.
Itinerary 2: Grand Tour of Cambodia in 20 Days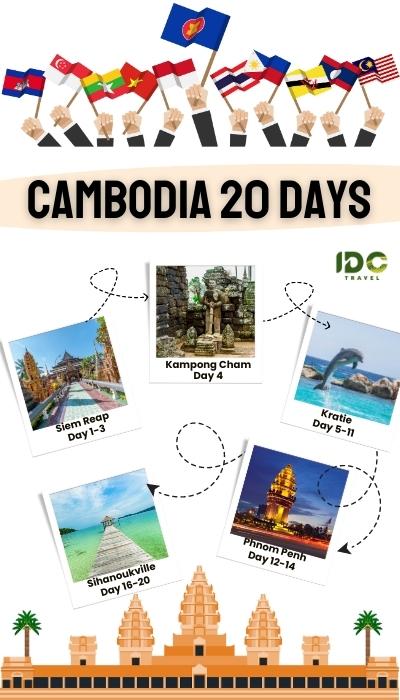 Day 1: Arrival in Siem Reap, check-in at the hotel, and relax. You can leisurely stroll around the city if your health and time permit.
Day 2 – 3: Siem Reap city tour, explore the temple of Angkor, Ta Prohm Temple, Terrace of Elephant, the Roluos Group, etc.
Day 4: Transfer to Kampong Cham to admire the 7th-century Sambor Prei Kuk.
Day 5 – 9: Move to Kratie and discover Koh Trong Island and Banlung's highlights, including Yaklom Lake, and Kalai Village, and join a jungle trek in Kalai.
Day 10: Observe Irrawaddy Dolphin in Kratie – one of the must-try activities in Cambodia.
Day 11: Join an elephant trek to meet with these giant animals. However, don't ride the elephants, just feed and play with them.
Day 12: You will have the morning to relax or go shopping in Kratie before moving to Phnom Penh – the capital of Cambodia in the afternoon.
Day 13 – 14: Explore Phnom Penh's highlights, such as Wat Phnom, the Toul Sleng Museum, and Russian Market, before transferring to Kep.
Day 15: Explore Koh Tonsay (also known as Rabbit Island).
Day 16 – 19: Transfer to Sihanoukville and it's your time to relax on the lesser-known beaches and islands of this port city. Return to Phnom Penh in the late afternoon of the 19th day.
Day 20: Depart Phnom Penh.
>>> Please check our article here for the comprehensive tour program.
Itinerary 3: Amazing Cambodia and Vietnam/Thailand Package Tours
If you have enough time and want to save money for international flights from South Africa to Cambodia, you can combine Cambodia with neighboring countries, such as Thailand and Vietnam, for a more interesting experience.
Cambodia and Vietnam Highlight Tour 16 Days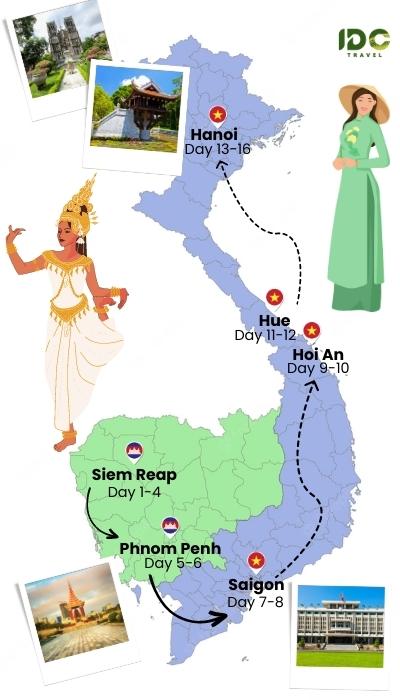 Day 1: Arrival in Siem Reap, check-in at the hotel, and relax.
Day 2 – 3: Explore the Angkor Complex, including Angkor Wat and Angkor Thom.
Day 4: Visit the Small Circuit and Banteay Kdei before flying to Phnom Penh. Don't forget the lesser-known temples of Baksei Chamkrong, East Mebon, Preah Khan, and Neak Pean. They are beautiful and less-crowding.
Day 5 – 6: Visit the highlights of Phnom Penh, such as Prasat Khemarin, Hor Preah Khan, Prasat Samrn Phirum, Chan Chhaya, Precious Throne Hall, and the Silver Pagoda. Fly to Ho Chi Minh City in Vietnam.
Day 7 – 8: Visit Saigon's major tourist destinations such as the Notre Dame Cathedral, Saigon Post Office, Reunification Palace, etc. You will also enjoy a day trip to the Mekong Delta on the 8th day
Day 9 – 10: Move to Hoi An where you can observe ancient architecture, join a cooking class, and enjoy the peaceful atmosphere of the old town of Vietnam.
Day 11 – 12: Transfer to Hue on a private car, and travel through the Marble Mountain and Hai Van Pass. This is one of the most breathtaking trails in Vietnam and we highly recommend you go on a motorbike to fully enjoy the landscapes. Spend a day visiting Hue before flying to Hanoi in the late afternoon.
Day 13 – 16: Enjoy your time in Hanoi, visit Ho Chi Minh Mausoleum, the Temple of Literature, and Thang Long Water Puppet Theatre. You will also visit Ha Long Bay from Hanoi, and enjoy a night sleeping on the bay.
>>> The detailed schedule of this tour program is presented here. Please refer to our list of Vietnam – Cambodia tours if you are seeking more options.
Unforgettable 14 Days Tour to Thailand and Cambodia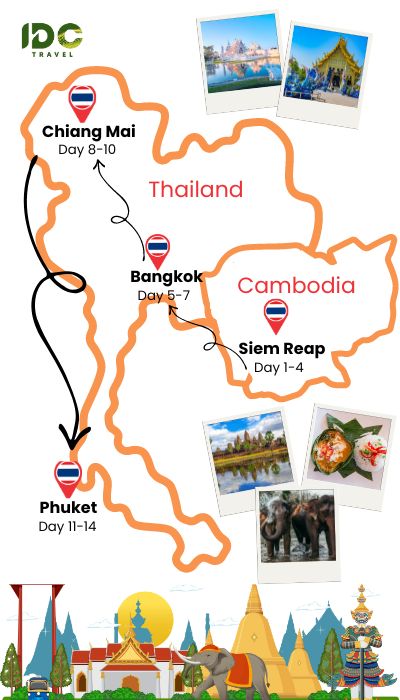 Day 1: Arrival in Siem Reap and optionally visit the Old Market if your health and time permit. Prepare good health for your upcoming thrilling experience in Thailand and Cambodia.
Day 2: Explore the Angkor Complex with a visit to the Bayon Temple, Phimeanakas, Elephant Terrace, Ta Prohm Temple, etc, which are all famous for many cultural and architectural significance.
Day 3: Explore Angkor Archeological Park, and visit Banteay Srei and Banteay Samre. In the afternoon, you will visit the Ta Prohm and watch the sunset over the Siem Reap River.
Day 4: Visit Phnom Kulen, the Valley of the Lingas, and Beng Mealea.
Day 5 – 7: Fly to Bangkok in the early morning of the 5th day and spend the rest of the duration strolling around the city's highlights, such as Wat Arun, Wat Pho, the Grand Palace, Mae Klong Railway Market, etc. Don't hesitate to tell us if you want to have a cruise dinner on the Chao Phraya River.
Day 8 – 10: Three days to explore the enchanting city of Chiang Mai, and have dinner with Northern Thailand specialties. Explore an elephant sanctuary in the region, where you can observe, watch, and feed these giant animals. Don't ride, it is against the sanctuary's rules.
Day 11 – 13: Fly to Phuket, and immerse in the gorgeousness of stunning beaches and islands of this world's resort paradise.
Day 14: Depart Phuket.
>>> Wondering what exactly you can do with this tour, please check our comprehensive program here. However, please note that these are not everything you can do on Cambodia packages from Cape Town, more thrilling experiences are waiting for you on our list of Thailand – Cambodia tours.
With all of the information provided above, you hope that you have facilitated yourself with fascinating ideas for Cambodia packages from Cape Town. Don't hesitate to contact us if you need help planning a Cambodia tour of your preference.
Read more: