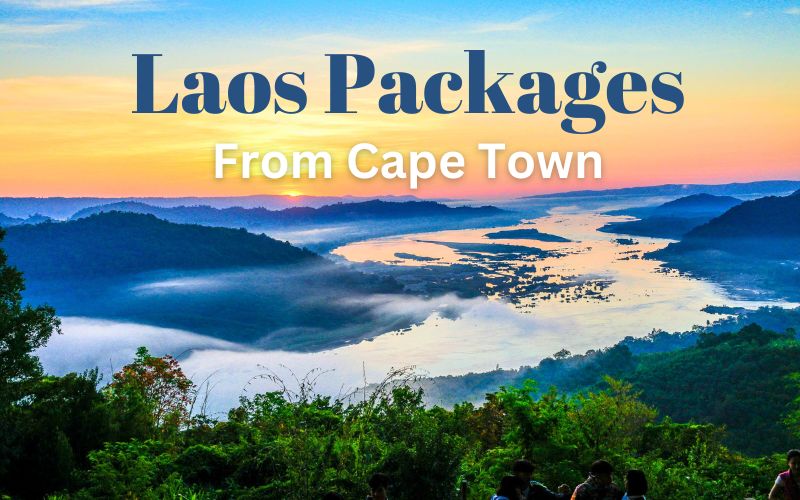 Laos is renowned for its awe-inspiring natural landscapes that leave visitors captivated. The serene Mekong River, mist-covered mountains, and verdant rice fields present a feast for the eyes. Popular destinations such as Luang Prabang, Vang Vieng, and the 4,000 Islands (Si Phan Don) are celebrated for their picturesque charm. Additionally, Laos boasts a profound cultural heritage deeply influenced by Theravada Buddhism. Throughout the country, you'll discover an array of ancient temples, some of which hold the esteemed distinction of being UNESCO World Heritage sites. If you are searching for Laos packages from Cape Town for a couple or family vacation, this article is tailored to your needs. Take the time to read through and gather the essential information required for a flawless getaway to Laos from South Africa.
Why Visit Laos from Cape Town?
Most travelers from South Africa choose Luang Prabang and Vientiane as their top romantic retreat destinations in Laos. These cities offer a blend of cultural charm and tranquil settings. However, adventurous travelers also venture to other parts of the country to uncover hidden treasures and partake in thrilling activities. Places like Vang Vieng, Si Phan Don (4,000 Islands), and the Plain of Jars provide unique experiences. Accommodation options range from small boutique hotels to luxurious modern resorts, catering to every traveler's needs and preferences.
No matter which destination you select for your getaway in Laos, you can be certain of creating unforgettable memories and a strong likelihood of wanting to return again!
How to Travel From Cape Town to Laos
Currently, there are no direct flights from South Africa to Laos. However, you can reach Laos by taking connecting flights from South Africa to major international airports in neighboring countries such as Thailand, Malaysia, Singapore, or Vietnam. From there, you can catch flights to Laos.
Flight from South Africa to a Major Hub: Begin by booking a flight from one of the major airports in South Africa, such as O.R. Tambo International Airport in Johannesburg or Cape Town International Airport, to a major hub or international airport in a neighboring country. Popular transit cities include Bangkok (Thailand), Kuala Lumpur (Malaysia), Singapore, and Hanoi (Vietnam). Visitors from Cape Town, Johannesburg, or Pretoria can book flights with Qatar Airways, Emirates, or Ethiopian Airlines to arrive in these countries.
Transit in a Connecting Airport: Once you reach the connecting airport, you'll need to transit through the airport. This may involve changing terminals or going through customs and immigration, so ensure you have sufficient time for transit and follow any guidelines provided by the airport authorities.
Flight to Laos: From the connecting airport, book a separate flight to one of the international airports in Laos, such as Wattay International Airport in Vientiane or Luang Prabang International Airport in Luang Prabang. Several airlines operate flights from the neighboring countries to these airports.
Laos Visa for Visitors from Cape Town (South Africa)
As a visitor from Cape Town, South Africa, you do not need a visa to enter Laos. Please make sure that your passport is still valid, for at least 6 months from the entry date. However, this visa exemption policy also applies for less-than-30-day trips. If you plan to stay in this country for more than a month, a Laotian visa is required.
In this case, there are several ways to apply for a visa to Laos. Firstly, you can apply directly at the nearest Laotian embassy or consulate. Another option is to obtain a visa on arrival at specific international airports and border crossings in Laos. South Africans are also eligible for the Laos eVisa system, which is currently the fastest and most convenient way to obtain this travel document up to now. Simply enter your information at this website, pay enough visa application fees, and you can download your Laos eVisa to your email.
Best Time to Travel From Cape Town to Laos
The best time to travel from South Africa to Laos depends on your preferences and the specific activities you plan to engage in during your visit to Laos. Laos experiences a tropical climate with distinct dry and wet seasons.
Dry Season (From November to April): The dry season in Laos, which is generally regarded as the prime time to visit Laos, is especially favorable for exploring popular destinations like Luang Prabang and Vientiane. During this season, you can expect pleasant temperatures, clear skies, and low humidity, creating comfortable conditions for outdoor activities, temple visits, and exploring the stunning landscapes of Laos. It's important to note that March and April, towards the end of the dry season, can be hot, so it's advisable to take necessary precautions and stay hydrated while enjoying your outdoor adventures in Laos.
Wet Season (From May to October): During the wet season in Laos, there is an increase in rainfall and humidity. While some travelers may choose to avoid this period due to occasional heavy rains, the wet season offers its own unique attractions. The countryside becomes lush and vibrant, with greenery blanketing the landscapes. Waterfalls are at their fullest, creating a breathtaking sight and providing a refreshing experience. Additionally, the wet season sees fewer tourists, allowing for a more peaceful and intimate exploration of the country. Nature enthusiasts will appreciate the flourishing flora and fauna, and those interested in rural life can witness the vibrant rice cultivation that takes place during this season. Despite the rain, the wet season in Laos offers a different perspective and opportunities for memorable experiences amidst the natural beauty of the country.
It's worth noting that Laos is a destination that can be enjoyed throughout the year, as it offers something for travelers in every season. Even during the wet season, which brings occasional rain showers, they are usually brief and followed by sunny intervals. Nonetheless, it's important to stay vigilant and keep an eye on the weather conditions, particularly in remote or mountainous regions where travel disruptions may occur. Monitoring the weather will ensure a smooth and enjoyable trip.
>>> Do you want a wonderful holiday but you're not sure when is the right time for the upcoming trip? Consult our article on Laos weather & Best Time to visit.
Laos Packages from Cape Town
South African travelers embarking on a journey to Laos can anticipate an extraordinary and culturally immersive experience. Laos, a landlocked country in Southeast Asia, captivates with its breathtaking landscapes, ancient temples, and welcoming hospitality. Here are some recommended itineraries for Laos packages from Cape Town that you won't want to overlook.
Itinerary 1: Classic Package Tour 10 Days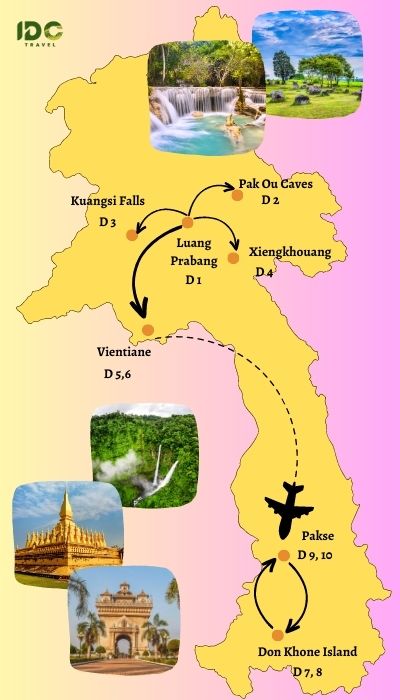 Day 1: Arrive in Luang Prabang, visit some famous shrines such as Wat Visoun, Wat Aham, and Wat Mai, then experience nightlife activities at Night Market.
Day 2: Explore Pak Ou Caves, visit several local villages, and taste the local specialty of rice wine.
Day 3: Witness saffron-clad monks collecting Alms and visit Phosi Market in the morning. Then, swim and relax at Kuang Si Waterfalls.
Day 4: Visit National Museum at the old Royal Palace in Luang Prabang and transfer to Xiengkhouang to explore the Plain of Jars.
Day 5: Visit Central Market in the morning, return to Vientiane, and visit the main highlights of the city.
Day 6: Vientiane city tour, see the Patuxay Monument, Wat Ong Tue, Wat Inpeng, and Wat Haisok. Shop at Talad Sao and Talad Kouadin Central Markets and return to the Mekong River to enjoy the sunset.
Day 7: Fly to Pakse, transfer to Don Khone Island, and visit Wat Phu relics.
Day 8: Explore Don Khone Island and its surroundings, including Liphi and Khone Phapeng Waterfalls.
Day 9: Go through the famous Bolaven Plateau, visit waterfalls and local villages in Tad Lo. Transfer to Pakse in the late evening.
Day 10: Depart Pakse.
>>> Check the detailed itinerary here.
Similar tours:
Itinerary 2: Discovery of Northern Laos in 8 Days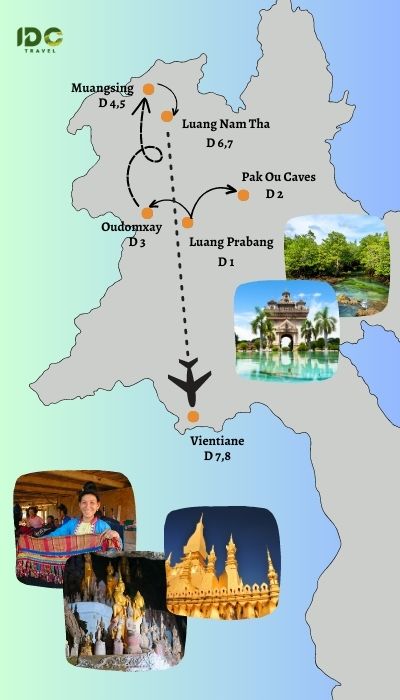 Day 1: Arrive in Luang Prabang, and visit some famous temples such as Wat Xieng Thong, Wat Visounem, Wat Aham, and Wat May. Then, watch the sunset from the steps of Vat Phra Bat.
Day 2: Visit Wat Long Khoun, explore Pak Ou Caves on the Nam-Ou River, stop at several local villages, and taste the local specialty of rice wine in Ban Xang Hai.
Day 3: Transfer to Oudomxay, explore H'Mong minority villages at Bane Shong Cha, and visit Wat Santiphab temple along the way.
Day 4: Explore the village Muangsing is populated by a mosaic of ethnic groups and visit the Striped H'Mong Village, Lenten Village in Bane Tawan, Khmu Village in Bane Pinh Ho, and Iko in Bane Ko Lak Kham May.
Day 5: Meet the different ethnic groups of Muangsing.
Day 6: Return to Luang Nam Tha, and visit several ethnic groups in Bane Thong Poung. Then, continue to visit the national museum of Luang Nam Tha.
Day 7: Visit the local market in Luang Nam Tha. Fly to Vientiane and see the main highlights of the city, such as Wat Sisaket, Wat Ho Phra Keo, That Luang, and the gate Arc-de-Triomphe.
Day 8: Depart Vientiane.
>>> For more detailed information about this itinerary, please check out here.
Similar routes:
Itinerary 3: Adventure Tour for 8 Days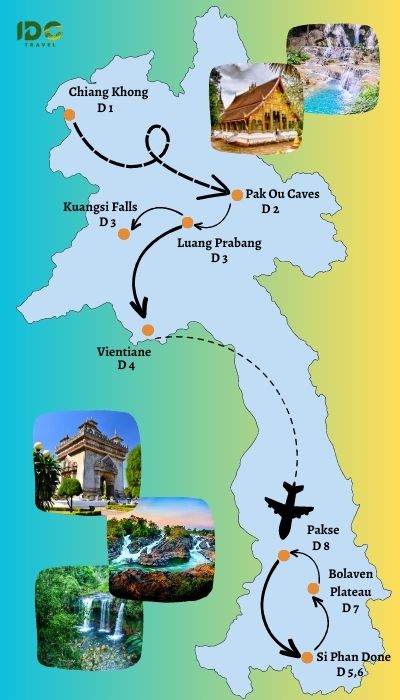 Day 1: Arrive in Chiang Khong, boat trip to explore the Mekong River, visit a few villages of minority tribes, and shop at Pakbeng local market.
Day 2: Pass through lush forests, and visit the fishing village and the rice wine production village. Then, explore the Pak Ou Caves with thousands of Buddha statues.
Day 3: Luang Prabang city tour. Then, you will have the chance to win and admire the Kuang Si Waterfalls. Return to the hotel to rest.
Day 4: Fly to Vientiane, and visit some national icons of Laos in the city, such as Wat Sisaket, Wat Prakeo, Stupa That Luang, and Patuxay Monument.
Day 5: Transfer to the airport and fly to Pakse. Visit famous relics in Champasak. Then, you will take a boat trip to explore Si Phan Don (which is also known as 4000 Islands).
Day 6: Discover colonial remains in Ban Khone and see Mekong River freshwater dolphins.
Day 7: Visit Bolaven Plateau, explore waterfalls in Tad Lo, and meet ethnic minority groups in the villages of Alak, Nge, and Katu. Transfer to Pakse in the late evening.
Day 8: Have breakfast at the hotel and you will be transferred to the Pakse airport for the departure flight.
>>> Consult our detailed itinerary here.
Similar routes:
Itinerary 4: Heritages of Indochina 15 days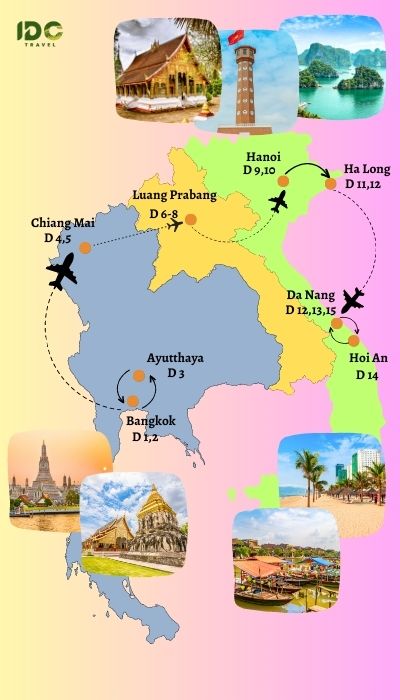 Day 1: Arrive in Bangkok and relax.
Day 2: Bangkok city tour, visit the flower market, and enjoy nightmare life at Khao San Road.
Day 3: Explore the ancient Ayutthaya ruins, one of the famous UNESCO World Heritage Sites in Thailand
Day 4: Fly to Chiang Mai, and visit the mountain temple, Doi Suthep.
Day 5: Explore Chiang Mai's hill tribes and visit Wat Thaton's hillside temple.
Day 6: Fly to Luang Prabang and relax.
Day 7:  See the monks collect alms in the morning. Luang Prabang city tour and visit Ock Pop Tock silk village.
Day 8: Relax and swim at Kuangsi Waterfalls, then join a traditional Baci Ceremony in the evening.
Day 9: Fly to Hanoi and join a half-day city tour in the afternoon.
Day 10: Full day explore Hanoi and relax with a visit Water Puppet Show in the late afternoon.
Day 11: Transfer to Ha Long Bay and enjoy a 2 day-1 night cruise trip
Day 12: Take part in morning activities in Ha Long. Then, return to Hanoi. Fly to Da Nang and relax.
Day 13: Visit Ba Na Hills and have free time to explore Da Nang on your own.
Day 14: Transfer to Hoi An and explore the main highlights of the ancient town.
Day 15: Return to Da Nang and depart
>>> You can find the complete itinerary presented here. You can also reference our list of Indochina tours for a wider range of captivating options to further enrich your travel experience.
Budget for Laos packages from Cape Town, South Africa
The cost of Laos packages from Cape Town can vary depending on several factors, including the duration of the trip, the level of accommodation, included activities, and transportation arrangements. It is advisable to research different packages and consult with travel agencies or tour operators for specific pricing information based on your preferences and travel dates.
As a general guideline, Laos packages from Cape Town can range from approximately USD 1,500 to USD 5,000 or more per person for a week-long trip. The cost will typically cover flights, accommodation, some guided tours, and selected meals. Higher-end packages with luxury accommodations, additional activities, and longer durations may fall on the higher end of the price range.
Here are the major expenses you can expect for Laos vacations from Cape Town:
International Flights to Laos: The cost of round-trip flights from Cape Town to Laos can range from approximately $800 to $1,500 per person, depending on the airline, season, and how far in advance you book.
Accommodation: Laos offers a range of accommodation options, from budget guesthouses to luxury resorts. On average, you can expect to pay around $20 to $100 per night for a mid-range hotel or guesthouse in popular tourist areas. If you prefer higher-end accommodations, prices can go higher.
Meals: Food in Laos is generally affordable, especially if you dine at local restaurants and street food stalls. A typical meal at a local restaurant can cost between $2 and $10, depending on the type of establishment and your choices.
Transportation: Getting around within Laos can be relatively inexpensive. Local buses, tuk-tuks, and taxis are commonly used modes of transportation. The costs will vary depending on the distance traveled, but the budget is around $1 to $10 per trip. Besides, you can also rent a car with a private driver to easily move into the center and surrounding areas at an affordable price. Contact us for more details.
Activities: Laos has several attractions and activities to explore, such as visiting temples, trekking, river cruises, and adventure sports. Prices for these activities can range from $10 for temple visits to $100 or more for guided tours or adventure activities.
Tips for First-time Travelers
For first-time travelers from Cape Town, South Africa to Laos, here are some helpful tips to ensure a smooth and enjoyable journey:
Plan Ahead: Research and plan your trip well in advance. Familiarize yourself with the culture, customs, and popular destinations in Laos. Create an itinerary that includes the places you want to visit and the activities you wish to experience.
Check Visa Requirements: Check the visa requirements for South African passport holders traveling to Laos. Determine if you need to obtain a visa in advance or if you are eligible for a visa on arrival. Make sure your passport is valid for at least six months beyond your planned departure date.
Pack Accordingly: Pack light and consider the weather conditions during your travel dates. Laos has a tropical climate, so pack lightweight and breathable clothing, comfortable shoes for walking, and don't forget essentials such as sunscreen, insect repellent, and a reusable water bottle.
Stay Hydrated: Drink plenty of water to stay hydrated, especially in the hot and humid weather of Laos. Carry a water bottle with you and refill it from filtered water sources to reduce plastic waste.
Respect Local Customs: Familiarize yourself with the local customs and traditions of Laos. Dress modestly when visiting temples and religious sites, and remove your shoes when entering sacred areas. Show respect to the local people and their customs to ensure a positive cultural exchange.
Learn Basic Phrases: Learn a few basic Lao phrases or carry a phrasebook to facilitate communication with the locals. Even simple greetings and thank you can go a long way in showing respect and creating connections.
Be Open to New Experiences: Embrace the local culture and be open to trying new foods, activities, and experiences. Laos has a rich cultural heritage, so make the most of your trip by immersing yourself in the local traditions and exploring off-the-beaten-path destinations.
Practice Responsible Tourism: Respect the environment and local communities by practicing responsible tourism. Avoid littering, support local businesses, and be mindful of the impact of your actions on the natural and cultural heritage of Laos.
Stay Informed: Stay updated on the latest travel advisories, safety guidelines, and health information related to Laos. Subscribe to reliable travel resources or check with your local embassy for any updates or alerts that may affect your travel plans. Remember to download some useful apps for traveling in Laos to ensure a safe trip.
The above information provides everything you need for Laos packages from Cape Town, South Africa. Select a suitable itinerary and be ready for a delightful holiday in one of the captivating countries of Southeast Asia. If you need any information or wish to have a private consultation, please feel free to inquire with us. We are here to assist you in creating a memorable and personalized travel experience.