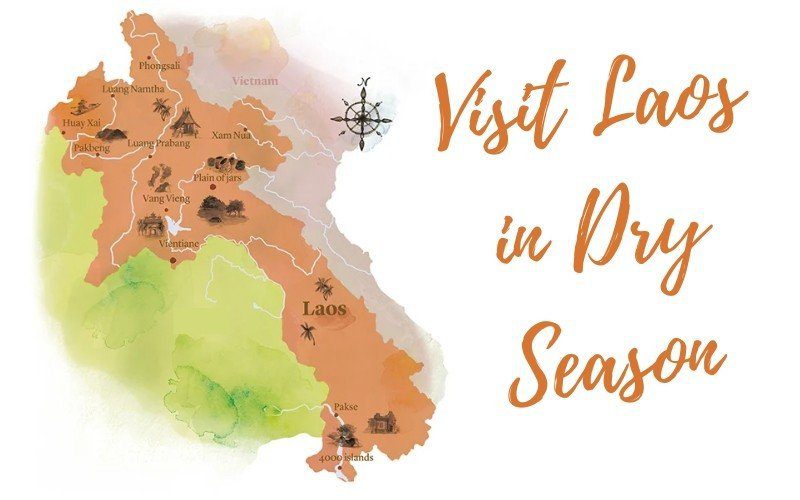 When is the best time to visit Laos? This question might always be asked by tourists before each travel plan. For us, the best time to make a discovery trip to Laos is in the dry season (from November to March). The dry season is characterized by low rainfall and clear skies. The countryside and landscapes in Laos are relatively dry and less lush compared to the wet season. During this time, the rice fields turn golden as the harvest season approaches, creating beautiful scenic views. Besides, the dry season in Laos is a great time for outdoor activities and sightseeing. To make your next trip to Laos more interesting, IDC Travel will suggest to you some of the most ideal places to visit in this beautiful country in the months of the dry season.
When is the Dry Season in Laos?
The dry season in Laos typically occurs from November to March. During this period, the weather is characterized by low rainfall and generally dry conditions. The temperatures are pleasant, ranging from 20 °C to 30 °C (68 °F to 86 °F), although it can be cooler in the northern regions of the country. The landscapes may appear less lush as the vegetation dries up, and the rice fields turn golden as they near harvest. The dry season is an excellent time for outdoor activities such as trekking, cycling, and exploring national parks. Popular destinations like Luang Prabang, Vientiane, Vang Vieng, and the Plain of Jars all are enjoyable to visit during this time, with accessible waterfalls, temples, and cultural sites. Festivals such as Boun That Luang and Pi Mai Lao (Lao New Year) also take place during the dry season, adding to the cultural experience.
Best Places to Visit in Laos in Dry Season
Vientiane – Ancient capital with artworks bearing the mark of time
Unlike other vibrant, bustling, noisy, and bustling capitals in the world, the capital of Laos, Vientiane, has indescribable peace and relaxation. Any visitor to Vientiane will feel that this is a place with a slow, peaceful pace of life, a sense of peace, and closeness. Although not very large, the capital Vientiane still owns a lot of scenic spots, historical sites, and beautiful architecture such as Pha That Luang, Ho Phra Keo, Wat Si Muang, Wat Si Saket, Buddha Park, etc. And of course, Vientiane is certainly the first range of best places you should try when you visit Laos in the dry season.
>>> Plan to choose this city for your next trip to Southeast Asia, don't forget to read our article on the Vientiane itinerary: How to Spend 3 Days in Vientiane.
Luang Prabang – A UNESCO World Heritage Site in Laos
Luang Prabang is a small town located 425 km north of Vientiane. Located at the intersection of the Mekong and Nam Khan rivers, Luang Prabang has a cool climate and extremely green natural landscape. Inscribed on the World Heritage List in 1994, this town is an ideal destination for foreign tourists to explore and enjoy a peaceful life amidst the vast and charming nature. Luang Prabang is famous for Asia's best-preserved works including royal palaces, temples, ancient pagodas, and old quarters and the highlight is the Kuang Si Falls. Besides, Luang Prabang also attracts tourists with its unique night market cultural space. This place concentrates on all kinds of items from handicrafts to typical indigenous dishes that are extremely attractive to visitors. If you have the opportunity to visit Laos, do not forget to try the dishes at the night market in Luang Prabang such as grilled dishes from chicken, fish, papaya salad, etc.
Vang Vieng – The dream town in the middle of forests
Located on the banks of the Nam Song River, Vang Vieng was once known as "the paradise of Western tourists" because this town was discovered by Western backpackers in the late 1990s. The highlight of Vang Vieng is the towering limestone mountains, rising in the middle of lush rice fields. Visitors will also be drawn into the beauty of magnificent caves, clear blue lagoons, or vast forests like a real "garden of paradise" in the world. For those who love to explore, Vang Vieng is the ideal place to carry out outdoor adventure activities such as kayaking on the Nam Song River, climbing on steep rock roads to watch the sunrise, or experiencing a hot air balloon to see the whole town from above.  However, Laos in the dry season can be slightly colder at night, especially in mountainous areas. You should prepare a lot of warm clothes for your journey in Vang Vieng.
Plain of Jars – An archaeological mystery
Stretching thousands of meters along the hillside along the Muong Phuon plateau, the Plain of Jars is a famous historical and cultural area of Laos tourism with a total of 1,969 large and small jars, distributed in 52 major locations. Despite being an area with many potential dangers, the Plain of Jars is still a famous tourist spot around the world, recognized by UNESCO. Thanks to the strange beauty and mysterious stories about the origin of these unending jars that have attracted more and more visitors to the Plain of Jars. If you have a chance to get to Laos, don't forget to visit this place to witness firsthand the beauty of the ancient jars and hear the hidden stories around them from locals.
Champasak province is located in southwestern Laos, bordering Cambodia and Thailand. Unlike other crowded and busy areas of Laos, such as Vientiane or Luang Prabang, today, Champasak is still a relatively unspoiled and peaceful place. Champasak has always been considered a hidden gem of Laos with ancient temples, beautiful natural landscapes, majestic waterfalls, and green plateaus. The most special thing when traveling to Champasak in dry time is this is the time for visitors to experience bike rides along the streets to discover the culture and life of the local people. Besides the UNESCO World Heritage Site of Wat Phou, you can also get around the famous Bolaven Plateau with its impressive pair of waterfalls Bolaven Plateau and Tad Fane waterfalls and lush coffee plantations or take a boat trip to explore the famous 4,000 Islands (Si Phan Don) in the Mekong River.
Bolaven Plateau – Paradise of coffee
The Bolaven Plateau is a large area in southern Laos in Champasak Province and Saravanh Province. This plateau is the remains of a volcanic region from millions of years ago. Thanks to its temperate climate, regular rainfall, and fertile soil, the Bolaven Plateau is known as a land of utopian promise for coffee growers. There is nothing better than enjoying and sipping breakfast with a cup of strong coffee with a traditional Laotian. Not only famous for its excellent coffee, but Bolaven is also famous for its national park, Dong Hua Sao (where many rare animals are still preserved), and many beautiful waterfalls, such as Tad Yuang, Tad E – Tu or Tad Hang, etc.