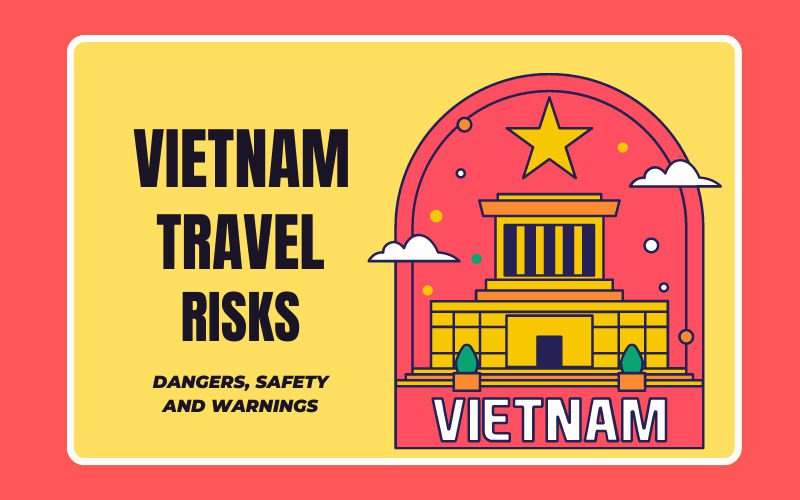 Generally speaking, Vietnam is a safe country for visitors, whether they are solo travelers, families with children, or others. However, to have a hassle-free trip to Vietnam, it is always worth being prepared, especially for the potential Vietnam safety problems explained below. This article provides information about Vietnam safety guides for your trip to this beautiful country. Also, at the end of the article, you will find a list of renowned public and private hospitals to help you in times of need.
Health Risks when Traveling to Vietnam
Thermal shock – The most serious health factor
Vietnam is generally hot and humid throughout the year. Don't underestimate the sun's power. Sunburn can occur quickly: it is advisable to wear sunscreen throughout the day. Be sure to reapply the cream, especially when staying by the sea. Dehydration is another problem, as is heat exhaustion, which can manifest itself in symptoms such as headaches and irritability. You have to drink a lot of water. Heatstroke is a more serious consequence of overexposure to the sun and may require hospital treatment. If you feel faint, dizzy, or nauseous and your temperature exceeds 41°C, seek medical attention immediately. Take yourselves time to rest if you travel to different regions in our country.
Allergy
Vietnamese cuisine is known for its mix and diversity of ingredients, which makes it difficult to identify the components of each dish, especially in street food where vendors do not always speak a foreign language. Many Vietnamese dishes contain peanuts and gluten. If you are allergic to specific foods, especially spices, it is recommended to contact a local travel agency to avoid risks. Let your agency and tour guide know about your allergies so they can recommend suitable dishes. It is also advisable to carry your medical records and medication in case of emergency to ensure your safety in Vietnam. However, for more security, you can find many Western restaurants.
For those who travel to Vietnam in spring, pollen allergy is also a problem. The symptoms are sneezing watery eyes, and runny nose. In autumn, pollen allergy can also cause health problems for travelers to Vietnam, especially Hanoi, where the city's iconic milk flowers (called "hoa sua" in Vietnamese) can irritate your nose. Although it does not pose a serious health hazard, it is advisable to be vigilant and take the necessary measures to reduce the symptoms of the allergy.
Risk of pollution
Air pollution is a major problem in Vietnam, mainly in big cities like Hanoi and Ho Chi Minh City, due to transport and industrial activities. Air pollution can make asthma and allergy symptoms worse. Symptoms include throat irritation and runny nose. Those with respiratory conditions should therefore invest in a small mask when traveling in metropolitan areas, or plan to spend more time in the countryside, if possible. If you have breathing problems, buy a medical mask when traveling outdoors during rush hour. In case you want to stay away from metropolitan areas and seek the bucolic countryside and natural landscapes, we have Mai Chau biking tours and Halong Bay Cruise for you.
Bites and Sting
During your stay in Vietnam, you should focus on your safety because it is possible to be bitten by bedbugs, fleas, or mites because of the dirtiness of the beds. If you are staying with a local host family, do not hesitate to ask the owner to provide you with clean bedding.
When visiting rural areas, it is important to avoid wild and domestic animals to prevent rabies. It is advisable not to let your children play with dogs or cats and to stay away from the monkeys of Cat Ba Island. Also, while hiking in the jungle, beware of ticks, leeches, and poisonous snakes lurking in the undergrowth.
If you plan some activities such as swimming, snorkeling, and diving on a beach holiday in Vietnam, you may come across jellyfish, stingrays, scorpionfish, stonefish, and sea snakes, which can also pose a threat to your health. If you get stung, get out of the water immediately and ask the locals for help in getting vinegar, which can stop the pain. On the other hand, sharks do not represent a real danger in Vietnam because they generally avoid shallow and crowded beaches.
The risk of contracting malaria is higher in the rural areas of the highlands. Consider taking antimalarial medication if you plan to travel to remote destinations in Vietnam. Dengue fever, increasingly a problem in Southeast Asia, occurs mainly in the Mekong Delta and Ho Chi Minh City. As no vaccine is available, the best preventative measure is to carry mosquito spray during sunrise and sunset times.
Diet-related diseases
Diarrhea is a common problem in new countries. Choose bottled water or boiling water because tap water is not clean enough to drink. It would be a shame not to taste Vietnamese cuisine, one of the tastiest in the world. However, it should be noted that some restaurants and street food stalls may not meet sanitary and hygienic standards. To avoid contracting bacteria, look for restaurants that have a high turnover of customers and prepare freshly cooked food. In general, street food in Vietnam is quite safe, but always use good judgment when choosing a vendor. If you have an upset stomach or diarrhea, take rehydration salts and stay hydrated. If problems persist, see a doctor.
Safety Guides during your Trip to Vietnam
Thiefs
This is always one of the top factors in the travel risks of  Vietnam. In fact, the country is relatively safe, but petty theft is a legitimate concern, especially in major cities. Avoid laying out your cameras and cell phones on busy streets and street corners: most thefts are purse robberies. When taking pictures on sidewalks, keep your camera close to your body and away from traffic.
Women, in particular, should be warned to hold their bags and purses firmly when walking around Ho Chi Minh City. When riding a motorcycle, put your bags in the saddle compartment or hang them on the front of the motorcycle. Bags carried on the shoulder or in the panniers of the motorcycle can easily be ripped off.
When you stay in a hotel or guesthouse, put your valuables in the safe or lock them in your bags before leaving your room. Generally speaking, it's a good idea to be careful with your valuables, keep an eye on your luggage, and don't show off large sums of money or expensive gadgets in rural areas.
If you are the victim of a theft, there is unfortunately not much law enforcement can do to recover the stolen items.
Scams
For some tourist sites, you may be surrounded by beggars and sellers of chewing gum, fruit, or souvenirs. Sometimes ethnic children ask you for money if you want to take their picture. Try saying "no" if you feel uncomfortable.
Some Vietnamese think foreign tourists are rich, so avoid overpaying yourself. It is normal to negotiate the price of products in the market or on the street, in this case, offer half or even a third of the price indicated by the sellers. At the restaurant, ask the waiters to see the menu before ordering.
One of the most common risks for foreign tourists in Vietnam is taxi scams. Fake taxis can be found at the exit of the airport, in train stations, in tourist destinations, etc. Never take a taxi that doesn't have a meter. Vinasun and Mai Linh are the two prestigious taxi brands in Vietnam. Motorcycle taxis like Grab, Be or Gojek are numerous in the big cities. You can also rent a private car in Vietnam for more flexibility and safety.
Another common complaint is about group tours because the car is dirty, the boat is small, the guide's language skills are insufficient, or there are too many stops for shopping, etc. We, therefore, recommend that you find an experienced travel agency whose quality you can always check by consulting online reviews.
Hectic traffic
Traffic is the main hazard in major cities in Vietnam, especially with thousands of scooters driving in all directions. Crossing a street can easily turn into a real ordeal. A one-way street can suddenly become a two-way street.
To ensure your safety in Vietnam, it is important to constantly look around. It is also mandatory to wear a helmet if you are riding on two wheels. To cross the street, it is recommended to go slowly, step by step, always moving forward. It is essential not to hesitate or stop in the middle of the road when crossing. Local motorbike drivers always anticipate your movement and trajectory to avoid accidents. In the event of an accident in which you are involved, it is important to contact the police immediately.
Political sensitivities
Political issues are not major Vietnam travel risks since there is no unrest or terrorist activity in our country at the moment. Anti-government propaganda and demonstrations are not allowed in our country and you should not discuss political opinion in public places. Avoid taking photos of the police and military.
Natural disasters
Vietnam is regularly hit by natural disasters, including typhoons, floods, landslides, and droughts. The typhoon season runs from June to November and can cause considerable damage. Floods can also be devastating, especially in coastal areas and river basins. Landslides are common in mountainous areas and droughts can affect some areas for months. It is important to keep informed of weather forecasts and warnings issued by local authorities in the event of imminent risks.
Prepare a Good Health before Going to Vietnam
Before traveling to Vietnam, be sure to purchase insurance for your trip. Two months before your departure, you should also consult your doctor or a local travel clinic for the latest information on health safety in Vietnam and to receive any vaccinations you may need. No vaccinations are required to enter Vietnam, but some are recommended, such as typhoid, hepatitis A, hepatitis B, cholera, rabies, Japanese encephalitis, meningitis, and influenza.
Pregnant women should consult their doctor for specialist advice. Antimalarial drugs and many diarrhea treatments are not completely safe during pregnancy. If you suffer from an illness or allergy that requires special attention, carry a doctor's letter describing the nature of the illness and the treatment needed.
Let us know of any health concerns you may have so we can plan suitable itineraries and activities, especially if you are traveling with elderly people. If any of your party members have dietary restrictions or allergies, please contact us for a special menu. We also have a list of quality local hospitals and clinics that we can contact immediately should the need arise.
Important Security numbers 
Search and Rescue: 112
Security: 113
Ambulance: 115
Lists of Public and Private Hospitals in Vietnam
While public hospitals are usually overcrowded and lack international standards, private hospitals are well-equipped with modern facilities and experienced doctors who can speak English fluently. In case of any health issues, you can go directly to the following hospitals:
Hanoi
Hanoi French Hospital
Address: 1 Phuong Mai Street, Dong Da District
Telephone: +84 243 5771 100
Address: 458 Minh Khai Street, Hai Ba Trung District
Telephone: +84 243 9743 556
Hong Ngoc General Hospital
Address: 55 Yen Ninh Street, Ba Dinh District
Telephone: +84 243 9275 568
Hanoi Family Medical Practice
Address: 298I, Kim Ma Street, Ba Dinh District
Telephone: +84 243 8430 748
Raffles Medical Hanoi
Address: 51 Xuan Dieu, Tay Ho District
Telephone: +84 24 3934 0666
Halong Bay
Vinmec International Hospital – Ha Long City
Address: 10A Le Thanh Tong Street
Telephone: +84 203 3828 188
Quang Ninh General Hospital
Address: Tue Tinh, Bach Dang Ward
Telephone: +84 203 3825 499/ +84 203 3825 489
Danang
Family medical practice in Danang
Address: 6-98 Nguyen Van Linh Street, Hai Chau District
Telephone: +84 236 3582 699
Hoan My Hospital, Danang
Address: 161 Nguyen Van Linh Street, Thac Gian, Thanh Khe, Danang
Telephone: +84 236 3650 676
Hoi An
Hoi An Medical Services
Address: 503 Hai Ba Trung Street, Cam Pho
Telephone: +84 235 3862 257 / +84 913 457 219
Thai Binh Duong – Pacific Hospital
Address: 6 Phan Dinh Phung, Cam Pho
Telephone: +84 235 3921 656
Ho Chi Minh City
Franco – Vietnamese Hospital
Address: 6 Nguyen Luong Bang Street, Phu My Hung, District 7
Telephone: +84 285 411 3333
Vinmec Saigon International Clinic
Address: No. 2 – 2 Bis Tran Cao Van Street, District 1
Telephone: +84 28 3520 3388
Victoria International Healthcare Clinic
Address: 152 Nguyen Luon Bang, Tan Phu, District 7,
Telephone: +84 8 3910 4545
Ho Chi Minh City Family Medical Practice
Address: 34 Le Duan Street, District 1
Telephone: +84 283 8227 848
Columbia Asia International Hospital
Address: 08 Alexandre de Rhodes, District 1
Telephone: +84 28 3823 8888
International Medical Centre
Address: 30 Pham Ngoc Thach, District 3
Telephone: +84 28 3827 2366
Despite some risks inherent in any country (transport, hygiene, or food), Vietnam is always an ideal destination to make an unforgettable experience for travelers who exercise caution. This country rich in history, nature, culture, and gastronomy deserves a visit at least once in a lifetime. Hopefully, this article on Vietnam safety will help you prepare for a safe trip to Vietnam. Don't hesitate to contact us if you need more information.
Read more: