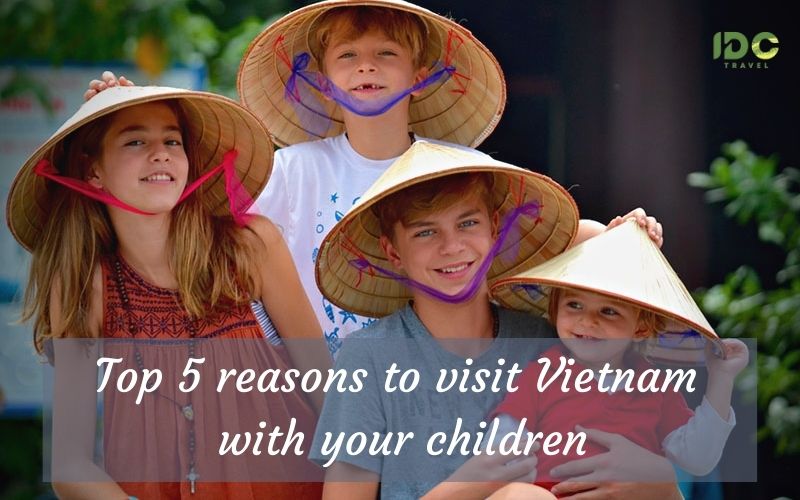 Vietnam, with its vast scenic landscapes and diverse culture stretching from north to south, is an appealing country worth exploring, particularly for a family vacation. Because of its safe and welcoming environment, Vietnam is also known as a safe stop in your Indochina travel. Vietnam always surprises travelers who choose this beautiful S-shaped country as their destination in their Southeast Asia family trip due to its lovely people and wide range of beautiful sights. Discover why Vietnam is an excellent family vacation destination in this article.
Top 5 reasons for a family trip to Vietnam
1. Vietnam is a hospitable and safe country 
Anyone who decides to travel abroad with their children always thinks carefully about how safe these countries are. It is normal for them to worry about their own safety and that of their children. It is therefore reasonable to know the context of a country before going there. With a thriving tourism industry, Vietnam is a place where traditional and contemporary, local and international lifestyles meet. Furthermore, Vietnam is a politically, economically, and socially stable country and is well-known for the friendliness and warmth of its people. Therefore, you will feel like at home during your family trip to Vietnam.
Young people are now the main workforce in Vietnam. They are open-minded, knowledgeable, and very eager to help and make friends. Also, regardless of age or gender, Vietnamese always love children. Don't be surprised if someone asks you to take a picture with your kids. If you are considering health problems, in addition to your own preparation, the innovation of the health system in Vietnam, especially in large cities, is a guarantee for your family. Moreover, after 2 years of confinement due to Covid-19, Vietnam ranks in the top 5 post-pandemic Asian travel destinations, according to the American news agency AP. By the way, don't worry, your family will be treated well and safe by Vietnamese hospitality.
2. Immerse yourself in an enchanting culture
There are still many other amazing things in the world. Traveling to other countries with different cultural backgrounds is a very beautiful trip. And this is true when you visit an Asian country like Vietnam. Your family will have fond memories of their trip to Vietnam, learning a lot about a new culture and its local history. Your children will have the opportunity to learn more about Asian culture, especially Buddhism, by visiting famous pagodas or sacred places in Hanoi, Hue or Ho Chi Minh City. Museums or historical sites in major cities are great places to introduce children to Vietnam and the country's history. For example, Hue Imperial City, Cu Chi Tunnels, Hoa Lo Prison, the Vietnam Ethnography Museum or Vietnam Women's Museum, War Remnants Museum, etc.
As part of Asian society, Vietnamese culture is deeply based on family values. That's why traditional festivals in Vietnam, such as Lunar New Year's Eve and the Mid-Autumn Festival, are wonderful occasions for you and your children to enjoy a happy and warm atmosphere and learn about the family culture of the country. We always teach Vietnamese children to respect the elders and love the younger ones, it is also a good way of daily life that you can teach your children. You can definitely take your children to see several cultural performances such as water puppet shows and traditional ethnic minority dances, or simply take part in folk games and play with Vietnamese children in the streets. There are so many interesting cultural activities in Vietnam that your children can join and explore with you.
3. Participate in fascinating family activities
If your family prefers an active family trip to Vietnam, there are various activities in each destination in Vietnam to suit your family, even for small children. Settle in and start exploring Hanoi's vibrant Old Quarter on fun bike tours. By stopping at the Temple of Literature, you and your children can learn how to make a "a him" (traditional game for Vietnamese children). At the Vietnam Museum of Ethnology, your children will not only discover the history and life of 54 ethnic groups, but will also participate in many popular games.
Let your mind freely enjoy the breathtaking beauty of the Ninh Binh mountains or the rustic landscapes of the Mekong Delta countryside during leisurely boat trips. Most of the accommodation in Ninh Binh offers free bicycles. Do not hesitate to take a bike ride with your children through the green rice fields of Tam Coc, Mai Chau or the historic center of Hoi An are other lovely destinations for cycling activities and cultural discoveries. Plus, in Hoi An, your family can learn how to make a kite, paper lantern, or even a lotus flower with the help of local artisans.
If Halong Bay is a favorite destination on your Vietnam family trip, kayaking there will bring unforgettable memories your family shouldn't miss. Just put on a life jacket and take in the breathtaking scenery of the heritage site as you paddle. It is best for your kids to sit in the front to ensure safety. If you are interested in indigenous culture in remote mountainous areas, take a short trek in the tribal villages of Sapa, Mai Chau, or Ha Giang and experience local life in the highlands of Vietnam.
The most common speleological activities in Vietnam are included in Halong Bay cruise packages or can be found in Phong Nha – Ke Bang National Park in Quang Binh Province. In addition to exploring the hidden world in these beautiful caves, Phong Nha – Ke Bang National Park also offers a variety of outdoor activities such as zip-lining, kayaking, and swimming.
Aside from the fascinating activities mentioned above, visitors can also experience authentic rural life during their family trip to Vietnam. Your family will have the opportunity to live like a true local by participating in the Mekong Delta's daily floating markets, taking traditional lessons with artisans, learning to make specialties in artisan villages, and taking a fun ride on a water buffalo.
4. Explore Vietnamese excellent cuisine 
With stunning culinary art, Vietnam is a paradise for all foodies. The country offers you an abundance of fresh, fragrant, and tasty treats in all specialties, stretching from north to south. Your family is sure to fall in love with the wide variety of local foods here, whether it's street vendors offering snacks or tropical fruits, ordinary restaurants offering different kinds of local noodles or other street food, or elegant restaurants with exquisite design and decoration.
Many interesting activities allow your family to experience Vietnamese food culture. Culinary tourism is offered in major tourist centers such as Hanoi, Ho Chi Minh City, Danang or Hoi An Ancient City. Since Vietnamese cuisine is excellent, you can take part in traditional cooking classes. Try making some for your kids and your family will be amazed by your delicious meals!
Even if your family wants to explore Vietnamese cuisine on their own, it's simple to find a stop to sample local cuisine. Prepare to eat a bowl of hot Pho or a hearty platter of Bun Cha in Hanoi, a typical Vietnamese bread "Banh mi" in Hoi An, a delicious plate of Com Tam (broken rice) or a bowl of Hu Tieu in Saigon, or simply stop at a random cafeteria to sample the local Vietnamese coffee. If you or a member of your family has a special diet, please let us know and we will modify the ingredients to suit your meal.
5. Admire timeless beauty
There are numerous enchantments in this beautiful S-shaped country where your family can admire the charm. Your family will surely adore the outstanding karst formation overlooking the sea in Halong Bay, the breathtaking landscapes of Ninh Binh, the spectacular scenery of terraced fields and mountain passes in remote areas, the nostalgic and peaceful charm of ancient historic places in Hue or the old town of Hoi An, and the rustic image of local life in the Mekong Delta.
Furthermore, with a long coastline, Vietnam has many beautiful beaches that are ideal for your family to enjoy the sun and sea while participating in exciting water sports. Nothing beats diving into the cool blue water and then basking in the warmth of the tropical sun for relaxation. You can let the kids run around and build sandcastles on the beaches while you sunbathe. Don't forget to bring the necessary outdoor items, especially for your children, whose skin is much more sensitive than an adult's. Vietnam's most popular beaches for foreign tourists are mostly in the south, where the days are longer and the climate is milder than in the north, such as Danang, Nha Trang, Mui Ne, and Phu Quoc Island. Vietnam will never disappoint you with its timeless beauty, from natural scenery to ancient architecture.
What will your children receive after your family trip to Vietnam?
1. Unforgettable experiences 
Every tourist, regardless of age or generation, expects to have memorable experiences when they travel to a new country. Your children will surely get a wonderful time with their parents during their trip to Vietnam. It doesn't matter where you go, the most important thing is who you go with and what you have been through together. A family trip to Vietnam will surely be one of the most cherished moments of your life.
2. Knowledge of the country's culture and customs
Children are always open to new experiences. Therefore, taking your kids to an Asian country with a different culture, climate, and way of life like Vietnam and experiencing local life up close is much more realistic than any book or documentary. Your kids will learn many lessons not only about indigenous culture but also about traditional values, festivals, and daily life.
3. Valuable lessons for your children
Each culture has similar and different characteristics. And there are always amazing things we can learn from each other. By visiting the historical sites and interacting with the local people of Vietnam, your family will not only learn about our history and culture but also the great personalities of the friendly people here. Your children will also learn about sharing, empathy, solidarity, family values, etc. through these experiences. More importantly, what you will get after the trip is a close relationship with your family members.
We hope the information in this article will be helpful to you. If you want to have more information and ideas to build an unforgettable itinerary in Vietnam, do not hesitate to contact us!