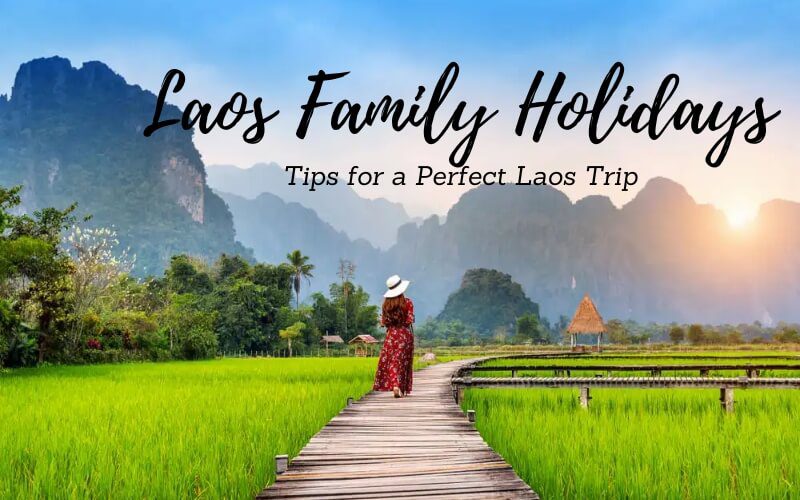 Located in Southeast Asia, on the border with many neighboring countries such as China, Thailand, Cambodia, Myanmar, and Vietnam, it is not surprising that Laos is a real cultural melting pot. Over the past two decades, Laos has opened its doors to the world with many attractions that attract not only independent travelers but also groups and families. The charm of Laos lies in its simplicity, slow pace, peaceful atmosphere, interesting outdoor activities, hospitality of its people, and much more. Since there are many things to do, a trip with kids to Laos will never be a major problem.
Here are our tips and list of available activities for families that can make your trip to Laos with kids more fun, educational, and, most importantly, safe for travelers of all ages!
Why Visit Laos with Kids?
Laos is a different world to the West, a mystical kingdom nestled in the mighty region of Southeast Asia. It is here that your kids will experience a country that slowly reveals itself along the rivers, with unexpected smiles and simple happiness.
Laos – A Peaceful and Safe Country
Laos is known to be a very safe country and the locals are generally welcoming to foreigners, which can give parents peace of mind when planning a family holiday. Laotians are known for their warm and friendly nature and are especially welcoming to children. Lao culture strongly emphasizes family and community, and children are considered an important part of both.
It's not uncommon for Laotians, even monks, to stop by to talk to children or offer them a snack or a toy. And don't worry, the attention isn't excessive or bombarding – take advantage of their interest and make new friends! Your children will be cherished, and they are also the "icebreakers" who allow you to get closer to the locals, their culture, and their daily life.
Fascinating Culture and History
Laos has a rich and unique culture, which can be very interesting for children. Additionally, Laotians are known to be very respectful and caring towards children, which can make the experience even more enjoyable.
Your children will discover many interesting stories in this country. Every step you take will have a surprise in store for you. Why does the Plain of Jars exist? What is the history of Luang Prabang? How does Buddhism strongly influence the daily life of Laotians? So you have to find those answers on your own. And your kids will never be bored on the road.
Plenty of Outdoor Activities
Laos is a country with many amazing natural landscapes, such as waterfalls, rivers, and mountains. Children can enjoy a variety of outdoor activities, such as hiking, biking, swimming, kayaking, tubing, etc.
Delicious and Varied Cuisine
Laos cuisine is tasty and varied, offering a wide variety of local and international dishes that may appeal to children. Plus, the prices are very reasonable, which is great for families traveling on a budget.
Must-try Activities in Laos with Kids
Watch Monks Giving Alms in Luang Prabang
Luang Prabang (royal capital until 1975 and listed as a UNESCO World Heritage Site) is probably the best-known and most visited place in Laos. With the Mekong River on one side and streets lined with golden temples on the other, this "city" alone sums up the diversity of influences in Laos. When traveling in Laos with children, one cannot help but be aware of the obvious and pervasive Buddhist culture, which is arguably best appreciated in the early morning when the saffron-clad monks walk on the streets to collect alms before returning to their temples to study and pray.
Apart from that, Luang Prabang has well-preserved colonial influences. The independent shops, restaurants, and galleries are also wonderful to explore. After a day of wandering around this very compact town, head down to the river for a refreshing drink before the sun goes down.
Visit Vientiane in Laos with Kids
For a capital, Vientiane is tiny. Nonetheless, it's a fabulous place to explore by tuk-tuk, meandering through streets where colonial buildings rub shoulders with modern ones. With the Mekong flowing through it, it's also a great place for a sunrise or sunset river walk. Your family will be able to visit the Patuxay Victory Monument, one of the most well-known sites in the capital, famous and sacred temples such as Stupa Pha That Luang, Ho Phra Kaew, and Wat Si Saket, as well as the National Museum from Laos.
Outside Vientiane, Buddha Park is home to some 200 concrete Buddhist and Hindu statues: Hindu deities, mythological animals, demons, or classic scenes from the Buddhist saga. This utterly surprising park was created in 1958 by an eccentric yogi shaman priest who wanted to merge Buddhist and Hindu philosophies, mythologies, and iconography. What is fun for children is that they can enter some of these gigantic statues.
>>> Together with your children, you can discover the Top 11 Most Famous Temples in Laos for a glimpse into its rich culture and traditions.
Discover Wat Phou in Laos
Until 1946, Wat Phou, Champasak was a royal place of worship. This may seem hard to believe, given that the temples are now in ruins and the town is so quiet, you'll be sharing it with a few vehicles and maybe a few chickens. But for young children and culture vultures, these ruins – which can be considered a beginner's guide to Angkor Wat in neighboring Cambodia – are fantastic to explore. In Laos, children can climb them without being disturbed by other tourists.
Trek the Most Authentic Hill Tribe Village in Southeast Asia
Without wanting to devalue those who have gone trekking in Thailand or Vietnam, the tribes and trekking routes of Laos are as they were 20 or 30 years ago.
Although the trekking routes can be difficult for children, the hill tribe villages of Laos are worth visiting. You will meet warm and welcoming people, off the beaten track, who will be happy to talk to you and your family – children being the best way to break the ice when you don't speak the same language. A night in a homestay is an experience the whole family can enjoy.
Living like a local, trying new and enriching educational activities, cooking, and being hosted by a local family is a unique experience.
Explore the Plain of Jars
Nobody knows why this region of Laos is covered in ancient stone "jars", a strange collection of ancient cylinders scattered by the hundreds in the province of Xieng Khuang, a country scarred by war. Whatever their original function (Storage vessels? Ancient burial ceremonies?) for today's families, the Laotian version of "Stonehenge" is an impressive and curious sight. Later, take a trip to the Phonsavan Landmine Museum. Although it is disappointing to see how badly damaged Laos was during the "secret war" (it is the most bombed country in history), it allows your children to have a valuable insight into its darker past.
Venture into the Caves of Vang Vieng
Vang Vieng, halfway between Vientiane and Luang Prabang, is famous for its spectacular karst limestone landscapes and extensive cave systems. Kong Lor Cave may not be the biggest, but the "Hidden Eden" – a pool accessible only after crossing a cave by boat – comes close to heaven. This is an opportunity to swim with great enthusiasm!
Experience a Night Safari in Search of Tigers
Here is one of the best family activities to do when traveling to Laos with kids: a night safari (in fact, you spend 24 hours on the trip, spending the night in an eco-lodge) which takes you to boat and on foot through the remote Nam Et-Phou Louey National Park. You will discover the most beautiful birdlife in Indochina, as well as Samba deer, otters, civets, and much more. Conservation is a priority in this park, and the guides will tell you how they are helping to protect tigers and other wildlife in the area. And, if you are lucky enough, you will see a tiger in its natural habitat.
In addition to the wildlife, dining by the fire on the banks of a river after dark is a highlight. A fantastic experience for the whole family.
Relax in Si Phan Don
Although Laos is not a coastal country, the far south of the country is full of attractions for a unique seaside experience. Si Phan Don, also known as the 4000 Islands formed on the Mekong River, offers a peaceful atmosphere, enchanting landscapes with coconut palms, and legendary waters for swimming for ultimate relaxation. The sunset here is simply sublime, and the kayak rides allow you to explore the surroundings in your own way. Moreover, the area is endowed with impressive waterfalls and also offers the possibility of observing the Irrawaddy freshwater dolphins, an unforgettable experience for the whole family.
Meet Elephants – One of the Most Favorite Activities in Laos with Kids
Located near Luang Prabang, the Elephant Village Sanctuary is an educational facility dedicated to the rehabilitation and protection of Asian elephants in Laos. Here you can take part in interesting activities such as feeding and bathing with the elephants in the milky brown waters of the Nam Khan River, creating memories that will remain etched in your memory forever. However, it is important to note that the Sanctuary does not allow riding on elephants, a very traumatic activity for the animal.
The Mandalao Elephant Center, also located in Luang Prabang, offers an interactive encounter with the elephant that respects its well-being. You can feed the pachyderm, wash it in the river and go hiking alongside it in the jungle, without riding it. It is an unforgettable encounter for you and your children with this sacred animal, deeply rooted in the local culture of this country, which was once called "the kingdom of a million elephants". Both of these experiences offer a unique chance to get closer to these magnificent animals and better understand their importance to the culture and environment of Laos.
Cool off in a Waterfall Pool in Laos
One of the most popular waterfalls in Laos is Kuang Si Falls, about 30 km south of Luang Prabang. You can cool off in the pools or take a hike to admire the magnificent views. There is also a bear rescue center nearby where you can observe local animals being rescued and rehabilitated. Tad Sae is another nearby waterfall, which is only accessible by boat, which makes the trip to Laos with kids more adventurous.
Take a Slow Boat Trip down the Mekong River
The mighty Mekong River occupies a prominent place in Laos and has influenced the lives of the inhabitants for centuries. One of the best ways to experience it, as the locals do, is to take a slow boat from Luang Prabang to the Thailand border. As the landscape changes, you'll wave to the riparian tribesmen in their crude beach huts, the children shouting as you pass, unsure if it's you or them having the most fun. Timeless and relaxing is the epitome of this "Laos" experience.
Stroll through Laos' Markets
Strolling through the markets of Laos will give your family a taste of the Laos way of life. Fresh markets, like the morning markets in Luang Prabang, are full of all kinds of fruits, vegetables, spices, fish, and other colorful foods. Shop for souvenirs from your family trip to Laos at the Luang Prabang Night Market, where you'll find toys, jewelry, handicrafts, clothes, and more. For a taste of traditional Laos cuisine, head to Vangthong Night Market in Vientiane.
Participate in a Laos Cooking Class
Learning to cook typical dishes of the destination where you go is always a great experience. To participate in a traditional cooking class, you will be taken to the local market where your children and you can choose the fresh ingredients and herbs for your meal. The professional chef will then show you how to cook several dishes. After finishing the dish on your own, it's time for you to sit down and taste what you just made. If you prepare fine Lao dishes, try to practice and invite your friends to taste them when you return home. A precious moment with your children!
Some Practical Advice for Laos Family Holidays
Compared to its neighbors, Laos lacks quality sanitation, health care, and infrastructure. Good preparation with effective travel insurance and consulting your doctor for necessary vaccinations a few months before your family trip to Laos would be more effective. However, in case of illness, you can seek healthcare services at the French Medical Center in Vientiane with pediatricians speaking English and French, and the Laos Friends Hospital for Children in Luang Prabang.
Bring your well-stocked medical kit and your child's specific medication for use in an emergency
Prepare for low-quality road and vehicle qualities in Laos
Watch out for mosquitoes. Mosquito repellents are especially important during the rainy season.
Download useful apps for traveling in Laos before departing is also a good idea to ensure a safe trip.
In short, visiting Laos with kids can be both rewarding and challenging. Laos is a friendly and welcoming country for families, while Laotians love children and will give them their full attention. If you have any questions regarding the Laos family trip, do not hesitate to contact us for prompt assistance and the best advice for your family trip.
Read more: