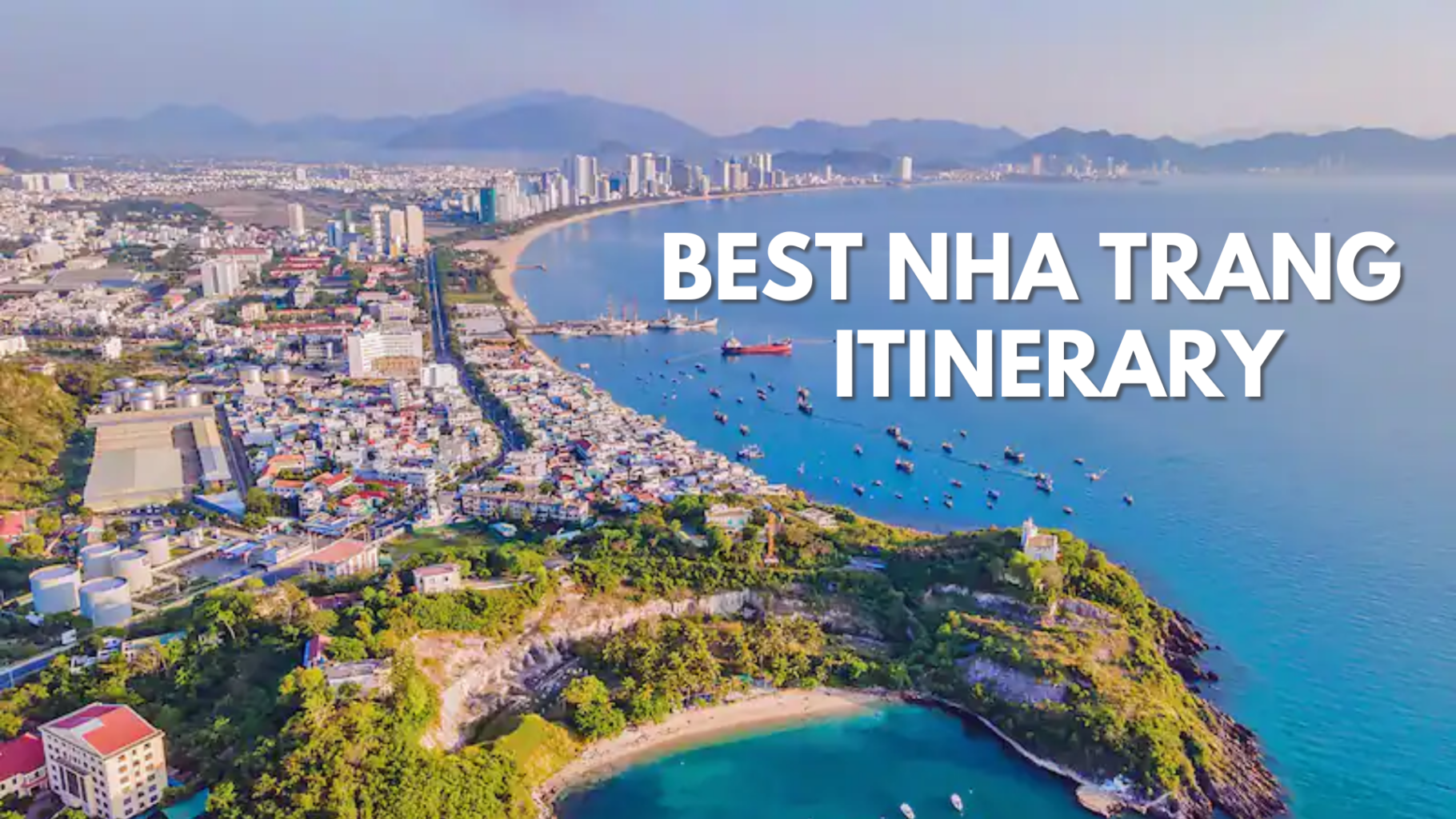 Nha Trang, with its vast stretch of shoreline, islands, mountains, and historical monuments, will keep you busy for days. Being pressed for time when traveling is never nice, but it is sometimes unavoidable. We designed this itinerary to help you see as much of Nha Trang as possible. Choose what interests you and get started!
Best time to visit Nha Trang
As mentioned in the blog: February in Vietnam. The best season to visit Nha Trang is from February to April, when temperatures are kept mild at approximately 26-27 degrees Celsius and precipitation is at its lowest of the year. The spring months are also ideal for diving here. Small Hill, South Reef, and Moray Beach There are three coral-rich dive locations near Mun Island that divers should not miss.
Day 1: Exploring the City
A tour around the beautiful beach city will be a great idea to start your itinerary in Nha Trang. Here are some recommended activities for your first day.
Dam market
Dam Market is Nha Trang's main market and well worth a visit. Electronics, gold jewelry, and apparel are sold at the covered market. Around the market are stalls offering vegetables, fruit, meat, fish, live chickens, ducks, and piglets. It is a market primarily geared towards city residents, giving a visit a true local experience.
Nha Trang church
About 1.5km from nthe market, you will reach Nha Trang Cathedral. The church, perched on a hill above the train station, is usually regarded as the city's largest cathedral. It was built in the early nineteenth century in the provincial French Gothic style, with exquisite stained-glass windows and a square clock tower topped by a massive crucifix. Its three cathedral bells, cast in France in 1789, are still in good working order.
There are an additional 4,000 tombstones mounted on the cathedral's walls, which were installed when the nearby cemetery was leveled in 1988 to expand the city railway station. Nha Trang Cathedral serves the local Catholic population, with Mass performed daily from 5 a.m. until 6.30 p.m.
Alexandre Yersin Museum
The Alexandre Yersin Museum honors the late French bacteriologist by displaying personal items and scientific equipment. Original letters and pictures from his journeys around Vietnam are also on display at the museum. Among his significant contributions to Vietnam are the establishment of Da Lat, the discovery of a critical plague-causing bacteria, and research on agricultural systems and weather forecasting.
In addition to the displayed artifacts, visitors to the museum may see a short video on Yersin's life. There is a nominal admission cost; however, the museum provides guided tours in French, English, and Vietnamese.
Ponagar Tower
The Ponagar Tower, also known as the Po Nagar Cham Towers and locally as Tháp Bà Ponagar, is one of Nha Trang's distinctive characteristics. The landmark dates from the 8th to 11th century and is located atop Mount Cu Lau, with views of the Cai River.
Originally, there were ten structures devoted to Hindu deities, but most of them were destroyed over time. The four surviving towers, named after Po Nagar, Cri Cambhu, Sanhaka, and Ganeca, are being utilized as places of worship for the Cham people today. Po Nagar Cham Towers, located within a 10-minute walk from Tran Phu Beach, may get rather crowded during the annual Thap Ba celebration, which takes place between the end of April and the beginning of May.
Relaxing on the beach
After the city tour, you must be worn out. It's time to unwind on Nha Trang's beautiful beach. The major purpose for visiting this city, and hence the best thing to do in Nha Trang, is to enjoy the stunning beaches. The town boasts a lovely coastline with a large range of restaurant and lodging options along the white sandy beaches. Jungle Beach, Doc Let Beach, Nhu Tien Beach, and Bai Dai Beach are the most well-known beaches.
Day 2: Let's go on an adventure!
On the second day, you can go island hopping. Visit numerous islands, eat barbecue on the boat, and snorkel to discover the underwater ecosystem.With a total of 19 islands. Island hopping is one of the best things to do in Nha Trang. The most famous islands are Mieu Island, Mun Island, Tam Island, Tre Island, Monkey Island and Yen Island.Here are some of the best islands to visit in Nha Trang
Diep Son Island
Diep Son Island belongs to Van Phong Bay, Van Gia, Khanh Hoa province. The island  draws people with its 700-meter-long floating promenade between the seas. The road is curving, about 1 meter wide, and just about half a meter deep in the pure blue sea. This is a one-of-a-kind experience in Diep Son Nha Trang.
The sea road is accessible to visitors visiting Diep Son Nha Trang. When you have to stroll in the big ocean, you will feel tremendously delighted, suspenseful, and a little terrified. Another intriguing aspect of visiting Diep Son Island is the opportunity to swim in the chilly sea. Walking along the beach might help you forget about your worries. Kayaking on Diep Son Island is also an intriguing experience that is popular with tourists.
Hon Tam Island
Hon Tam is a 110-hectare island in Nha Trang Bay, Vinh Nguyen, Tp. Nha Trang, Khanh Hoa. This is one of the world's 29 most beautiful bays. The Hon Tam Island in Nha Trang has developed into a popular tourist attraction for individuals who enjoy ecotourism and leisure.
Hon Tam has a 1 km-long shoreline with lovely white sand and a clear blue sea. Hon Tam Island is now developed and exploited as a tourist island with the following items: Hon Tam Resort, an amusement park, Sparkling Waves, and Sunset Villas, while retaining the natural green according to eco-green requirements.
Binh Ba Island
Binh Ba Island in Nha Trang is a tiny island with an area of more than 3 km2. The island belongs to Cam Binh commune, Cam Ranh city, Khanh Hoa province. Bai Chuong, Bai Nom, Bo De, and Bai Nha Cu are all notable in Binh Ba. A spot where you may swim in the morning or go coral and fishing.
At Old House Beach, visitors may view the extensive coral reefs beneath the pure blue ocean. Bo De beach offers a brilliant blue sea, quiet waves, and fine white sand, making it ideal for beach activities and swimming. Furthermore, the speciality of lobster is one of the specific foods to try when visiting Binh Ba because of the fresh taste that is difficult to resist.
Best activities to do in Nha Trang
Besides visiting all the destinations that were mentioned above, you can look at some recommended activities for your trip.
Diving Excursion
Because of its colorful aquatic animals and blooming coral reefs, Nha Trang is a popular destination for scuba divers from all over the world. No matter you are beginners or experts you can try diving section in Nha Trang. If this is your first time diving, you can pick a specific diving program with suggested depths ranging from 3 to 6 meters. Do not be concerned; the teacher is always there to help you. For a higher level, you may dive to a depth of 12 meters or more and enjoy the beauty of Nha Trang from below the surface. This level requires a professional diving license or several years of diving experience.
Enjoying romantic honeymoon
Nha Trang is a romantic coastal city famed for its gorgeous beaches, tropical sunshine, and prussian blue seas. This location is ideal for honeymoons since couples may enjoy activities such as kayaking, swimming, and snorkeling on the clean beaches. A native boat may also take you around Nha Trang Bay. Whale Island is a popular destination for couples seeking time alone in luxury resorts. A mud bath in the Thap Ba hot spring is an experience not to be missed.What is more exciting than experiencing all of those activities with your one and only love?
Check out the Honeymoon trip for your plans.
Must-try foods in Nha Trang
Without experiencing local cuisine, no trip will be complete.Please note the dishes below when you visit Nha Trang.
Squid pancake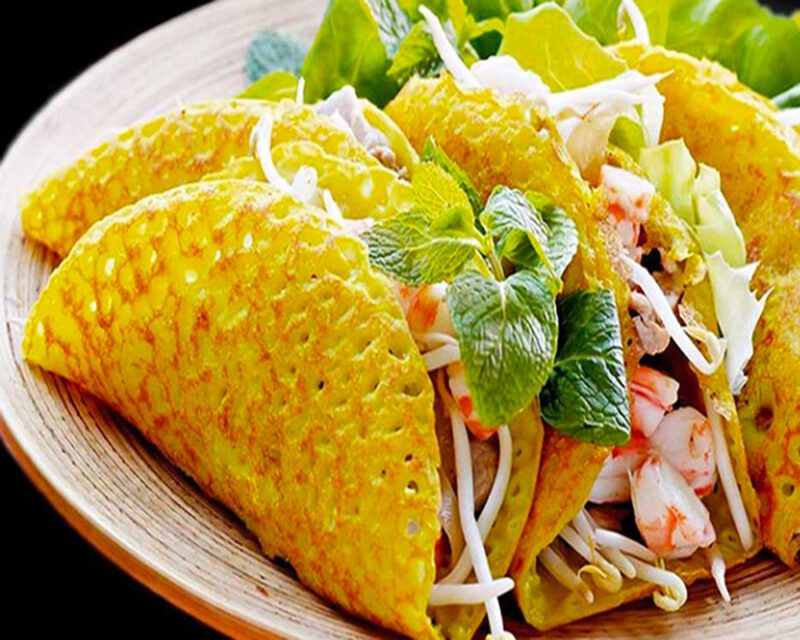 Squid pancakes in Nha Trang are smaller and crispier than pancakes in Saigon. Along with the standard components, these pancakes incorporate fresh squid and shrimp. The squid are all fresh and collected straight from the port. They are then cleaned and fried promptly to keep them fresh. After a while, the squid's ink erupts and combines. The pancakes with fresh veggies and a wonderfully sour, spicy fish sauce will leave you wanting more.
Lac Gang's Grilled Beef
Lac Canh grilled beef restaurant is the most popular grilled beef restaurant in Nha Trang. A recipe that mixes meat with honey and over ten different spices is the key to great grilled steak. The recipe has been passed down through generations and is only known to the restaurant owner's family.
Nem nuong (Vietnamese grilled pork sausage)
Nem nuong is a type of traditional Vietnamese grilled sausage from Nha Trang.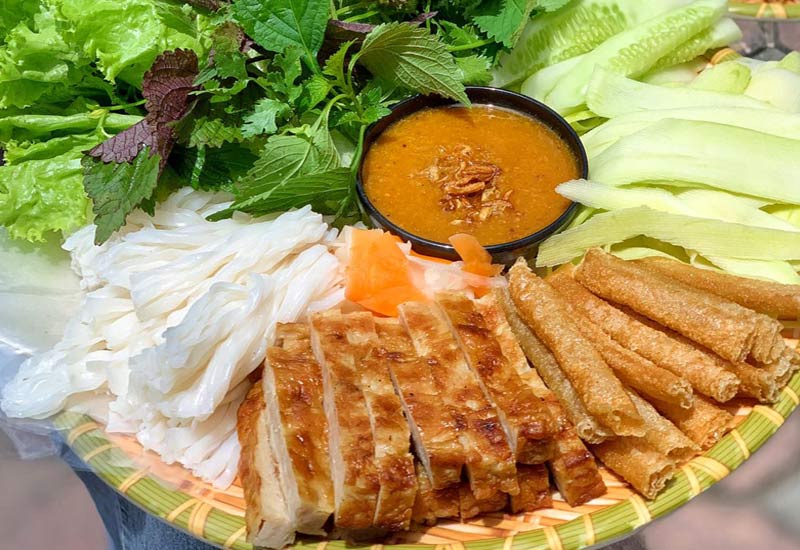 The sausage is often cooked using ground pork fat and flesh, garlic, fish sauce, shallots, sugar, black pepper, and sometimes baking soda to puff out the meat. Prior to grilling, the meat is shaped into patties and balls or skewered.
Nem nuong can be eaten in a variety of ways, including with steamed rice and fresh or pickled vegetables, wrapped in rice paper, coupled with rice noodles, or in a sandwich. The sausage is frequently served with a dipping sauce as an appetizer or snack.
We hope that this blog has illustrated carefully an example trip to Nha Trang. If you are interested in visiting this beautiful city, check out: Nha Trang tours.