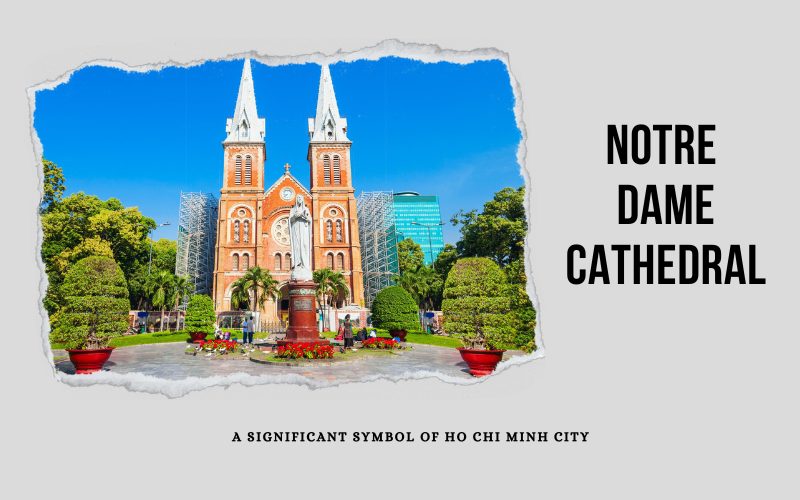 Influenced by French culture for nearly a century, many architectural structures in Ho Chi Minh City, also known as Saigon, bear the distinct features of French architecture. Among them all, the Notre Dame Cathedral of Saigon stands out impressively. This place, with its vintage charm nestled within the bustling city, has become an iconic symbol of Ho Chi Minh City. Let's discover this fascinating destination with IDC Travel in this article!
Essential Information for Tourists
Location of Saigon Notre Dame Cathedral
Saigon Notre Dame Cathedral is situated at No. 01, Cong Xa Paris Street, Ben Nghe Ward, District 1, Ho Chi Minh City. Located right in the center of the city, you can easily travel to this cathedral to admire its architecture and other nearby activities.
You will find it most convenient to call a taxi or use ride-hailing apps to book a car. However, several risks might happen to you in a strange city. Therefore, you can choose a safer option for traveling around Ho Chi Minh City. Renting a private car is highly suggested. Not only can you avoid risk, but you can also ask the driver to take you and pick you up any time you wish.
Opening Hours
Notre Dame Cathedral of Saigon is open every day, operating hours from 8:00 AM to 11:00 AM in the morning and 2:00 PM to 4:00 PM in the evening.
If you are interested in joining a mass here, there are weekday masses at 5:30 AM and 5:30 PM. There are more masses on Sunday for people to participate in more easily. Sunday masses start at 5:30 AM, 6:45 AM, 8:00 AM, 9:30 AM, 4:00 PM, 5:30 PM, and 6:30 PM. Particularly, the mass at 9:30 AM on Sunday is in English. If you don't speak Vietnamese, you can join this mass.
History of Notre Dame Cathedral of Saigon
Notre Dame Cathedral of Saigon is the second church established by the French along the Charner River's banks. The first church, previously a pagoda, was situated on Street No. 5 (Ngo Duc Ke Street in the present). After the Vietnamese evacuated the area, Bishop Lefebvre transformed the pagoda into a Catholic church. However, due to its small size, the French erected a second church, which is Saigon Notre Dame Cathedral now.
Specifically, this cathedral was built on October 7, 1877, by Bishop Isodore Comlombert. The architecture of the cathedral blends Roman and Gothic styles, radiating a classical and elegant demeanor. This structure was designed by architect J. Bourard and included the cathedral, bell towers, and a park. Today, Notre Dame Cathedral stands as the largest Catholic center in Ho Chi Minh City. This place is also a famous tourist attraction in this city. Therefore, you can come here to explore its historical and cultural significance.
Impressive Architecture of the Cathedral
Main Hall of the Cathedral
As the French carried out the Notre Dame Cathedral in the past, all the materials at that time were transported from France. The foundation of the hall was specially designed to withstand ten times the weight of the entire architectural structure above.
You can easily be aware that the hall is the main and largest area of the church, accommodating more than 1200 people. Its dimensions are approximately 91 x 35.5 meters, with the height of the vault reaching around 21 meters. The interior of the entire cathedral is designed with a main nave, two side aisles, and a row of prayer rooms on both sides.
Double Bell Towers
Initially, each bell tower was 36.6 meters high, without roofs. People could only go up there by a narrow staircase about 40 cm wide. The attic of the two bell towers was extremely dim, with a rudimentary floor made of small wooden planks spaced apart. This created an eerie sensation when looking down.
However, in 1895, the cathedral added two pointed roofs to cover the bell towers. According to architect Gardes, each roof was 21 meters high. This made the total height of the double bell towers 57 meters. There are a total of 6 large bells, turned into six notes (G, A, B, C, D, E), weighing a total of 28.85 tons. These bells were manufactured in France and brought to Saigon in 1879. When 6 bells ring together, their sound can be heard up to 10 kilometers as crow flies.
Area of Altars
As you enter the Notre Dame Cathedral, you will surely be impressed by the altars area. Made from solid marble, the altars here are quite imposing in size. Additionally, the materials are intricately carved, combined with 56 stained glass windows of various colors. Altogether, they create a unique architectural whole. If you observe closely, you will notice that all the lines, contours, and patterns in the altar area exude a sense of reverence and elegance, characteristic of the Roman and Gothic design styles.
Little Park in front of Notre Dame Cathedral
You might notice there is a park in front of the Notre Dame Cathedral of Saigon. This park, as mentioned before, is also a part of the whole cathedral construction. Right in the middle of the park stands a statue of Mother Mary for Peace, made by a sculptor named G. Ciocchetti in 1959. The whole statue is about 4.6 meters tall and weighs 8 tons. The statue is carved from white marble from Italy. With the image of Mother Mary standing tall with the Earth in her left hand and a cross attached to it, the statue is like the symbol of this place.
Restoration of Notre Dame Cathedral
Saigon Notre Dame Cathedral has experienced three rounds of restoration since it was established. The first renovation was when two pointed roofs were added to cover the double bell towers. In 1903, the second restoration was carried out to enhance the church's facade and build a flower garden along with the Ba Da Loc monument. The third one involved the addition of the Mother Mary of Peace statue in 1959.
Moreover, the Notre Dame Cathedral of Saigon is now undergoing a substantial renovation project that commenced in August 2017. At the moment, the renovation work is only halfway complete. During this period, the cathedral is only open on Sundays for Catholics to attend masses. Additionally, even though the interior remains inaccessible to tourists, you can still freely explore the surroundings and enjoy a stroll in the park in front of the church.
Activities to Join at Notre Dame Cathedral
Participate in a Mass
Coming to the Notre Dame Cathedral Basilica of Saigon, joining in a mass here would be an impressive experience for your trip to Ho Chi Minh City. You will be able to hear the priest's sermon and immerse yourself in the solemn rituals. Moreover, this is also an opportunity for you to feel the spiritual strength and faith of the local people.
Photograph Beautiful Moment
With its ancient architecture, every corner of Saigon Notre Dame Cathedral can become a beautiful background for your photos. Capturing the essence of this iconic landmark in your photos will not only allow you to preserve your memories but also share in the cultural richness of Ho Chi Minh City. For that reason, don't forget to take memorable photos to cherish the moments you have on this site!
Feed the Pigeons
It's a good idea to have some breadcrumbs or seeds if you come to visit the cathedral. You might be asking why. It is because there are several pigeons around the Notre Dame Cathedral and you cannot resist the urge to feed them. They might even jump on your hand to have some fun.
You will surely fall in love with the tranquility and unique architecture of Saigon Notre Dame Cathedral. Remember to include this location in your bucket list when visiting Ho Chi Minh City. If you require any assistance, feel free to contact us.