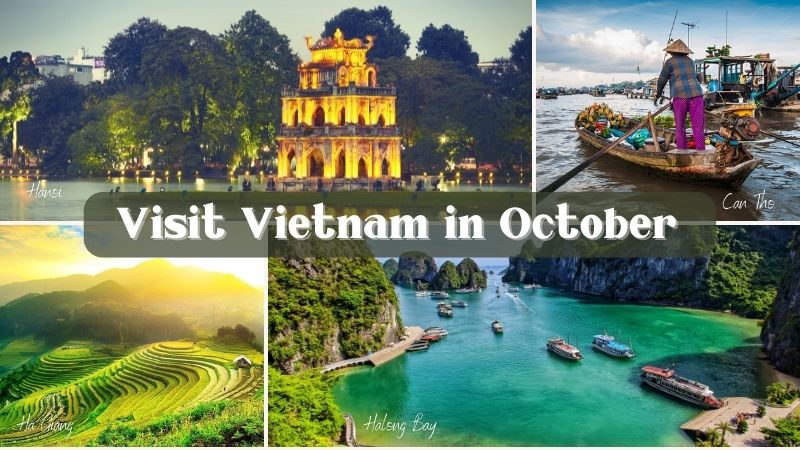 Vietnam is blessed with natural and cultural attractions in all three of its regions, thus each has a particular best time of year to visit. Don't fear, first-time travelers to Vietnam! In October, Vietnam has both the fall and monsoon seasons. Every traveler can enjoy the weather because it is neither too hot nor too chilly. Keep reading to learn about the top 4 best places to visit in Vietnam in October.
Hanoi, Capital of Vietnam in autumn
Autumn in Hanoi is the most attractive season. One of the best times to visit Hanoi is in October since it marks the change from the wet to the dry season. When you visit Hanoi in October, you may see the changing of the leaves, indulge in Com (young green rice), and experience the bright sunlight, cool wind, and dry atmosphere.
This is ideal for a sightseeing tour and taking in attractions like the Ho Chi Minh Mausoleum, the Temple of Literature, and the Thang Long Imperial Citadel. International visitors visiting Hanoi in the fall can also observe brides and grooms in traditional wedding attire taking wedding photos in the old quarter, on romantic streets like Thanh Nien, Xuan Dieu, and Kim Ma. Other picturesque locations include parks, the Opera House, and the Cathedral. 
Don't forget to sample some Vietnamese street food like "pho" and "bun cha" while exploring the city. You can buy a souvenir at some of the street vendors that sell paper crafts and jewelry.
Halong Bay : Ideal time for a cruise
Visit Halong Bay if you want to see some of Vietnam's stunning islands. There is a lot to see and enjoy in October. Halong Bay is among the best places to visit in Vietnam, which is in North Vietnam and is a UNESCO World Heritage Site. Halong Bay welcomes you with a fairly warm climate and incredibly gorgeous surroundings, with lows down to 21 degrees Celsius and highs up to 28.
Dau Be Island is well-known for swimming and scuba diving, Dau Go Island is known for its enormous and colorful caves, and Fighting Cocks Island is known for its sunset views when purple-red color spreads across the sky and two sizable boulders in the ocean resemble two fighting cocks. Seaplane rides also let you see the tops of the islands.
You can visit floating communities and explore caves. A man-made beach called "Bai Chay Beach" and a market called "Bai Chai" are both located in Halong City, which is split into East Halong and Hon Gai and West Halong and Bai Chay, respectively, on the northern part of Halong Bay.
Ha Giang : Ripe rice season
In Ha Giang province, October is an amazing time to see the rice paddies because they are almost ready for harvest. As a result, you'll see endless rows of golden terraces, which elevate it to one of the best places to visit in Vietnam.
Every year, from October to November, is the time of year when flowers bloom and have their most gorgeous color. Triangle buckwheat flowers, also known as Tam Giac Mach (Fagopyrum esculentum blooms) stunning in Ha Giang. So these are the must-visit places you have to check-in in Viet Nam.
Moreover, you shouldn't miss Dong Van town, the Meo Vac mountain pass, the Ha Biang museum, the Hoang Su Phi rice terrace farms, the Khau Vai love market, the Mong King House, and many more attractions. 
Enjoy Meo chicken, pigs carried under one's arms (lon cap nach), five-colored glutinous rice, horse meat (thang co), and other dishes that represent the distinctive cuisine of Ha Giang. Visitors will continue to hold out hope of returning to this magnificent area.
Can Tho : Best place to discover life above water
The largest city in South Vietnam's Mekong Delta is Can Tho. Can Tho, which is famous for its floating market, has a temperature of about 31 degrees Celsius in October when nights can be warm and muggy, but it's still an excellent time to travel.
When you visit Can Tho during your October Vietnam tour, you can explore the tourism area's complex network of canals, take in the lush gardens that line the banks of two rivers, and observe how fascinating it is to watch the old constantly rub shoulders with the new, and shop for exotic and high-quality goods at floating markets.
Additionally, when you visit Bang Lang Stork Garden, you may observe thousands of storks of all colors and varieties gracefully soaring through the air, lazing around on tree branches, and screaming out for mates. It looked especially like cherry blossoms budding in the spring, thanks to the white storks dotting the green orchard.
Some of the outdoor sights are the Can Tho Bridge and the Mai Khanh tourism area. At the Can Tho Museum and the Binh Thuy Ancient House, the city also has historical art exhibits. The best places to go for worship when you visit Vietnam in October can be found in Can Tho at the Nam Nha Pagoda, Binh Thuy Temple, and Quang Duc Pagoda.
Visit Vietnam in October and enjoy the cool autumn all over the country
There are many great reasons to travel to these best places to visit in Vietnam this month, including reduced prices, fewer tourists, peak hiking season, and stunning fall scenery. 
If you're unsure of how to organize your trip to Vietnam, get in touch with us so we can help you create yours. You just need to enter a few details, then relax while our travel specialists plan the ideal trip for you!