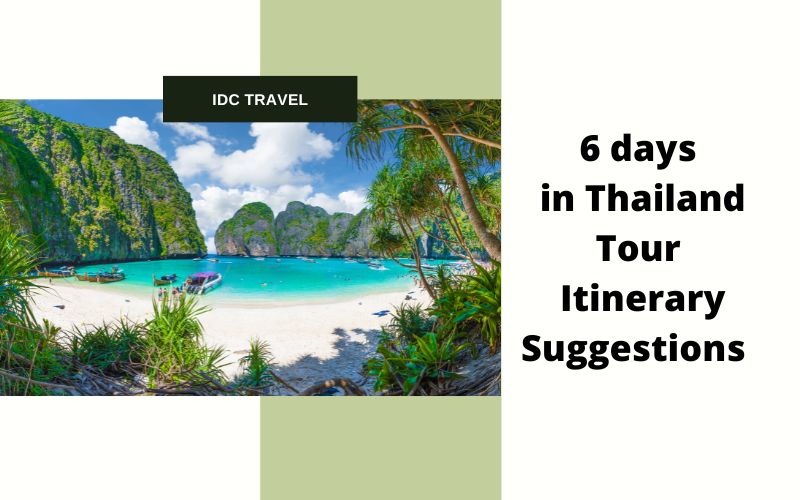 If you have the opportunity to travel to Thailand and especially for 6 days, please immediately 6 days in Thailand tour itinerary suggestions to enjoy the trip to the fullest and happiest.
Thailand tourism is always a hot spot when this country possesses a unique and monumental spiritual culture and has street food with a strong local identity. ethnic, extraordinarily delicious, and famous all over the world. The price when traveling to Thailand is extremely low, so this country is increasingly attracting more and more tourists.
Let's find out if we have 6 days in Thailand, where should we go and enjoy the specialties of this country! 
Day 1: Arrive in Phuket – Thailand's must-visit island
On the first day of 6 days in Thailand tour itinerary suggestions, please move to Phuket right after landing at Thailand airport instead of rushing to spend the first day exploring the capital city of this beautiful country, Bangkok. The first point you need to visit when traveling to Thailand is Phuket. This is a small province located in the south, only a 1-hour flight from Bangkok. Here, you will discover the archipelago including the large island of Phuket and 32 other small islands.
Phuket is likened to a paradise on earth with picturesque scenery. Phuket's clear turquoise water contrasts with the clear blue sky. Traveling to Phuket, you will have the opportunity to watch Muay Thai matches, explore the old town, and experience fishing, paragliding, and jet skiing. More specifically, you can also attend the Simon Cabaret Show with bold Thai folklore colors if you visit Patong beach.
It has a mild climate all year round with cool weather even in summer, so you can rest assured of visiting at any time of the year.
March to December will be the time when major festivals are held. If you are lucky, you will be able to participate in and experience these colorful traditional festivals.
The specialties that you must try when coming to Phuket are Pla Tom Taochiew Phuket, Yum Pak Good, Gengsom, Pak Miang Tom Kati Koong Sot, and Carei fish Homok.
If you want to buy cheap quality souvenirs, you can visit big markets or centers such as Central Festival Phuket, Jungceylon Shopping Mall, Phuket Indy Market, Premium Outlet Phuket…
Day 2: Walking around Koh Phi Phi Island
The second place that 6 days in Thailand tour itinerary suggestions would like you to visit is Koh Phi Phi island. This is a small archipelago of 6 archipelagos off the coast of Phuket, located to the west of Thailand.
Coming to Koh Phi Phi island, you should not only be absorbed in swimming or visiting the bays and islands by boat. Try to visit Koh Phi Phi Don – a village nestled in the middle of a green forest, a place to soothe your soul, bring you back to the peace of nature, and dispel everyday fatigue. Not only that, but the scenery here is also very suitable for beautiful check-in photos like magazines.
One of the most popular tourist activities on Koh Phi Phi island is scuba diving. To get to the legal and safe diving spots, it only takes you 30-40 minutes to travel from Koh Phi Phi Don. When scuba diving, make sure you always have a supervisor nearby to comfortably admire the vibrant coral reefs and rich marine ecosystem here.
In addition, you can also participate in the sport of kayaking, while enjoying the peaceful beauty of the sea while exercising. However, if you have never learned the skills of this subject, you should not try to keep yourself safe.
Do not forget to immerse yourself in the emerald green water and white sand at Monkey Beach, where many wild monkeys gather. However, in the process of swimming and playing here, you should not feed the monkeys any food other than fruit to protect the natural ecosystem.
In Koh Phi Phi, there are also 2 other interesting activities: fire dance at night and trying to be a bar staff for 1 day. Many bars in Koh Phi Phi are willing to give you free drinks if you work for them for 2-3 hours.
The specialty dishes such as grilled meat skewers, Thai pancake, and papaya salad … are also worth trying whether at that luxury restaurant or the street.
Day 3: Explore Phuket Old Town
Phuket Old Town is the 3rd place you need to explore in 6 days in Thailand tour itinerary suggestions. This is the place where the most quintessential, magnificent, and regal architectural techniques gathered in the past.
While other places were still building houses with wooden beams and roof tiles, in the old town of Phuket, people built houses with steel blocks – an extremely rare and expensive material at that time. The architecture in Phuket is heavily influenced by Europe, mixed with ancient temples imbued with Thai cultural identity. Along the small streets are colorful restaurants and shops designed in Chinese and Portuguese styles, making this place more interesting and attracting more tourists.
Coming to Phuket Old Town, you can also visit temples, Chinese-style temples, Catholic, Muslim Sikhs, and Hindu temples to experience the religious diversity in this place.
With a diversity of cultures and religions, here, you will also have the opportunity to enjoy a variety of culinary cultures from different countries such as India, Malaysia, China, and Arabia. .. with typical dishes like Kanom jeen, moo hong, enjoy mango shake at Trendy Kopi de Phuket.
At the end of the 3rd day, you should arrange a schedule to return to Bangkok and experience more interesting things in this prosperous capital.
Day 4: Explore Bangkok – Visit the Royal palace – Wat Arun pagoda and China Town
Ranked 2 in the top 100 most famous cities in the world, you can't help but visit Bangkok in your trip. Visiting Bangkok do not miss the Royal Palace of Thailand. This palace is located on Na Phra Lan Street, right near the Mi Nam River. The palace is open daily to welcome visitors from 8:30 a.m to 4:00 p.m.
The palace was built in the reign of King Rama around the 18th century with the architecture divided into 3 main subdivisions: the Royal Palace area, the Royal office area, and the temple complex. Currently, the Grand Palace is still used as a place to organize important events in the country. Thai people believe that when you visit the temples located in the palace with the Buddha statue made of green jade, it will be a harbinger of good luck.
Next to it is the largest tower located inside the complex called Phra Sri Rattana, with the same architecture as a high-rise villa modeled on a mountain inlaid with thin gold imported from Italy. This is the place used to embalm the bodies of newly deceased kings, after the 3-month sacrifice period, they will be brought to the cremation pyre. Part of the ashes and bones will be put in a porcelain urn inside the temple and a part will be scattered on the sea. Around the tower are also statues of sacred elephants surrounded for protection. According to statistics, every year there are about 8 million visitors visit the Royal Grand Palace.
The second destination of the day that 6 days in Thailand tour itinerary suggestions would like to recommend is Wat Arun. According to its history, the temple was discovered by King Taksin in the 18th century (1768) after he drove the Myanmar army from Ayutthaya. Legend has it that this king discovered the temple at dawn, so he repaired it and named it Wat Chaeng meaning light of dawn. Later, this place was used for worship and kept the Emerald Buddha for worshipers. Up to now, we can still admire the Emerald Buddha still kept at the temple.
By the 19th century, the main tower was enlarged more than ever during the reign of Rama III (from 1824 to 1851). Since then, the pagoda has become one of the most popular places of worship for pilgrims. King Rama III had an impressive creation by using porcelain to cover the outside of the building. Thanks to that, every time the sun shines on, the whole temple seems to be brighter and more sparkling.
The value left by Wat Arun is not simply a religious center. It also contains historical values ​​and traditional architectural art of this country. Therefore, when coming to the land of golden pagodas, we should not ignore this ancient temple.
The entire Wat Arun Bangkok temple is a large-scale work and has a height of up to 70m. The distinctive color of this place is made up of countless pieces of glass and Chinese porcelain that make it shimmer when light hits it. 
When entering the first courtyard, we will see a very prominent red-roofed temple located here. 2 gods are guarding the gate in front of the temple to prevent bad energies from entering the gate. In the corners of the temple, there will be a temple like this.
Stepping inside, we will encounter an extremely impressive swirling stone roof gate located right in the front. This category is very prominent with colors such as orange, brown, lemon yellow, and sky blue. Next to it are statues depicting events in the life of the Buddha. 
Right in the center is the location of the extremely large, superficial, and prominent central tower. Currently, many tourists rate this place as the most beautiful temple in Bangkok. If you have the opportunity to go to Wat Arun, do not forget to save beautiful photos of a special place, because it has a rare wonderful background.
The final destination on the 4th day of a 6-day tour in Thailand is China Town in Bangkok.
Chinatown Bangkok with its bustling pace of life, distinctive sounds, and flavors make it a favorite destination for many tourists. Spend a day exploring the streets of Chinatown and feel the special blend of Thai and Chinese cultures. You will suddenly realize that every small corner such as temples, streets, shops, and dishes all look charming and strangely attractive.
Here, you should visit Sampeng Lane in the heart of the small town to enjoy the bustle and fun of this place. If you want to buy gifts in bulk, this is the most suitable place when every purchase of 10 or more items is sold at wholesale prices.
The cuisine of this neighborhood is also very diverse such as mango sticky rice, sontam, fish cake, spring rolls, Chinese noodles…
If you are looking for an outstanding check-in point, the Chinese gate west of the neighborhood will be the most impressive place. With the dragon and phoenix design and the distinctive red color, this is the most famous souvenir photo spot in this neighborhood.
If you love to explore food at night, Yaowarat road will be like a big buffet for you to choose from with a variety of dishes from main dishes to snacks, refreshments, or fresh fruit.
If you have enough time, you can also visit some famous places in this neighborhood such as Grand China Princess, Wat Mangkol Kamalawat, Romaneenart Park, and Nakon Kasem …
Day 5: Visit MBK – Center Bangkok Art & Culture Center
If you want to have a day just to indulge in shopping, you can visit MBK. On the 1st floor of MBK, you will find shops selling fashion, shoes, bags, fast food stores, and supermarkets. Open space exclusively for sales with prices from 30% – 50%.
Electronic devices will be sold on the third and fourth floors, while home furnishings and souvenirs will be on the fifth and sixth floors. Besides, this place is like every shopping district in Bangkok with a lot of food options including two local food courts on the sixth floor and an international food court on the fifth floor.
In addition, the top floor includes an entertainment area with multi-screen cinema, karaoke, a video game area, and many other restaurants. At MBK, there is also a 3D Art museum that will be an interesting experience in family activities during sightseeing and fun in Bangkok.
Right next to MBK Center is Bangkok Art & Culture Center, admission is free. This place has a larger area with an exhibition area of paintings, photos, music, sculptures, films … suitable for young people to have fun and visit.
Day 6: End of 6 days in Thailand
On the last day according to 6 days in Thailand tour itinerary suggestions, you should take the time to arrange and buy the missing souvenirs in 2-3 hours of the morning. Then, pack your bags and take some time off to prepare for your departure from the airport. On the way to the airport, you can choose to take the train to both save money and comfortably see the city of Bangkok one last time before saying goodbye.
If you want to explore Thailand in the form of self-sufficient travel, then 6 days in Thailand tour itinerary suggestions are the ideal travel guide for you. With detailed instructions on schedules, locations, and special dishes, you will be able to optimize your itinerary to visit many places and experience travel at the most affordable price.
Have a great holiday in this beautiful country, don't forget to follow us for more great travel tips every day.