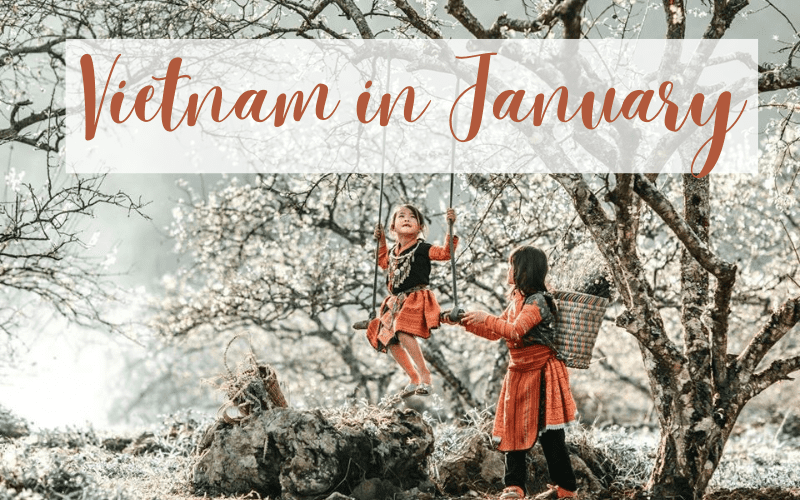 It is wise to be aware of the weather before traveling if you intend to spend the New Year in Vietnam. The information in the article below will provide you with a thorough overview of the weather conditions and the top locations to visit in Vietnam in January.
Overview of Vietnam weather in January
Vietnam is generally a fantastic time to visit. A January Vietnam tour will give you the chance to observe the stark contrasts in temperature between the country's various areas, encounter numerous cultural celebrations, and discover new things.
January is one of the driest months of the year in Vietnam, with an average temperature ranging from 20 to 24 degrees Celsius from north to south. There will, however, be a slight time difference in each region because this is a long country with many climates throughout; please read the description below:
In the North: chilly and foggy.
In January, northern Vietnam experiences cool, dry weather with sporadic sunshine and crystal-clear blue skies. The average temperature will be around 20°C, and the yearly rainfall will be at its lowest, at about 40 mm. Haze is not unusual right now, especially along the shore and in the vicinity of Ha Long Bay. The weather is generally pleasant in the North Pole, with places like Sapa, Mau Son (Lang Son), Ha Giang, and others experiencing little to no rain (just a few drizzles occasionally), but it is chilly and often foggy at night. Additionally, on a few occasions in early January, you can experience frost in these places.
Tip: Bring spring and winter clothes, as there can be a big difference in temperature between day and night, especially in mountainous regions.
>>> Discover the breathtaking landscapes of North Vietnam in January: North Vietnam Tours
The Center: Lovely
The weather steadily gets better in central Vietnam during the month of January. Long rains are not probable now that the rainy season is coming to a close, especially in the second half of the month. The typical temperature in January is about 23°C. The beaches in Hoi An, Da Nang, and Nha Trang are busy with tourists despite the moderate temperatures. There you have it, the perfect time for a vacation by the sea in Vietnam! On the other hand, the weather is dry but chilly in mountainous areas like Dalat and the central highlands, especially at night when you might require a thick jacket.
Swimwear, proper light clothing, and some warm clothing for the evenings and early mornings when the temperature is significantly lower than during the day should all be packed when touring central Vietnam in January.
Tip: If you plan to spend the night in a mountainous area, wear a thick coat. Additionally, pack colorful, light clothing so you can enjoy your beach vacation.
>>> Enjoying a lovely beach vacation in January: Beach Vacations
In the South: Sunny and dry
In the south of Vietnam, January is without a doubt the most picturesque month of the year since it has the nicest weather of the entire year. There won't be any rain because it is the dry season and the average temperature is around 24°C. Southern Vietnam is unquestionably best visited in January, especially if you want to take advantage of the pleasant weather on islands like Phu Quoc or Con Dao.
Tip: Pack colorful, airy clothing to enjoy your beach holiday in the South of the nation.
>>> South Vietnam Tours can help you make the most of your time there in January:South Vietnam Tours
Major Events in January
Tet – Lunar New Year: Immerse yourself in the most important event for Vietnamese
The lunar calendar, which differs from the Gregorian calendar, has a fixed number of twelve months with a duration of 30 days each. Additionally, a leap year has a whole leap month rather than just the 29th day of February. According to the Gregorian calendar, the Lunar New Year typically starts in late January or early February. This explains why the number of Têt days varies from year to year: the leap month might be shorter or longer, resulting in a larger or smaller gap between the two calendars.
Because of this, if you visit Vietnam in January or February, you can participate in Tet, the Lunar New Year celebration that is the most significant festival in Vietnam.
For every Vietnamese person, Tet holds very particular importance. Everyone has the chance to visit their homeland, spend time with relatives, and unwind after a year of arduous labor.
Like Christmas in Europe or America, Tet Day is celebrated with a number of traditional Vietnamese customs, including shopping for home decorations, purchasing a holiday tree (a kumquat, apricot, or peach blossom), making Chung and Day cakes; cooking a variety of foods for the party, visiting family members and relatives; etc.
Visit local flower markets, gift shops, or the streets to observe how people shop and get ready for the forthcoming Tet festival. You can also choose to stay at a homestay.
Tourists are cautioned against traveling to Vietnam during Tet, as most Vietnamese will be on long holidays and prices for services will be far more than they would be on a typical day. Therefore, double check the date before departing!
>>> Vietnam Holiday Calendar in 2023
Da Lat Flower Festival: Getting Lost in the World of Flowers
The "City of Flowers" or the "City of Eternal Spring" is how people refer to Da Lat. It has a lovely, warm environment all year long, which makes it ideal for flower cultivation. Different varieties of flowers are cultivated here, and they are also sold to other nations.
The Dalat Flower Festival takes place in December or January every two years. You may anticipate all the things you might anticipate from a trip to Dalat if you attend the Dalat Flower Festival. The festival offers indigenous culture, breathtaking nature, and places to have fun.
Thousands of flowers are used to create numerous works of art that are displayed along Dalat's streets during the festival, further enhancing the beauty of the already stunning city. You'll feel as though you've entered a land of flowers, colors, and fragrances when you arrive here. Your beginning point can be wherever you like. Pack your camera—you won't want to miss photographing such breathtaking scenery—and don't forget to take it with you.
Best places in Vietnam to visit in January
Halong Bay – Descent of the Dragons
Although not as frigid as one might expect, Halong Bay may get chilly at this time of year. On some days of the month, you can even swim and sunbathe. If you're not used to the cold, you can go sightseeing and unwind on the deck's sunny side. You have the option of climbing the mountain, cycling through the fishing village, or exploring the cave. The  Halong Bay cruise will welcome the New Year on January 1st with a countdown party and other festivities.
Danang – Vietnam's most livable city
At this time, Da Nang will be a must-see location. Da Nang has a very serene atmosphere because of the interlude between late winter and early spring; the weather is mild and cool. Temperatures range from 22 to 28 °C on average, and rainfall is seldom a problem. No excitement or noise, but also no boredom. Danang's Marble Mountains, Cham Island, Dragon Bridge, Son Tra Peninsula, Cham Museum, My Khe Beach, and Ba Na Hills are among the must-see attractions.
Dalat – Capital of flowers
Da Lat is the place you can't miss if you want to see the cherry blossoms in January. Due to its location in the Highlands at 1500 meters above sea level, Dalat has a particularly unique climate that varies throughout the day. The weather at this time of year is perfect for outdoor pursuits like strolling, swimming, trekking, or simply taking in the vibrant flowers and boisterous parades that encircle Xuan Huong Lake. You can have a comprehensive holiday here with your family. This is the ideal location. However, the Da Lat Flower Festival takes place in the first few days of January. This twice-yearly celebration includes live music, fashion shows, and intricate, enormous floral displays, among other things.
Mekong Delta – Rice bowl of the country
The Mekong Delta, Vietnam's rice bowl, with its tangle of rivers, canals, and swamps, is a fantastic place to visit in January because there is typically considerably less rain and it is much colder than in the summer. habit. Numerous floating markets are also found in the Mekong Delta. Tourists can take advantage of the dry, relatively cool weather, the possibility to see stunning blooms, and the vibrant colors of the floating markets by visiting the delta during this time.
Phu Quoc – Pearl Island
Are you trying to figure out the best place in Vietnam to go in January? Phu Quoc is definitely what you are looking for. The temperature in Phu Quoc is rather cool in January, between 25°C and 28°C, the sun is clear, and the cool sea water is perfect for a family vacation in the final weeks of the year, in contrast to the cold in the north. Long Beach and Ong Lang Beach are great places to relax in the sun, snorkel, and swim, while the National Park is a great place to picnic, go on a jungle hike, camp, and watch birds. Suoi Tranh and Phu Quoc waterfalls.
You must have discovered the ideal location for you and your family from the few places in January we mentioned above. You must carefully plan your trip if you want to save money. Let's organize a trip to Vietnam in January with IDC Travel; you'll get the best itinerary from knowledgeable locals!