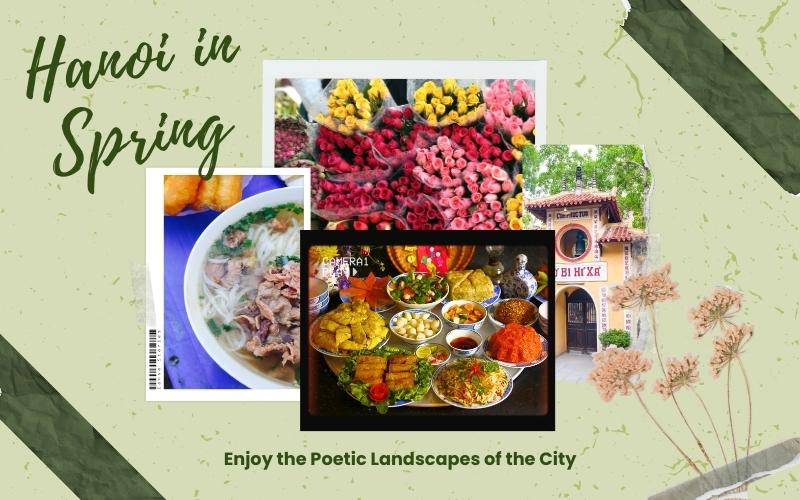 As you know, there are four distinctive seasons in Hanoi: Spring, Summer, Autumn, and Winter. Each season offers a unique charm, leaving every visitor with an impressive memory. However, among the four seasons, Spring is the most festive one because the Tet Holiday often takes place in this season. In this article, IDC Travel will provide you with an ultimate guide when spending your Hanoi vacation in Spring.
When is Hanoi Spring?
Hanoi Spring in recent years often lasts from March to May. However, the Spring might start earlier, from January or February. To the belief of the Hanoi people, whenever the Tet Holiday comes, it's the start of Spring, the start of a whole new year.
The Spring weather in Hanoi is a mixture of cold and warmth, giving you quite a chilly atmosphere. The temperatures during this time often range from 15°C to 27°C. However, even though the temperatures are ideal for a trip, please note that the humidity in Hanoi during this time is quite high, about 84%. With the high average humidity, you might feel it bitterly cold.
To make the most of your journey to Hanoi in Spring, you should check the weather carefully to pack appropriate clothes. We suggest you get access to AccuWeather to update the Hanoi weather on your visiting days. However, don't forget to pack your jacket and umbrella along with you because there are often drizzles in Hanoi during Spring. Make sure to pack your luggage carefully to keep you warm.
Must-Visit Places in Hanoi Spring
Hoan Kiem Lake
Hoan Kiem Lake, nestled at the heart of Hanoi, undergoes a magical transformation in the Spring. During this time, the lake's surroundings burst into life with the vibrant colors of blooming flowers and fresh greenery. The trees that line the promenades begin to bud, creating a picturesque canopy. Spring in Hoan Kiem Lake is a time when the gentle breeze carries the sweet scent of blossoms, and the serene waters of the lake reflect the azure sky. Locals and tourists alike gather here to enjoy the revitalizing atmosphere. If you coincidently come to this place when the Tet Festival is coming, don't miss out on the chance to enjoy the fireworks performance on New Year's Eve.
Hanoi Old Quarter
Hanoi Old Quarter is also an attraction to visit during your journey in Spring. You will see the narrow streets and ancient buildings of the Old Quarter burst into a riot of colors and activity. Spring in the Hanoi Old Quarter is a time when the city's rich history and vibrant culture blend seamlessly, offering a unique and unforgettable experience for all who explore its charming streets. You can stroll along the streets or stop by and enjoy some traditional dishes sold by vendors. The scent of street food stalls selling Vietnamese delicacies fills the air, promising to tempt your taste buds at every turn.
Quang Ba Flower Market
Quang Ba Flower Market is one of the largest flower markets in Hanoi, with hundreds of different species coming from nearby villages. During Spring, or Tet Holiday in particular, the market operates nearly all day, from morning until late night. When the Tet Holiday comes, this place often offers a wider variety of flowers and higher quantities than usual. Visiting Quang Ba Flower Market at late night has become a unique cultural tradition of Hanoians during the Tet Festival and the arrival of Spring. If you have the chance to come to Hanoi during this time, don't miss the opportunity to immerse yourself in the bustling Tet atmosphere of Hanoians and admire the colorful flowers.
Famous Temples and Pagodas in Hanoi
Hanoi is a city with a thousand years of culture. Therefore, sacred places like temples and pagodas are also the destinations that you should stop by to understand more about Hanoi city. West Lake Temple is a famous place among Hanoians. During the Tet Holiday, several locals come to this temple to pray for wealth and health. Another place that attracts many Hanoians in Spring is Quan Su Pagoda, located right in the heart of the city. Having the chance to visit Hanoi during this time, you can visit these sacred places to indulge in the spiritual culture of Vietnam's capital city.
Interesting Festivals You Should Experience
Bat Trang Pottery Village Festival
The traditional festival in Bat Trang Pottery Village is held annually on the 14th and 15th of the second lunar month, which typically falls in early to mid-March. During this time, the weather is extremely pleasant. Thus, several villagers come together to organize a grand festival. Everyone is excited to celebrate and preserve this annual traditional festival.
Moreover, coming to this festival, you will not only learn more about the local culture but try making ceramic products as well. In case you want to buy some souvenirs home to your family and friends, there are also numerous stores selling handmade pottery products.
Perfume Pagoda Traditional Festival
Perfume Pagoda is considered one of the most famous pagodas in Vietnam. The traditional festival at Perfume Pagoda is seen as a distinctive feature of Northern Vietnamese culture during the Tet holiday and attracts a large number of visitors. Besides the religious ceremonies where people pay homage to their deities, the festival also includes various cultural activities and entertainment. During these days, while traveling along the piers or the routes of Huong Tich, one of the festival routes, you can always hear unique and fascinating folk songs. Additionally, coming to the Perfume Pagoda Festival, you can also enjoy the grandeur landscape of this place. The beautiful combination of rivers and mountains promises to impress every visitor to the pagoda.
Festival in Quan Thanh Temple
Quan Thanh Temple is one of the Four Thang Long Guardian Temples, symbolizing the spiritual and cultural life of ancient Hanoi. The Quan Thanh Festival takes place annually with various religious activities and unique rituals. During the Tet holiday, you can visit Quan Thanh Temple to participate in temple festival activities such as incense offerings, praying for dreams, and seeking blessings. Alongside its historical significance, the temple has left its mark over the years, exuding an ancient and venerable beauty that leaves a lasting impression on visitors.
Best Hanoi Engaging Activities in Spring
Indulge in the Beauty of Spring Flowers
Spring is the blooming season in Hanoi. Not only in the flower markets, you can also buy beautiful flowers from several vendors on Hanoi streets. Moreover, there are numerous kinds of flowers planted along the roads in Hanoi. Hoang Dieu Street, for example, becomes a breathtaking gallery of orchid tree blossoms during this season. The delicate hues and fragrant petals attract both locals and tourists alike, making it a must-visit spot for anyone seeking the true essence of Hanoi's springtime allure.
Try Preparing a Traditional Meal for the Tet Holiday
As Tet is the biggest traditional holiday in Vietnam, people place great importance on their meals. Therefore, during the Tet Festival, Hanoian dining tables are adorned with a wide array of traditional dishes. You can take part in a cooking class to try preparing a meal by yourself. By joining a cooking class, you will have the chance to make a Chung cake, a must-have dish at Tet Festival. Besides, you can also try making spring rolls or Pho – the famous Vietnamese dish.
Explore Nearby Beautiful Landscapes
Not only Hanoians but also Vietnamese people consider spring as the travel season. During spring, people often embark on short trips with the belief of starting the new year smoothly and prosperously. When you visit Hanoi in the spring, you can take a tour of Ninh Binh and enjoy the captivating natural beauty of this location. Duong Lam Ancient Village is also an ideal destination to explore from Hanoi, as it is not too far from the city. Here, you can immerse yourself in the serene countryside atmosphere, which is truly unique and hard to find elsewhere.
>>> You may find these helpful: Duong Lam Ancient Village 1 Day Tour from Hanoi
Spring is the most vibrant season in Hanoi, with several festivals occurring and flowers blooming. Coming to Hanoi in Spring, you will never have to worry about where to visit and what to do because several engaging activities are waiting for you. Don't hesitate to prepare your trip today and contact us if you find any difficulty.
Read more: