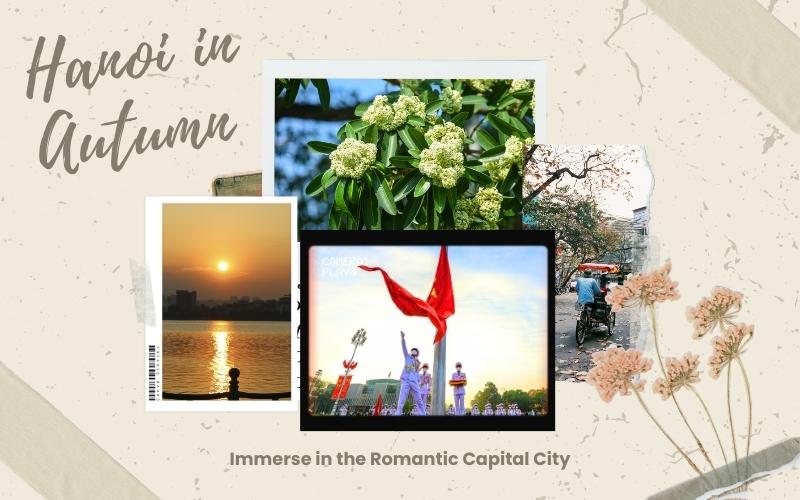 Autumn is considered to be the perfect time for you to visit Hanoi. For your information, there have been several Vietnamese songs and poems about Hanoi Autumn. Poets and song composers are inspired a lot by this season of the capital city. As the beauty of Autumn in Hanoi is so well-known, why don't you check this article out and discover its unique charms?
When Is Hanoi Autumn?
Hanoi Autumn often lasts from September to November. It is the most ideal weather in Hanoi during this time when the average temperature ranges from 23°C to 33°C and humidity is approximately 76%. Coming to Hanoi in Autumn, you will find yourself immersed in a cool and pleasant atmosphere.
However, in the early Autumn, there are still some sudden rains because it just transforms from Summer to another season. Although the rain helps cool down the heat, it might cause some inconvenience to your trip. Therefore, you should prepare a raincoat or umbrella to ensure the best journey in Hanoi.
Moreover, the temperature might get low when night comes. Particularly, Hanoi's temperature during Autumn night might be at about 23°C to 27°C, making the atmosphere quite cold. Thus, a light cardigan or long-sleeve shirt is necessary for you during the trip. In short, you should check the weather carefully while packing your luggage. The website AccuWeather might be helpful for you.
Enchanting Beauty of Hanoi Autumn
Pleasant Scent of Milkwood Pine
Speaking of Hanoi Autumn, we can't help but think of the intense fragrance of milkwood pine on the capital's streets. It's no coincidence that milkwood pine has become the symbol of Autumn here. The fragrance of milk flowers is intoxicating and alluring. If you try to take a deep breath, you will find that the scent seems to disappear. However, when you walk calmly through the streets in Hanoi, that fragrance reappears, subtly weaving into the air, leaving you with a comfortable feeling.
Heroic Vibe of Hanoi on Vietnam Independence Day
On September 2nd, 1945, President Ho Chi Minh read the Declaration of Independence at the historic Ba Dinh Square, giving birth to the Democratic Republic of Vietnam. To this day, Autumn gives Hanoians a feeling like it paves the way for the historical Independence Day.
When you visit Hanoi during these days, you'll feel a magnificent Hanoi in Autumn. All over the streets and on tall buildings, people hang the national flag to commemorate Independence Day, creating an impressive and grand scene. As the weather of Hanoi Autumn is usually pleasantly mild, you can walk along the streets to immerse yourself in the atmosphere of pride of Hanoians.
Vibrant Atmosphere of Mid-Autumn Festival
Mid-Autumn Festival is one of the significant traditional festivals in Vietnam, especially in Hanoi. During this festive season, you can feel the joyful and lively atmosphere of the people, especially the children. It is also a time for families to come together, gather around, and enjoy traditional mooncakes.
Coming to Hanoi during this festival, you can visit Hang Ma, a traditional street famous for selling seasonal items. During the Mid-Autumn season, Hang Ma comes to life with the glow of lanterns, star lanterns, traditional toys, as well as modern ones. It's always a bustling destination that attracts both locals and tourists to explore and shop during this time.
Best Places to Visit in Autumn
Phan Dinh Phung Street
Phan Dinh Phung Street is renowned as the most beautiful and romantic road in Hanoi, adorned with ancient trees casting a lush canopy of shade over the entire road. On both sides, the wide sidewalks are covered in golden leaves, enchanting every visitor, especially during the autumn season. As Autumn arrives, the soft morning sunlight filters through the leaves, creating an ideal setting for photos of Hanoi in the fall. There are also several flower vendors along the street. Therefore, you can also buy a bouquet and take photos to preserve memories of your trip. Additionally, you can check out other photo spots in Hanoi to capture more beautiful moments of your journey.
Ho Chi Minh's Mausoleum – Ba Dinh Square
Since Vietnam Independence Day occurs in the Autumn, the atmosphere of Ba Dinh Square and Ho Chi Minh's Mausoleum is more heroic and vibrant than at any time throughout the year. If you are able to visit this place in the early morning, you might have the chance to join in the flag-raising ceremony. You will see that several Hanoians would stand still, solemnly performing the flag salute and singing the Vietnam National Anthem with a sense of pride and reverence.
Hoan Kiem Lake & Hanoi Old Quarter
Hoan Kiem Lake and Hanoi Old Quarter are the two attractions that every tourist should visit when coming to Hanoi. In the enchanting season of Autumn, Hoan Kiem Lake and the Hanoi Old Quarter transform into a picturesque wonderland. Locals and tourists alike gather here to stroll along the lakeside promenade, savor the gentle breezes, and capture the mesmerizing reflections of the Turtle Tower in the calm waters.
Meanwhile, the Hanoi Old Quarter, with its labyrinthine streets and centuries-old architecture, exudes a timeless charm accentuated by the fall foliage. The bustling streets are adorned with colorful lanterns and the aroma of delectable street food wafts through the air.
West Lake – Best Place to Enjoy Sunset
West Lake unveils its most captivating beauty during the autumn season. At this time, West Lake is a tranquil and picturesque time, offering respite from the hustle and bustle of Hanoi. However, what truly sets West Lake apart during this season is its status as the ultimate destination for you to witness mesmerizing sunsets. As the sun descends beyond the horizon, it bathes the lake in a warm, golden hue, creating a serene and almost spiritual ambiance. Whether you're enjoying a leisurely walk along the lakeside promenade or sipping coffee at a lakeside café, the natural beauty of this place in autumn will significantly impress you.
Must-try Hanoi Autumn Specialities
Green Sticky Rice – A Symbol of Hanoi Autumn
Green sticky rice is considered the delicate and refined gift of Hanoi. Whenever you see Hanoians buying this specialty, it is a sure sign that another Autumn is approaching. Green sticky rice is made from glutinous rice with golden grains, round and plump. The finished one is carefully wrapped in two layers of leaves.
Coming to Hanoi in Autumn, you will have the chance to savor various signature dishes made from green sticky rice, such as green sticky rice cake, sweet soup, or green sticky rice rolls. All of these contribute to the diversity and uniqueness of Hanoi Autumn, leaving unforgettable impressions on visitors who come to this city.
Egg Coffee
Hanoi is famous for its unique and delicious culinary offerings, and one of its standout treats is egg coffee – a beverage that captures the hearts not only of Hanoians but also of foreign visitors. Egg coffee is a harmonious blend of the robust flavor of Vietnamese coffee and freshly whipped egg yolks, coupled with the sweetness of condensed milk. Enjoying a cup of egg coffee amidst the cool weather of Autumn is absolutely a perfect experience during your trip.
Salted Dried Fruits – Local Snacks of Hanoians
When you visit Hanoi in Autumn, you should never miss out on the various types of salted dried fruits, or "O Mai" in Vietnamese. As you stroll along Hang Duong Street, you can easily spot shops selling traditional and high-quality salted dried fruits. Each store has its own secret recipe, creating unique flavors that captivate the taste buds of everyone indulging. With their skillful touch, they transform fruits like plums or apricots into a delightful array of flavors, ranging from sour, spicy, and salty, to sweet. Savoring a piece of salted dried fruits on an autumn day will become a memorable experience for travelers.
You can easily see that Autumn in Hanoi is a season that tends to evoke nostalgia and leave people yearning when they are far away. If you have already fallen in love with the dreamy and romantic beauty of the capital city every Autumn, why don't plan your journey to explore Hanoi? If you have any difficulty, feel free to contact us, and we will help you at our best.
Read more: