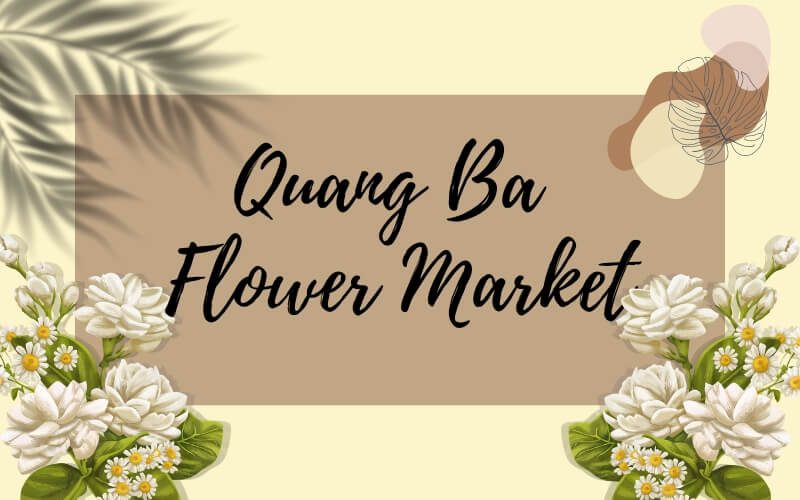 In Hanoi, there exists a place that holds a special allure for flower enthusiasts and those involved in the floral industry. The mere mention of its name conjures images of a truly enchanting and aromatic destination: Quang Ba Night Flower Market (chợ Hoa đêm Quảng Bá). Situated just five kilometers away from the city center, Quang Ba (Quang An) Flower Market is a haven for purchasing an exquisite array of flowers and an ideal spot for experiencing the charm of Hanoi at night.
When the majority of Hanoi is fast asleep, the Quang Ba flower market comes alive. A visit to this unique floral market allows visitors to immerse themselves in the kaleidoscope of vibrant colors and the alluring fragrance of countless blooms. Moreover, it offers an opportunity to observe the bustling working life of flower sellers in this nocturnal market.
Where is Quang Ba Flower Market Located?
Quang Ba Flower Market is situated at No. 236, Au Co Street, Quang An Ward, Tay Ho District, Hanoi. It was first founded at the junction of Au Co and Xuan Dieu Streets, thanks to the appearance of flower-growing villages in the Tu Liem and Tay Ho areas. However, since the establishment of Tay Ho District, Quang Ba Flower Market was moved to Au Co Street in 1996. Since then, it has been highly developed and become one of the biggest night markets in Hanoi and North Vietnam.
On normal days, the market opens from 11 p.m to 6 a.m. On the holidays and especially Tet holidays when there is a higher consumption of fresh flowers, it opens from 9 p.m to 6 a.m of the next day. The peak hours are from 9 p.m to 10 p.m or 1 a.m to 2 a.m.
As the night market takes place when public transportation is unavailable, you have two means of transportation to arrive here:
By motorbike: To ensure a smooth journey, it is advisable to pre-arrange a motorbike rental and utilize Google Maps for navigation to the market.
By car or taxi: For a safer and more convenient choice, you are highly recommended to book a car or taxi to reach the market. Download some Vietnam travel apps such as Grab, Be, etc., and book a vehicle when necessary.
Opting for the latter option is strongly encouraged, as navigating through unfamiliar streets at night can be a daunting challenge for travelers. Embracing the convenience and reliability of a Grab taxi or car ensures a hassle-free and enjoyable experience while discovering the wonders of the night market.
Why Visit Quang Ba Flower Market?
A visit to Quang Ba market offers a truly unique and seemingly unbelievable experience in Vietnam, and perhaps even the world. While the city settles into slumber after a long day of work, and most assume that all business activities have ceased, this bustling market is wide awake and bustling. Moreover, in striking contrast to the conventional practice of flower shopping in the early morning to fully appreciate their beauty, Quang Ba market sells an abundance of flowers each night.
Beyond the beauty of the flowers, a trip to this market provides travelers with a priceless opportunity to gain insights into the lives of Hanoi's night laborers. Unfortunately, amidst the prosperous morning bustle, many marginalized individuals find their livelihood at night. These hardworking individuals dedicate their lives to the flower trade, toiling while others sleep or even on holidays. Despite their challenging circumstances, the sellers at this market create a fantastic sight, adorning Hanoi with vibrant colors and alluring fragrances, transforming the night into a mesmerizing floral wonderland.
Things to Do in Quang Ba Flower Market
Discover New Kinds of Flowers
Quang Ba market has expanded its offerings beyond local flowers and now includes a delightful selection of imported blooms. These exotic flowers arrive from diverse sources, spanning national provinces such as Vinh Phuc and Da Lat, as well as international destinations like China, Thailand, the Netherlands, and South Africa. With each passing season and from various regions, a vibrant array of flowers graces the market, making it a true testament to the beauty of seasonal blooms. Visitors can revel in the abundance of choices, with the ever-changing selection ensuring that each visit is a unique and delightful floral experience.
Buy Flowers and Take Beautiful Photos
Quang Ba Flower Market is a haven for flower enthusiasts seeking fresh blooms at affordable prices. The market comes alive around 1 am, bustling with a multitude of traders. Beyond its allure as a flower market, this place also holds a special charm for street photographers. The vibrant and colorful ambiance, the bustling moments of stall owners working during the night, and the joyous expressions on their faces while serving numerous customers provide captivating opportunities for visitors to capture beautiful snapshots with their camera lenses.
Meet with Friendly People
While the Quang Ba market primarily caters to wholesalers, it still welcomes individual consumers who wish to purchase a smaller quantity of flowers for their daily needs. As a result, both small vendors and regular buyers find familiarity within this flower market, attracted by its reasonable prices. Some visitors come seeking a handful of yellow daisies for religious offerings or to adorn their homes with colorful bouquets.
Occasionally, groups of high school or university students wander through the market, in search of pristine white daisies or vibrant yellow sunflower branches to enhance their yearbook photos. Amidst the bustling crowd, you can also spot foreign tourists strolling through the market, exploring the charm of Hanoi at night through the lens of their cameras.
Unlike the swift and focused pace of the regular customers, these visitors leisurely walk through the market, savoring the delightful fragrance and beauty that fills the air at Quang Ba flower night market.
Suggested Itinerary for Visiting Quang Ba Market
To enjoy the most bustling atmosphere at Quang Ba Flower Market, you should arrive here from 1 a.m to 2 a.m at its peak duration. However, we highly recommend you to come here 1 or 2 hours later, at around 4 a.m, when the market is less crowded with wholesalers and there are more spaces for you to stroll around.
Follow our itinerary below:
3:00 a.m: Book a taxi/motorcycle taxi to get to the market
3:30 – 4:30 a.m: Arrive at the market, free to watch beautiful flowers, take photos, meet with local people and other tourists, etc.
4:30 a.m: Book a taxi to Long Bien Bridge to enjoy the whole panoramic view of this market under stunning light. Walk along the bridge to admire its unique architecture.
6:00 a.m: Pay a visit to Long Bien Railway Station.
6:30 a.m: Transfer to Dong Xuan Market or Hanoi Old Quarter, where you can find a diverse selection of Vietnamese food for breakfast. Choose to eat at the market, in a small food stall, in a restaurant, or return to your hotel for breakfast.
Tips to Visit Quang Ba Flower Market
– To buy the freshest flower, don't forget to bring a flashlight so that you can observe the flower thoroughly.
– Don't be shy to bargain. If you are lucky enough, you will get a little off.
– Be polite when taking photos to not disturb other people's way of life.
– Be careful with your belongings. You had better put important documents such as your passport, insurance, etc. at the hotel and just bring a small amount of money.
Visiting Quang Ba Flower Market is a strange and unique way to discover another aspect of Hanoi's nightlife, in contrast to the bustling streets with overcrowded bars and pubs. It is better a chance for you to hands on the life of local manual laborers and actually live like a local in Vietnam. Contact us right now if you are ready to visit Vietnam for this exceptional experience and much more.