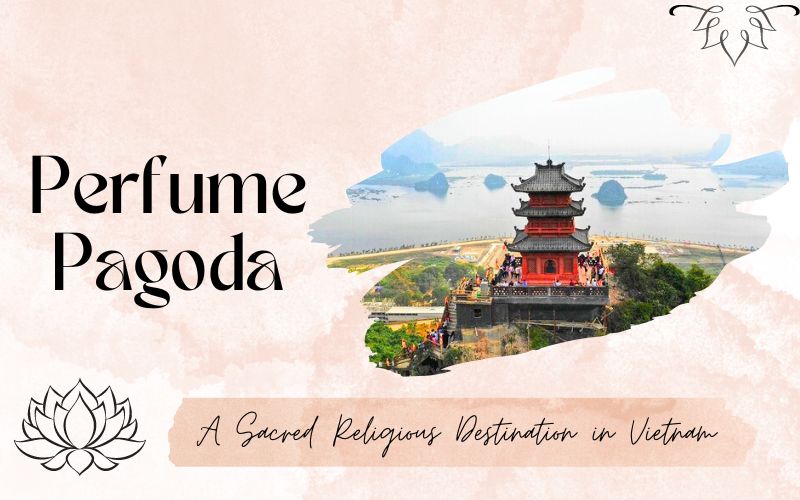 If you're planning a trip to Hanoi, be sure to include a visit to the Perfume Pagoda. This renowned site is a must-see for both religious devotees and tourists. Nestled within the limestone cliffs of Huong Tich Mountain, the Perfume Pagoda is a magnificent complex comprising Buddhist temples and pagodas. Recognized as a special national relic site by the government, the pagoda holds great religious significance. It draws numerous pilgrims from across Vietnam, particularly during its festival in the first three months of the Lunar New Year. In this article, we will provide you with helpful tips to ensure you make the most of your visit to this sacred destination.
Location of Perfume Pagoda
The Perfume Pagoda comprises a collection of temples and caves nestled within the limestone mountain of Huong Tich Son, also known as the Mount of Fragrances. Situated in My Duc district of Hanoi capital, the majority of these cave temples were constructed during the 17th century, making the Perfume Pagoda one of Vietnam's most significant temple complexes.
Get to Perfume Pagoda from Hanoi
When planning your journey from Hanoi to the Perfume Pagoda, you have several transportation options: car, taxi, or bus. Whether you prefer the flexibility of a car, the convenience of a taxi, or the affordability of a bus, there is an option to suit your preferences.
By car: The optimal route to take is Phap Van – Cau Gie – Dong Van – National Road 38 – Dau Market – Perfume Pagoda. This route typically takes approximately one hour, offering a quick and convenient travel experience. Or, if you want some privacy or choose a private route, you can recommend renting a private car with an experienced driver.
By taxi: Opting for a taxi ensures a hassle-free trip. Several reputable taxi companies in Hanoi can take you directly to your destination, providing a comfortable and reliable service.
By bus: If you are seeking a more budget-friendly alternative, taking a bus is an excellent choice. Bus routes 211, 78, and 75 all travel to Huong Pagoda, allowing you to enjoy the journey while saving on transportation costs.
Best Time to Visit Perfume Pagoda
To maximize your experience, choosing the best time to visit the Perfume Pagoda is very important. We suggest two specific periods stand out as ideal options for you.
Firstly, if you are a pilgrim, it is recommended to plan your visit between the first and third lunar months. This timeframe corresponds to the pilgrimage season, offering a fantastic opportunity to connect with fellow pilgrims. However, it's essential to keep in mind that this period coincides with the Lunar New Year, resulting in a substantial influx of visitors. As a result, long queues and large crowds can be expected. The second optimal time to explore the Perfume Pagoda is during autumn, specifically from August to October. This season brings cooler weather and fewer tourists, allowing for a more tranquil and enjoyable experience. The breathtaking scenery adds to the charm, with leaves transitioning into vibrant hues and the surrounding mountains coming alive with natural beauty.
The History of Perfume Pagoda
The origins of the Perfume Pagoda Complex trace back to a small temple believed to have existed in the 15th century on the present site of Thien Tru Pagoda. This initial structure was constructed during the reign of King Le Thanh Tong. However, the legend tells a tale of a meditating Buddhist monk who discovered this sacred place over 2000 years ago. Inspired by a Tibetan mountain where Lord Buddha practiced asceticism, the monk bestowed the site with its name.
In 1686, during the reign of King Le Hy Tong, a terrace and stone steps were added to the temples, as recorded in a stele. The current bronze statues of Lord Buddha and Quan Am were installed in 1793, as the original ones from 1767 had succumbed to the passage of time and historical events. Thien Tru Pagoda's gate and bell tower fell victim to the ravages of the French and American wars, resulting in their destruction. Subsequently, the bell tower underwent renovation in 1986, and the gate was reconstructed, completing the process in 1994.
Main Highlights of the Pagoda
Yen Stream
Yen Stream is a serene and picturesque waterway that meanders through the stunning landscape of the Perfume Pagoda area. Yen Stream is known for its tranquil ambiance, with crystal-clear waters flowing gently alongside lush greenery and limestone cliffs. Its beauty creates a soothing and serene atmosphere, providing a delightful experience for those traveling by rowing boats to reach the various sites within the Perfume Pagoda Complex. The boat trip along Yen Stream typically lasts around 45 minutes, allowing visitors to immerse themselves in the natural surroundings and enjoy the peacefulness of the journey. The stream adds to the overall charm and tranquility of the Perfume Pagoda pilgrimage, leaving a lasting impression on all who venture along its waters.
In early April, the vibrant red silk cotton flowers, also known as bombax ceiba, burst into full bloom, heralding the arrival of summer. A visit to the Perfume Pagoda during this time offers a breathtaking sight as these fiery red blossoms passionately line the banks of Yen Stream. As you take a boat trip to the pagoda, you'll be mesmerized by the captivating beauty of these blossoms, adding an extra layer of charm and enchantment to your journey.
Trinh Temple
Coming to Perfume Pagoda, you'll embark on a rowing boat journey from Duc Wharf (approximately 300 m away) to reach your first stop: Trinh Temple. Trinh Temple, also known as "Presentation Temple," holds significance as pilgrims offer their initial joss sticks to the local deities, informing them of their presence and seeking blessings for a safe and prosperous journey ahead. It is also referred to as "The Temple of High-ranking Mandarin" due to its establishment for the worship of General Tu Ma. General Tu Ma played a pivotal role in defending the country against external invaders during the reign of the Hung Kings. Notably, the entrance gate of the temple is flanked by two kneeling elephants. During the conflict with French colonizers in the 20th century, the temple suffered significant damage. However, it was reconstructed in 1992, restoring its grandeur and historical significance.
Thien Tru Pagoda
At the end of the serene 45-minute boat trip along the picturesque Yen Stream, you will disembark at the entrance of Thien Tru Pagoda, which translates to "The Pagoda Leading to Heaven." Alternatively known as Chua Ngoai (The Outer Pagoda), it holds a prominent position within the entire Perfume Pagoda complex and serves as the venue for festival opening ceremonies.
Thien Tru Pagoda showcases captivating architecture, exemplifying a harmonious fusion of Chinese and Vietnamese styles. Within its premises, visitors will discover stupas of unique design and profound religious significance. One notable stupa is the Vien Cong Bao Stupa, a brick structure that serves as the resting place of Zen Master Vien Quang, who played a key role in the pagoda's reconstruction. Adjacent to it is the Thien Thuy Stupa, a natural formation created by the erosion of a rocky hill. Furthermore, Thien Tru Pagoda houses a bell tower and the Hall of the Triple Gem, both of which were restored in the 1980s. Upon entering the pagoda, you'll be greeted by the sight of a majestic statue of Quan Am Nam Hai, adding to the spiritual ambiance of the place.
Giai Oan Pagoda
Situated along the pathway connecting Thien Tru Pagoda and Huong Tich Grotto, you will come across Giai Oan Pagoda. Translated as "The Pagoda of Exculpation," this sacred site holds deep significance for believers, as it is believed to be a place where deities can cleanse souls, alleviate suffering, and bless childless families with offspring. The pagoda's main attraction is Giai Oan Stream, which originates from nine different sources. This stream is regarded as a symbol of purification and offers a tranquil and serene ambiance to visitors. Additionally, within the pagoda complex, you will find the naturally blue water at Long Tuyen Well.
Huong Tich Cave
Huong Tich Cave also known as the Cave of Fragrant Traces, holds significant importance within the Perfume Pagoda Complex and serves as the primary attraction drawing pilgrims from afar. It is home to the Perfume Pagoda, also referred to as "The Inner Pagoda." The grotto's grand entrance, resembling the open mouth of a dragon, never fails to astonish visitors. Carved into the cave's entrance wall are ancient Vietnamese characters that date back to 1770. The inscription, "Nam Thien De Nhat Dong," roughly translates to "The Foremost Grotto of the Southern World." The term "Southern World" refers to the nation of Vietnam, as it is geographically located in the southern region of China.
Upon entering the Inner Pagoda inside the cave, you'll be greeted by numerous statues of Buddha, Avalokitesvara, and other Buddhist deities, all intricately carved from green stones. Among them, the most impressive statue is that of the Buddhist Goddess Quan Am. The statue depicts Quan Am with her left leg stretched out, resting on a lotus flower, while her right leg is bent and supported by a lotus flower with graceful leaves. Furthermore, the cave boasts natural stalactites and stalagmites. Over time, some of these formations have become smooth due to the belief that touching and rubbing them can bring about miracles and good luck in one's life.
Getting to Huong Tich Cave
There are two options available to reach Huong Tich Grotto: uphill climbing or taking the cable car. The uphill climb entails a one-hour journey ascending a thousand stone steps on a steep slope, demanding good physical fitness from climbers. It is important for you to exercise caution on the occasionally slippery steps and wear comfortable walking shoes or sandals. However, this climb offers a truly memorable experience, as the route showcases breathtaking scenery. Towering green trees envelop you, while glimpses of local farmers' daily lives add to the charm.
For those seeking a more convenient and efficient way to reach Huong Tich Cave, the cable car option is a great option. Within just 10 to 15 minutes, the cable car transfers you effortlessly to the entrance gate of the cave. As you sit comfortably in the cable car cabin, you can enjoy the awe-inspiring beauty of the surrounding landscapes and admire the majestic mountains, verdant forests, and the glimpse of temples nestled among the scenery. This aerial journey offers a picturesque vista, allowing you to take in the romantic allure of the landscape below. The cost of the cable car ride is 220,000 VND per adult for a round trip and 150,000 VND for a one-way journey. Children have a discounted rate of 150,000 VND for a round trip and 100,000 VND for a one-way trip.
Perfume Pagoda Festival
Festival Time
The Perfume Pagoda Festival is one of the most significant religious events in Northern Vietnam, drawing millions of Buddhist pilgrims and visitors. It holds the distinction of being the longest-lasting festival in the country, spanning from the 6th day of the lunar January to the 6th day of the lunar March. The main festivities, however, occur from the 15th to the 20th of the second lunar month.
The Signification of the Festival
The Festival pays homage to Princess Dieu Thien, an enlightened being who practiced Buddhism in Huong Tich Cave, a grotto situated on Huong Son Mountain. Legend holds that she safeguarded her family from malevolent forces and also protected the country during times of war. Eventually, she was revered as Avalokitesvara, one of the revered Buddhist deities. Besides, the festival offers an opportunity to honor ancestors and show reverence to Mother Nature. Along the path leading to the pagoda, pilgrims encounter various shrines and temples where locals worship the Goddess of the Mountains, Sacred Animals, and other spiritual entities. These sacred sites serve as important stops for pilgrims to pay their respects, express their devotion, and offer prayers.
Activities during Perfume Pagoda Festival
During the festival, various spiritual events take place, including the incense offering ceremony, the procession, and the Zen ceremony. The festival embraces three religions: Buddhism, Confucianism, and Taoism. Perfume Pagoda is considered an immensely sacred religious site, attracting thousands of Vietnamese pilgrims who come to seek blessings for a year filled with good health, happiness, and prosperity. Additionally, the pagoda holds deep significance for those facing challenges in conceiving, as it is revered as a sacred place where they can pray for fertility and the gift of children. Festival participants begin the challenging journey to reach Huong Tich Grotto, driven by their unwavering belief that the deities will recognize their determination, and grant their heartfelt wishes. In addition to experiencing Vietnamese traditions and culture during the festival, you also have the opportunity to take part in various traditional games such as the rice-cooking contest, the tug of war, and more.
Must-Try Specialties in Perfume Pagoda
Ground Root Sweet soup (Che Cu Mai)
While exploring the enchanting steps of the Perfume Pagoda, visitors frequently encounter a rustic yet exceptional delicacy known as the ground root sweet soup. This specialty of the Perfume Pagoda captures attention with its unique characteristics. Perfume Pagoda's specialty ground root sweet soup has a milky white color like cassava and the top part is sprinkled with a little bit of fine grinding. The sweet soup is soft, flexible, and well-cooked, so it has a sweet taste and a very gentle aroma, but it is enough to help you restore energy as well as refreshment after a long journey.
Ground Root Cake (Banh Cu Mai)
In addition to the delightful ground root sweet soup, another must-try specialty from Perfume Pagoda is their ground root cake, which makes for a perfect gift to bring back. These cakes are thoughtfully and elegantly packaged and are available at an affordable price, making them easily accessible. The ground root cakes are typically portioned into small blocks, offering a sweet and refreshing taste reminiscent of Che Lam but with a unique delicacy. Their flavor profile is diverse, providing a delightful culinary experience for those who enjoy them.
Apricots
Apricots are a specialty that attracts many visitors to Huong Pagoda, particularly those with a craving for sour flavors. These apricots possess a delightful blend of mild sourness and natural sweetness. With their small, beautiful yellow appearance, they are evenly ripened and adorned with a soft, velvety exterior. Whether you enjoyed it during a boat trip or purchased it as a gift for loved ones, these apricots serve as the perfect companion, satisfying both the taste buds and the senses.
Vietnamese Nutty Ginger Sticky Rice Bar (Che Lam)
Che lam has become a familiar delicacy among tourists when exploring the northern regions of Vietnam, and it is also a beloved specialty of Perfume Pagoda. While some may crave sour flavors, Che lam is a delightful treat specially crafted for those with a sweet tooth. This delicacy is adorned with a fine layer of white glutinous rice flour, enhancing its visual appeal. For an added touch of richness and allure, a few cooked peanuts are often incorporated, elevating its flavor profile.
Ideal Itinerary for a Day in Perfume Pagoda
Begin your journey at Ben Duc Boat Harbor and embark on an electric car ride to Yen Stream. From there, you will enter the Huong Son relic area, where a world of temples and pagodas awaits. Your first stop will be Trinh Temple, followed by the majestic Thien Tru Pagoda, both of which will captivate you with their grandeur and spiritual atmosphere. Then, you'll venture to Huong Tich Cave, an extraordinary highlight of the trip. Situated 390 meters above sea level, you can choose to hike or take a cable car to reach this remarkable cave. Continuing your exploration, make your way to Giai Oan Pagoda, nestled on Long Tuyen Mountain, approximately 2.5 kilometers from Huong Tich Cave. Giai Oan Pagoda is dedicated to Bodhisattva Avalokitesvara and features a unique transparent well known as Giai Oan. The legend said that the water from this well possesses healing properties. If time allows, you can consider visiting additional attractions such as Hinh Bong Pagoda, Dai Binh Cave, Tien Son Pagoda, and Tran Song Temple. These sites will further enrich your experience, offering a blend of natural beauty, spiritual significance, and cultural heritage.
With its mysterious and untouched beauty, as well as its distinctive spiritual significance, Perfume Pagoda stands as a destination that holds immense cultural and religious value in Vietnam. Exploring this sacred site allows you to delve into the rich diversity of Vietnamese culture and religion. We hope that this travel article on Perfume Pagoda has provided you with valuable information, ensuring a smooth and unforgettable journey. Do not hesitate to contact us for making your trip to Hanoi filled with remarkable experiences and cherished memories.