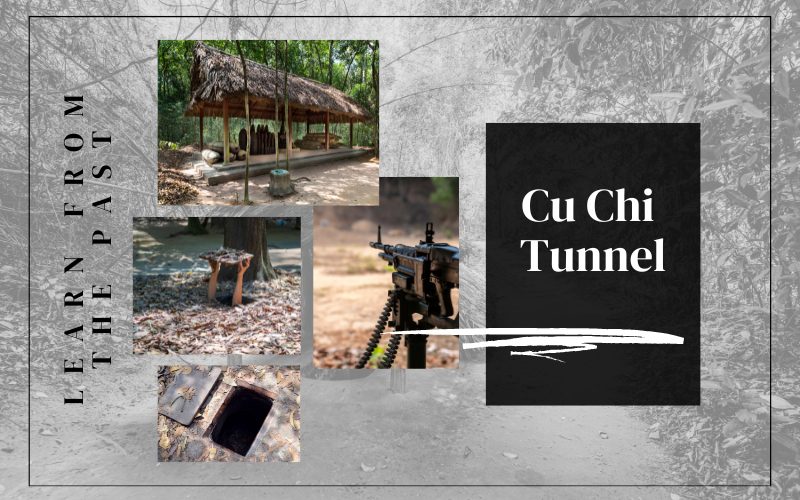 Cu Chi Tunnels, one of the most famous national heritages in Ho Chi Minh City, is a must-visit destination for those who travel to this city. With unique features and particular terrain underground, Cu Chi Tunnel promises to bring you an unforgettable adventure and provide you with a comprehensive understanding of the Vietnam War in the past. Let's explore this historic site with IDC Travel through this article.
Essential Information for Tourists
Location of Cu Chi Tunnels
Cu Chi Tunnel Relics and Complex is now preserved at two locations: Ben Duoc and Ben Dinh. These two places are near each other and about 70km Northwest far from the center of Ho Chi Minh City.
Opening Hours and Entrance Fee
Opening hours: Cu Chi Tunnels is open every day for visitors to come and explore the meaningful complex, operating hours from 7:00 AM to 5:00 PM.
Entrance fee: Every visitor coming to Cu Chi Tunnel must pay an entrance fee of 35,000 VND per ticket (if your nationality is Vietnamese) and 70,000 VND per ticket (if you are a foreigner). In case you want to visit the Simulation Liberated Area, you will have to purchase a separate ticket for this area at a price of 40,000 VND per person.
Useful Tips to Visit Cu Chi Tunnels
Wear comfortable clothes: Cu Chi Tunnel offers a system of underground tunnels and bunkers, which are narrow and require you to crawl to discover. Therefore, it is necessary to choose an appropriate outfit. Just dressing neat and simple is enough.
Sports shoes are preferred: You should remember that the terrain of Cu Chi Tunnel is not flat at all. It involves walking up and down many steps. Consequently, you should pick a comfortable pair of sports shoes. Don't wear high heels or dress shoes because they are not suitable for your adventure at Cu Chi.
Bring insect repellent along with you: Cu Chi Tunnel is surrounded by several green trees, resulting in the appearance of numerous types of insects. You should carefully prepare the insect repellent to get rid of the uncomfortability and any health concerns caused by insects.
History of Cu Chi Tunnels
Cu Chi Tunnel has an interesting history as it is the underground construction built for war service. During the resistance against French colonialism from 1945 to 1954, revolutionary soldiers had to dig several bunkers in enemy-occupied areas so they could hide in safe and complete their missions with the support and protection of local people. These bunkers were constructed in various ways, but mostly below the earth's surface, with only an entrance that could fit an individual's shoulders and a vent for breathing. When the entrance was closed, it would be difficult for the enemy to detect hidden bunkers.
Soldiers living in the enemy-occupied areas had to hide in secret bunkers during the day and could only come out when night came. However, it still remained dangerous for the Vietnamese army to stay in the bunkers. Once the enemy discovered the bunker, they could easily encircle, capture, or even destroy it. Consequently, people came up with the idea of extending secret bunkers into tunnel networks. These tunnels not only served as both hiding places and bases to fight back against the enemy but also allowed Vietnamese soldiers to escape to safer locations.
When the American resistance war happened in 1965, digging tunnels became popular among all Vietnamese. At that time, men and women of all ages, from the old to the young, enthusiastically participated in constructing underground passages to fight against the invaders. Only using rudimentary tools like hoes and bamboo shovels, the residents in Cu Chi managed to create an extensive system of underground tunnels 200 kilometers in length, connecting various villages and hamlets.
After time passed by, several parts of the tunnel networks were destroyed because of the bombing. However, the remaining parts of this system are now well-preserved and seeking World Heritage Recognition.
Interesting Spots to Explore in Cu Chi Tunnels
Systems of Tunnel – Bunker – Kitchen
When visiting Cu Chi Tunnel, you will be able to explore the tunnel networks, where all bunkers are connected. You will find that this tunnel system is constructed like a huge underground village where Vietnamese soldiers and local people live together. There are not only bunkers for defense and attack, but people also built several traps, first aid stations, and ammunition dumps.
There is also a kitchen underground serving the Vietnamese soldiers during the war. The Hoang Cam kitchen, named after the inventor, has a special constitute that helps disperse the cooking smoke so that the soldiers can avoid detection by airplanes from above as well as from nearby locations. Weapons manufacturing is also carried out below the surface.
Vietnamese people used a mixture of clay and termite mound to build Cu Chi Tunnels, making them highly durable and resistant to erosion. Additionally, the ventilation holes are cleverly designed to blend into the surroundings, providing ample camouflage. Therefore, you can explore them with confidence. However, since the tunnels are narrow, you might have to bend and rely on your knees to move forward, which could lead to a slightly breathless feeling. For that reason, you should consider your health and physical condition before deciding to explore the tunnel networks.
Homemade Weapons Gallery
Coming to Cu Chi Relic, do not miss out on the Homemade Weapons Gallery. Here, you will not only have the chance to see the pictures of weapons but also witness the real ones, which were used for digging tunnels and fighting against the enemy. These include homemade landmines, powerful enough to penetrate an M47 tank, and rudimentary improvised traps, which numerous Hollywood war movies took as reference.
Simulation Liberated Area
Simulation Liberated Area is also a vising zone in Cu Chi. When you come to this place, you will be able to watch appealing documentaries about the architectural style of houses, the daily life activities, and the fighting of soldiers and people in Cu Chi during the period between 1961 and 1972.
This area consists of 4 separate zones. The first one reenacts the wartime period from 1961 to 1964, introducing the life of people in the newly liberated area. The second zone recreates the localized war period between 1965 and 1968. As this is a time when enemy attacks devastated the liberated area of Cu Chi, you will witness the scenes of desolate villages and the painful lives of local people. Coming to the third zone, you will see the simulation of the White Zone in Cu Chi from 1969 to 1972, reflecting the peak of the most intense and brutal period of the war. This space portrays the image of Cu Chi's land turning into an infiltrated enemy-controlled area, making local residents and military units shelter underground.
Simulation Revolutionary Area – Sai Gon, Cho Lon, Gia Dinh
You can visit the Simulation Revolutionary Are when coming to Cu Chi Tunnel. This area covers 13.5 hectares, including a shrine, a writer's stele house, a ceremonial area, a lotus pond, a stone bridge, and characteristic landscapes of Vietnam's Southwest region. All the constructions in the area are built in the traditional Vietnamese architectural style. Here, you will not only have the chance to admire the special architecture but also be able to gain a comprehensive understanding of Vietnam's revolutionary tradition.
Ben Duoc Martyrs Monument
The officials constructed Ben Duoc Martyrs Monument in order to commemorate the great contributions of fellow countrymen and soldiers who fought and sacrificed in the Sai Gon – Cho Lon – Gia Dinh region during the two resistance wars against French and American invaders. It stands as a tribute for future generations to remember, pay respect, and take pride in their bravery.
This place offers several areas for you to explore. Besides the main memorial temple, where the names of the martyrs are engraved in gold, you can also visit the largest ceramic mosaic painting in Vietnam or the sacred symbol of the Vietnam nation inside the temple grounds.
Exciting Activities to Participate in Cu Chi Tunnels
Plant Rice – Catch Fish
Visiting Cu Chi Tunnel, don't you miss out on the experience of Rice Planting and Fish Catching at the Simulation Liberated Area. These are typical daily activities of Vietnamese people not only in the past but also in the present. During the Rice Planting activity, you will personally separate young seedlings and plant them in the prepared fields. As for the Fishing activity, you will get the thrill of catching fish using your hands, or a traditional fishing tool called "nom," searching and catching fish in the ponds that are prepared in advance. This unique experience promises to bring you much joy and excitement.
Sport Shooting – Paintball Shooting
Sport Shooting and Paintball Shooting are the two activities that attract several tourists to Cu Chi Tunnel.
You will find it extremely exciting to test your marksmanship skills in Sport Shooting. You can choose suitable types of guns which are used during wartime. After receiving full instructions, you can start shooting at animal-shaped targets and moving targets.
Apart from Sport Shooting, Paintball Shooting is also a worth-experiencing activity. It is a combination of sports and military-themed games. Besides relaxation, this game helps improve teamwork skills and physical fitness. When participating, you will feel like a real soldier in combat.
Kayak on Eastern Sea Simulated Lake
Visiting Cu Chi Tunnel, you can use a kayak to explore and admire the panoramic view of the East Sea simulated lake. The lake in this relic also showcases archipelagos and islands belonging to Vietnam's sovereignty, such as Bach Long Vi, Hoang Sa, Truong Sa, Con Dao, and Phu Quoc. Along the lake's edge, visitors can also enjoy the sight of precious wood forests and three iconic miniature models representing the distinctive features of the three regions: One Pillar Pagoda in Hanoi (the North), Ngo Mon Gate in Hue (the Central), and Dragon Wharf in Ho Chi Minh City (the South).
Join Adventure Games
If you love thrilling experiences, when coming to Cu Chi Tunnel, you can join the best adventure games here. Games like Skywalk, Ziplining, and Tarzan Jumping will surely provide you with unique sensations, making you feel stronger than ever and helping you overcome your own fears.
Ideal Itinerary to Discover Cu Chi Tunnels
In order to have the best experience in Cu Chi Tunnel Relic, you should plan in advance to utilize your time. In this article, we ideally suggest you an itinerary to explore Cu Chi Tunnel and Ho Chi Minh City in one day.
You can visit the Reunification Palace, Notre Dame Cathedral, the Central Post Office, and the War Remnants Museum in Ho Chi Minh City to learn more about Vietnam's history. After having some knowledge about the history of the country, you can move to Cu Chi Tunnel and discover the place. You can consult the detailed itinerary here.
Cu Chi Tunnels is an essential place to explore when you visit Ho Chi Minh City. You will definitely love it when explore its distinctive features and exceptional underground terrain. Feel free to contact us if you need help planning your trip.