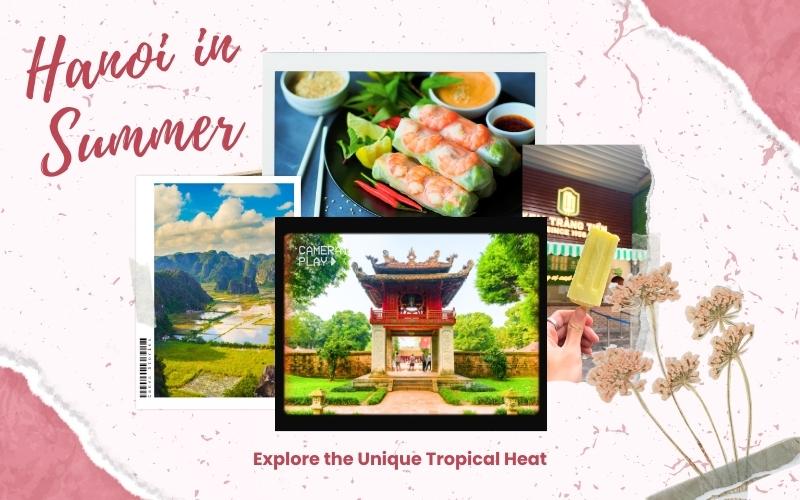 Hanoi has always been famous for its romantic beauty when Autumn comes. Moreover, people also fall in love with the bitterly cold of Hanoi in Winter or the vibrant atmosphere of Tet Holiday in the Spring. However, have you ever wondered what Hanoi looks like in Summer – the hottest season of the year? Let's explore the charms of Hanoi Summer with IDC Travel through this article.
When is Summer in Hanoi?
Hanoi Summer often lasts from June to August. Nevertheless, Summer might start earlier in some years, from the latter half of May. For Vietnamese students, Summer starts when they are off from school for their summer break.
The weather in Hanoi during summer aligns with the tropical summer climate. You might find the temperatures during this time are quite high, ranging from 25°C to 35°C. On some scorching days, the mercury may even soar to a sweltering 39°C, causing discomfort for everyone.
Hanoi Summer experiences the highest rainfall throughout the year. Therefore, the average humidity is also high, about 80%. Although the sudden downpours help a lot in cooling down the summer heat and softening the atmosphere, you should carefully pack your luggage to avoid all unwanted risks during the journey.
Should You Visit Hanoi in Summer?
Despite the uncomfortable weather with high temperatures and sudden rains, Summer still remains one of the seasons that attract most tourists in the year.
During Summer, flowers are blooming at every corner of Hanoi streets. Strolling around the city, you will be able to see the beautiful red color of phoenix flowers. Moreover, the purple color of giant crape-myrtle will also catch your eyes as this kind of flower blooms across an entire corner of the Hanoi sky.
Besides, Hanoi Summer offers you several engaging activities to participate in. You will have the chance to gain a comprehensive understanding of Hanoi's culture. Additionally, you will also be able to enjoy the ancient architecture of famous attractions in the city.
Best Things to Do during Hanoi Summer
Explore the Exam Culture of Hanoians
Students love Summer the most as they can spend their time freely during the break. However, for last-year students in Secondary School and High School in Vietnam, Summer is also the exam season, when they have to take the entrance exam to High School or University.
During Summer, you will often find Hanoi students flocking to the historic Temple of Literature. This centuries-old temple has become a sanctified site for students seeking blessings and guidance for their upcoming exams. The Temple's peaceful courtyards and shaded gardens provide a serene backdrop for these students to offer their prayers, light incense, and seek divine intervention in their academic pursuits. You can come to the Temple of Literature not only to learn more about the studying culture of Hanoians but also to enjoy the ancient architecture of this place.
Discover Hanoi on a Double-Decker Bus
Exploring Hanoi aboard a double-decker bus offers you a captivating and one-of-a-kind experience while touring the city. This mode of transport provides a higher vantage point from which you can appreciate many of the renowned landmarks in Hanoi. The bus tour will take you past all the famous attractions in Hanoi, including the Imperial Citadel of Thang Long, St. Joseph's Cathedral, and Hoa Lo Prison. Thus, you can seize this opportunity to capture stunning vistas.
Enjoy Underwater Activities
During the scorching summer, partaking in underwater activities at the famous West Lake Waterpark in Hanoi is one of the best options for your vacation. A range of captivating aquatic activities is thoughtfully tailored to cater to individuals of all age groups. You can join in milder amusements like taking a dip in the wave pool or leisurely drifting along the Lazy River. For those seeking a more exhilarating experience, the waterpark offers an array of exciting options, including lightning-fast water slides.
Capture the Beauty of Lotus Flowers
When Hanoi Summer reaches its peak, the lotus starts to bloom. During this season, locals in Hanoi frequently flock to West Lake to revel in the sight of these enchanting blossoms. What sets these lotus flowers apart is their distinct pink hue, forming multiple exquisite layers as they unfurl. Furthermore, the delicate fragrance of lotus flowers often captures the hearts of many who visit West Lake during this period. So, why wait? Seize the opportunity to admire these unique blooms alongside the Hanoi locals!
Savory Hanoi Summer Dishes for You to Try
Summer Rolls & Pho Rolls
Summer rolls and Pho rolls are delectable culinary delights, perfect for beating the Hanoi summer heat. These dishes encapsulate the essence of Vietnamese cuisine, offering you a refreshing and savory experience. Summer rolls are a medley of fresh herbs, vermicelli, shrimp, pork, and sometimes a hint of mint, all tightly wrapped in delicate rice paper. They provide a burst of flavors and textures with every bite, especially when dipped in the accompanying peanut sauce.
On the other hand, Pho rolls are a fusion of the beloved pho soup's ingredients, encompassing thinly sliced beef, rice noodles, and aromatic herbs, all enveloped in rice paper. Both dishes provide you with a cool and satisfying culinary experience, making them must-try treats while navigating the Hanoi Summer culinary scene.
Bun Cha
Bun Cha, a quintessential Hanoi dish, is a savory delight for you to try during the summer months. This dish consists of succulent grilled pork patties, accompanied by vermicelli noodles, fresh herbs like mint and cilantro, and a bowl of fish sauce infused with tangy lime and garlic. The magic of Bun Cha lies in the contrast of flavors and textures – the smoky sweetness of the grilled pork beautifully complements the fresh, crisp herbs and the soft noodles. It's the kind of dish that leaves a symphony of flavors dancing on your taste buds, making it a must-try during your summer sojourn in Hanoi. Cool, savory, and utterly satisfying, Bun Cha captures the essence of Vietnamese cuisine and the spirit of Hanoi's vibrant street food culture.
Sweet Soup – Favourite Summer Snacks of Hanoians
Sweet soup is a favorite snack enjoyed by Hanoians during the Summer. With a variety of sweet soup types, ranging from sweet soup with floating rice dumplings, sweet soup with rice cake to lotus seed sweet soup, people often visit the stalls scattered across the city's streets to find a bit of refreshment in the scorching Hanoi summer heat. Sweet soup is not only a delicious dessert but also carries the flavors of a harmonious blend of natural ingredients like mung beans, coconut milk, soft rice cakes, and brown sugar. Moreover, the ability to enjoy sweet soup at traditional shops, with their comfortable and relaxed atmosphere, makes your culinary experience memorable and enjoyable during the summer in the capital city.
Tropical Fruits & Smoothies
Summer in Hanoi also marks the fruit season. Consequently, both locals and tourists can relish a diverse assortment of fruits to beat the heat and rejuvenate themselves in the scorching weather. Among the most sought-after fruits in this season are citrus fruits, watermelons, and mangoes. These fruits not only tantalize the taste buds but are also rich in vital vitamins and minerals, contributing to overall well-being.
Several beverage stores in Hanoi also make delicious smoothies from tropical fruits. These refreshing concoctions provide a delightful way to savor the flavors of the season while keeping cool during the sweltering summer days. Whether you prefer these fruits as a whole or in the form of a refreshing beverage, Hanoi's summer offerings are a true treat for both locals and visitors.
Trang Tien Ice Cream – Traditional Hanoi Ice Cream
Trang Tien Ice Cream holds a prominent place in the hearts of Hanoi locals and travelers from across the country. With a legacy spanning over six decades, this ice cream brand has cemented itself as a culinary emblem of Hanoi's rich culture. What draws numerous patrons is its unique blend of traditional and contemporary flavors, offering a delightful taste of the past and present. Through the changing tides of time, Trang Tien Ice Cream has admirably upheld its esteemed status within the memories of Hanoi's residents.
Immerse Yourself in New Ambiances
Coming to Hanoi in Summer, it would be a big loss if you don't travel to some nearby destinations and experience a whole novel ambiance.
If you want to experience the Vietnamese traditional craft, do not miss out on the Bat Trang Pottery Village, which is only about 15km from the center of Hanoi. There in Bat Trang Village, you will have an opportunity to admire the beautiful ceramic products made by skillful craftsmen in the village. Additionally, you can also try making a pottery product yourself with the help of the locals.
Besides, if you want to escape from the hustling and bustling city life, let's travel to Ha Long Bay, one of the UNESCO World Heritage, to cover yourself with "vitamin-sea" rel="nofollow" target="_blank" and grandeur landscapes. You can enjoy swimming in the blue sea or try kayaking through some caves on the ocean surface.
However, in case you prefer the mountainous view, Ninh Binh would be a perfect option for you. You will have the chance to flow along the Ngo Dong River, enjoying the golden rice fields on both sides and admiring the grandeur mountains.
>>> Refer to our Hanoi City Tours for all the wonderful experiences you can do here.
Tips to Beat the Scorching Summer Heat of Hanoi
If this is the first time you experienced Hanoi Summer, the local weather might be quite uncomfortable for you. Occasionally, the unfamiliar heat could even lead to dizziness or headaches. Therefore, it is vital to prepare carefully to guarantee a pleasant and satisfying journey.
Consider your clothing: Opt for lightweight materials such as cotton and linen to keep cool in the scorching sun. Loose-fitting and light-colored clothing can make a significant difference in combating the heat.
Don't forget your sunscreen: Applying sunscreen before heading out is extremely important. It helps shield your skin from the intense sunlight in Hanoi.
Bring a water bottle: Staying hydrated throughout the day is essential in the hot weather of Hanoi Summer. If you plan to be out and about to explore the city, a bottle of water is definitely a must-have item.
Do not go out during peak heat hours: The peak heat hours in Hanoi are typically from 11:00 AM to 3:00 PM. In summer, the temperature during this time can soar up to 40°C. During these hours, it's best to stay indoors, relax, and enjoy a cool refreshment.
With all the information mentioned above, Summer is still an ideal time for you to visit Hanoi, despite its scorching tropical heat. You will be able to engage in interesting activities, admire several picturesque destinations, and savor the culinary delights of Hanoi. Create your trip today so you can indulge in the appeals of Hanoi Summer, and don't hesitate to contact us if you need any help.