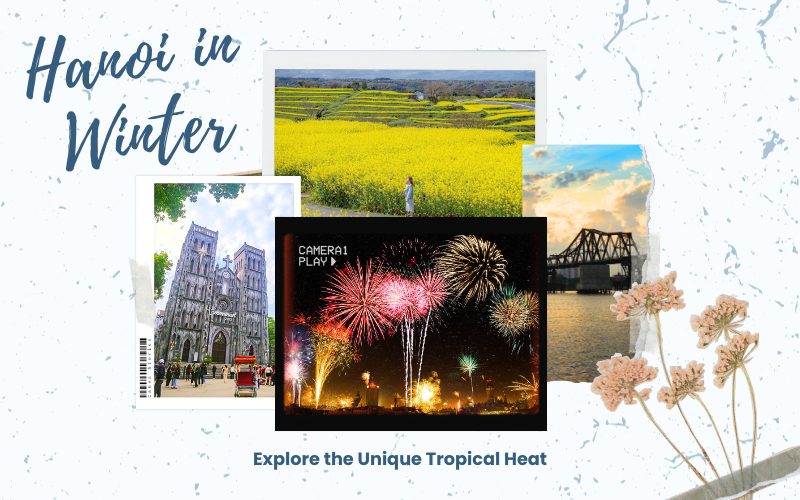 If Hanoi gives off a festive vibe in Spring, a vibrant vibe in Summer, and a romantic appeal in Autumn, then you will find a whole new aspect of Hanoi in Winter. When Winter comes, every corner of Hanoi becomes dreamy in the slight sunshine and the unique bitter cold. Let's go and explore the winter charm of Hanoi with IDC Travel.
Time of Winter in Hanoi
Winter in Hanoi often takes place from December to February. However, due to climate change, in some years, Winter might start in November and end in January. If you never experienced Hanoi Winter before, you might find it a little unpleasant.
The temperatures might not be as low as those in frigid zone countries. However, because of the high humidity, the cold in Hanoi is quite bitter and frosty, making you feel colder than usual. Temperatures of Hanoi Winter range from 12°C to 24°C. In late night and early morning, the temperature can go even lower 11°C. During winter, you will find the air a bit damp as the humidity is around 68-69%.
Is Winter an Ideal Season for Your Trip?
If you visit Hanoi during the winter, you'll notice that things slow down a bit compared to other times of the year. Winter's arrival marks the end of another year. Hanoians like to enjoy the romantic views left from autumn and reflect on how their year has been.
When you come to Hanoi in the coldest season, you'll find the daisies blooming. These flowers only blossom once a year. They're like a symbol of Hanoi, representing the purity and gentleness of the local people. Even if the sky looks a bit gray and fog hangs around, you can still walk through Hanoi's lovely streets and soak up the local vibe. Moreover, because of the fog, all the attractions seem to have an ancient feel. Therefore, you can visit famous destinations and see their unique architecture in the cold weather. Additionally, it's also a great chance to try Hanoi's traditional foods. These dishes are warm and comforting.
Appealing Destinations in Hanoi to Visit
West Lake – Biggest Lake in Hanoi
Visiting West Lake, the largest lake in Hanoi, during the winter season is a delightful experience for you. As the temperatures drop and the city embraces a cooler atmosphere, West Lake takes on a serene and tranquil charm. The misty mornings create an enchanting ambiance around the lake's shores, making it an ideal place for a peaceful stroll. You can watch locals practicing Tai Chi or enjoy a cup of hot tea at one of the lakeside cafes. Additionally, West Lake is known for its beautiful pagodas, such as Tran Quoc Pagoda, which looks even more picturesque amidst the winter landscape. Exploring this scenic area during the winter months allows you to appreciate the city's cultural and natural beauty in a unique way.
Hanoi Old Quarter & Hoan Kiem Lake
Coming to Hanoi in Winter, you should also explore Hanoi Old Quarter and Hoan Kiem Lake. These iconic destinations take on a different charm when the temperatures cool down, and a gentle chill fills the air. Strolling down the streets of the Old Quarter, you will see them adorned with festive decorations and twinkling lights for the upcoming Christmas and New Year Holidays. You can wander through the labyrinthine alleys, savoring delicious street food and shopping for unique souvenirs.
Hoan Kiem Lake, with its misty mornings and serene ambiance, becomes a serene escape from the bustling city. The famous red bridge leading to Ngoc Son Temple looks even more enchanting in the winter fog. Taking a leisurely walk around the lake or enjoying a cup of hot tea at a nearby cafe allows you to soak in the tranquility and beauty of this historical area. Winter in Hanoi brings a different perspective to these beloved landmarks, making it an ideal time for exploration.
Rapeseed Garden
In early December, or the mid-winter, many rapeseed gardens around the capital city of Hanoi begin to bloom. Rapeseed flowers display a vibrant array of colors, including yellow, purple, and white. The scent of these flowers is delicate and soothing, bringing a sense of simplicity and joy. What makes them particularly special is that they only bloom in early winter when the weather turns cool, and they will wither away after about a month. So, seize the opportunity to admire these flowers while you can.
Best Hanoi Activities to Partake in Winter
Join in the Christmas Prayer Ceremony at St. Joseph Cathedral
If you're a Christian, joining the Christmas prayer event at St. Joseph Cathedral in Hanoi is a really special and heartwarming thing to do. This cathedral looks amazing with its neo-gothic style, and during the holidays, it's even more charming.
Enjoy Coffee at Railway Coffee Shops
Sipping coffee on the railway is a fascinating young culture embraced by the people of Hanoi. During winter, the railway near Hanoi Old Quarter gains immense popularity, particularly among the city's youth. Here, locals and visitors alike come together to relish a steaming cup of coffee amidst the chilly weather while taking in the enchanting historic surroundings. This experience is an absolute must when exploring Hanoi. Don't forget to try the renowned egg coffee while you're at it. While seated in one of these charming cafes, you may even have the chance to witness the unique moment when a train passes by.
Visit Long Bien Bridge in Winter
Long Bien Bridge is considered an iconic symbol of Hanoi. You can participate in a motorbike tour to visit this location and experience a very different, nostalgic, and romantic side of Hanoi. During winter, if you come to Long Bien Bridge in the evening, you'll encounter many street vendors selling grilled corn and sweet potatoes, which are winter specialties in Hanoi. In the chilly weather, Hanoians often come here to gather around the warm charcoal stoves and enjoy this rustic delicacy. Amidst the serene ambiance, you'll occasionally hear the sounds of car horns and train whistles, mingling with laughter and lively chatter, creating an unexpectedly delightful atmosphere. This will undoubtedly be a fascinating experience for your journey.
Immerse in Numerous Blooming Flowers
Nature has generously favored Hanoi Winter with an abundance of beautiful flowers. Winter, the season of resilient trees with their bare branches and harsh cold weather, still showcases the beauty and robust life in Hanoi. As soon as winter arrives, you can spot street vendors selling daisy flowers throughout the nooks and crannies of Hanoi's streets. Daisy flowers, with their pure and pristine white color, create a gentle and delicate feeling for those who admire them. Furthermore, you can also admire the purple hues of aster flowers, a species that blooms for only about two weeks from late November to early December before disappearing.
Admire New Year Fireworks Performance
If you're planning to visit Hanoi in early January or find yourself in the city during the transition from December to January, make sure not to miss the opportunity to celebrate New Year's Eve with the locals. Every year, as the new year arrives, Hanoians come together at Hoan Kiem Lake for a lively countdown party and to watch the fireworks display. Being part of this vibrant atmosphere, surrounded by interesting people when the new year arrives, will create unforgettable memories during your journey.
Must-Try Dishes during Hanoi Winter
Traditional Pho
Pho is not only a delightful meal, but it also carries within it centuries of cultural heritage. When visiting Hanoi in Winter, indulging in a steaming bowl of Pho is definitely a must-try experience. The enticing aroma of the flavorful broth, tender noodles, savory beef, crispy fried onions, and fresh herbs creates a captivating medley of flavors. Hanoi's Pho is not just a dish; it's an integral part of the nation's distinct cultural legacy.
For an exceptional dining experience, head to Pho Bo Au Trieu, a restaurant that was honored with the Michelin Bib Gourmand award in 2023. Here, you can delve into the artistry of Vietnamese cuisine and fully immerse yourself in Hanoi's traditional ambiance, making your Winter trip truly exceptional.
Bun Thang – Favourite Breakfast of Hanoians
If you're seeking a delightful winter breakfast option in Hanoi, consider trying Bun Thang. This dish incorporates a variety of distinctive ingredients, including fried eggs, dried shrimp, shiitake mushrooms, and chicken. What sets Bun Thang apart is its special broth, which is prepared using a unique recipe, resulting in a remarkably flavorful and aromatic soup. For a truly local experience during your visit to Hanoi in Winter, start your day early with a steaming bowl of Bun Thang. This dish is renowned as a culinary gem deeply connected to the identity of Hanoi's residents.
Hot Banh Duc
You can explore another local delicacy known as "Hot Banh Duc." This dish offers a twist on the traditional Banh Duc, as it is consumed while still piping hot. Making a delectable serving of hot Banh Duc involves meticulous preparation with various intricate ingredients. It pairs wonderfully with a sweet and tangy dipping sauce, stir-fried minced meat featuring wood ear mushrooms, coriander, and dried onions. Some eateries even include fried beans as an additional component. The cake itself is both chewy and tender, soaking up the rich dipping sauce and harmonizing with the other elements to deliver an unforgettable flavor.
Bun Oc
When you find yourself in Hanoi during the winter months, don't miss the chance to indulge in a steaming bowl of bun oc. This iconic Hanoi dish combines the warmth and comfort you need on a chilly day with the distinct flavors of Northern Vietnamese cuisine. A bowl of bun oc typically features small snails in a flavorful broth, accompanied by soft vermicelli noodles. The rich and aromatic broth is crafted from pork bones and seasoned to perfection, infusing each spoonful with an explosion of savory goodness. To enhance the experience, you'll also find fresh herbs, crispy fried shallots, and zesty lime wedges on the side. It's a delightful and heartwarming dish that captures the essence of Hanoi's culinary traditions, making it an ideal choice to savor during Winter.
>>> You can check out more of Hanoi's traditional dishes at Top 12 Most Savoring Hanoi Food.
Useful Tips for Your Trip to Hanoi in Winter
Visiting Hanoi in Winter promises an unforgettable experience for numerous travelers. The lively atmosphere marking the start of the year, coupled with pleasant cool weather, ensures an enjoyable journey. Nevertheless, it's important to consider a few key points:
Hanoi experiences predominantly cold weather during Winter. Remember to pack warm coats, cozy sweaters, scarves, and headgear to shield yourself from the chilly and gusty winds.
Winter coincides with Christmas and New Year's Eve, during which many shops and restaurants might either close or operate with limited hours. For those keen on relishing local cuisine and partaking in festival activities, early trip planning with IDC Travel is advisable.
Moreover, Winter ranks as a peak tourist season in Hanoi, which can lead to inconvenience in terms of city travel as it might be challenging to secure transportation. To ease your commuting, you can opt for the convenience of renting a private car with a driver, and for further details about this service, feel free to reach out to us.
Winter is definitely a worthwhile season for your trip to Hanoi. You will have a chance to immerse in the novel atmosphere of Vietnam's capital city. Moreover, several delicious culinary delights and interesting attractions are waiting for you. You will never regret spending your time during Hanoi Winter.
Read more: