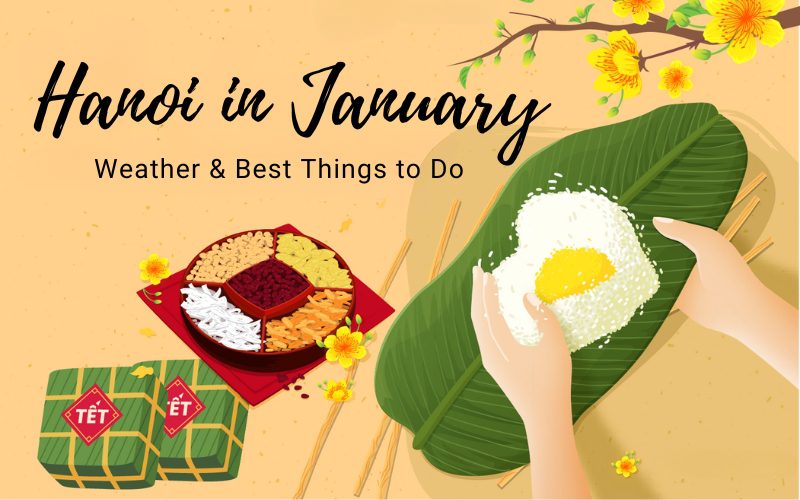 Hanoi in January, the month marking the beginning of a new year, has a vibrant and bustling atmosphere. With beautiful landscapes, diverse culture, and rich cuisine, January is a great time for visitors to travel to Hanoi and discover and experience its beauty and vitality. Let's find out with IDC Travel what is attractive in Hanoi in January!
Hanoi Weather in January
January is the first month of the year and is also the time when Hanoi weather is mostly winter, with the coldest peak and dry weather.
Visiting Hanoi in January, you will find the cold lingering with a pleasant feeling, refreshing you after a long trip to the town. The average temperature during the day usually ranges from 15 to 20 degrees Celsius, but the nights and early mornings are colder, about 10 to 15 degrees Celsius. The temperature of Hanoi in January usually drops lower at night.
The dry weather of January usually does not have rain, and the sky is mild, creating a fresh and comfortable atmosphere for visitors. January is the ideal time for you to explore Hanoi without facing unusual rains.
January is also the time of the Lunar New Year, the biggest holiday of the year for Vietnamese people. Everywhere in the city is jubilantly decorated and colorful lights, creating an exciting and joyful atmosphere. Visitors will have the opportunity to participate in traditional activities, enjoy unique dishes for this occasion, and appreciate the bustling atmosphere of Tet.
Places to Visit in Hanoi in January
Hanoi Old Quarter
In January, Hanoi Old Quarter becomes more vibrant than ever. Visitors to Hanoi Old Quarter will feel the traditional space, with ancient architectural features and classic stone streets. This place is also the center of Hanoi culture, where many traditional cultural and artistic activities occur. You can participate in festival activities, watch special art performances and enjoy traditional Hanoi dishes such as banh chung, banh day, and frozen meat.
Besides, the Old Quarter is also an ideal destination for shopping and learning about the local culture. Visitors to Hanoi in January can find traditional crafts, unique works of art, and special handmade products. Although the air in this month may be chilly, the vitality and dynamism of Hanoi's Old Quarter still captivate visitors.
St. Joseph's Cathedral
St. Joseph's Cathedral is one of the must-visit destinations in Hanoi. This Cathedral is famous for its exceptional romantic and peaceful beauty. The landscape around the Cathedral in January is more brilliant, with green trees and blooming flowers. During this time, St. Joseph's Cathedral also welcomes locals and tourists to join the New Year's prayer ceremony. This is an important time of the year as people come here to pray for luck and happiness for their families and themselves.
Hanoi's Famous Temples and Pagodas
During January, when the new year has just begun and the Lunar new year is coming, temples and pagodas in Hanoi are the places attracting multiple locals and tourists. Not only because of the festive atmosphere, but people also come here to wish for a wonderful new year coming ahead. This is a beautiful feature of Vietnamese custom. If you come to Hanoi during this time, you should stop by some well-known spiritual sites, such as Quan Su Pagoda or Quan Thanh Temple, to admire the unique architecture and delve into the traditional custom of Hanoians.
>>> Read more: Most Famous Pagodas and Temples In Vietnam
Quang Ba Flower Market
Quang Ba Flower Market, located in Quang An Ward, Tay Ho District, is one of the largest and most famous flower markets in the capital Hanoi. In January, the Quang Ba Flower Market becomes more vibrant and bustling than ever because this is the time of New Year's Eve – the most significant holiday for Vietnamese people. Visitors will have a chance to admire various bright and diverse flowering trees, from peach and apricot branches to kumquat branches and many other flowers. Not only that but the unique flowery plants and landscape also make the market space become alive and vibrant.
Activities to Join in January
Celebrate New Year's Eve at Hoan Kiem Lake
If you tend to go to Hanoi in early January, or you happen to stay in Hanoi during the transition from December to January, don't miss out on the chance to celebrate New Year's Eve with Hanoi locals.
Every year, at the very first moment of the new year, people in Hanoi gather at Hoan Kiem Lake to enjoy the countdown party and admire the fireworks together. Immersing in the dynamic atmosphere with lots of interesting people around you when the new year comes would be an unforgettable experience in your journey.
Experience Hanoi Night Market
Hanoi Night Market, held on weekends every week at the Old Quarter, is a great place to enjoy Hanoi's vibrant and culturally diverse atmosphere in January.
You will have a chance to admire traditional crafts such as woolen clothes, silk scarves, precious textures, and many interesting decorations. Visitors can also buy several souvenirs in the night market. Not only that, immersing in the atmosphere of Tet, all shops and booths in the market are decorated significantly. This will be a memorable experience for your trip to Hanoi.
Visit Nhat Tan Flower Village
January is the time for all kinds of flowers to bloom gorgeously. Coming to Hanoi at this time, you can not only enjoy yourself in the joyful Tet atmosphere but also have the opportunity to admire the colorful flowers if you visit Nhat Tan Flower Village.
Nhat Tan Flower Village is a Hanoi flower sightseeing site with three places to visit: one rock shore and two beautiful flower gardens. Any visitors coming to this place would appreciate the flowers in the gardens, especially the Phuong Linh flower garden, which is the most popular among all tourists. Phuong Linh flower garden is planted with various flowers on the grounds of Nhat Tan Flower Village. There will be several flowers blooming all year round.
Take Part in Tet Preparation with the Locals
Tet is the most important and joyful festival in Vietnam. Therefore, we suggest you participate in the preparations to gain a comprehensive view of the rich customs as well as the hospitality of local people in Vietnam. You can try choosing colorful flowers for decorations when wandering around the market. Several apricot blossoms and kumquat trees are sold along the streets in Hanoi as in Hanoians' belief, these creatures symbolize prosperity and luck.
Moreover, learning how to make traditional dishes like Chung Cake with the local chef in a cooking class tour is an incredible way to create remarkable memory during your trip to Hanoi. It is also an opportunity for you to indulge in the precious culture of Hanoi as well as Vietnam.
Experience Hanoi Cuisine
Coming to Hanoi in the cold January, you definitely cannot ignore the traditional dishes of the Hanoians. Why don't you try, eat, and enjoy all the local flavors for the most authentic trip?
Pho
Pho is not only a delicious dish but also contains hundreds of years of cultural history. For visitors to Hanoi in January, enjoying a typical Hanoi-style bowl of Pho is an unmissable experience. The fragrance of rich broth, soft noodles, delicious beef, crispy fried onions, and fresh herbs creates an attractive flavor blend. The Hanoian Pho is a dish and part of the country's unique cultural heritage.
You can enjoy this wonderful dish at Pho 10 Ly Quoc Su Restaurant as this place received a Michelin Guide star in 2023. Explore the perfection of Vietnamese cuisine and immerse yourself in Hanoi's traditional atmosphere in January to have the best trip here.
Egg Coffee
Hanoi egg coffee is a unique culinary icon you cannot ignore when coming to Hanoi. This coffee dish originated in the 1940s and has become integral to Hanoi's cultural life. With the rich and sweet taste of filter coffee, covered by a layer of fatty and fragrant egg cream foam, Hanoi egg coffee will surely captivate many visitors. Why not treat yourself to this specialty in the cozy atmosphere of traditional cafes in Hanoi in January? This will give you the most local experience during the trip!
Tet Jam
Coming to Hanoi in January means that you are coming closer to the biggest holiday of Vietnamese: the Tet Holiday. You can immerse yourself in the Tet atmosphere by experiencing the traditional Tet cuisine of Hanoi – the Tet Jam.
A full tray of traditional Hanoi Tet Jam consists of Coconut string jam, Ginger pieces jam, Pumpkin jam, Sugarcoated lotus seed jam, and Sweet melon seeds. Hanoians believe that Tet Jam is the symbol of new luck and wealth to the family in the coming year. This dish is not only a snack to treat the guests but also a traditional beauty of Hanoi.
Tips to Visit Hanoi in January
Traveling to Hanoi in January will be an unforgettable experience for many tourists. The bustling atmosphere at the beginning of the year, with cool weather, will give you a favorable journey. However, there are a few things you should keep in mind:
Hanoi weather in January is mostly cold since it is still winter in this town. Don't forget to bring warm coats, sweaters, scarves, and headscarves for protection from cold and windy winds.

January is the time of the Tet festival, when many shops and restaurants may close or limit operations. You can 

plan your trip

 early with IDC Travel if you want to enjoy food and participate in festival activities.

January is also the peak tourist time in Hanoi, so traveling in the city will be inconvenient because calling a car is difficult. You can rent a private car with a driver for easier transportation. Don't hesitate to get in touch with us to learn more about this service.
Traveling to Hanoi in January is a great adventure with many interesting and unique things. This city attracts visitors to the pristine beauty of the old town, unique culinary flavors, and bustling festive atmosphere during the Lunar New Year. Let's experience the traditional Tet festival and discover the unique beauty of Hanoi in January – a memorable and exciting time for the journey to find out more about the culture and history of the country.
>>> Read more: