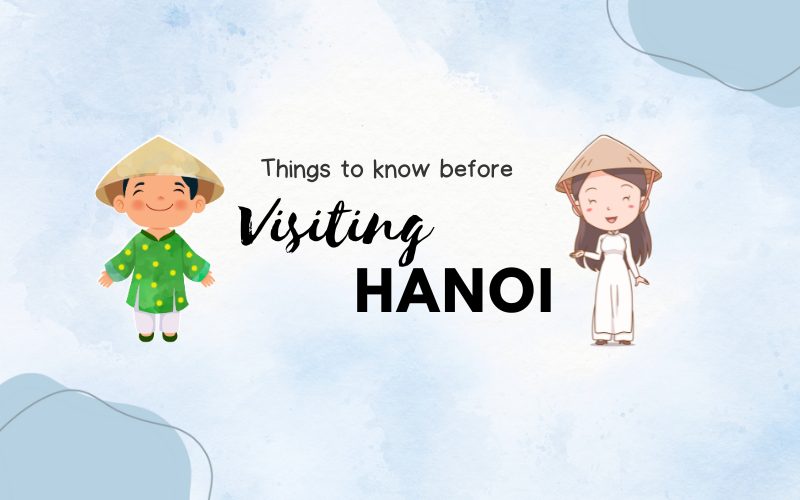 Hanoi has always been an attractive destination to several tourists from all over the world. With its rich culture, thousand years of history, and various beautiful attractions, visitors coming to Hanoi would definitely fall in love with the city. However, it is not easy to plan a trip to Hanoi if you have no idea about this capital city. Please keep in mind all the below Hanoi travel tips so you can have your trip well-prepared.
Understand Vietnam Visa Rules
For entry into Vietnam, it is essential for your passport to be valid for at least 6 months from the entry date. Certain visitors, including those from Korea, Japan, Sweden, Finland, Norway, Denmark, the United Kingdom, France, Germany, Russia, Italy, and Belarus, enjoy a visa exemption policy that grants them up to 45 days of stay.
From August 15th, 2023, visitors from all countries and territories worldwide can now apply for a Vietnam E-Visa, which allows for a stay of 90 days, an extension from the previous 30-day duration.
To apply for the Vietnam E-Visa, follow these simple steps:
Step 1: Gather all the necessary documents, including one 4×6 passport photo, jpg images of your passport data page, a valid passport, a temporary address in Vietnam, points of entry and exit, and a debit/credit card for the visa fee payment.
Step 2: Visit the website of the Immigration Department of Vietnam and navigate to the "E-Visa Issuance" section, selecting "Outside Vietnam foreigners."
Step 3: Upload your .jpg photos and provide all the required information.
Step 4: Pay the visa fee, which is US$25.
Step 5: Once the process is complete, you will receive a document code. After 3 working days, use this code to obtain your visa online. Download and print at least two copies for safekeeping.
>>> For detailed regulations on Vietnam Visa, you can check out our article here.
Check the Weather Conditions before Packing Luggage
Hanoi is a standard tropical city with 4 distinct seasons in one year: spring, summer, autumn, and winter. The temperatures in spring, from February to April, range from 17℃ to 24℃, with an average humidity of around 75%. It becomes hotter when transiting to summer, lasting from May to August. During this time, the temperature can soar to as high as 38℃ with an average humidity of 80%.
Autumn in Hanoi generally arrives in September and lasts until November. With the temperatures ranging from 20℃ to 28℃ and humidity averaging around 65%, this weather brings pleasant to every visitor in Hanoi. Finally, winter in Hanoi usually spans from December to the end of January. The temperature drops significantly, from 10℃ to 20℃, and average humidity increases to 70%.
Each season in Hanoi has different weather conditions. And, depending on your personal preferences, you can choose the optimal time to visit this city. If you prefer good weather conditions, just come here in spring or autumn. However, if you want to reduce your travel costs, remember to visit Vietnam's capital in the summer. Hanoi's coldest months are December and January. At this time, you can experience the Tet holiday atmosphere, enjoy traditional Tet dishes such as Banh Chung or Mut Tet, and best to travel to Hanoi's nearby attractions such as Mai Chau and Sa Pa.
>>> Hanoi weather conditions in each month are provided in detail in this travel guide. Just check it and choose the time that best fits your preference.
Dress Appropriately in Hanoi
Hanoi is a traditional city with thousand years of history. When exploring the city, it's essential for you to dress respectfully and wear appropriate outfits to pay homage to its custom and avoid any unintended misunderstandings.
In addition, among the famous attractions in Hanoi, there are several historical sites requiring formal clothes. For example, if you tend to attend Hoa Lo Prison or Ho Chi Minh Mausoleum during your trip to Hanoi, you should not wear shorts, miniskirts, and off-shoulder shirts. Besides, there are multiple famous pagodas and temples in Hanoi that you might want to visit, so pay attention to your outfits during your vacation here.
Caution the Hanoi Hectic Traffic
You might find someone mentioning in their Hanoi travel tips that Hanoi traffic is "crazy." It is true to some extent. Many tourists find crossing the road in Hanoi a challenge for them because of the crowded traffic. Unlike other big cities, the streets and roads in Hanoi are mostly small and narrow. Therefore, it is hard to divide separate lanes for each type of vehicle. You should pay attention when crossing the road. If it is too difficult for you, ask some locals for help. Hanoians are extremely hospitable, and they are always willing to give you a hand.
Coming to Hanoi, you might find that the most popular means of transportation is the motorbike. It is reported that almost every individual in Hanoi owns a motorbike. You can easily catch sight of children sitting behind their parents on motorbikes while traveling on the road. Give yourself a chance to discover Hanoi as a local by taking part in a motorcycle tour, you will truly immerse yourself in the daily pace of life in this city.
Avoid Taxi Scams in Hanoi
It is sad to admit that there are several tourists reporting being scammed by taxi drivers in Hanoi. Many visitors to Hanoi are overcharged because they are not familiar with Vietnamese currency. Some taxi drivers might take you to a hotel different from the one you tell them as they work on commission. Therefore, you should be careful when hopping on a taxi. Make sure to deal the price with the driver before getting on the car and do not let him take you anywhere that is not the address you give him.
To avoid the risk of being scammed, another Hanoi travel tip you can consider is to rent a car with a private driver. The driver will be with you throughout the whole itinerary, bringing you to all your wished destinations and picking you up at any time you want.
Be Careful with the Pickpockets
This is among the unforgettable Hanoi travel tips. When visiting this city, it's important for tourists to be cautious about pickpockets. While the city is captivating with its rich history and culture, it's also a bustling metropolis. Just like any popular tourist destination, pickpocketing can be a concern.
The crowded streets, bustling markets, and popular tourist attractions can provide the perfect opportunities for thieves to take advantage of unsuspecting visitors. You should keep a close eye on your belongings, avoid carrying large amounts of cash or valuable items, and be mindful of your surroundings.
Less Cash, More Cards
Just like the abovementioned tip, don't bring too much cash with you. It might catch the attention of thieves when you take out the cash to pay when buying stuff. Moreover, carrying large amounts of cash might cause you difficulty in managing expenses. Nowadays, there are several places in Hanoi accepting card payments, bringing convenience to visitors to the city. You should only use cash when buying things from street vendors.
Visit Scenic Spots nearby Hanoi
Having a chance to travel to Hanoi, you can also indulge in other stunning landscapes nearby the capital city. Only about 3 hours driving from Hanoi, you can admire the beauty of Ha Long Bay, a UNESCO World Natural Heritage. If you have ample time, spending a few days in Ha Long is a perfect option. During your time in Ha Long Bay, you will have a chance to discover the stunning caves, visit the pearl farm, or enjoy the voyage on a cruise.
In addition to Ha Long Bay, if you love to explore the mountainous area and immerse in the ethnic culture, Mai Chau and Sa Pa would be the ideal destinations for you. Not only can you admire the breathtaking scenery of the golden ladder field, but you can also enjoy the magnificent waterfalls and delve into the native customs of ethnic people living in this area.
Moreover, you can embark on a fascinating journey to Ninh Binh and Bac Ninh. You will surely be impressed by the sacred allure of renowned temples and pagodas here. Why not have yourself a chance to witness the profound beauty and serenity of these ancient places?
Don't Drink Tap Water
One of the most important Hanoi travel tips to keep in mind is that the tap water in Hanoi, as well as throughout Vietnam, is not drinkable. You should purchase bottled drinking water from supermarkets or convenience stores to avoid all health concerns.
Be Careful When Enjoying Hanoi Cuisine
Hanoi is always famous for its rich culinary history. Every visitor to the city is overwhelmed by the succulent dishes with unique flavors that only Hanoi can offer. Savoring the traditional Pho and other dishes in Hanoi is definitely a must-do activity during your trip.
However, Hanoi food is usually made with various ingredients and seasonings. If you are allergic to anything, you should check carefully before enjoying your meal to ensure an unforgettable culinary journey.
Besides, there are several street vendors selling appealing food. Nevertheless, these places' dishes might not satisfy the standard of food safety hygiene, which is likely to cause you digestive issues. You can follow the Best Restaurants in Hanoi for A Full-Day Food Tour to have the best culinary experience without worrying about anything.
>>> In case you concern, you can join a Hanoi Cooking Class to learn how to make Hanoi traditional foods and enjoy them.
Hanoi is a worth-visiting place for all tourists worldwide. In case you are planning your trip to this city, the above Hanoi travel tips can serve as a reference for you. Feel free to contact us if there is anything you are not clear about or need help planning the trip.