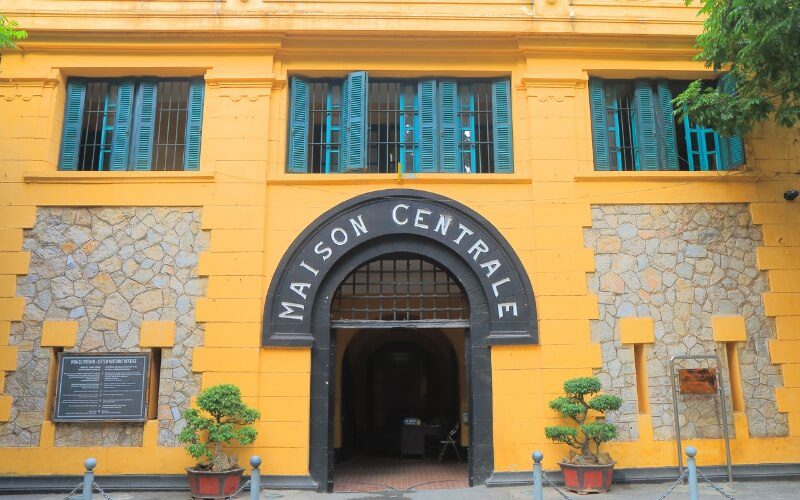 Hoa Lo Prison is considered a symbol of Vietnamese patriots' resilient and undefeatable spirit. Not only a testimony to an arduous historical period, but this work is also a highlight full of ups and downs, and nostalgia in the bustling capital. This is considered one of the must-visit attractions if you have the opportunity to travel to Hanoi.
Essential Information for Tourists
Location of Hoa Lo Prison
Hoa Lo Prison is located at No. 01, Hoa Lo Street, Hoan Kiem District, Hanoi. Situated right in the center of Hanoi, tourists can easily get here and explore the fascinating historical stories associated with the relic.
Opening hours, Entrance fee, and Services
Opening hours: Hoa Lo Prison is open every day, including holidays, for tourists to come and explore its heroic history, operating hours from 8 AM to 5 PM.
Entrance fee: Tourists entering Hoa Lo Prison must pay an entrance fee of 30,000 VND per person. A 50% discount is applied for students in Vietnam with their student cards, people with severe disability, and Vietnamese elderly people over 60 years old with their ID cards. Children under 15 years old, people with exceptionally severe disability, and people with meritorious services to the Vietnam Revolution are completely free of entrance tickets.
Service: Hoa Lo Prison offers tourists the audioguide service at a price of 50,000 VND per headphone. You can utilize this service to understand clearly the story behind each artifact in the exhibition.
Regulations
Explosives are strictly banned inside the relic.
Do not move the artifacts inside the relic.
Only burn incense at the memorial site.
If you need more information, you can check out the official website or Facebook page.
History of Hoa Lo Prison
History of Formation and Development
At the end of the 19th century, in order to deal with the struggles of the Vietnamese people, the French colonialists strengthened the repressive apparatus. They supplemented the police force, completed the court system, and built a system of prisons. In 1896, the French colonialists built Hoa Lo prison on the land of Phu Khanh Village, Vinh Xuong Canton, Tho Xuong District, Hanoi. This place was one of the largest French colonial prisons in Indochina.
From a famous pottery-making craft village, the colonialists turned Hoa Lo into a place of physical and mental imprisonment and exile of thousands of patriotic and revolutionary soldiers in Vietnam. Living in an imperial prison with a harsh regime and damned activities, the Vietnamese prisoners still kept their temper, turning the prison into a school and a place to popularize revolutionary theories. Many people have cleverly escaped this place to return to the community and organizations, making worthy contributions to the cause of national liberation.
In October 1954, when the North was liberated, the Government of Vietnam managed and temporarily used Hoa Lo Prison to detain law-breakers. However, from 5th August 1964 to 31st March 1973, Hoa Lo Prison was also used to detain American pilots who were shot down while bombing North Vietnam.
In 1993, to meet the Capital's economic development requirements, the Government of Vietnam changed Hoa Lo Prison's purpose. The remaining part of the Southeast is preserved, restored, and embellished to rank as a historical relic of Hanoi. There is a memorial to Vietnamese patriots and revolutionaries who heroically sacrificed themselves at the hell-like prison for the independence and freedom of the nation.
The Giant Guillotine
There is a guillotine inside the prison. The French colonialists used this tool to execute Vietnamese revolutionary and patriotic soldiers since 1909. When completing the sentence, the death row inmate would be tied with his hands behind his back, lying face down on a wooden table with his neck between two wooden crescent planks. When the executioner pulled the rope, the blade shot down from the top; the head fell into the corrugated iron box, and the body was left in the rattan basket.
The guillotine can be disassembled, moving to where the prisoner used to work to execute the sentence. In 1930, the guillotine was brought to Yen Bai to execute 13 Vietnamese Nationalist soldiers, including Mr. Pho Duc Chinh and Mr. Nguyen Thai Hoc. On 31st July 1932, the French colonialists brought the guillotine from Hoa Lo Prison to Hai Phong Prison to execute Nguyen Duc Canh, former Secretary of the Bac Ky Party Committee, and young revolutionary soldier Ho Ngoc Lan.
Terminalia Catappa Tree of Gratitude
Some former political prisoners of Hoa Lo Prison whispered to each other the origin of the Terminalia catappa tree. Before 1930, convicted prisoners had to work as cleaners at the court. They plucked wild Terminalia catappa seeds and planted them in the prison yards. Over time, the tree has grown up, attached closely and usefully to many generations of Hoa Lo political prisoners. Therefore, people called it the Tree of Gratitude.
When prisoners were allowed to go out, the courtyard next to the Terminalia catappa tree was where political prisoners gathered to enjoy the cool air and the breeze blowing through. They took advantage of the table and proposed ideas and measures against the harsh regime of this colonial prison. This tree was not only an object to witness daily life and share the communist's aspirations, goals, ideals, and feelings but also a "secret mailbox" to hide and exchange information and documents of revolutionary propaganda in prison.
The Cachot in Hoa Lo Prison
Cachot areas are dungeons with an area of ​​only 4m2 with walls painted in murky black. This place has little light or air, making prisoners feel like they are in an extremely secret grave.
The prisoner's bed is built with special cement. When lying down, the head slopes down, causing blood to rush to the brain. They used Cachot to punish those who organized the struggle, propagated the revolution, or escaped from prison. Comrade Truong Chinh was also detained here when he held a meeting in prison to celebrate International Labor Day.
Sightseeing Tour at Hoa Lo Prison
Day Tour
Day tours at Hoa Lo Prison cost only 30,000 VND per person. After buying tickets, visitors can rent an audioguide with headphones to listen to narrations from characters who used to hold in this prison. In addition, there are signs in each gallery and each item that provides detailed information for visitors.
When the tour starts, visitors can visit each area of the prison from the moment there is light until it is entirely dark. When combined with the narration, the prisoners' artifacts on display, such as utensils and clothes, will surely give visitors goosebumps before the brutality of the French colonialists.
Night Tour: "The Holy Night"
To help Vietnamese people and tourists from all over the world better understand the loss and fierceness of the wars in Vietnam, Hoa Lo Prison Relic organizes a night tour to faithfully recreate the hard time of national heroes during the Vietnam War.
The tour has voiceovers and a limited number of participants per night, combined with sound, light, and ingenious performances by the actors, giving visitors an incredibly realistic look at the struggling days of the soldiers who brought peace and democracy to Vietnam.
Not only providing visual and auditory experiences, staff members of Hoa Lo Prison Relic also prepare hand-made souvenirs such as cakes, tea, and jelly made from the last remaining Terminalia catappa tree here.
Attractions nearby Hoa Lo Prison
Hoan Kiem Lake
Hoan Kiem Lake is considered the heart of Hanoi. As it is near Hoa Lo Prison, you can have a walk to Hoan Kiem Lake after visiting the relic. The fresh air surrounding this lake would definitely calm you down after the emotional stories of Vietnamese political prisoners.
St. Joseph's Cathedral
Located not too far from Hoa Lo Prison, St. Joseph's Cathedral is another must-visit destination in Hanoi. Coming to this place, you will have a chance to admire the unique Gothic architecture of this cathedral and enjoy other activities nearby.
Getting to Hoa Lo Prison
Taxi/Grab/Private Car
Getting to Hoa Lo Prison by Taxi or a car booked via a ride-hailing app is the most convenient way for you, especially in a bustling city like Hanoi. By providing the address, the driver will take you to your wished destination in a minute.
If you still want a more comfortable and personalized means of transportation, you should consider renting a private car with a driver. The driver will bring and pick you up from every place you want, at any time you call him. He can even give you helpful traveling advice from his rich experience going around the city. Feel free to contact us to have more information about this service.
Public Bus
Hopping on a bus is another way to arrive at Hoa Lo Prison if you want to try local public transportation. There is a bus station near the relic, so you can catch buses number 32, 02, 38, and 41 to get there. Remember to check which bus has the most suitable route for you to take, or else you might get lost in Hanoi.
Walking
If you find your accommodation near this relic, having a walk to the destination is also an option for you to consider. Chilling in Hanoi's atmosphere and admiring the streets when going to Hoa Lo Prison is absolutely worth the jog.
Hoa Lo Prison is not just a relic but also a treasure of heroic stories in the past. Visiting Hoa Lo is definitely worth the trip. Have yourself an opportunity to gain a comprehensive understanding of Vietnam's painful past and the meaning of national heroes' deaths to protect the country.