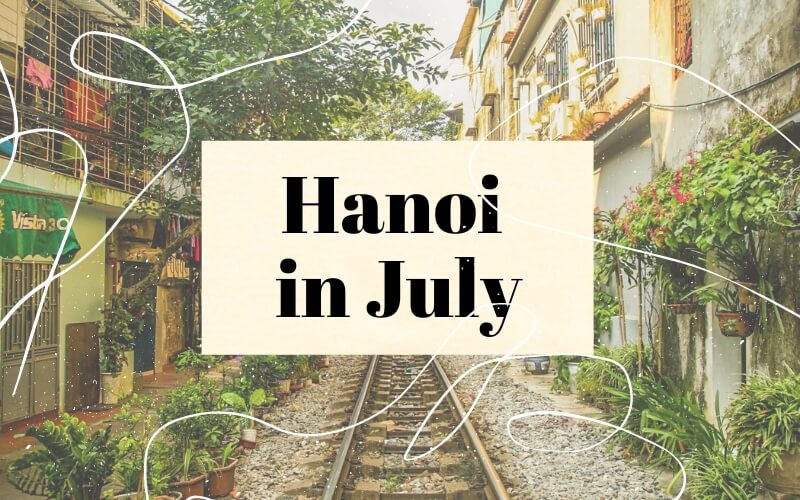 Since summer is the tourism season in Vietnam, many local and foreign tourists choose the capital city, Hanoi, as a destination for their trip in July. What's interesting about traveling to Hanoi in July? Hanoi has diverse beauty that harmonizes tradition and modernity with its color, impressing many travelers. If you still don't know where to start your journey, let IDC Travel tell you all the fun experiences, where to go, and what to eat when visiting Hanoi in July!
Hanoi Weather in July
July is the summer month in Hanoi, with hot and humid weather. Sunshine covers the city, causing temperatures to soar between 25ºC and 35°C, sometimes up to 38ºC on peak days. Dry weather and humid air might make visitors feel heavy and uncomfortable.
Short rains and showers often appear in the evening, lowering the temperature and creating cooler air at night. However, the rain only lasted for a short time and did not reduce the temperature significantly. July is also the time of thunderstorms and tornadoes, so visitors should listen carefully for weather information. You can check the real-time weather information at the website AccuWeather to prepare for your trip.
Best Hanoi Places to Visit in July
Hoan Kiem Lake
Hoan Kiem Lake is one of Hanoi's must-visit destinations. Located in the heart of Hanoi, Hoan Kiem Lake shines with sunlight and blue water on hot, sunny days, creating a beautiful and gentle natural picture. You can walk around the lake while admiring the surrounding scenery.
Visiting the famous Ngoc Son temple in the middle of Hoan Kiem Lake is also a great choice for visitors to Hanoi in July. The temple, with its beautiful architecture, will attract visitors to its elegant and mysterious beauty. Visitors coming to Ngoc Son Temple will have the opportunity to learn and discover interesting things about Vietnam's history and unique cultural features.
Hoa Lo Prison
If you come to Hanoi in July, do not forget to visit Hoa Lo Prison – a special and meaningful historical relic. Under the summer heat, the interior space of this monument will help you feel more relaxed.
Visiting Hoa Lo Prison, you will have the opportunity to learn many stories about the arduous past that Hanoi had to go through. Here, visitors can understand more about the patience and perseverance of the Vietnamese people. Not only a historical site, Hoa Lo Prison is also a museum with unique displays that recreate unforgettable memories of the past. You will be able to discover the unique architectural styles of this prison, from old cells to modern exhibition centers.
Bat Trang Pottery Village
Bat Trang Pottery Village is a familiar place among Hanoians. However, many foreign tourists still do not know about this craft village. This destination is only 15 kilometers from the center of Hanoi, so it will be quite easy to get here. You can go by bus or rent a car with a private driver for convenient back-and-forth transportation. Bat Trang Pottery Village is located on the side of the capital, while Hanoi taxis prefer to go to the city center. Therefore, using a taxi is not a recommended option for this place.
You can also visit the Bat Trang Pottery Museum inside the village. The massive architectural work will definitely overwhelm you. The museum is designed with seven giant spiral-shaped rotating blocks, representing seven hands rotating ceramic claws.
July Activities to Join in Hanoi
Participate in Fun Activities on Walking Street
Hanoi Walking Street is held every Friday, Saturday, and Sunday. The outdoor temperature is cooler in the evening. Thus, the pedestrian street gradually becomes more bustling thanks to exciting outdoor activities. You can come here to feel the daily breath of the capital city.
Visitors can participate in traditional folk games, watch art performances, or explore unique crafts and souvenirs. The Walking Street is also a place for you to enjoy the open, comfortable, and relaxing space after a day of walking and discovering the city. You can sit down to sip a cup of tea or coffee, enjoy the cool air and observe the bustling urban life through your keen eyes.
Admire the Beauty of Lotus Blooming in West Lake
Hanoi is not only famous for thousand years of history and ancient architecture but also well-known for beautiful flowers blooming all year round. Therefore, Hanoi is recognized as the "city with 12 seasons of flowers." In July, when Hanoi's summer reaches its peak, the lotus starts to bloom.
Hanoians often go to West Lake during this time to admire the lotus blooming. The lotus flowers in this place have a unique pink color, making several gorgeous layers when blooming. Moreover, many people fall in love with the elegant scent of lotus flowers when visiting West Lake during this time. What are you hesitating for? Give yourself a chance to appreciate this kind of flower with the locals in Hanoi!
Enjoy Street Food
Coming to Hanoi, you could never ignore this city's rich culinary culture. Not only Bun Cha or Pho, but visitors can also try local dishes that Vietnamese people often enjoy, such as salty sticky rice or Vietnamese-style grilled beef. These are street foods that are only available in Vietnam.
Not only savory dishes but Hanoi's desserts will leave you an unforgettable impression as well. Hanoi sweet soup is an old and famous dish, diverse in types. There are multiple kinds of sweet soups made from many familiar ingredients, such as green beans, red beans, butter, and milk. Every kind of sweet soup has a different taste, giving you an excellent aftertaste.
Immerse Yourself in New Ambiance
During your trip to Hanoi in July, you can consider exploring other places apart from the inner Hanoi city. Why don't you come to Bac Ninh, the hometown of traditional folk singing? Only an hour's drive from Hanoi, you will have a chance to admire the stunning architecture of the famous But Thap Pagoda and Do Temple. Moreover, you can also enjoy the traditional arts by watching the folk singing live performances on the river and exploring Dong Ho Village, the root of Dong Ho paintings.
>>> You can consult our Exciting Bac Ninh Day Tour from Hanoi for an overview of what you can do in this picturesque province.
If you love to enjoy the mountainous scenery and delve into the fresh air, Mai Chau is the perfect destination for you. Traveling to Mai Chau, you can immerse yourself in the daily life of ethnic local people here, learning what they do for life and experiencing their traditional cuisine to figure out how it is different from Hanoi's traditional food. If you are interested in this journey, check out trips to Mai Chau from Hanoi to have the best itinerary for yourself.
Experience Pottery Making
Visitors to Hanoi in July, do not forget to experience making pottery yourself in Bat Trang Pottery Village. Not only knowing about the traditional craft of Hanoi, but you can also bring home the products you made as souvenirs!
This will be a super new experience when visitors can freely create the shapes they like. When you have finished your own work, you can bring it outside for the staff to bake the pottery. You can then color your work however you want. Don't miss out on this exciting experience!
>>> Read more: Hanoi Full Day Tour – Visit Bat Trang Village from Hanoi
Tips for A Perfect Hanoi Trip in July
If you tend to visit Hanoi in July, please keep in mind the following to ensure the most comfortable trip.
July is a hot and damp month in Hanoi, so you should prepare thin and cool clothes. Don't forget to bring a hat and sunscreen to protect your skin from the harsh sun.

Always drink enough water to keep the body detoxified and hydrated.

Don't go out during midday, when the temperature is highest. If possible, schedule your visit so that you can visit early in the morning or in the afternoon when the temperatures are cooler.

Pay attention to traffic conditions during peak season. It might be difficult for you to call a taxi. You can consider taking public transportation like the bus or Skytrain. If you want a more comfortable means of transportation, renting a private car is recommended.

The culture is different in every country, so please pay respect to the local culture and customs. Remember to dress formally when visiting temples and historical sites.
With the above notes in mind, visitors to Hanoi in July can have a comfortable and enjoyable trip. All the best attractions and appealing cuisine are waiting for you. You can customize your own trip with IDC Travel. We always ensure to serve you the best service at the best expense. Do not hesitate to reach out to us!
Read more: