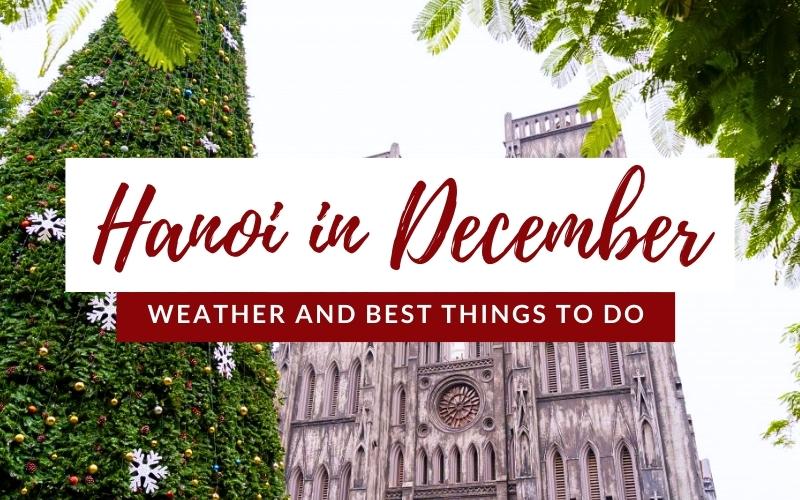 December might not be the best month for visitors to come to Hanoi. However, there are still multiple interesting essentials of Hanoi in December welcoming tourists to the city. Let's explore together what Hanoi can offer you during a December trip.
Hanoi Weather in December
December is the coldest and driest month of the year in Hanoi. The temperature drops suddenly to around 18-19°C during the day, and it can go even lower, below 11°C, at night, creating a dry and chilly climate. Daylight hours are quite short, with darkness setting in around 5:30 in the evening. December in Hanoi is usually full of clouds as it is reported to be cloudy for more than one-third of the whole month's time.
The perception of cold can vary greatly from person to person. If you come from a chilly country like Northern Europe or North America, you might find it pleasantly cool, like a mild autumn. But if you're from a Southeast Asian country, it's best to bring some warm clothing. The average temperature for the month is around 19°C, with highs reaching 22°C and lows averaging 15°C, accompanied by 67% humidity.
Compared to the hot weather during July and August, Hanoi's weather in December is much more comfortable without any sudden downpours or sunburnt heat. While there is less rainfall during this time, the cold can still be piercing. So, make sure to check the weather carefully to choose a suitable outfit. You can check the weather in Hanoi at AccuWeather.
Major Events in Hanoi in December
Christmas Eve
Christmas Eve is the event that fills Hanoi with joy and festive spirit. The streets and buildings are decorated with colorful lights, sparkling decorations, and Christmas trees. You will feel like being welcomed warmly by the whole city. During this time, several churches in Hanoi hold midnight Mass, filling the air with beautiful hymns and prayers.
The night markets and shopping districts bustle with people searching for the perfect gifts for their loved ones. Numerous restaurants and cafes offer special Christmas menus so you can indulge in delicious festive treats. Spending Christmas Eve in Hanoi will be an unforgettable experience for you as it brings people together and leaves lasting memories of this joyous celebration.
New Year's Eve
New Year's Eve in Hanoi is an electrifying celebration that brings the entire city together in anticipation of the new year. As the clock nears midnight, the streets come alive with vibrant lights, music, and cheerful crowds. The iconic Hoan Kiem Lake and other central areas are beautifully illuminated, creating a picturesque backdrop for the festivities. 
If you come to Hanoi during this time, do not miss out on this festive event. Fireworks light up the sky, painting it with brilliant colors, and the air is filled with excitement and joyous cheers. Restaurants and bars offer special New Year's menus and entertainment, inviting everyone to join in the revelry. Experiencing New Year's Eve in Hanoi is a thrilling and remarkable way for you to welcome the beginning of a new chapter with optimism and unity.
Activities to Participate in Hanoi in December
Visit Famous Attractions in Hanoi
One Pillar Pagoda
Coming to Hanoi, do not miss out on One Pillar Pagoda, a famous destination in the city. Visiting the One Pillar Pagoda in Hanoi in December is an enchanting experience filled with cultural and historical significance. The pagoda, originally built in the 11th century, is an iconic symbol of Vietnamese Buddhism. As you approach the pagoda, you'll be mesmerized by its unique architecture, with a single pillar rising from a lotus pond, resembling a lotus flower gracefully floating on water.
The atmosphere around the pagoda in December is serene, with the cool breeze adding to the sense of tranquility. The surrounding gardens and landscape are often adorned with festive decorations, as the holiday season brings a touch of celebratory spirit. This sacred site attracts both locals and tourists who come to pay their respects, make offerings, and seek blessings for the coming year.
Dong Xuan Market
In December, Dong Xuan Market in Hanoi is a bustling and vibrant hub that encapsulates the city's unique charm and bustling energy. This iconic market, one of the largest in the capital, has been a central trading spot for both locals and visitors for over a century. As you step inside, you'll be greeted by a kaleidoscope of colors, scents, and sounds, as vendors display an array of goods, from traditional handicrafts and textiles to delectable street food.
During the holiday season, Dong Xuan Market comes alive with festive decorations, creating a lively and joyful atmosphere. The market becomes even more diverse, offering a wide range of holiday-themed goods, gifts, and decorations for upcoming celebrations. The spirit of Christmas is also evident, as you'll find seasonal treats and souvenirs, making it a fantastic place to indulge in some holiday shopping.
Bac Ninh – An Ancient Destination near Hanoi
If you want to experience a new ambiance during your trip to Hanoi in December, you can travel to Bac Ninh, which is not too far from Hanoi. In December, Bac Ninh exudes a distinct charm that captures the essence of the winter season. The cool weather adds a pleasant touch to the picturesque landscapes and cultural heritage of the area.
The province is famous for its traditional festivals, and during this time of the year, visitors have the opportunity to witness and participate in various vibrant celebrations. Bac Ninh is renowned for its rich folk music and traditional arts, and you can experience captivating performances that reflect the region's cultural significance. The streets and markets are adorned with festive decorations, creating a cheerful and warm atmosphere. As you explore Bac Ninh in December, you'll discover a place steeped in tradition, offering a unique glimpse into the cultural heritage of Vietnam.
Participate in Prayer Ceremony at St. Joseph Cathedral
If you are a Christian, participating in the Christmas prayer ceremony at St. Joseph Cathedral in Hanoi is a truly special and heartwarming experience. The cathedral, with its stunning neo-gothic architecture, stands as a prominent landmark in the city and becomes even more enchanting during the holiday season.
As you step inside, the solemn ambiance and soft glow of candlelight create a sense of tranquility and spirituality. The ceremony brings together both locals and visitors from different backgrounds, uniting everyone in the joyous celebration of Christmas. The melodious hymns and prayers echo through the grand hall, filling hearts with a profound sense of peace and hope. Being a part of this sacred event allows you to embrace the true spirit of Christmas and experience the warmth of the Hanoi community during this festive time.
Experience the Traditional Hanoi Street Food
You should never miss the opportunity to experience the vibrant and mouthwatering traditional street food of Hanoi during December. The chilly weather adds an extra charm to the bustling streets filled with food vendors and stalls. From the steaming bowls of Pho to the crispy and flavorful Banh Mi, there is a wide array of delectable options to savor. Don't forget to try the delightful Spring Rolls, fragrant Bun Cha, and tempting sweet desserts. Exploring the city's street food scene not only tantalizes your taste buds but also immerses you in the local culture of Hanoi.
>>> You might find this helpful for your trip: 12 Most Savoring Hanoi Street Food
Helpful Tips for the Best Trip to Hanoi in December
Hanoi in December is full of interesting things for you to experience. However, you should follow some tips to ensure your trip at its best.
Clothing: Tourists don't need to worry about what to wear when visiting Hanoi in December because the weather can be quite cold during this time. Therefore, you should prepare some padded jackets and thick sweaters to explore the fascinating attractions in the chilly yet alluring weather.
Transportation: Hanoi offers various transportation options, so tourists can reach here by plane, car, motorbike, or train. Once you arrive in Hanoi, you can wander around the streets and explore the captivating sights using cyclos, taxis, motorbikes, or bicycles. You can also opt to rent a private car with a driver for the utmost convenience in getting around.
Personal belongings: It's a good idea to prepare some basic items such as a smartphone for navigation, essential medications, and thermal patches to keep warm during cold days.
Hanoi in December is full of interesting things that are waiting for you to experience, from the beautiful attractions in the city to the succulent traditional cuisine. Create your own trip today with IDC Travel to explore the most of this beautiful city.
Read more: