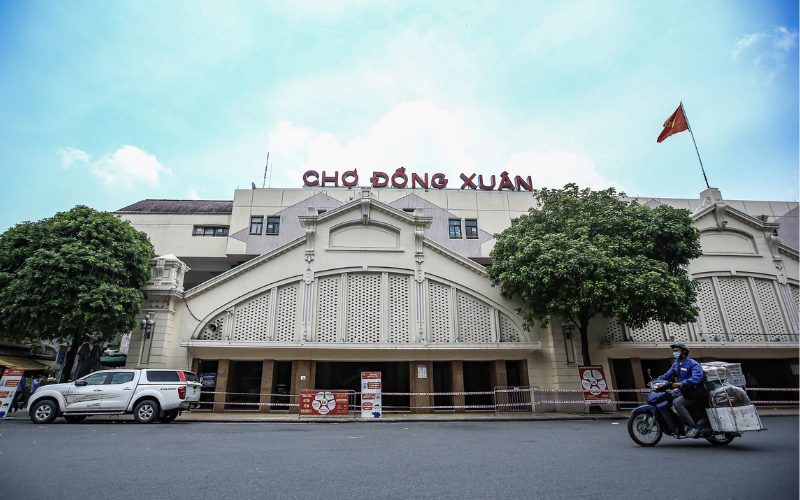 When it comes to immersing yourself in the local culture of Vietnam, it would be remiss not to mention Dong Xuan Market in Hanoi. As the largest market in the capital city, it serves as a symbol of tradition and is a source of pride for the people of Hanoi. It is an essential destination for all visitors who want to truly experience the city. Visiting Dong Xuan Market, you'll find a wide array of products available for sale. The market is divided into different sections, each dedicated to a specific category of goods. These sections include clothing, textiles, shoes, accessories, household items, electronics, fresh produce, and more. You can find traditional Vietnamese clothing like ao dai, fabrics, handicrafts, souvenirs, and local street food as well. Allow us to provide you with an insightful guide to this remarkable market.
Essential Information for Visitors
Location of Dong Xuan Market
Dong Xuan Market is situated within the Old Quarter of Hanoi's Hoan Kiem District, which is a prime destination for both sightseers and shoppers. The market is bordered by Dong Xuan Street to the west, Hang Khoai Street to the north, Cau Dong Street to the south, and Dong Xuan Market Alley to the east.
Opening hours
Similar to many other markets in Hanoi, Dong Xuan Market operates daily from 6 am to 6 pm. However, the food stalls located in Dong Xuan Market Alley remain open throughout the night. In particular, during weekends (Friday, Saturday, and Sunday), the market extends its opening hours until 10:30 pm, allowing visitors to enjoy the vibrant night atmosphere.
The History of Dong Xuan Market
During the late 19th century, the Hanoi Old Quarter was home to two primary marketplaces: one located on Hang Duong Street and the other on Hang Ma Street. However, in 1889, these markets were closed down and replaced by the newly constructed Dong Xuan Market, commissioned by the French administration. The market, along with the nearby Long Bien Bridge (completed in 1902), became notable architectural landmarks in Hanoi.
According to historical records, in 1804, during the Nguyen Dynasty, a market was constructed on the southern bank of the To Lich River to facilitate boat docking in the area. In 1889, as part of land reclamation efforts along the To Lich River and nearby Thai Cuc Lake, the French administration relocated the shops and food stalls to an empty area, which eventually became the present-day Dong Xuan Ward. It was originally called "Marché des Soies" (Silk Market) due to its focus on silk trading. The construction of Dong Xuan Market commenced in 1890, covering a total area of 6,500 square meters. The market's architectural style followed the French influence, featuring a triangular layout divided into five sections.
In 1990, the market underwent renovation. The outermost sections on both sides were demolished, while the three central sections were preserved and transformed into a three-story building. However, in 1994, a fire engulfed most of the market's stores. As a result, Dong Xuan Market was rebuilt in 1995 with upgraded facilities, including an air ventilation system, fire hydrants, and emergency exit staircases. The market expanded to a substantial size of nearly 14,000 square meters, accommodating around 2,000 stores. Today, it stands as one of Hanoi's largest and most modern markets.
In 2005, a commemorative relief entitled "Hanoi in Winter 1946" was constructed near the market. This artwork serves as a tribute to the soldiers and civilians who lost their lives during the battle to defend Hanoi from the French in the winter of 1946.
Dong Xuan Market's Unique Construction
Dong Xuan Market is a three-story building with a total area of 6,500 square meters. It is characterized by five arched doors and windows. The market's layout is designed to accommodate various types of merchandise.
The first floor
On this floor, you'll discover a diverse array of merchandise including clothing, eyewear, footwear, suitcases, bags, as well as electrical equipment such as battery chargers, loudspeakers, and radios. This section is specifically designed to cater to the needs of retail shoppers seeking these particular products.
The second floor
Dong Xuan Market is a bustling hub that caters to both wholesale and retail customers, with a specific focus on clothing and fabrics. This vibrant marketplace offers a wide range of options for businesses and individual visitors alike. Whether you're looking to purchase in bulk or seeking unique pieces, you'll find a diverse selection of garments and materials to suit your needs.
The third floor
This floor is exclusively dedicated to children's needs, providing a wide range of products that are suitable for kids. Visitors can explore a diverse selection of items, including toys, clothing, and various merchandise specifically designed with children in mind. It is a vibrant and engaging space where parents and guardians can find the perfect products to meet the preferences and interests of their little ones.
At the rear of Dong Xuan Market, there are stores specializing in the sale of pets, including birds, dogs, cats, and fish. Additionally, as you venture further north, you will encounter numerous food stores that operate throughout the day and night. This section of the market exudes a lively and bustling atmosphere, with numerous vendors and customers engaged in buying and selling activities.
Must-try foods in Dong Xuan Market
Dong Xuan Market in Hanoi is renowned as a bustling trading center, offering a vast array of products in large quantities. This reputation attracts wholesalers and retailers from various regions who come to the market to place orders. In addition to catering to people's daily needs, the market is also famous for its delectable culinary offerings. The market is also a haven for food enthusiasts, featuring a wide selection of savory and sweet dishes, each with its own distinct flavors. Visitors can indulge in a culinary adventure, savoring the diverse range of dishes available at the market. From traditional Vietnamese delicacies to local specialties, there is something to satisfy every palate. For those seeking a unique dining experience, the small alleys surrounding the market provide an opportunity to savor snacks in a cozy setting. Here are some delicious dishes you shouldn't miss:
Pho
Pho, a beloved Vietnamese culinary masterpiece, is a quintessential dish that embodies the country's rich flavors. This delectable noodle soup features a fragrant broth, tender rice noodles, and a variety of delectable toppings, such as beef or chicken, along with fresh herbs and crisp bean sprouts. When exploring Dong Xuan Market, you will find many excellent pho stalls that serve this iconic dish to perfection.
Bun Cha
Known as a tantalizing specialty of Hanoi, Bun cha showcases succulent grilled pork paired with delicate rice noodles, aromatic fresh herbs, and a zesty dipping sauce. The combination of smoky flavors from the grilled pork and the vibrant, refreshing ingredients creates a harmonious and satisfying culinary experience. Indulge in the delightful interplay of textures and taste as you savor this mouthwatering dish in the market, which perfectly captures the essence of Hanoi's culinary heritage.
Banh Mi
When it comes to satisfying your cravings for a delicious banh mi sandwich, Dong Xuan Market is the place to be. This bustling market is renowned for its Vietnamese baguettes that are filled with an array of ingredients. Picture this: succulent grilled pork, rich pate, tangy pickled vegetables, and fragrant fresh herbs, all nestled within a crispy and airy baguette. The combination of flavors and textures creates a culinary symphony that is bound to leave your taste buds dancing with delight.
Sticky Rice (Xoi)
Xoi is a delectable sticky rice creation that can be found in various stalls at the market. This vibrant market offers a delightful array of xoi options, including xoi xeo, featuring fragrant yellow sticky rice, and xoi gac, boasting vibrant red sticky rice infused with gac fruit. These flavorful sticky rice dishes are typically accompanied by delightful toppings such as mung beans, crispy fried shallots, and other savory ingredients.
Sweet Soup (Che)
After a bunch of savory dishes, don't miss to indulge your sweet tooth and conclude your culinary adventure with a delightful treat at Dong Xuan Market. Che, a beloved category of Vietnamese desserts, awaits you with its enticing array of sweet soups, puddings, and jellies crafted from an assortment of ingredients such as beans, fruits, tapioca pearls, and creamy coconut milk.
These are just a few highlights of the diverse and delicious food options available at Dong Xuan Market. Don't hesitate to explore and try other delicious dishes that catch your attention.
Tips for the First Timers to Visit Dong Xuan Market
When you visit Dong Xuan Market, you'll be captivated by the lively trading atmosphere. The vibrant stalls and nighttime illumination create unforgettable moments for every visitor. However, it's important to keep the following tips in mind while shopping or exploring the market:
When purchasing goods at Dong Xuan Market in Hanoi, expect the sellers to quote high prices. Remember to negotiate for a reasonable price, but avoid excessive bargaining that may lead to an uncomfortable situation.
Avoid bidding or bargaining early in the morning or asking about products without genuine interest in buying. Such actions may leave the sellers unhappy.
Due to the market's constant hustle and bustle, be attentive and cautious about your belongings to prevent pickpocketing incidents that can catch you off guard.
As Dong Xuan Market is situated in the old town and features numerous intersecting roads, it can get quite crowded. If you're not familiar with the area, go with friends and choose a suitable mode of transportation to avoid getting lost.
Dong Xuan Market has remained vibrant and bustling throughout its rich history, attracting buyers and sellers for over a century. Despite the passage of time, this market continues to thrive and retain its cultural significance. Situated in Hanoi, it is a hub of activity and captures the essence of the city's energetic atmosphere. Beyond its commercial importance, the market holds deep spiritual and cultural value, offering insights into the lives and traditions of the ancient Trang An people.
If you are considering a visit to Dong Xuan Market to experience its lively atmosphere, please don't hesitate to contact us. We are here to offer our assistance and provide any necessary information or guidance for your upcoming trip to Hanoi.