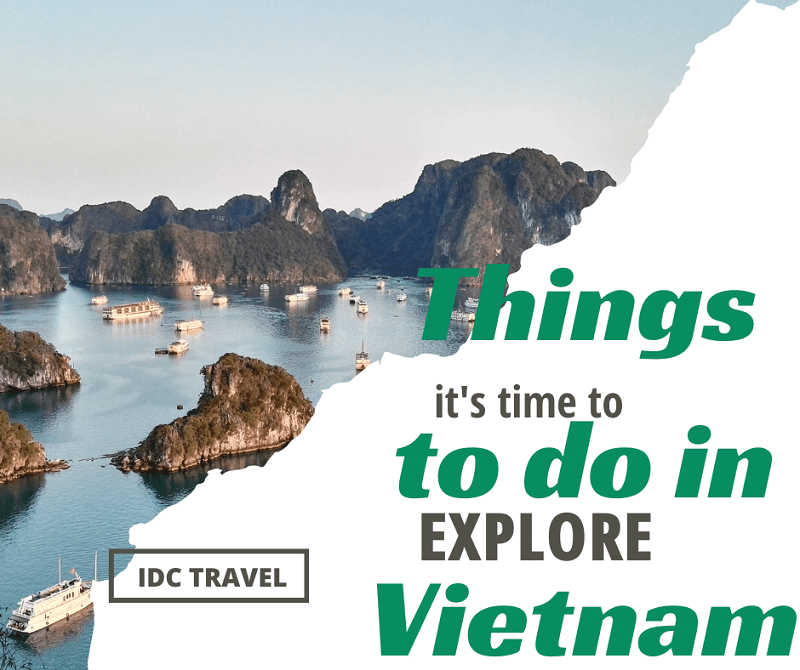 Tourism in Vietnam is officially resumed from March 15, 2022. The country is an ecologically and culturally diverse destination, with lush mountain valleys, scenic beaches, fertile deltas, distinct ethnic minorities, and a fascinating culture, which suits all ages, especially family vacations and annual senior vacations. Do you still hesitate to know what to see and do during your trip to Vietnam?
Take a look at this article to find the 10 best things to do in Vietnam!
1. Get lost in Hanoi's Old Quarter
Visit the Old Quarter is one of the first things to do in Vietnam, located in Hanoi –  the Vietnamese capital, an interesting place not to be missed during your trip to Vietnam. Dense and very lively, it has a certain charm of its own.
Located in the Hoan Kiem district and covering 100 ha, the Old Quarter of Hanoi has 76 streets, of which about 47 have retained their old name which begins with the word "Hàng", meaning "merchandise". Each district bears the traces of its history. The names of the streets still recall the goods that were produced there: Hàng Đào Street (street of the red silk dyers), Hàng Đường Street (sugar street), Hàng Thiếc Street (Tinsmiths street), Hàng Mã Street (street of objects votives), etc.
Hanoi's Old Quarter is characterized by small streets, tube houses (nhà ống in Vietnamese, whose facades are narrow but very deep), pretty temples and communal houses, handicrafts, and incredible cuisine.
You will be advised to start your visit by Hoan Kiem Lake and dedicate at least half a day to enjoying the typical life of Hanoians and to taste the local gastronomy. It's very convenient to move between destinations in Hanoi, but for more, you can refer to our Car Rental Service for your needs.
Start your adventure in Hanoi down to the south with Vietnam Tours to make the best trip ever.
2. Spend a night on a cruise in Halong Bay – Top best things to do in Vietnam!
This experience deserves to be one of the top 10 things to do in Vietnam and none of the travel will miss it for sure.
Halong Bay offers some of the most impressive natural landscapes in Southeast Asia, it is one of the best places to visit in Vietnam. In fact, it's one of the New Seven Wonders of the World, so it's no exaggeration to call it an "otherworldly" setting. It is home to over 2,000 pinnacle-shaped limestone peaks and some spectacular karst caves.
Explore the bay on a 2-day, 1-night cruise. Cruise across the bay on island adventures, enjoy water activities like swimming, kayaking, or canoeing, and visit a fishing village where you can learn local fishing techniques, traditions, and way of life.
In addition to the scheduled visits, you will have the opportunity to admire the sunset and sunrise from the water. In these two magical and very photogenic moments, you will sip a cup of coffee or juice while listening to the chirping of birds in the still misty atmosphere. It will be a wonderful scene in your Vietnam trip that you will never forget! A trip on a luxury cruise in Halong Bay is one of the best things to do in Vietnam. If you haven't done it yet, you would seem to never be in Vietnam. You can refer to our tour for Halong Bay cruise tours with many stunning options.
3. Enjoy Romance at Sapa Love Market
One of the best things to see in Vietnam is the market town of Sapa in the mountainous north of Vietnam, which became popular as a French hill station in the 1930s. Located on a mountain ridge 1,650 meters above sea level, the town offers fabulous views of the Hoang Lien Mountains and a colorful market attended by hill tribes from the surrounding countryside every Saturday.
The city has become increasingly popular with tourists, but old traditions still lurk in its secret corners. One of them is the love market, where Dao (and H'mong) men and women from miles around in search of a soul mate meet and spend the night talking, singing, and laughing. Each ethnic minority of each country will have its own special characteristics, if you find something different that you've never seen before, come here. It's one of the best things to see in Vietnam that you'll never forget. Check out our Northeast Vietnam Tour in 13 Days for the best experience in this stunning landscape.
Today, the love market in Sapa, open every Saturday, no longer functions as a meeting place, but as a real market. The love market still exists, but it now takes place in secret places, in the heart of the night, out of sight of visitors. But if your interest is genuine and you can find a local willing to trust you, you will still have the chance to find that romance on your trip to Vietnam.
Not only does Sapa have this unique culture, but some places in our North Vietnam Tours also have the same culture for spending more time in this magnificent landscape.
4. Sleep with locals in Mai Chau
Get off the beaten path to the rural province of Hòa Bình in the northwest of the country. Here you will have the opportunity to explore the Mai Chau valley, a "hidden gem", surrounded by mountains and bordered by rice fields.
If you want to immerse yourself in the daily life and the different culture of this part of the country, stay with the locals, in a white Thai family. Your best option is one of two villages: Lac or Poom Coong. The families offer homestay accommodation in stilt huts made of bamboo and wood, offering visitors an authentic way to experience life in the hills. The locals built these houses on stilts to keep water out and to shelter animals.
Whichever you choose, you will wake up each morning surrounded by rice paddies and the stunningly green Vietnamese countryside. Cycle through Mai Chau on a rental bike or pop into the market to pick up exquisitely shimmering local textiles. Take your eyes off the natural wonders of your village, a day trip to shimmering and underrated Hoa Binh Lake makes for a great trek.
5. Dive into the largest cave in the world in Phong Nha National Park
Phong Nha National Park is one of the most beautiful must-see places in Vietnam. One of the best things to do in Vietnam is right in this land, and the experience is amazing. Quang Binh Province is a barely penetrable jungle wilderness located in the sparse center of Vietnam, near the border with Laos. The area is riddled with hundreds of deep caves, including one of the largest in the world, Hang Son Doong. According to CNN Travel, the largest cave in the world, Son Doong, appears to be even larger than previously thought. It contains a cavern so tall that a block of 40-story skyscrapers in New York could fit inside.
The three-million-year-old river cave opened to tourists in 2013, is certainly one of the most beautiful places on earth. The small town of Phong Nha is the epicenter of caving adventures in the region, its namesake cave being another UNESCO-listed wonder well worth exploring. Here you can hire the guides and equipment you will need to descend into the caves.
If the underworld isn't your thing, the area is also famous for trekking. The surrounding jungle is dotted with stunning waterfalls and an active (and noisy) population of monkeys and fruit bats.
6. Explore the life of Vietnam's last feudal dynasty in Hue
Hue is the former imperial city of Vietnam, known to be one of the most important cultural and historical centers in the country. The city is celebrated for its traditions and its imperial city, a good destination for history buffs.
Recognized as a UNESCO World Heritage Site, the Imperial City of Hue was established in 1805 by Gia Long, the emperor who founded the Nguyen Dynasty. The city is an elegant complex composed of three concentric enclosures and designed by application of Chinese geomancy. Of course, the discovery of the ancient imperial city is an essential part of your trip to Vietnam.
Set off in the cool of the morning and head two miles out of town to the Tiger Fighting Arena. It was Vietnam's version of the Colosseum, a place where elephants and tigers fought to honor the strength of the monarchy. Next, head to Tu Duc Tomb before reaching Vong Canh Hill, the best place to get a panoramic view of the Perfume River.
From Vong Canh Hill, you descend to one of Hue's most scenic pagodas, Tu Hieu, located in a tranquil and scenic pine forest. Pass by the tomb of Minh Mang, the second emperor of the Nguyen Dynasty, before returning to town.
When you reach the fortified fortress of the Imperial Citadel, you will have two choices: take a bike ride through this UNESCO World Heritage Site, which is Vietnam's version of the Forbidden City, or have a drink along the Perfume River.
7. Take a cooking class in Hoi An
With nearby beaches and an impressive cultural heritage, Hoi An is a mosaic of diverse cultures. In addition to the Old Town, a UNESCO World Heritage Site, and its excellent roadside cafes, Hoi An offers fun hands-on cooking class opportunities.
Starting with a stroll through a local market, your guide will lead you to purchase the necessary ingredients, such as fresh herbs, shrimp paste, and meat. Once you arrive at the cooking school, you can stroll through its herb garden and learn about the herbs that give Vietnamese cuisine its distinctive flavors.
During the lesson, the chef will reveal various culinary secrets to you. You will have the opportunity to learn how to prepare 3 to 5 typical dishes, such as spring rolls, Hoi An pancakes, and seafood salad, and how to make Vietnamese-style plate decorations using your vegetable-cutting skills.
Finally, sit down with your classmates and enjoy your meals together!
8. Understand Vietnam's bloody past in Ho Chi Minh City
More than 60% of Vietnam's population was born after the Vietnam War ended in 1975. But that doesn't mean its war-torn history is ignored. As a nation, Vietnam has moved on, but the sacrifices made by both sides in the conflict are still evident throughout the country, especially in Ho Chi Minh City.
The Ho Chi Minh City Museum has many informative exhibits and explains the country's bloody past through photographs, artifacts, and memorabilia. It is a sensitive exhibition, which does not overlook the atrocities and which, ironically, is located in the Gia Long Palace, where Ngo Dinh Diem spent his last hours in power before his assassination in 1963.
The War Remnants Museum is a more gruesome – but equally essential – reminder of local atrocities. Whether it's bomb remains or veterans' testimonies, a bloody guillotine, or photographs of horrific napalm burns, this is a chilling reminder of the life of no one. not so long ago.
The Cu Chi Tunnels provide a unique insight into the Vietnam War the grandeur of the country and the life of the Viet Cong during the war. This winding underground system is important, both for history and for the Vietnamese military of the time. The entrance to the tunnel is narrow, so it's not for everyone.
9. Cruise the Mekong Delta
After traveling more than 4,000 km from the Tibetan Himalayas, the Mekong reaches Vietnam and slows its pace. With its islands, its rice fields, its villages on stilts, and a way of life that has not changed for centuries, it is as if the river wanted to rest and soak up the landscape.
While traveling in the Mekong Delta, floating markets and a boat trip are the most popular ways to experience local attractions. We recommend Cai Rang and Cai Be floating markets, as each has its own charm. A lot of tours like Mekong Cruises will bring you closer to the life of local people, where you can come further inside a fresh farm and enjoy their typical music.
Wake up early and visit the floating market. It has kept its traditional way of trading and you can see boats full of fruits and vegetables. Then take a sampan through the tree-shaded canals to visit the islets and hop on a bicycle to tour the orchards and enjoy the exotic scent of the plants.
10. Try on street food
Vietnam has a rich tradition of street food. Vendors with their own recipes and culinary skills take to the streets, with baskets of delicious snacks such as baguette sandwiches, spring rolls, fresh fruit, cane juice, and grilled meat wrapped in banana leaves.
Most of the snacks can be found at a local market, where you can taste the foods and enjoy the atmosphere while eating with the locals, sitting on plastic chairs.
The most interesting thing is that you can watch how the food is prepared in front of your eyes and wait a few minutes to be served. You can then wash her down with ice-cold drinks like local beer, coffee, or fresh coconut milk before heading to the next vendor.
We highly recommend food lovers or those interested in local food to join a street food tour during their trip to Vietnam, as it allows them to experience the culture.
Indulging your senses with the exotic flavors of Vietnam, when exploring Hanoi or Ho Chi Minh City, would be a lovely way to spend the night.
Vietnam is an amazing country with so many things to do and unique experiences to offer you. Long and narrow, this country benefits from a variety of climates and landscapes, from breathtaking mountains to magnificent beaches. For a trip to Vietnam, you should not miss these amazing experiences.
Top Recommended Tours: