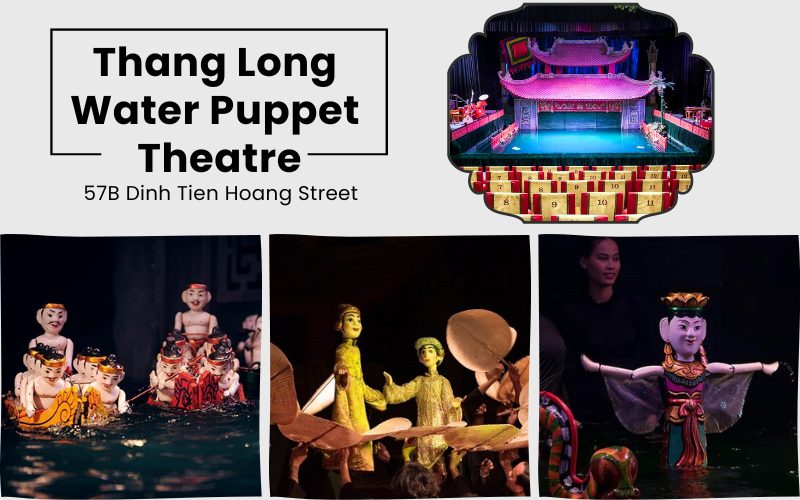 As you embark on a Hanoi City tour, be sure to include a visit to Thang Long Water Puppet Theatre in your itinerary. Here, you will witness the artistry and cultural significance that its performances hold, offering a glimpse into the historical tales that have shaped Vietnam's identity. Let the magical experience of water puppetry transport you to a world of captivating stories and artistic mastery.
Essential Information for Tourists
Immerse yourself in the enchanting world of Vietnamese traditional water puppetry at the captivating Thang Long Water Puppet Theater in Hanoi. This renowned tourist destination invites you to witness mesmerizing performances that artfully depict historical narratives through the medium of water puppets. With its doors open every day, the theater offers a wealth of unique shows that showcase the rich cultural heritage of Vietnam.
Location: 57B Dinh Tien Hoang Street, Hang Bac Ward, Hoan Kiem District, Hanoi
Opening hours: The theatre opens every day with show schedules updated weekly on its official website. Show timings include 01:45 pm, 03:00 pm, 04:10 pm, 05:20 pm, 06:30 pm, 08:00 pm, and 09:15 pm. On Sunday, there is an additional show at 09:30 am. Each show lasts 50 minutes.
Ticket fee: 100,000 – 200,000 VND/person.
The History of Thang Long Water Puppet Theatre
Thang Long Water Puppet Theater stands as a beloved destination for both local residents and international visitors seeking an immersive experience of Vietnam's unique water puppet performances and the beauty of this traditional art form.
As one of the oldest buildings in the capital city of Vietnam, this theater holds a significant place in the cultural heritage of the country. Its inauguration on October 10th, 1969, marked the preservation and continuation of water puppetry, a renowned and cherished cultural tradition. Initially established as the Kim Dong Artistic Union with only nine members, it was later renamed the Hanoi Puppet Union in 1975. Finally, in 1993, it settled into its present location on Dinh Tien Hoang Street and adopted the name Thang Long Water Puppet Theater.
Though it took time for the theater to acquire a water stage for its performances, this milestone was achieved in 1990. Since then, it has delighted audiences with a multitude of exceptional shows and has actively participated in numerous international events, showcasing the brilliance of Vietnam's water puppetry to the world.
Thang Long Water Puppet Theatre's Typical Shows
Water puppetry holds a significant place as a representation of intangible culture in Vietnam. However, as technology continues to advance, the younger generations are showing less interest in these traditional art forms. Recognizing the importance of preserving Vietnamese traditions from being overshadowed by modern norms, the Thang Long Water Puppet Theatre has taken upon itself the responsibility to safeguard and cultivate this distinctive art form.
To achieve a breakthrough in artistic expression, the theater has recently embarked on a remarkable endeavor. They have recreated 17 beloved folk tales using water puppetry, aiming to captivate the audience with new, imaginative, and awe-inspiring performances. While embracing creativity, these shows maintain the traditional characteristics that define water puppetry, ensuring the continuity of this cultural heritage.
The theater's typical shows include:
Teu
Among the esteemed cast of water puppetry, one character stands out as the epitome of significance. Meet Teu, the most notable persona in this traditional art form. Teu assumes the role of a jester, skillfully weaving sharp observations into his performances, shedding light on social and political realities, with a particular focus on corruption.
Teu embodies the appearance of a cheerful young boy, exuding a sense of joy and innocence. Often adorned in a simple loincloth, occasionally accompanied by a plain open vest, his attire reflects the simplicity and authenticity of water puppetry.
With his witty charm and astute observations, Teu engages the audience, creating moments of both amusement and reflection. As an integral part of water puppetry, this beloved character continues to captivate audiences with his insightful commentary on the world around us.
Dragon Dance & Phoenix Dance
Vietnamese dragons hold great significance within the spiritual fabric of the country, intertwining themselves deeply within its cultural heritage. These majestic creatures symbolize power, wisdom, and good fortune, embodying the essence of Vietnamese spirituality.
On the other hand, Vietnamese phoenixes embody the rich tapestry of folk beliefs and the unwavering loyalty found in marital relationships. These graceful birds represent the virtues of fidelity, harmony, and eternal love, serving as a poignant reminder of the values cherished in Vietnamese culture.
Together, these mythical beings, the dragons and phoenixes, paint a vibrant picture of the spiritual and cultural landscape of Vietnam. They inspire awe, reverence, and a profound connection to the ancestral traditions that have shaped the country's identity. Their presence permeates various aspects of Vietnamese life, leaving an indelible mark on the collective consciousness of the nation.
Vinh Quy Bai To
Vinh Quy Bai To is an extraordinary show by Thang Long Water Puppet Theatre that goes beyond entertainment to inspire and ignite a genuine eagerness for learning. It serves as a powerful reminder of the inherent value of education and the significant role it plays in shaping individuals and society as a whole.
This remarkable performance aims to instill a deep sense of respect for talented individuals who have dedicated themselves to acquiring knowledge and honing their skills. It showcases their achievements and contributions, highlighting the importance of recognizing and valuing the pursuit of excellence in various fields.
Through the mesmerizing storytelling and artistic expressions of Vinh Quy Bai To, audiences are transported to a world where education is celebrated as the key to personal growth and societal advancement. The show creates an immersive experience that encourages viewers to embrace a thirst for knowledge, appreciate the wisdom and expertise of others, and cultivate a lifelong love for learning.
Agriculture
In this captivating Agriculture show, the tireless daily efforts of Vietnamese farmers are brought to life, showcasing the remarkable dedication and unwavering spirit that defines their laborious work. Every aspect of their agricultural routine, from plowing the fields to watering the crops and finally harvesting the fruits of their labor, is vividly portrayed, offering a glimpse into the remarkable resilience and perseverance of these hardworking individuals.
The imagery presented on stage beautifully captures the essence of Vietnamese farmers toiling under the sun, their unwavering determination etched on their faces as they nurture the land. This water puppet show at Thang Long Water Puppet Theatre celebrates their invaluable contributions to society, highlighting their role as the backbone of the nation's agricultural heritage.
Through this immersive experience, audiences gain a profound appreciation for the sacrifices and resilience of Vietnamese farmers. Their dedication and commitment to their craft embody the enduring spirit that has sustained generations and ensured the prosperity of the agricultural sector. This show serves as a tribute to their unwavering work ethic, showcasing the essential role they play in feeding and sustaining the nation.
There are other traditional shows, such as The Little Match Girl, Dragon Dream, Hon Truong Ba va Da Hang Thit, Street Rhythm, etc.
Thang Long Water Puppet Theatre is a perfect place to wrap up your day trip in Hanoi. You can discover Hoan Kiem Lake, enjoy street food at the Hanoi Old Quarter, and then stop here for a cultural show. Send us an inquiry here if you still have any questions or need help in planning for your future trip to Hanoi, Vietnam.